The members of last month's Sangha of the Month, Wake Up Singapore, share about their practice and how their Sangha changes their life…
Rofan: My extended family is very big on eating. Every Saturday, we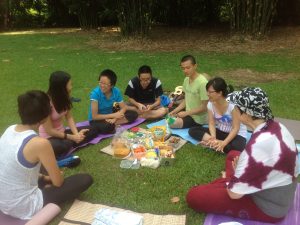 will go and have a long and expensive meal where we try out the cuisines from Australia, Italy, Japan and France. I grew fond off and look forward to these meals, because they are a time to indulge and gorge myself in delicacies, beverages and desserts. Having a big appetite and knowing how to be gourmet are celebrated in my family too. Hence, I did not associate joy with eating simple food until I joined the Wake Up Sangha. From seeing how food is lovingly prepared through working meditation to showing gratitude for our food and to practicing mindful eating, I learn to appreciate every bite and enjoy eating moderately and other simple things in everyday life. While I used to wolf down the rib-eye or aburi sushi on my plate, I now feel the joy of simplicity that is right in front of me.
"I used to gorge myself in delicacies. Now I can feel the joy of simplicity."
I find that many things you experience and feel are formed because of perception. Your perception is coloured by your emotional bias, habit energies, idiosyncrasies and emotional baggage. As Thay stated: "When you have perception, there will be deception." I feel that we will need to take pause and think with enough detachment, before coming to any conclusion about ourselves and others. In the past, I had the habit of blaming either myself or others when I perceive a mistake or setback.
 "When you have perception, there will be deception."
Hoang: I have a dream of a community of mindful practitioners who live in harmony with each other and with the Earth, a group of friends who support each other on the path of compassion, kindness, understanding and wisdom, so that we can contribute to make the world a better place to live in. I feel that by being part of the Sangha, I have been able to realise that dream.
Besides that, the Sangha has been a great source of support and inspiration for me. When I feel down or overwhelmed by the challenges at work, the Sangha has been there for me, listened to me, offered its presence and insight to my challenges. This has been a tremendous support for me. When I listen to someone sharing about how they put the practice into daily life, I learn a little bit from him or her. Sometimes when I see someone who sits beautifully, it nourishes my aspiration to get back on the cushion and sit. When we put together a skit or a performance in a retreat, there are unexpected moments of creativity and laughter that last even after the retreat, especially when we find ourselves in similar circumstances, like waking up in the morning, sitting in the train, going to our work place, etc.
"I have a dream of a community living in harmony with each other and the Earth."
Being part of the Sangha has helped me on the path of transforming my unwholesome seeds such as anxiety. As a child, I used to be a very competitive student. I tried to get the best results. I used to walk or ride the bike very fast from one place to another as I was afraid I would be late for lessons. I remember planning in advance what I had to do and reciting this while doing 'boring' things like walking or sitting. That habit e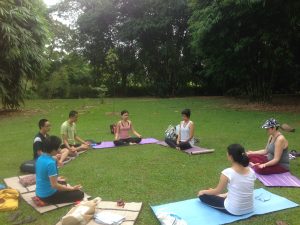 nergy is still very strong in me. However, I have become calmer and more relaxed. Sometimes I still catch myself checking my cell phone for Facebook updates of my friends when sitting on the train, or find myself thinking about the emails that I have to write on my way to the office. It is good that sometimes I am able to recognise these habits and learn to enjoy the sitting, enjoy the steps or enjoy the beautiful rambuttan tree when walking to my office. And there are many other gifts that I have personally received from practicing with the Sangha, too many to list all of them here.
 "We can be cool and meditative at the same time."
Daniel: I often think about Wake Up as the Hangout 2.0 movement, a new way for young people to be together. It is a very different way to hang out. It brings a lot of fun and is at the same time very healthy and loving. In stead of barbeque and alcohol we have organic vegetables and tea. In stead of loud music and smoky bars we have green parks and songs which inspire love and understanding. We are not very interested in the upcoming smart phones but many of us are eager to learn how to grow vegetables. We do not talk much about the latest fashion trend or how much bonus you have this year. In stead we talk about how to be happier in life and how to bring more peace and joy to ourselves and the society. In this Hangout 2.0 we can be cool and be meditative at the same time.
Le: I have strong habit energies of worry and fear. I get worried about the future or afraid that I am not good enough. With the practice and the support of the Sangha, I have learnt to gradually let go of these. I always remind myself that by taking care of the present moment and doing the best I can in the present moment in terms of thought, action and speech, I am already preparing for the future. Gradually, I have been able to be more relaxed and at ease with myself, my work and things around me.
 "By taking care of the present moment, I am already preparing for the future."
I enjoy practicing with Wake Up Singapore and have been nourished by the Sangha's energy. Most of us share the same interests in gardening, reading, singing and doing some forms of exercises. We are also committed to living simply and mindfully, trying to care for the Earth. It is very easy to share experiences and learn from each other in our Sangha. I am currently working at a university, so my experiences with Wake Up help me relate to my students better.