The Order of Interbeing (OI) is a community of monastics and lay people who have committed to living their lives in accord with the Fourteen Mindfulness Trainings. It was founded by Thich Nhat Hanh in 1966 and counts around 1000 members worldwide.
Four Wake Uppers from Israel and Germany recently joined this community of Engaged Buddhism and we asked them about their journey. Chen joined the transmission ceremony online, while Simone, Main Huong, and Annica received their ordination at Plum Village France. To learn more about how to become an OI member, please see the info box below.

What inspired you to become an OI member?
Chen: During the Wake Up Ambassadors week in 2019, a friend asked if anyone would like to join a study group for the 14 Mindfulness Trainings. They referred to the Order of Interbeing as the "lay ordination" and something in me clicked. It resonated with my aspiration to go forth with the path. Hagit Harmon (Sr. Thai Nghiem), a Dharma teacher and a former nun, subsequently became my mentor.
I believe that the Fourteen Mindfulness Trainings help realize the ultimate potential of the practice, which is to be truly engaged in the world. I see them as a constant reminder to open my eyes, to broaden my perspective, and through that broadening,to open my heart. I find in them infinite inspiration. To me, they represent immense trust in the ability of our practice to change the reality of our lives and the world around us.
Chen practices with Wake Up Jerusalem in Israel and received the Dharma name True Direction of Spring.

How did the mentoring process unfold for you?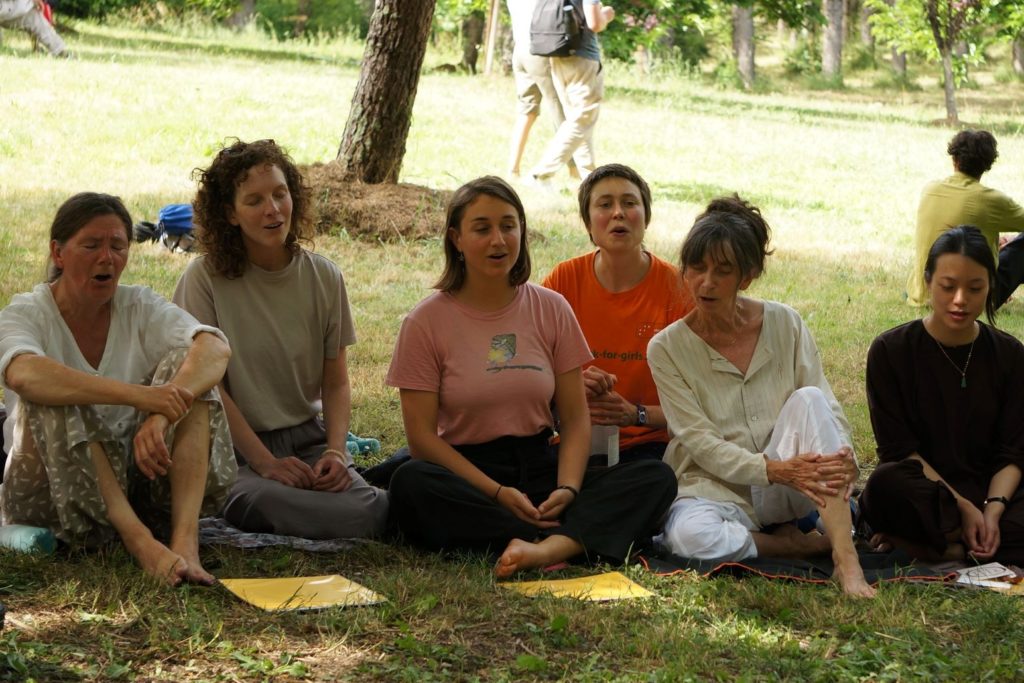 Simone: It has been quite a journey! When my desire to be an OI aspirant ripened, two things were quite clear to me. First, I wanted Steffi and Margret (two German Dharma Teachers) to be my mentors. They have supported me and our local Sangha with their presence and advice over the years, and I got to know them as my queer elders in Plum Village.
The second thing that I wanted was to not be alone in the mentoring process, but instead to be part of a little OI aspirant Sangha. It felt right to flow not as a drop of water, but as a Sangha river. I have been very lucky because I had the chance to have both!
As the people in our group and our mentors lived in different places, we met every month online on Zoom. We practiced together, shared about our aspiration, and reflected on how we are practicing with the different Mindfulness Trainings. We also discussed how we felt about the idea of practicing 60 Days of Mindfulness every year or wearing the brown jacket after becoming OI members. These were helpful and enormously precious meetings for me. They kept my aspiration very fresh and alive, and I felt supported by friends on the path.
After those meetings, I would call or meet with my mentors regularly to check in on how my practice was going and how I feel about this path. This was very crucial because my aspiration was not always a constant thing during those three years. It came more in waves, with some ups and downs. At times I had questions: Is this really what is present for me at the moment? Can I truly give my dedication and focus to these Mindfulness Trainings right now?
In those moments, my mentors supported me kindly and patiently in accepting where I was at. They then supported me in finding ways to further integrate the practice into my daily life and to continue to make steps on this beautiful path, up to the point where I felt ready to become a member of the OI community.
Simone practices with the International LGBTQIA+ Sangha and received the Dharma name True Direction of Sangha.

How did you experience the ordination?
Main-Hương: During the ordination ceremony rehearsal, Br. Pháp Hữu reminded us: "The most important thing is that you are present. Because only when you are present, can you truly receive the 14 Mindfulness Trainings." Those were the words that were in my heart during the ceremony. I was present, trying to soak up everything like a sponge: the chanting, every mindfulness training read aloud, every touching of the earth, and every vow we said aloud to affirm our aspiration ("Yes, I do.").
I remember how overwhelmed I was when we touched the earth to express our gratitude for our family, friends, and teachers. I could physically feel them being with me. And I was very moved by the presence of everyone, including Sr. Chân Không, who was among the first members of the Order of Interbeing. What an honor to be in her presence!
The whole ceremony felt like I was being carried and lovingly embraced by the Sangha. I felt small—but not in a bad sense. It felt like two rivers joining and flowing into each other: the stream of all my ancestors and the stream of the beloved Plum Village community. And in this stream, I can just flow along, like a tiny drop of water.
And of course, I was very excited for my Dharma name. After I received my name, I joined the German OI Sangha and was once again warmly embraced by the Sangha and blessed with hugs, music, and songs. And to our huge surprise, Annica (True Direction of Buddha), Simone (True Direction of Sangha), and I (True Direction of Dharma) received "matching" names.
I am very grateful that Thầy left us this beautiful path, and I am very humbled that we can walk this path together.
Main Huong practices with Wake Up Frankfurt in Germany and received the Dharma name True Direction of Dharma.

What is your aspiration going forward?
Annica: I love Sangha Building and practicing in community has always been a great source of energy for me. This motivation became even stronger during my process of being mentored and preparing for the ordination. I look forward to attending more OI retreats and to getting to know the German, as well as the international, OI community better.
I like that Sangha Building can take so many different forms and shapes, like serving as Wake Up International co-coordinator, practicing with my local Sangha, or teaching mindfulness to children. But also, I appreciate the small ways of bringing the practice into my day-to-day life and diverse environments where people are not so familiar with stopping or conscious breathing. My attempts at weaving moments of mindfulness into whoever I am with and whatever I am doing is a work in progress that requires my creativity, acceptance, and openness. The same goes for my commitment (and challenge!) to practice 60 Days of Mindfulness each year.
Annica practices with Wake Up Passau in Germany and received the Dharma name True Direction of Budda.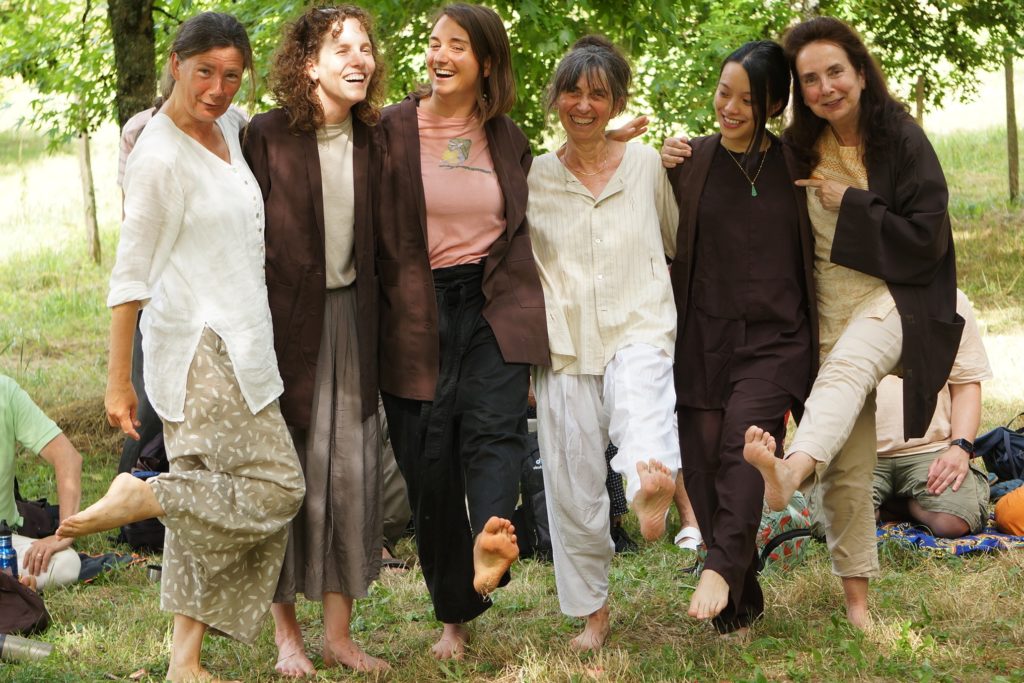 We thank Erica Fugger for editing this article.