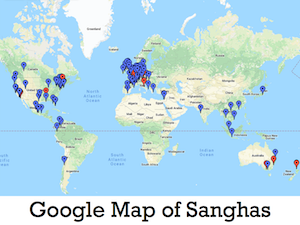 Scroll down to see the full list of Sanghas (ages 18-35) in the world that practice in the Plum Village tradition.
Don't see a local Wake Up Sangha near you? There are a couple of options:
Wake Up Affinity Initiatives
Wake Up Earth Holder: earthholder@wkup.org More info
Viet Wake Up (for young adults between the ages of 17-38 with Vietnamese heritage): tiengviet@wkup.org
Rainbow/Queer/LGBTQIA+ Sangha: (Wake Up) rainbow@wkup.org / (All-Ages) Visit Facebook group
Wake Up Sanghas List
To find a Wake Up Sangha near you, enter keywords (country, state, city, name, etc.) in the "Search" box below. Scroll right to view all the information listed.
Look here for a list of online Wake Up Sanghas.
Country
Name
Email
Website
Address
Last Update
Australia
Wake Up Brisbane
brisbane@wkup.org
www.facebook.com/groups/1661603900572802
Brisbane, Australia
12-Oct-18
Australia
Wake Up Melbourne
melbourne@wkup.org
www.facebook.com/WakeUpMelbourne/
Melbourne, Australia
30-Aug-17
Australia
Wake Up Sydney
sydney@wkup.org
sydney.wkup.org
Sydney, Australia
8-Apr-16
Austria
Wake Up Graz
graz@wkup.org
https://www.facebook.com/groups/659471590794065
Graz, Austria
17-Feb-22
Austria
Wake Up Wien
wien@wkup.org
https://tinyletter.com/WakeUpWien
Wien, Austria
15-Sep-20
Belgium
Wake Up Bruxelles
bruxelles@wkup.org
www.facebook.com/groups/265263807466347
Brussels, Belgium
24-Nov-20
Belgium
Wake Up Gent
gent@wkup.org
www.facebook.com/groups/1326268917442845
Gent, Belgium
24-Nov-20
Belgium
Wake Up Leuven
leuven@wkup.org
www.facebook.com/groups/1462093334083207
Leuven, Belgium
23-Oct-20
Belgium
Wake Up Belgium
belgium@wkup.org
www.facebook.com/Sangha-Belgium-1474879765937743/
Belgium
12-Oct-20
Belgium
Wake Up Antwerp
antwerp@wkup.org
www.facebook.com/groups/WakeUpAntwerpen
Antwerp, Belgium
12-Oct-20
Belgium
Wake Up Liège
liege@wkup.org
www.facebook.com/WakeUpLiege
Liege, Belgium
12-Oct-20
Brazil
Wake Up Sao Paulo
saopaulo@wkup.org
https://wakeupsaopaulo.webnode.com/
Sao Paulo, Brazil
1-Jul-20
Canada
Wake Up Quebec City
https://www.facebook.com/wkupquebec
Quebec City ,Canada
27-Jul-21
Canada
Wake Up Montréal
montreal@wkup.org
https://www.facebook.com/wakeupmontreal
Montreal, Canada
8-Dec-20
Canada
Wake Up Saskatoon
saskatoon@wkup.org
Saskatoon, Canada
2-Apr-20
Canada
Viet Wake Up Toronto
vwut@wkup.org
www.facebook.com/vietwakeuptoronto
Toronto, Canada
8-Apr-16
Canada
Wake Up Edmonton
edmonton@wkup.org
www.facebook.com/wakeupedmonton
Edmonton, Canada
8-Apr-16
Canada
Wake Up Toronto
toronto@wkup.org
www.facebook.com/wakeuptoronto
Toronto, Canada

8-Apr-16
Chile
Vivir Despiertos Chile
chile@wkup.org
www.facebook.com/groups/SanghaWakeUpChile
Santiago, Chile
16-Oct-19
China
Wake Up Hong Kong
hongkong@wkup.org
www.facebook.com/wakeup852
Hong Kong, China
21-Mar-18
Colombia
Wake Up Medellín
medellin@wkup.org
www.facebook.com/wakeupmedellin
Medellin, Colombia
21-Mar-18
Czech Republic
Wake Up Prague
prague@wkup.org
www.facebook.com/groups/wakeupprague/
Prague, Czech Republic
27-Oct-20
France
Wake Up Paris
paris@wkup.org
www.facebook.com/wkupparis
Paris, France
10-Nov-20
France
Wake Up Lyon
lyon@wkup.org
www.facebook.com/Wake-Up-Lyon-378731998863540/
Lyon, France
27-Oct-20
France
Wake Up Bordeaux
bordeaux@wkup.org
www.facebook.com/WakeUpBordeauxSangha
Bordeaux, France
23-Oct-20
France
Wake Up Chambéry
chambery@wkup.org
Chambéry, France
12-Oct-20
France
Wake Up Strasbourg
strasbourg@wkup.org
www.facebook.com/Wake-Up-Strasbourg-151703421963235
Strasbourg, France
12-Oct-20
France
Wake Up Montpellier
montpellier@wkup.org
www.facebook.com/WakeUpMontpellier
Montpellier, France
12-Oct-20
France
Wake Up Grenoble
grenoble@wkup.org
https://www.facebook.com/groups/595239164731260
Grenoble, France
25-Sep-20
France
Wake Up Valence
valence@wkup.org
https://www.facebook.com/wakeup.valence.3
Valence, France
10-Sep-20
France
Wake Up Saint Étienne
stetienne@wkup.org
Saint Étienne, France
10-Nov-17
Germany
Wake Up Oldenburg
oldenburg@wkup.org
Oldenburg, Germany
10-Aug-21
Germany
Wake Up Darmstadt
darmstadt@wkup.org
Darmstadt, Germany
29-Jun-21
Germany
Wake Up Bonn
bonn@wkup.org
Bonn, Germany
30-Oct-20
Germany
Wake Up Munich
munich@wkup.org
Munich, Germany
27-Oct-20
Germany
Wake Up Frankfurt
frankfurt@wkup.org
Frankfurt, Germany
27-Oct-20
Germany
Wake Up Dresden
dresden@wkup.org
Dresden, Germany
12-Oct-20
Germany
Wake Up Freiburg
freiburg@wkup.org
www.facebook.com/groups/1494727080811371
Freiburg, Germany
12-Oct-20
Germany
Wake Up Hamburg
hamburg@wkup.org
Hamburg, Germany
12-Oct-20
Germany
Wake Up Leipzig
leipzig@wkup.org
Leipzig, Germany
12-Oct-20
Germany
Wake Up Aachen
aachen@wkup.org
https://www.facebook.com/WkupAachen
Aachen, Germany
29-Sep-20
Germany
Wake Up Berlin
berlin@wkup.org
www.facebook.com/wakeupberlin
Berlin, Germany
20-Jul-20
Germany
Wake Up Passau
passau@wkup.org
Passau, Germany
12-Jan-20
Germany
Wake Up Regensburg
regensburg@wkup.org
Regensburg, Germany
19-Apr-22
Germany
Wake Up Hannover
hannover@wkup.org
www.facebook.com/wakeuphannover
Hannover, Germany
16-Oct-19
Greece
Wake Up Athens
athens@wkup.org
www.facebook.com/WakeUpAthens/
Athens, Greece
27-Oct-20
India
Wake Up Dharamshala
dharamshala@wkup.org
Bhagsu, Dharamshala
20-Oct-20
India
Wake Up India
india@wkup.org
https://www.facebook.com/wkupindia
Online Zoom meetings
8-May-20
Indonesia
Wake Up Jakarta
jakarta@wkup.org
www.facebook.com/groups/532719230081361/
Jakarta, Indonesia
8-Apr-16
Ireland
Wake Up Dublin
dublin@wkup.org
www.facebook.com/WakeUpDublin
Dublin, Ireland
12-Oct-20
Ireland
Wake Up Cork
cork@wkup.org
www.facebook.com/wakeupirelandcork
Cork, Ireland
2-Sep-19
Israel
Wake Up Jerusalem
jerusalem@wkup.org
Jerusalem, Israel
12-Oct-20
Israel
Wake Up Tel-Aviv
telaviv@wkup.org
www.facebook.com/wkupTLV
Tel-Aviv, Israel
12-Oct-20
Italy
Wake Up Torino
torino@wkup.org
Torino, Italy
17-Nov-20
Italy
Wake Up Palermo
palermo@wkup.org
Palermo, Italy
30-Oct-20
Italy
Wake Up Verona
verona@wkup.org
Verona, Italy
12-Oct-20
Italy
Wake Up Lecce
lecce@wkup.org
Lecce, Italy
29-Dec-18
Italy
Wake Up Italia
www.facebook.com/groups/159285640774359
Italy
Japan
Wake Up Tokyo
tokyo@wkup.org
www.facebook.com/Wake-Up-Tokyo-400877990280326/
Tokyo, Japan
15-Sep-19
Mexico
Wake Up San Luis Potosí
sanluispotosi@wkup.org
San Luis Potosi,
Mexico
16-Apr-19
Mexico
Wake Up CDMX (Mexico City)
cdmx@wkup.org
wkupmx.org
Ciudad de Mexico,
Mexico
1-Jan-19
Mexico
Wake Up Puebla
puebla@wkup.org
www.facebook.com/WakeUPuebla
Puebla, Mexico
8-Apr-16
Netherlands
Wake Up Leeuwarden
leeuwarden@wkup.nl
Leeuwarden,
The Netherlands
10-Nov-20
Netherlands
Wake Up Breda
breda@wkup.nl
www.facebook.com/groups/101493260189341
Breda,
The Netherlands
27-Oct-20
Netherlands
Wake Up Rotterdam
sangha@wkup.nl
www.facebook.com/WakeUpRdam
Rotterdam,
The Netherlands
27-Oct-20
Netherlands
Wake Up Utrecht
utrecht@wkup.nl
www.facebook.com/groups/137923042982536
Utrecht,
The Netherlands
23-Oct-20
Netherlands
Wake Up Nijmegen
nijmegen@wkup.nl
wkup.us11.list-manage.com/subscribe?u=204b20dba016ec1b26b83ccd2&id=3f3a1ae87e
Nijmegen,
The Netherlands
12-Oct-20
Netherlands
Wake Up Wageningen
wageningen@wkup.nl
www.facebook.com/groups/wakeupwageningen/
Wageningen,
The Netherlands
12-Oct-20
Netherlands
Wake Up Amsterdam
amsterdam@wkup.nl
www.facebook.com/groups/336405633163655
Amsterdam,
The Netherlands
12-Oct-20
Netherlands
Wake Up Groningen
groningen@wkup.nl
https://wkup.nl/steden/groningen/
Groningen,
The Netherlands
12-Oct-20
Netherlands
Wake Up Tilburg
tilburg@wkup.nl
https://wkup.nl/steden/tilburg/
Tilburg,
The Netherlands
12-Oct-20
Netherlands
Wake Up Enschede
enschede@wkup.nl
www.facebook.com/groups/709693372484366/
Enschede,
The Netherlands
12-Oct-20
Netherlands
Wake Up Leiden
leiden@wkup.nl
https://www.facebook.com/Wake-Up-Leiden-1956978151203776/
Leiden, The Netherlands
29-Jul-20
New Zealand
Wake Up Palmerston North
palmerstonnorth@wkup.org
Palmerston North, New Zealand
20-Sep-22
Norway
Wake Up Oslo
oslo@wkup.org
https://www.facebook.com/groups/949148688535794
Oslo, Norway
8-Apr-22
Singapore
Wake Up Singapore
singapore@wkup.org
Singapore, Singapore
22-Oct-18
Spain
Wake Up Barcelona
barcelona@wkup.org
Barcelona, Spain
17-Feb-22
Spain
Wake Up Valencia
valencia@wkup.org
Valencia, Spain
13-Apr-21
Spain
Wake Up Madrid
madrid@wkup.org
www.facebook.com/wakeupmadrid/
Madrid, Spain
27-Oct-20
Sweden
Wake Up Lund
lund@wkup.org
https://www.wakeup-lund.se/
Lund, Sweden
17-Feb-22
Sweden
Wake Up Stockholm
stockholm@wkup.org
www.facebook.com/groups/698508990644945
Stockholm, Sweden
30-Oct-19
Switzerland
Wake Up Wengen
wengen@wkup.org
Wengen, Switzerland
10-Aug-21
Switzerland
Wake Up Lausanne
lausanne@wkup.org
https://www.facebook.com/WAKE-UP-Lausanne-1073838555974375/
Lausanne, Switzerland
12-Oct-20
Thailand
Wake Up Bangkok
bangkok@wkup.org
www.facebook.com/wkupthailand/
Bangkok, Thailand
6-Nov-18
United Kingdom
Wake Up Bristol
bristol@wkup.org
Bristol, United Kingdom
8-Dec-20
United Kingdom
Wake Up Glasgow
glasgow@wkup.org
www.facebook.com/wakeupglasgow
Glasgow, United Kingdom
10-Nov-20
United Kingdom
Wake Up Sussex
sussex@wkup.org
www.facebook.com/wakeupsussex
Lewes, United Kingdom
27-Oct-20
United Kingdom
Wake Up Newcastle upon Tyne
newcastleupontyne@wkup.org
www.facebook.com/groups/889627964518520
Newcastle upon Tyne, United Kingdom
23-Oct-20
United Kingdom
Wake Up London
info@wakeuplondon.org
wakeuplondon.org
London, WC2N 4EH, United Kingdom
12-Oct-20
United Kingdom
Wake Up Edinburgh
edinburgh@wkup.org
www.facebook.com/WakeUpEdinburgh
Edinburgh, Scotland,
United Kingdom
12-Oct-20
United Kingdom
Smile Wells
smilewells@wkup.org
Wells, United Kingdom
25-Sep-20
United States
California
Wake Up LA - Los Angeles
westla@wkup.org
www.facebook.com/groups/wkupla/
Studio City, CA 91604
United States
16-Oct-19
United States
California
Wake Up LA - Northeast Los Angeles
la@wkup.org
www.facebook.com/groups/WakeUpNELA/
Pasadena, California
United States
18-Aug-19
United States
California
Wake Up South Bay
southbay@wkup.org
www.facebook.com/groups/WakeUpSouthBay/
Santa Clara,
California
17-Aug-19
United States
California
Wake Up Monterey Bay
montereybay@wkup.org
www.facebook.com/groups/612856529221580/
Monterey Bay, California
United States
5-Jun-19
United States
California
New Generation Sangha
ngsangha@gmail.com

groups.google.com/forum/#!forum/new-generation-sangha
Oakland, California,
United States
15-Jan-19
United States
California
Wake Up San Francisco
sanfrancisco@wkup.org
wakeupsf.org
San Francisco, California 94110
United States
29-Dec-18
United States
California
Wake Up Long Beach
longbeach@wkup.org
www.facebook.com/groups/wkupLBC
Long Beach, California
United States
14-Jul-16
United States
California
Wake Up Orange County
oc@wkup.org
www.facebook.com/groups/250211285091883/
Orange County, California
United States
8-Apr-16
United States
California
Viet Wake Up Orange County
vietoc@wkup.org
www.facebook.com/vietwakeupoc
Orange County, California
United States
8-Apr-16
United States
California
Wake Up San Diego
sandiego@wkup.org
wakeupsandiego.org
San Diego, California 92111
United States
8-Apr-16
United States
California
Wake Up California
www.facebook.com/wakeupca
California
United States
California
Wake Up Bay Area
www.facebook.com/groups/wakeupbayarea
Bay Area, California, USA
United States
United States
Florida
Viet Wake Up Florida
(based out of Davie)
vietwkupfl@gmail.com
www.facebook.com/miamimindfullnessretreat
Davie, Florida
United States
15-Jan-20
United States
Florida
Wake Up Florida
wkupflorida@gmail.com
www.facebook.com/WkUpFlorida
Florida, United States
15-Jan-20
United States
Florida
Wake Up South Florida
wkupsofl@gmail.com
www.facebook.com/WkUpFlorida
Davie, FL 33325
United States
17-Aug-19
United States
Florida
Wake Up Tampa
tampa@wkup.org
www.facebook.com/WakeUpTampaBay
Tampa, Florida
United States
8-Apr-16
United States
Indiana
Wake Up Indiana
indiana@wkup.org
Indiana, United States
1-Jul-22
United States
Massachusetts
Happy Valley Wake Up
happyvalley@wkup.org
Northampton, MA
United States
26-Feb-21
United States
Massachusetts
Wake Up Boston
boston@wkup.org
www.facebook.com/WakeUpBoston
Cambridge, Massachusetts 02139
United States
8-Apr-16
United States
Missouri
Rooted River Wake Up
rootedriver@wkup.org
https://www.RootedRiverSangha.org/
St. Louis, MO
United States
26-Feb-21
United States
Missouri
Wake Up Kansas City
kansascity@wkup.org
Kansas City, MO
United States
13-Feb-21
United States
New York
Wake Up Buffalo
buffalo@wkup.org
www.facebook.com/wakeupbuffalo/
Buffalo, New York
United States
13-Apr-19
United States
New York
Wake Up NYC
nyc@wkup.org
wakeupnewyork.org
New York City, New York
United States
8-Apr-16
United States
Oregon
Wake Up Eugene
eugene@wkup.org
Eugene, Oregon
United States
1-Jun-20
United States
Pennsylvania
Wake Up Philadelphia
philadelphia@wkup.org
Philadelphia, Pennsylvania
United States
29-Dec-18
United States
Texas
Wake Up Dallas - YES
dallasyes@wkup.org
www.awakeningheart.org/dwe.htm#WEDNESDAYYES
Richardson, Texas 75080
United States

20-Sep-19
United States
Texas
Wake Up Austin
austin@wkup.org
www.facebook.com/groups/WakeUpAustin/
Austin, Texas 78745
United States
31-Jan-19
United States
Utah
Wake Up Salt Lake City
saltlakecity@wkup.org
Salt Lake City, Utah
United States
16-Oct-19
United States
Washington
Wake Up Seattle - Cherry Blossom Sangha
cherryblossomsangha@wkup.org
www.facebook.com/CherryBlossomSangha/
Seattle, WA 98144
United States
10-Aug-16
United States
Wisconsin
Wake Up Milwaukee
milwaukee@wkup.org
https://milwaukeemindfulness.com
Milwaukee, WI
11-Oct-21
Vietnam
Wake Up Da Nang
danang@wkup.org
28/12 Bau Hac 5, Da Nang, Vietnam
7-Mar-23
Vietnam
Wake Up Saigon
saigon@wkup.org
https://www.facebook.com/Wake-Up-Saigon-107072684024677
Ho Chi Minh, Vietnam
5-Mar-23
Vietnam
Wake Up Hanoi
hanoi@wkup.org
www.facebook.com/moonhamlet
Hanoi, Vietnam
5-Mar-23
United Kingdom
Wake Up Cambridge
cambridge@wkup.org
Cambridge, United Kingdom
6-Nov-23
Germany
Wake Up Nuremberg
nuremberg@wkup.org
Nürnberg, Germany
13-Aug-23
Germany
Wake Up Augsburg
augsburg@wkup.org
Augsburg, Germany
21-Aug-23