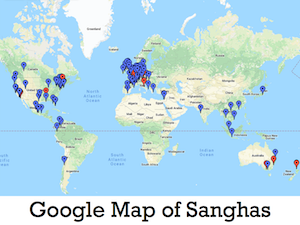 Scroll down to see the full list of Sanghas (ages 18-35) in the world that practice in the Plum Village tradition.
Don't see a local Wake Up Sangha near you? There are a couple of options:
Wake Up Sanghas List
To find a Wake Up Sangha near you, enter keywords (country, state, city, name, etc.) in the "Search" box below. Scroll right to view all the information listed.
Country
Name
Email
Website
Address
Status
Last Update
Australia
Wake Up Brisbane
brisbane@wkup.org
www.facebook.com/groups/1661603900572802
Brisbane, Australia
12-Oct-18
Australia
Wake Up Melbourne
melbourne@wkup.org
www.facebook.com/WakeUpMelbourne/
Melbourne, Australia
30-Aug-17
Australia
Wake Up Sydney
sydney@wkup.org
sydney.wkup.org
Sydney, Australia
8-Apr-16
Austria
Wake Up Wien
wien@wkup.org
https://tinyletter.com/WakeUpWien
Wien, Austria
15-Sep-20
Belgium
Wake Up Leuven
leuven@wkup.org
www.facebook.com/groups/1462093334083207
Leuven, Belgium
23-Oct-20
Belgium
Wake Up Belgium
belgium@wkup.org
www.facebook.com/Sangha-Belgium-1474879765937743/
Belgium
12-Oct-20
Belgium
Wake Up Liège
liege@wkup.org
www.facebook.com/WakeUpLiege
Liege, Belgium
12-Oct-20
Belgium
Wake Up Antwerp
antwerp@wkup.org
www.facebook.com/groups/WakeUpAntwerpen
Antwerp, Belgium
12-Oct-20
Belgium
Wake Up Bruxelles
bruxelles@wkup.org
www.facebook.com/groups/265263807466347
Brussels, Belgium
18-Jul-17
Belgium
Wake Up Gent
gent@wkup.org
www.facebook.com/groups/1326268917442845
Gent, Belgium
11-Jun-17
Brazil
Wake Up Sao Paulo
saopaulo@wkup.org
https://wakeupsaopaulo.webnode.com/
Sao Paulo, Brazil
1-Jul-20
Canada
Wake Up Saskatoon
saskatoon@wkup.org
Saskatoon, Canada
2-Apr-20
Canada
Viet Wake Up Toronto
vwut@wkup.org
www.facebook.com/vietwakeuptoronto
Toronto, Canada
8-Apr-16
Canada
Wake Up Edmonton
edmonton@wkup.org
www.facebook.com/wakeupedmonton
Edmonton, Canada
8-Apr-16
Canada
Wake Up Montréal
montreal@wkup.org
www.facebook.com/Wake-Up-Montr%C3%A9al-1624813511063343/
Montreal, Canada
8-Apr-16
Canada
Wake Up Toronto
toronto@wkup.org
www.facebook.com/wakeuptoronto
Toronto, Canada

8-Apr-16
Chile
Vivir Despiertos Chile
chile@wkup.org
www.facebook.com/groups/SanghaWakeUpChile
Santiago, Chile
16-Oct-19
China
Wake Up Hong Kong
hongkong@wkup.org
www.facebook.com/wakeup852
Hong Kong, China
21-Mar-18
Colombia
Wake Up Medellín
medellin@wkup.org
www.facebook.com/wakeupmedellin
Medellin, Colombia
21-Mar-18
Cyprus
Wake Up Cyprus
cyprus@wkup.org
Cyprus
Looking to start a Wake Up group!
25-Apr-19
Czech Republic
Wake Up Prague
prague@wkup.org
www.facebook.com/groups/wakeupprague/
Prague, Czech Republic
17-Apr-19
France
Wake Up Grenoble
grenoble@wkup.org
https://www.facebook.com/groups/595239164731260
Grenoble, France
25-Sep-20
France
Wake Up Valence
valence@wkup.org
https://www.facebook.com/wakeup.valence.3
Valence, France
10-Sep-20
France
Wake Up Chambéry
chambery@wkup.org
Chambéry, France
12-Oct-20
France
Wake Up Saint Étienne
stetienne@wkup.org
Saint Étienne, France
10-Nov-17
France
Wake Up Toulouse
toulouse@wkup.org
Toulouse, France
12-Oct-17
France
Wake Up Strasbourg
strasbourg@wkup.org
www.facebook.com/Wake-Up-Strasbourg-151703421963235
Strasbourg, France
12-Oct-20
France
Wake Up Bordeaux
bordeaux@wkup.org
www.facebook.com/WakeUpBordeauxSangha
Bordeaux, France
23-Oct-20
France
Wake Up Lyon
lyon@wkup.org
www.facebook.com/Wake-Up-Lyon-378731998863540/
Lyon, France
8-Apr-16
France
Wake Up Montpellier
montpellier@wkup.org
www.facebook.com/WakeUpMontpellier
Montpellier, France
12-Oct-20
France
Wake Up Paris
paris@wkup.org
www.facebook.com/wkupparis
Paris, France
23-Oct-20
Germany
Wake Up Aachen
aachen@wkup.org
https://www.facebook.com/WkupAachen
Aachen, Germany
29-Sep-20
Germany
Wake Up Berlin
berlin@wkup.org
www.facebook.com/wakeupberlin
Berlin, Germany
20-Jul-20
Germany
Wake Up Munich
munich@wkup.org
Munich, Germany
3-Jun-20
Germany
Wake Up Frankfurt
frankfurt@wkup.org
Frankfurt, Germany
15-Jan-20
Germany
Wake Up Passau
passau@wkup.org
Passau, Germany
12-Jan-20
Germany
Wake Up Hannover
hannover@wkup.org
www.facebook.com/wakeuphannover
Hannover, Germany
16-Oct-19
Germany
Wake Up Augsburg
augsburg@wkup.org
Augsburg, Germany
Looking to start a Wake Up group!
10-May-19
Germany
Wake Up Dresden
dresden@wkup.org
Dresden, Germany
12-Oct-20
Germany
Wake Up Bonn
bonn@wkup.org
Bonn, Germany
14-May-16
Germany
Wake Up Freiburg
freiburg@wkup.org
www.facebook.com/groups/1494727080811371
Freiburg, Germany
12-Oct-20
Germany
Wake Up Hamburg
hamburg@wkup.org
Hamburg, Germany
12-Oct-20
Germany
Wake Up Leipzig
leipzig@wkup.org
Leipzig, Germany
12-Oct-20
Greece
Wake Up Athens
athens@wkup.org
www.facebook.com/WakeUpAthens/
Athens, Greece
1-Oct-19
India
Wake Up India
india@wkup.org
https://www.facebook.com/wkupindia
Online Zoom meetings
8-May-20
India
Wake Up Dharamshala
dharamshala@wkup.org
Bhagsu, Dharamshala
20-Oct-20
India
Wake Up Pune
pune@wkup.org
http://www.justbeingcenter.com/services/circles.asp
Pune, India
8-May-20
Indonesia
Wake Up Jakarta
jakarta@wkup.org
www.facebook.com/groups/532719230081361/
Jakarta, Indonesia
8-Apr-16
Ireland
Wake Up Cork
cork@wkup.org
www.facebook.com/wakeupirelandcork
Cork, Ireland
2-Sep-19
Ireland
Wake Up Dublin
dublin@wkup.org
www.facebook.com/WakeUpDublin
Dublin, Ireland
12-Oct-20
Israel
Wake Up Jerusalem
jerusalem@wkup.org
Jerusalem, Israel
12-Oct-20
Israel
Wake Up Tel-Aviv
telaviv@wkup.org
www.facebook.com/wkupTLV
Tel-Aviv, Israel
12-Oct-20
Italy
Wake Up Palermo
palermo@wkup.org
Palermo, Italy
11-Jun-20
Italy
Wake Up Torino
torino@wkup.org
Torino, Italy
3-Jun-20
Italy
Wake Up Perugia
perugia@wkup.org
Perugia, Italy
29-Apr-20
Italy
Wake Up Verona
verona@wkup.org
Verona, Italy
12-Oct-20
Italy
Wake Up Lecce
lecce@wkup.org
Lecce, Italy
Looking to start a Wake Up group!
29-Dec-18
Italy
Wake Up Italia
www.facebook.com/groups/159285640774359
Italy
Japan
Wake Up Tokyo
tokyo@wkup.org
www.facebook.com/Wake-Up-Tokyo-400877990280326/
Tokyo, Japan
Looking to start a Wake Up group!
15-Sep-19
Mexico
Wake Up San Luis Potosí
sanluispotosi@wkup.org
San Luis Potosi,
Mexico
16-Apr-19
Mexico
Wake Up CDMX (Mexico City)
cdmx@wkup.org
wkupmx.org
Ciudad de Mexico,
Mexico
1-Jan-19
Mexico
Wake Up Puebla
puebla@wkup.org
www.facebook.com/WakeUPuebla
Puebla, Mexico
8-Apr-16
Netherlands
Wake Up Nijmegen
nijmegen@wkup.nl
wkup.us11.list-manage.com/subscribe?u=204b20dba016ec1b26b83ccd2&id=3f3a1ae87e
Nijmegen,
The Netherlands
12-Oct-20
Netherlands
Wake Up Wageningen
wageningen@wkup.nl
www.facebook.com/groups/wakeupwageningen/
Wageningen,
The Netherlands
12-Oct-20
Netherlands
Wake Up Amersfoort
amersfoort@wkup.nl
Amersfoort,
The Netherlands
28-Oct-19
Netherlands
Wake Up Breda
breda@wkup.nl
www.facebook.com/groups/101493260189341
Breda,
The Netherlands
28-Oct-19
Netherlands
Wake Up Rotterdam
sangha@wkup.nl
www.facebook.com/WakeUpRdam
Rotterdam,
The Netherlands
Looking to start a Wake Up group!
26-Jul-19
Netherlands
Wake Up Amsterdam
amsterdam@wkup.nl
www.facebook.com/groups/336405633163655
Amsterdam,
The Netherlands
12-Oct-20
Netherlands
Wake Up Groningen
groningen@wkup.nl
https://wkup.nl/steden/groningen/
Groningen,
The Netherlands
12-Oct-20
Netherlands
Wake Up Leeuwarden
leeuwarden@wkup.nl
Leeuwarden,
The Netherlands
12-Apr-16
Netherlands
Wake Up Leiden
leiden@wkup.nl
https://www.facebook.com/Wake-Up-Leiden-1956978151203776/
Leiden, The Netherlands
Looking to start a Wake Up group!
29-Jul-20
Netherlands
Wake Up Maastricht
maastricht@wkup.nl
www.facebook.com/groups/1471939166392609
Maastricht,
The Netherlands
12-Apr-16
Netherlands
Wake Up Tilburg
tilburg@wkup.nl
https://wkup.nl/steden/tilburg/
Tilburg,
The Netherlands
12-Oct-20
Netherlands
Wake Up Utrecht
utrecht@wkup.nl
www.facebook.com/groups/137923042982536
Utrecht,
The Netherlands
23-Oct-20
Netherlands
Wake Up Enschede
enschede@wkup.nl
www.facebook.com/groups/709693372484366/
Enschede,
The Netherlands
12-Oct-20
Norway
Wake Up Oslo
oslo@wkup.org
www.facebook.com/groups/949148688535794/
Oslo, Norway
6-Nov-18
Singapore
Wake Up Singapore
singapore@wkup.org
Singapore, Singapore
22-Oct-18
Spain
Wake Up Valencia
valencia@wkup.org
Valencia, Spain
23-Feb-20
Spain
Wake Up Madrid
madrid@wkup.org
www.facebook.com/wakeupmadrid/
Madrid, Spain
30-Nov-18
Spain
Wake Up Costa Brava
costabrava@wkup.org
www.facebook.com/WakeUpCostaBrava/
Sant Feliu de Guixols, Spain

12-Oct-20
Sweden
Wake Up Stockholm
stockholm@wkup.org
www.facebook.com/groups/698508990644945
Stockholm, Sweden
30-Oct-19
Sweden
Wake Up Malmö
malmo@wkup.org
www.facebook.com/groups/2106143476284454
Malmö, Sweden
12-Oct-20
Switzerland
Wake Up Lausanne
lausanne@wkup.org
https://www.facebook.com/WAKE-UP-Lausanne-1073838555974375/
Lausanne, Switzerland
12-Oct-20
Taiwan
Wake Up Taiwan
taipei@wkup.org
www.facebook.com/groups/528114001282315

Taiwan
19-Sep-19
Thailand
Wake Up Bangkok
bangkok@wkup.org
www.facebook.com/wkupthailand/
Bangkok, Thailand
6-Nov-18
United Kingdom
Wake Up Newcastle upon Tyne
newcastleupontyne@wkup.org
www.facebook.com/groups/889627964518520
Newcastle upon Tyne, United Kingdom
23-Oct-20
United Kingdom
Wake Up Sussex
sussex@wkup.org
www.facebook.com/wakeupsussex
Lewes, United Kingdom
3-Oct-19
United Kingdom
Smile Wells
smilewells@wkup.org
Wells, United Kingdom
25-Sep-20
United Kingdom
Wake Up Glasgow
glasgow@wkup.org
www.facebook.com/wakeupglasgow
Glasgow, United Kingdom
15-Sep-19
United Kingdom
Wake Up London
info@wakeuplondon.org
wakeuplondon.org
London, WC2N 4EH, United Kingdom
12-Oct-20
United Kingdom
Wake Up Belfast
belfast@wkup.org
www.facebook.com/WakeUpBelfast
Belfast,
Northern Ireland,
United Kingdom
Looking to start a Wake Up group!
8-Apr-16
United Kingdom
Wake Up Edinburgh
edinburgh@wkup.org
www.facebook.com/WakeUpEdinburgh
Edinburgh, Scotland,
United Kingdom
12-Oct-20
United States
California
Wake Up LA - Los Angeles
westla@wkup.org
www.facebook.com/groups/wkupla/
Studio City, CA 91604
United States
16-Oct-19
United States
California
Wake Up Central Los Angeles - Koreatown
koreatown@wkup.org
Koreatown, California
United States
Looking to start a Wake Up group!
18-Aug-19
United States
California
Wake Up LA - Northeast Los Angeles
la@wkup.org
www.facebook.com/groups/WakeUpNELA/
Pasadena, California
United States
18-Aug-19
United States
California
Wake Up South Bay
southbay@wkup.org
www.facebook.com/groups/WakeUpSouthBay/
Santa Clara,
California
17-Aug-19
United States
California
Wake Up Monterey Bay
montereybay@wkup.org
www.facebook.com/groups/612856529221580/
Monterey Bay, California
United States
5-Jun-19
United States
California
New Generation Sangha

ngsangha@gmail.com

groups.google.com/forum/#!forum/new-generation-sangha
Oakland, California,
United States
15-Jan-19
United States
California
Wake Up San Francisco
sanfrancisco@wkup.org
wakeupsf.org
San Francisco, California 94110
United States
29-Dec-18
United States
California
Wake Up Long Beach
longbeach@wkup.org
www.facebook.com/groups/wkupLBC
Long Beach, California
United States
14-Jul-16
United States
California
Wake Up Orange County
oc@wkup.org
www.facebook.com/groups/250211285091883/
Orange County, California
United States
Looking to start a Wake Up group!
8-Apr-16
United States
California
Viet Wake Up Orange County
vietoc@wkup.org
www.facebook.com/vietwakeupoc
Orange County, California
United States
8-Apr-16
United States
California
Wake Up San Diego
sandiego@wkup.org
wakeupsandiego.org
San Diego, California 92111
United States
8-Apr-16
United States
California
Wake Up California
www.facebook.com/wakeupca
California
United States
California
Wake Up Bay Area
www.facebook.com/groups/wakeupbayarea
Bay Area, California, USA
United States
United States
Florida
Viet Wake Up Florida
(based out of Davie)
vietwkupfl@gmail.com
www.facebook.com/miamimindfullnessretreat
Davie, Florida
United States
15-Jan-20
United States
Florida
Wake Up Florida
wkupflorida@gmail.com
www.facebook.com/WkUpFlorida
Florida, United States
15-Jan-20
United States
Florida
Wake Up South Florida
wkupsofl@gmail.com
www.facebook.com/WkUpFlorida
Davie, FL 33325
United States
17-Aug-19
United States
Florida
Wake Up Tampa
tampa@wkup.org
www.facebook.com/WakeUpTampaBay
Tampa, Florida
United States
8-Apr-16
United States
Massachusetts
Wake Up Boston
boston@wkup.org
www.facebook.com/WakeUpBoston
Cambridge, Massachusetts 02139
United States
8-Apr-16
United States
New York
Wake Up Buffalo
buffalo@wkup.org
www.facebook.com/wakeupbuffalo/
Buffalo, New York
United States
13-Apr-19
United States
New York
Wake Up NYC
nyc@wkup.org
wakeupnewyork.org
New York City, New York
United States
8-Apr-16
United States
Oregon
Wake Up Eugene
eugene@wkup.org
Eugene, Oregon
United States
1-Jun-20
United States
Oregon
Wake Up Corvallis
corvallis@wkup.org
www.facebook.com/groups/626089897907505
Corvallis, Oregon
United States
11-Feb-17
United States
Pennsylvania
Wake Up Philadelphia
philadelphia@wkup.org
Philadelphia, Pennsylvania
United States
29-Dec-18
United States
Texas
Wake Up Dallas - YES
dallasyes@wkup.org
www.awakeningheart.org/dwe.htm#WEDNESDAYYES
Richardson, Texas 75080
United States

20-Sep-19
United States
Texas
Wake Up Austin
austin@wkup.org
www.facebook.com/groups/WakeUpAustin/
Austin, Texas 78745
United States
31-Jan-19
United States
Utah
Wake Up Salt Lake City
saltlakecity@wkup.org
Salt Lake City, Utah
United States
16-Oct-19
United States
Washington
Wake Up Seattle - Cherry Blossom Sangha
cherryblossomsangha@wkup.org
www.facebook.com/CherryBlossomSangha/
Seattle, WA 98144
United States
10-Aug-16
Vietnam
Wake Up Saigon
saigon@wkup.org
https://www.facebook.com/Wake-Up-Saigon-107072684024677
Ho Chi Minh, Vietnam
19-Sep-19
Vietnam
Wake Up Hanoi
hanoi@wkup.org
www.facebook.com/moonhamlet
Hanoi, Vietnam
31-Dec-18