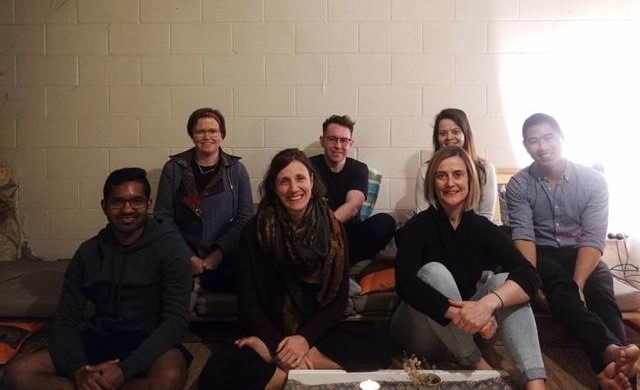 On a rainy October evening last year, the latest rendition of the Wake Up Brisbane Sangha sounded its first bell. Wake Up Brisbane had been born a few years prior, but this particular evening marked a rebirth for the group. Today, we are delighted to be sharing this Sangha space each week with a growing, inspiring, diverse community.
We (Katy from the USA and Revel from Australia) met in Plum Village seven years ago and ended up living in the same part of the world. We have always enjoyed sharing our practice, but we had both wanted to start a practice community, or Sangha, for a long time. A visit by one of us to Plum Village for the Wake Up retreat spurred on the motivation to make this dream a reality.
On that first night in October we were a small group, and we as facilitators were clearly nervous. We chose as our first topic the Four Noble Truths. We decided if this was good enough for the Buddha's first teaching, it might be a good place to start for Wake Up Brisbane. 
Since then we have explored many themes: life and death, gratitude, morality, the Five Mindfulness Trainings, and the Noble Eight-Fold Path. Today, a typical evening looks like it did back on that first night, but we like to think we're a bit more polished.
We run for an hour and a half, starting with twenty minutes sitting meditation, followed by a Dharma teaching and then a Dharma sharing. We take turns facilitating – one week Revel, the next week Katy. We have had a guest facilitator, a friend from Canada as well, and we welcome anyone who would like to take a turn to lead.
It is striking how every week is so different. Sometimes we're a cosy group of four and at our biggest, we are around ten. We have our regulars who we are always very happy to see, but most weeks one or two new people will come along as well. Some are brand new to the practice, sitting for the first time that night with us, and some have been practising for years. One of the nicest aspects of running the group is what our members, new and old, contribute. Everyone always brings something beautiful and nourishing to the group from their own experience and sharing.
We also have a little lending library where members can borrow books that have been donated by other Sangha members.
We describe ourselves as a Wake Up group, so we're aimed at younger meditators under 35. But we aren't checking IDs at the door and we certainly won't turn anyone away who's looking for a friendly community to sit with.
Wake Up Brisbane meets every Monday evening in West End from 6:30 to 8pm.
The best way to join us is to let us know you're coming by joining the Wake Up Brisbane groups on either Facebook (https://www.facebook.com/groups/1661603900572802/?epa=SEARCH_BOX)
or Meetup (https://www.meetup.com/Wake-Up-Brisbane).  
A lotus to you all,
Revel Pointon (Compassionate Healer of the Heart)
Katy Desmond (Great Strength of the Heart)
Reprinted with permission from Plum Village Australia