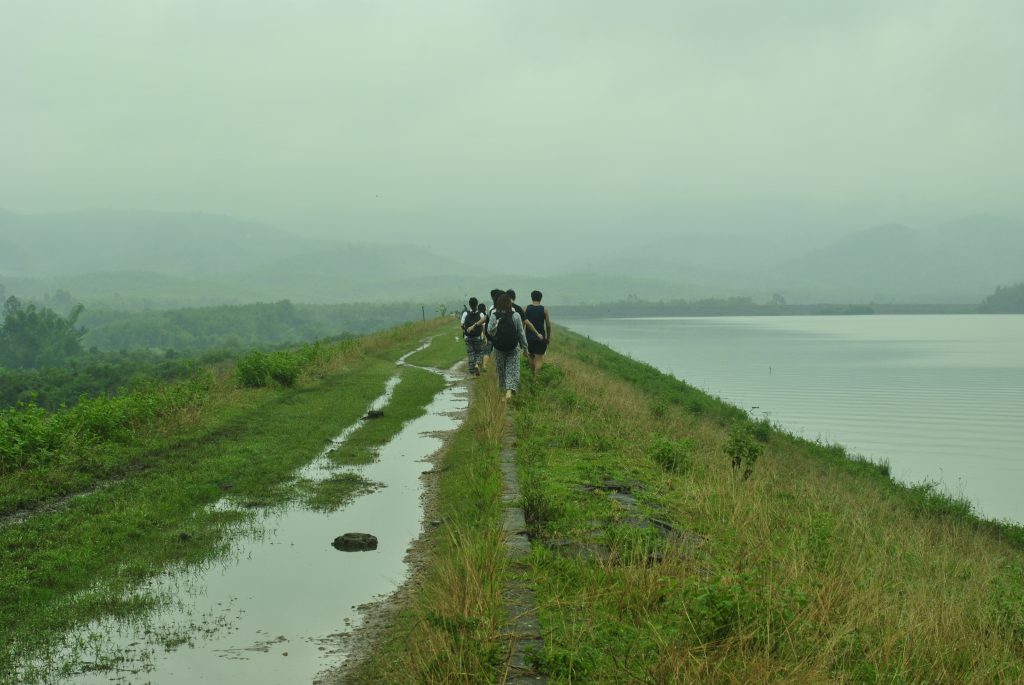 New Year New Me: A story of letting go and taking refuge in the island of self
Dear Thay,
I am writing this letter to you during the first week of the New Year. I have just read your 2014 New Year's Eve Dharma talk on "New Year New Me" on the Plum Village website. I could not help asking myself, "Did I know how to begin anew in 2014? Have I practiced well enough to transform old habit energies to be fresh to welcome a new year?"
I have attended the Asia Core Sangha Retreat in Thai Plum Village with my Singapore Sangha. It was the first time I went to a retreat with my Sangha brothers and sisters and got to experience "Go as a river." It was such a joyful moment when six brothers and sisters in my local Singapore Sangha were ordained together in the Order of Interbeing (OI). There was a brief but very interesting conversation between Thay Phap Kham and I just before the OI Ordination Ceremony.
Me: How long should I write in the 14 Mindfulness Trainings (MT) application?
Thay Phap Kham: You should write enough for us to know you so that we can decide on your name.
Me: But I really love my 5 MT dharma name. I think I am attached to this name already.
Thay Phap Kham: Then you will be given the new Dharma name "True Letting Go" (Chân Buông Xả).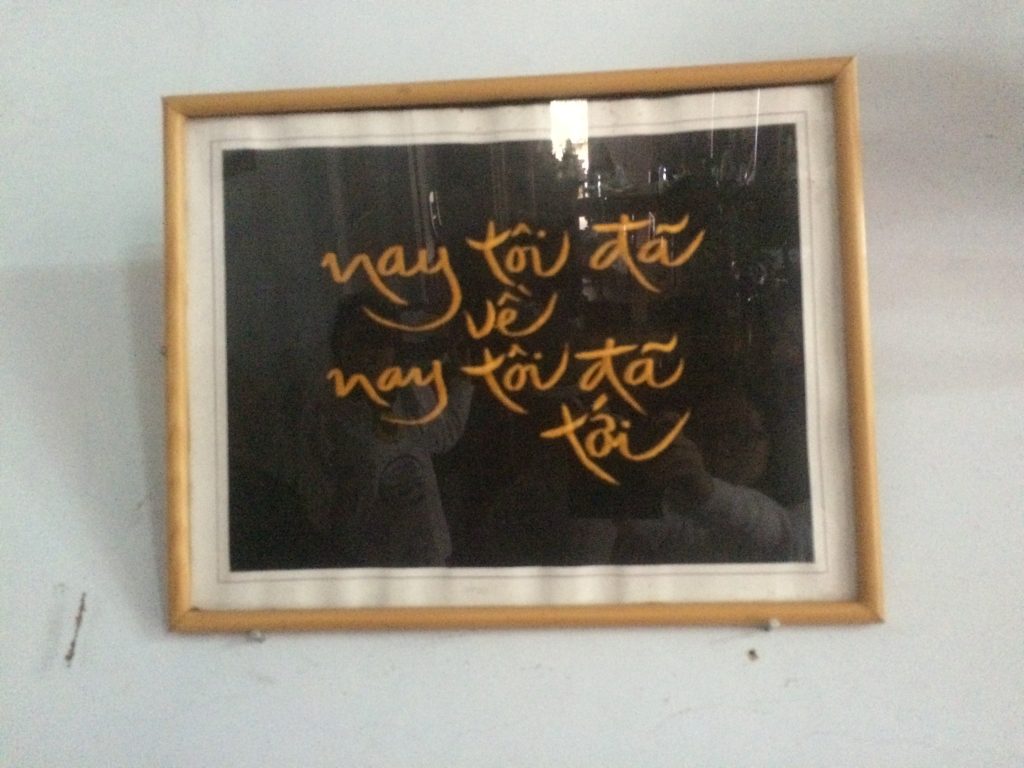 During the OI Ordination Ceremony on 30 December 2014, I was very nervous when Thay Phap Kham read out loud my new OI dharma name. I was pleased he gave me "True Forest of Aspirations" (Chân Nguyện Lâm), not "True Letting Go" like in the joke above. However, upon reflection of "letting go" and "aspiration," they are two words that best describe my practice in the year 2014. To help you understand why this is so, I am going to share with you my journey since I first met you.
The very first time I met you was at your public talk in Hanoi, Vietnam in April 2007. Since then I have always wanted to read your books, listen to your Dharma talks and practice mindfulness with the Plum Village Sangha in France. Thanks to your teachings, I have been able to transform many of my habit energies and cultivate more joy and peace. After the very first summer retreat in Plum Village France in 2012 when I first touched peace and love deeply, I decided that I had to go back to Plum Village at least once every year. I have been attached to you and Plum Village without realizing that.
When I read Thay Phap Linh's article "Wake Up Dreams", I decided to attend a Wake Up Asia Retreat in Thai Plum Village to get connected to many like-minded young people from other countries. After my very first retreat in Pakchong where I saw Thay's continuation in the monastic brothers and sisters in Thailand, I wrote an article "I Have Seen Your Continuation, Thay!"
I thought I made much progress in my practice after that, but I was wrong. One practitioner in Vietnam, after reading my article, gave me this comment: "Ask yourself in this moment if you are breathing Thay's breath, breathing the Buddha's breath. Ask yourself whether in this very moment, you are walking Thay's steps and the Buddha's steps. If you are unable to do so yet, you must practice in a way that enables you to do so. Thay's continuation is in you, not just in the monastics in Pakchong."
To be honest, I was very shocked when receiving such comments from someone whom I have not met, but who was able to point out my weaknesses in the practice. I thought after three retreats in France, I had already made some progress. Unfortunately, the truth was I had attachment to Thay and I was still looking for Thay's continuation outside of me. When another Sangha member pointed out my attachment to Thay, I decided to practice more diligently to take refuge in myself, but I did not know where to start yet.
Since September 2014, I have been a faculty advisor for an International Programme at my university namely Buddhism in Asia. I was preparing to take group of students to Vietnam in December to study about Buddhist practices in the South, the Centre and the North of Vietnam. This motivated me to practice more diligently to deeply connect to my blood ancestors and spiritual ancestors so that I would be able to introduce to my students aspects of Vietnam's cultures and Buddhism. I started to practice conscious breathing and walking more often. Every morning after waking up, I practiced mindful breathing using
Thay's gatha:
"Waking up this morning, I smile
Twenty four brand-new hours are before me
I vow to live deeply in every moment
And look at all beings with the eyes of compassion."
Every week, I introduced different mindfulness practices to this group of students: mindful breathing, mindful walking, listening to the bell, mindful eating, deep listening and loving speech. Facilitating the mindfulness practice every week helped me strengthen my own practice. I became increasingly more conscious of my breaths and my steps. I really wanted to become Thay's continuation.
The day we long awaited had finally come: our group departed for Vietnam. We travelled from the South to the North, talking to Vietnamese people to learn about Buddhist practices in their daily life. We were fortunate to have tea meditation with local Sanghas in every part of Vietnam. One of the highlights of our trip was a visit to Thay's root temple (Tu Hieu) in Hue where the monastic brothers and sisters helped us taste the art of walking meditation and tea meditation.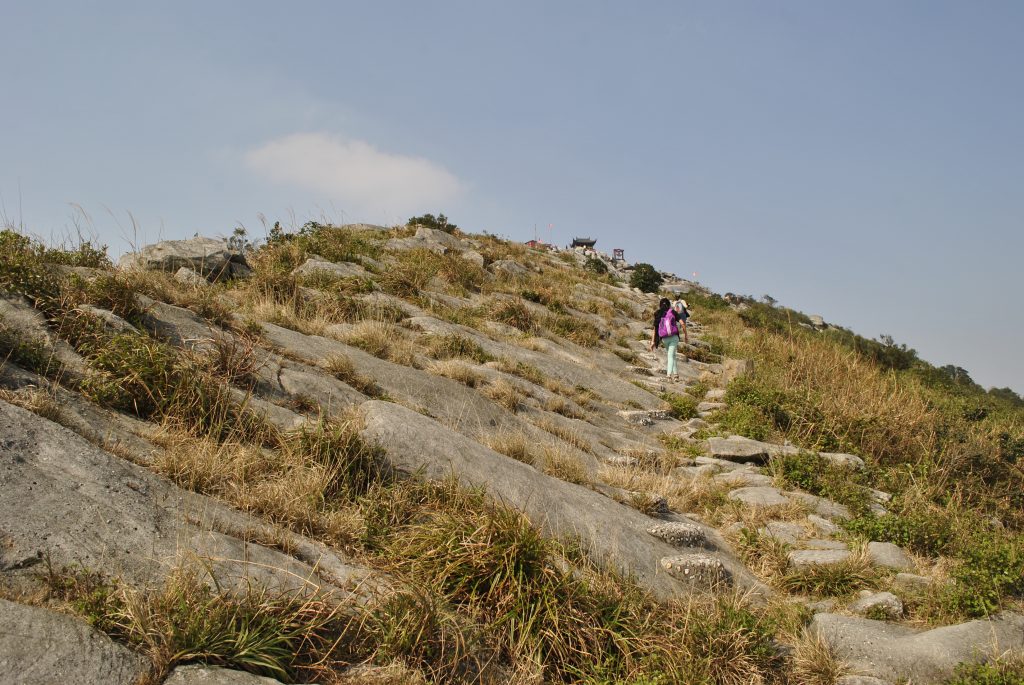 When we visited Thien Mu pagoda in Hue, one of the monks we interviewed there asked me: "You are a disciple of Zen Master Thich Nhat Hanh, aren't you?" I answered: "Yes, I am. How do you know?" He said "I can just tell."
I was very surprised and pleased to hear that. In the past, every time I shared about mindfulness, I always mentioned Thay's name. This time, however, I said nothing about Thay and Plum Village. While I was translating for my students in this interview at Thien Mu pagoda, I paused and smiled whenever there was a sound of the bell.
Therefore, at the end of the interview, this monk read out loud Thay's bell gatha:
"Listen to the bell; I feel the afflictions in me begin to dissolve
My mind calm, my body relaxed
A smile is born in my lips
Following the sound of the bell, my breaths bring me back to the safe island of mindfulness."
When I listen to the bell and follow my breath, I feel deeply connected to Thay and my spiritual ancestors. Throughout our trip, I used the bell to help the students practice mindful breathing and walking, bus meditation, as well as mindful eating. When I was late inviting the bell at the beginning of our meals, my students would remind me "three sounds of the bell please." One night, after a long day of travelling, one of the students looked tired and not fully present; another student said: "Dear teacher, my friend needs a sound of the bell."
At the end of our journey, we climbed the Yen Tu Mountain to learn about the root of Zen Buddhism in Vietnam. When we were up at about 500 meters above sea level, one of the students felt too exhausted to continue climbing. I asked the group to stop, invited the bell and guided the students to breathe using the gatha:
In, out,
Deep, slow,
Calm, ease,
Smile, release.
Present moment, wonderful moment.
When we reached the top of the Yen Tu Mountain, many students shared that they felt fresh and light as if they had not climbed all the way up. Their secret was taking two steps with an in-breath and taking two steps with an out-breath.
When we reached the foot of the Yen Tu Mountain, I went into the Buddha Hall of the Truc Lam Yen Tu Zen Monastery to pay respect and gratitude to the three Triple Gems. When I touched the Earth, I felt deeply connected to the Buddha, Thay and my spiritual ancestors. I realized that when I let go of the illusion of a separate self, I stopped searching outside and I was able to touch the whole universe. Although that moment was very brief, I was grateful that for once. I was able to breathe and walk like Thay.
After the trip around Vietnam and the Asia Core Sangha Retreat, I was inspired to practice more diligently to be able to deeply connect to Thay and the Buddha. I aspire to become a true continuation of Thay.
With gratitude,
True Forest of Aspirations
Ho Gia Anh Le is a lecturer of Vietnamese language and culture. She is passionate about bringing mindfulness into education. Her dharma name is True Forest of Aspirations and she practices with Wake Up Singapore.