By Alexis-Michel Schmitt-Cadet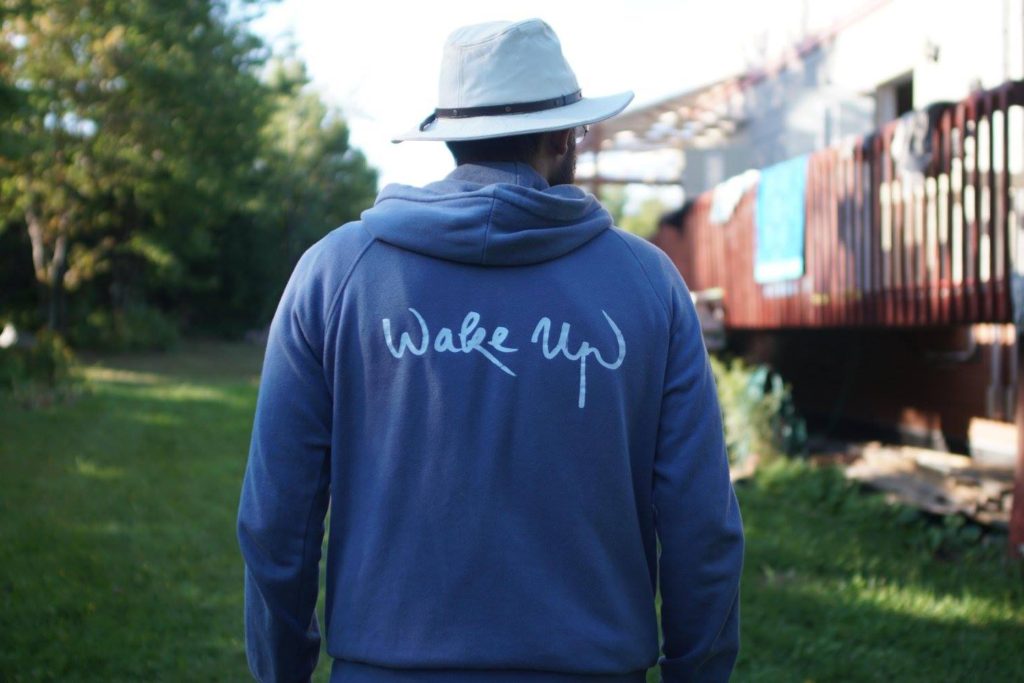 From 15th to 21th August 2016, Wake Up Montréal hosted the first French-speaking Wake Up retreat at Maple Village, Québec. It was a week with a lot of joy, love, sharing, energy, and swimming. 🙂 The theme of the retreat was "Joyfully Together." When we left, everyone beamed with joy.
The preparation of this retreat has experienced many twists and turns. In September 2015, we co-hosted an English-speaking 4-day Wake Up retreat with Wake Up Ottawa and Wake Up Toronto in Maple Village. Around March 2016, we asked some friends from Toronto who had been central in the organization to see if they could come again. Most had other obligations for the summer. We then thought of organizing a 1-week French-speaking retreat. We contacted some lay teachers who kindly agreed to support us and give teachings during the retreat. The monastics from Blue Cliff Monastery could unfortunately not come because of the big program schedule they had at the time. We prepared a one-week program, including two days of free practice.
In early June, one of the organizers, Chinh, announced that two sisters from Lower Hamlet in Plum Village, Sister Dao Nghiem and Sister Phung Nghiem, were coming. This was a great moment of joy because I know these Sisters very well. I have had numerous discussions with them when I was still living in Paris; I went to see them at Maison de l'Inspir (a Plum Village practice center in Seine Saint Denis, France). Following this announcement, we were in search of donations to welcome the Sisters. New ideas appeared. Everything was buzzing, and the program was modified several times—this time in coordination with the Sisters who shared their experience of organizing retreats. We took this opportunity to create retreat booklets in English and French, explaining the foundations of the Plum Village practice.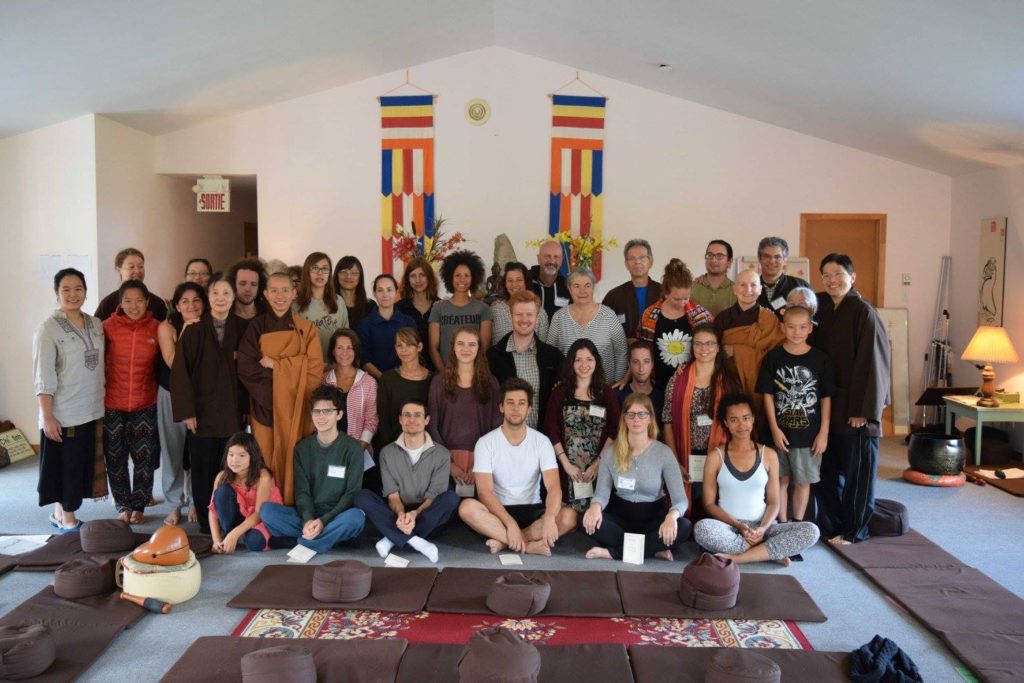 Sister Dao Nghiem and Sister Phung Nghiem arrived in Montréal on 13th August. The following day, we did a meditation flash mob at the Montréal metro, McGill station. A friend joined us for this occasion and decided to come to the retreat.
The retreat begins on 15th August. There are over 60 registered including the Sisters, lay teachers, volunteers, and retreatants. Some come for two days, others for the whole week. The majority of the people come from Montréal and Ottawa. Since the beginning, the collective energy is very strong. A player of Indian Sitar and his friend, who does throat singing, bring an afternoon of musical experience to life. Their music and songs take us into our being and make seeds of stress and worry asleep.
We are blessed by the cooking of Mrs. Nhung who strives to vary each of the meals that we enjoy in full consciousness. The various teachings have brought us back to fundamental questions about joy in everyday life, the seeds of our depths, and the practice of stopping. Each activity is fully experienced in an atmosphere of gentleness and harmony. We have the opportunity to decorate Maple Village with colorful gathas and varied calligraphies, and we organize a lantern workshop on the last evening.
This retreat has a different flavor from those I attended in Maple Village. In the past, I never had the opportunity to go swimming in the pond. From the first day, some went diving into the pond, which made the group want to return regularly. We felt at home in a space, full of love.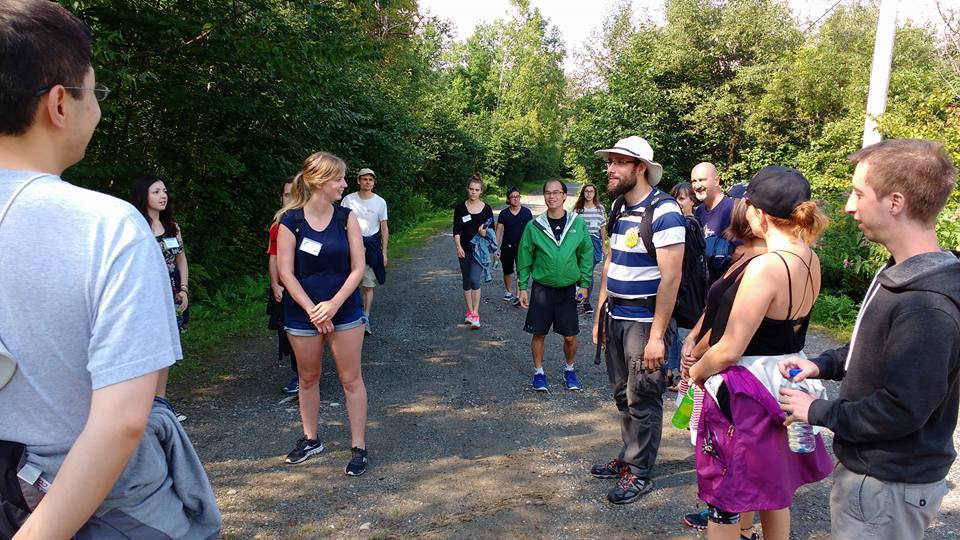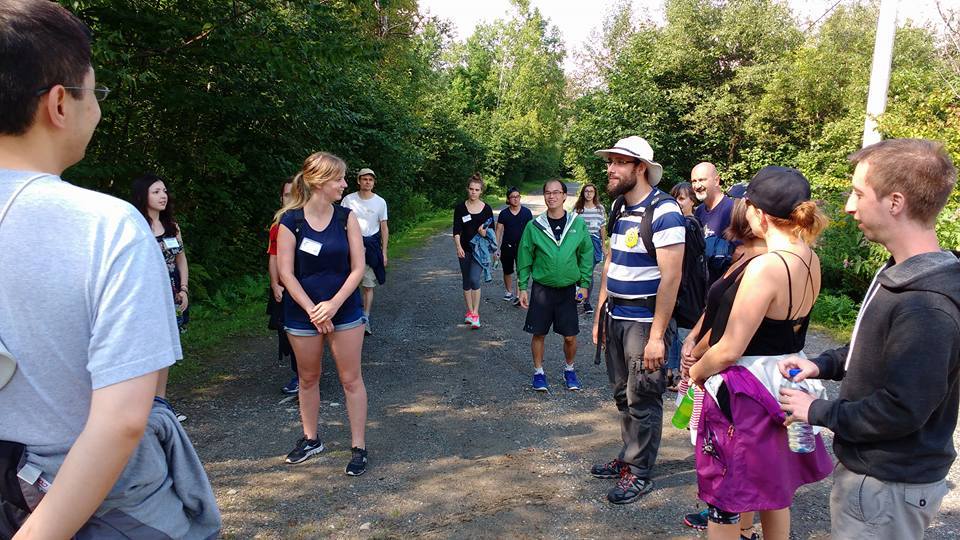 On Sunday morning, 17 participants decided to take the 5 Mindfulness Trainings. This was the first time in years that there is a large group that takes the 5 Mindfulness Trainings in Maple Village.
Coming out of the retreat, the energy was conserved and resulted in several meetings. In Ottawa, several friends met to structure the Wake Up group. There is a genuine will to host regular meetings during the year. Wake Up Montréal has already met several times since the retreat, and organizational ideas spread out in all directions. The seeds of the retreat are ready to give beautiful lotuses.