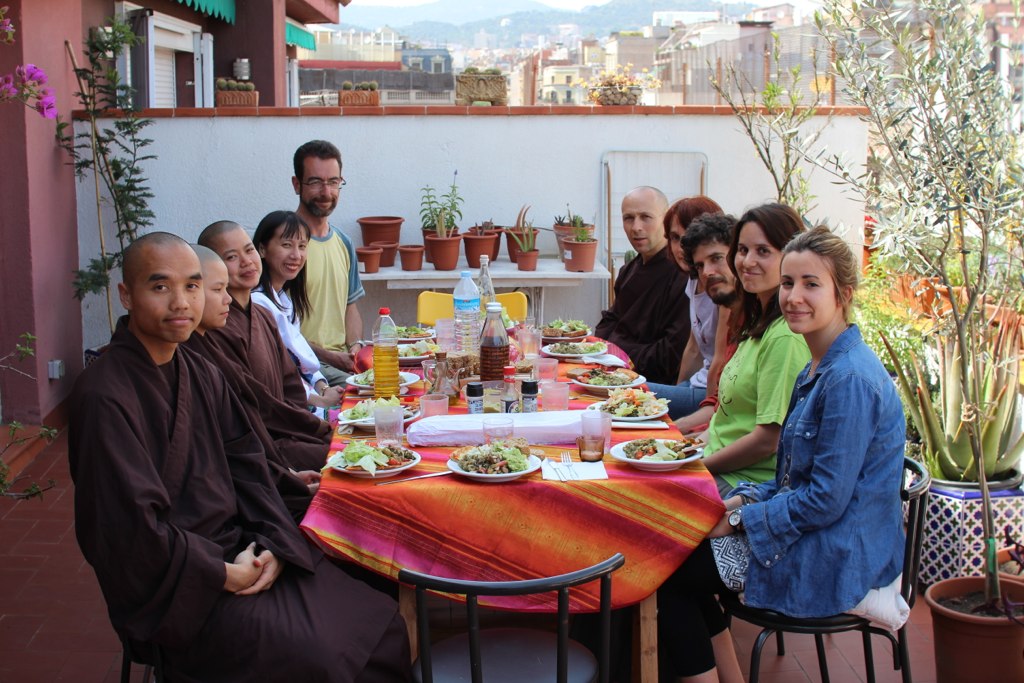 Interview with a Wake Up Intern and International Sangha Builder
Hong-An is one of the Wake Up interns in Plum Village. When she was touring with Thay and the monastics in the United States last autumn and looking for a job there, the monastics convinced her to work for them since there are always extra hands needed in Plum Village. Since she had previous experience with websites, she ended up maintaining the Wake Up website.
She has also been involved in various Wake Up tours and retreats. She helped to promote the Wake Up Spain tour in Barcelona when she was living there, and for the past two years she helped to organise Wake Up Ireland retreats and support the Irish Sanghas.
As an intern, she works on the Wake Up website, does international Sangha building by connecting Sanghas to each other, helps young people find a Sangha in their hometown, promotes Wake Up retreats and events on social media, and coordinates the Wake Up manual (a guide for Sanghas and newly-formed Sanghas to start, facilitate, and nourish a Wake Up Sangha) that is currently being created in Plum Village and by Wake Uppers around the world.
How did you discover Plum Village (PV)?
My parents introduce me to PV. My father's side of the family was involved with Thay in the 1960s when the Vietnam War was going on. My great-grandfather invited him to his local temple to talk about Buddhism. Back in those days, Buddhism was only available in Chinese. Thay revolutionised Buddhism by making it more modern and available in Vietnamese. This really attracted my family to help him spread the word about Buddhism.
In the summer of 2003, my father took me to PV for a week. I had just graduated from high school, so it was more of a holiday for me. The following summer, I came back alone for a week to try to take the practice seriously. However, it wasn't the right time for me to be in PV. Not only because I was in the transition between high school and university life, but there was no Wake Up movement at that time and there were not many young adults around. I was in an all-ages Dharma-sharing family and there was a lot of suffering in this group. Since I did not enjoy it, I did not return for a while.
What made you come back to Plum Village?
I was living in Barcelona and one crazy January day, I had a dream about Sister Chan Khong. It made me realise that it had been eight years since I hadn't returned to Plum Village. I was wondering what was happening with Sister Chan Khong and Thay, so I decided to visit the Plum Village website.
I saw that Thay and the monastics were going to have a tour in Ireland for the first time. I had been to Dublin many times because I felt a strong connection to the place. Since I had never been to the west coast of Ireland and the retreat was going to take place there, I decided to go. In this retreat I was part of a Wake Up Dharma sharing family, and we became really close. Now some of these people are founders of the Wake Up Sanghas in Dublin, Cork, and Greystones, or organisers for Wake Up Ireland. They are very special to me so whenever I can, I return to Ireland to spend quality time with the Sanghas.
Why did you want to be part of Wake Up?
When I first got involved with Wake Up, it had nothing to do with mindfulness. I had gone through some personal challenges at the time, so I wanted to meet new people. It was very important for me to make friends because many of the friendships I had in the past no longer served me. I always felt I was a bit different, and I don't like to conform to society. I've always been more connected to spirituality and meditation.
As time went on though, it became more about building communities for people to practice mindfulness, create a space where people feel safe, as well as organise activities outside of regular Sangha sessions to have fun.
What are your aspirations for Wake Up?
Wherever I go, I'd like to share my practice, whether it's by helping to facilitate different Sanghas or through my presence.
Maintaining the Wake Up website is bringing me a lot of joy, so I hope I can continue to do this until it is the right time for me to do something else. The most beautiful thing that has come out of this is all the friendships I've made online and through the different Sanghas I've practiced with. I can share deeply from the heart with them and live in the present moment. I'm very thankful that Thay launched the Wake Up movement in 2008, and I came at the right time although a little bit later 🙂