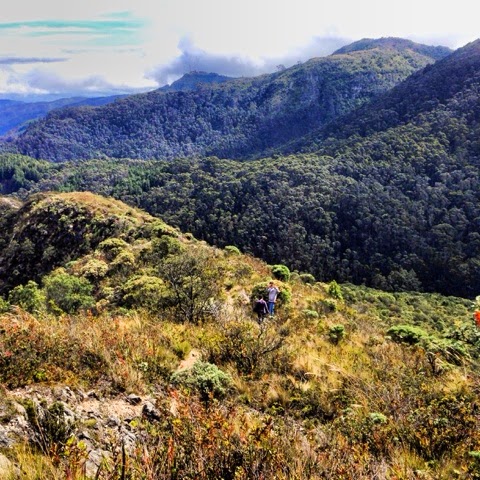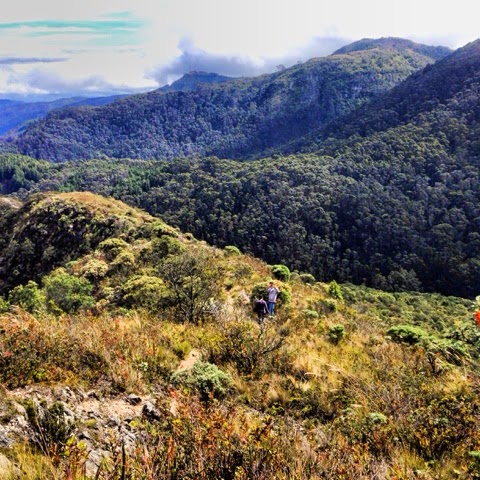 Several years ago, my sister participated in a Buddhist retreat during one of her trips to France. Long ago she had already started her spiritual quest, that had included trips to an ashram in India, where Manuela and Juan Carlos where living by then.
One of the pillars in her quest was meeting Camilo, her travelling companion in this life adventure she decided to go into. Finding is not the same as looking for, an old friend of mine used to say. Their story proves the saying. They met each other at a party given by Orrantia, a peculiar person who resembles one of the characters in the Monsters Inc. film and is always offering funny parties at her place.
Without knowing it, being at the monastery (to describe somehow that spiritual camping) would change her life deeply, and that of many of us, as much as it did attending that party in which she met Camilo. In this monastery she met Thich Nhat Hanh, a Vietnamese monk exiled in France who tirelessly works for the transformation of suffering in the world by helping to develop mindfulness in all human beings.
"I can still remember her face when she came back" – Camilo, her actual partner, says – "her smile reflected pure happiness."
Next year they went together to the monastery and, since then, they go as much as they can even with the whole big family they are now, so they can nourish their consciousness and their practice. The lovely family they were able to build has, without doubts, much to do with following the teachings of this monk who promotes simple practices for our daily life such as: breathing, eating and living consciously, meditating and sharing in community, without harming others.
The last weekend a retreat was held in Chingaza, here in Colombia. It was conducted by seven monks from Plum Village, the monastery where Thây (as they affectionately call him) lives at. My sister and her partner, willing to share what has been so beneficial for them, invited their closer friends to participate as well. The result was a retreat that looked like a second celebration of their wedding: godparents, friends, family, everybody was there, and no one worried about the vegetarian meals that sometimes make some people uncomfortable.
These retreats, according to my own experience, are the most constructive and healthy activities a person can do. Every time when I finish one of these retreats I feel we should all attend this kind of retreats every so often, or go into larger retreats with certain periodicity too. Not because theses retreats will provide us with a more productive life, but because you get a wider perspective of life, showing us how to jump out of this ever faster whirling world and to be able to breathe, settling down our mind, without fears.
As an indirect result of this process, last week I was able to walk with the monastics whom, interested in offering talks at schools and universities in Bogota, decided to join me in an uphill hike in one of my usual morning walks.
So, yesterday we went to climb a mountain with two of them, who were really very enthusiastic. The monks in this tradition have been a real discovery for me. Normally, people who follow spiritual traditions are quite serious and strict to the forms. These monks, on the contrary, have a sharp sense of humour, gentle manners with all people with whom they interact and they seem to go along the world as children who find friends to play with in every stone, any pond or even enjoying the rain. When I take care of my niece I have the sensation that it is me who profiting out of it. Being responsible for her transforms me, at a certain extent, in a child who plays and surprises herself with the tiniest details of everyday life. Explaining her what the sun is or that the moon is made of cheese, inventing tales with love for her is a kind of therapy, as learning to live in a better world.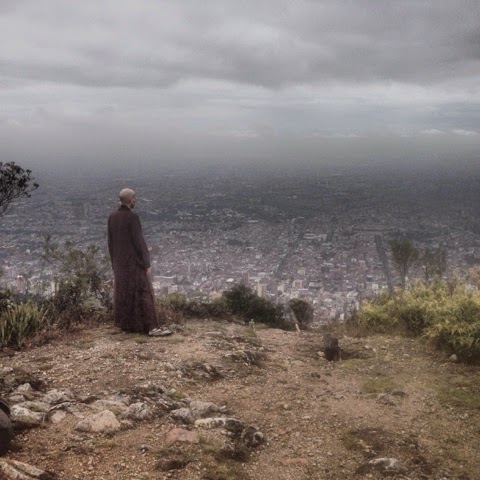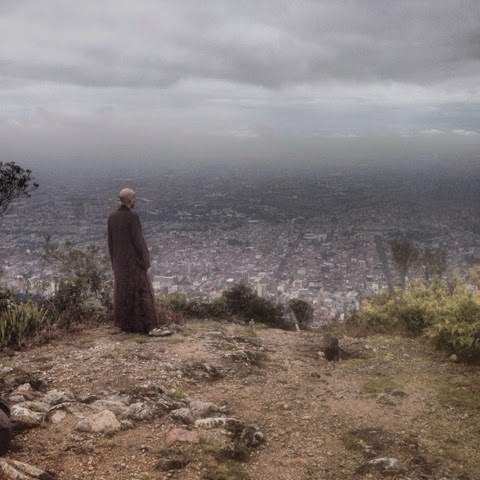 When we reached the viewpoint of Las Cruces (named after the death of three priests in that place) the monastics, as if they were small children, were doing all kind of funny things. One, laying down on the floor and watching the sky, was asking if the crows would eat him. The other one, surprised with the view from the overlook, was asking about all those tall buildings in the city.
While me, I was feeling a little scared, it was getting dark and I was afraid of encountering the strange people that start to appear at night, so I told them we shouldn't take much longer. The policeman in charge of the place had gone down already, so we were at the mercy of robbers who stalk the innocent pedestrians who innocently trek the hills in our lovely Bogota.
Look over there, Alejandro! The American monk, who resembled one of the characters in the Lord of the Rings, was saying while watching the information on his cell phone screen.
The path they were suggesting was bordering the mountain. If I am not wrong, it was a path linking Cerro Las Cruces with another hill, Cerro La Cabra.
I don't know that path, I said, but if you want to, we go. It is an adventure!
With the monastics everything is an adventure, Aurora, a Mexican young woman traveling as a translator with them, said.
After walking along the cliff's rims, going through some really dangerous places, one of the monks says:
It is as walking on the jaws of the mountain …
Yes!… I replied. And not only that, we can add the fear of the heights, the danger of robbers, and having to go through a dangerous slum in order to find our way back.
The important thing is that it does not bite you! And he started laughing at my anxiety.
¡May be we die, so three other monks could be added to Las Cruces! the other monk replied in an even funnier tone and both started laughing. I admit my laughing was a nervous one.
These monastics are crazy! I told Aurora.
They make a very conscious work on death, specifically on the fear of dying, they are not afraid of it; she said.
Drugs, parties or alcohol, nothing can generate such strong emotions as these monks do specially while looking for a path in the cliff slopes. It was a long time since I didn't experience such intense emotions, as I did yesterday, while taking care of these monastics. As it happens with children, taking care of the monastic brothers is allowing them to take care of us. By 10 am and I had already gone through really strong emotions such as putting my life in danger. On our way back I discovered a beautiful road leading us to the city. I had also had nourishing conversations and, above all, they infected me with the joy of living.
This article was originally published in Spanish from a Colombian lay friend's blog