By Will Chua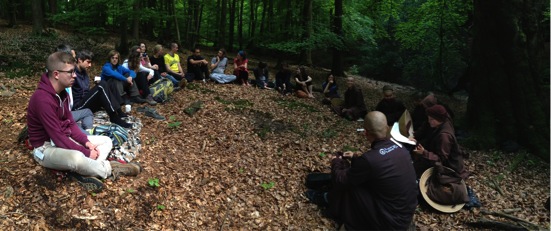 In June, I squeezed two weeks off from work and put myself on a plane from Singapore to Waldbrol for the Dutch and German retreats at EIAB.
The force, within and without, that uprooted me from status quo life was not desperate, not strangling, neither full of anger nor anxiety. But it was a great force. It was what I can only describe as a "Now What?" force.
Before EIAB
There I was, on the brink of my 34th Birthday, wondering what to do with my life again.
"The Accolades": Three Masters degrees including one Ivy League. Six years turning around a failing family construction business. Head of a whole-of-government team in a dynamic public agency. First-name basis with leaders of some top international non-profits. Two proud tattoos. Lead singer of a (albeit casual but still!) policy school band. Dean's list. Three full scholarships. One national shot-put record. Decent ball skills. Single and very available. Tons of Facebook friends from at least 35 countries. A good public service career offer. All in all a "tri-sector athlete".
"The Cost": Five failed relationships. Dead father I took for granted. Dependence on a sleep machine. Persistent unwholesome habits. Nagging neck and knee injuries. Anxiety/stress spells ironically interlacing with doling out conceptual life advice to friends. A lost decade watching former peers climbing social ladders and their kids growing up. Darting in and out of family responsibilities. Regular migration from one friendship tribe to another, with no true home. All round cover up of honesty with rationalized success. Lost career direction, too many options yet none felt right.
What's the score? How should I score? Where am I going?
By pure chance, I stumbled upon Thay's books in December 2012 and the lovely Singapore Plum Village (PV) sangha.
Two sessions of Day of Mindfulness, four books and a couple of PV videos later, things "felt right", I thought.
The words helped shed little glimpses of light on a lost intellectual tunnel, the painful ad-hoc attempts at practice somehow distracted a broken heart.
It was working… Or was it? Now what?
Ah, a retreat will have the answer. Two weeks in Germany will sort me out. A silver bullet expectation, my engineering brain seeking a convergent solution.
After EIAB
Flash forward. 14 August 2013, two childhood friends wrote this on a private blog:
The Return
Despite busy schedules and different locations, 4 guys are inspiring each other to get back in shape. Milestones will be set by completing adventure racing / triathlon events. Well, that's the idea anyway, even if we don't make it to the podium, we will have fun along the way… Maybe all of us should put down their big goal here and let it be recorded for future amusement.
Singapore International Triathlon – September 29th 2013
Standard olympic distance. 1.5 swim, 40 bike, 10 run. Virgin race for J and KS [That's me]! L unfortunately has to go Taiwan.
I had never run or ridden a bike for more than 10k. Breaststroke skills were amateur at best. Work was piling up. Didn't have the urge to go on an ego trip. Plenty of excuses available not to do it.
But oddly I agreed to join my friends, somewhat nervously but somewhat happily. I would have avoided this skillfully in the past. Matter of fact I have in the past.
When the same three childhood friends embarked on a similar camaraderie journey of adventure races and triathlons ten years back, I was around. But I was "too busy."
Something made me say yes this time, and it was not my level of fitness. The communal support was, however, deeply inspiring. My wonderful friends organized a few runs, rides and swims together.
We shopped together for second hand bikes and accessories. We even had 'family + training days", pushing trolleys by the coast and up small hills. We were really going to take a stab at this. Even called ourselves, "Delay No More", i.e. The Time is Now. T-shirts included.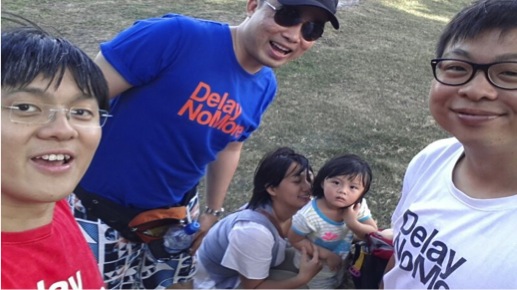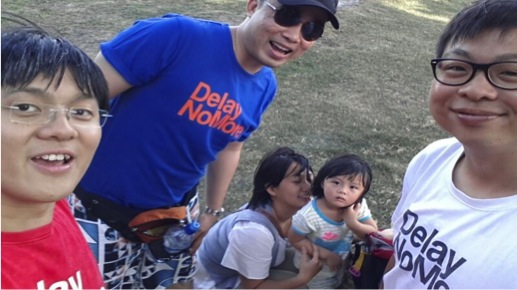 For some reason, I was beginning to love the runs, rides and even swims I used to dread. I was falling in love with being with my body again, moment to moment, even the less enjoyable bits: saying hi to the cramps, the anxiety of the distance ahead, smiling to the occasional competitive urge… And I was going further than I previously could.
But there simply wasn't enough time left till the race. It was beginning to look like another one of our over-enthusiastic dares over the years. It certainly sounded like that on our WhatsApp group. My mind quietly narrated and convinced me to give up and rationalize/excuse my way out of the race eventually.
But my heart somehow gently persisted.
Looking back, I realize now that I had something else leading up to August, something different from the past. Very much a work-in-progress, something small, subtle – a semi-regular practice I took home from the Singapore Joyful sangha and EIAB.
It involved a daily 5-10 minute slow walk a block before reaching my office, occasional (more like random) focus on the breath when opening a door at work, a monthly sit down with the Singapore sangha, a very occasional weekend sit, and increasingly present conversations about practice with friends from various backgrounds and religions but who were searching for the same inner peace.
Then September 11 came. At the last minute, because of lack of players, I was asked to be goalkeeper for a friendly soccer match for my agency. Fifteen minutes into the game, I dived for the ball and got kicked in the face. Seven stitches on right eyebrow, skin taken off above the lip, slight concussion, lots of blood. Even made it to our weekly newsletter.


Funny thing was, I don't remember feeling that angry or sad through it all: the bleeding in the field, the emergency ward, the injection of local anesthetic onto the wound, the stitching, the headaches.
My first questions to both the emergency ward doctor, and the clinic doctor who re-dressed my wounds, weirdly, were, "Do you think I can still do this triathlon thing I signed up for in two weeks?"
Where were the excuses? This was a perfect excuse!
I could not train at all for the next two weeks, but the wounds healed surprisingly well. Then the day came.
THE RACE
1.5km Swim: approx. 53 mins
It was drizzling. We were slightly late getting to the starting line, and we were immediately asked to jump straight in the water. "You are late, own time, own target" – I still remember the official's words.
My anxiety almost immediately kicked in. Thoughts were racing through my head. Will someone kick my wounds? Why is everyone overtaking me? Why am I drifting away from the buoys?
Breathing in, I am aware of my breath. Breathing out, I am relaxing myself. Breathing in, I breathe in for my body. Breathing out, I blow bubbles.
Thoughts scrambled in again. How long more can I do this? Am I getting dizzy from the current? When will I start cramping? Why is it so far to that turning point?
Thoughts replaced thoughts: Don't worry, nobody has died, you won't die in this race. You have swam in the sea before… but before long anxiety kicked in again.
Breathing in, I can feel anxiety in me. Breathing out, I smile to my anxiety, knowing it's impermanent. Breathing in, I am aware of the water, the sky and me. Breathing out, I am happy in this moment. Breathing in, hello anxiety. Breathing out, I'm with you.
Where do I swim in my second loop? How long more to go? Why did the guy swipe at my feet and make me lose my rhythm?
Breathing in, I come back to the present moment. Breathing out, I am aware that my body is 70% water, like the sea. Breathing in, I hope he is alright, and his rhythm didn't get affected by my kick. Breathing out, this swim is not about me.
Miraculously, I felt sand on my legs. I survived the swim leg. Smiled at the strangers cheering.
This is a happy moment, I am not going to run, I am going to walk slowly to get my bike. Wow, they even have showers you can walk through before you get to the transition area. How wonderful!
I sit down, wipe my feet and put on my shoes. Put on my glasses. Popped an energy gel. Stretched my hamstrings, sprayed on some Deep Heat.
Hello bike, your wheels are going to turn like the Dharma Wheel. Thank you for this journey we are going to have. I walk out slowly with it along the "bike out trail", a joyful 100m stroll, to the yellow line. I get on happily.
40km Bike: approx. 1 hr 40 mins
The breeze was so fresh, just after a rain. Six rounds we had to ride, roads slightly slippery.
First round was just a joy, zooming past trees, cheering on strangers trying to do it on mountain bikes. Second round I decided to sing a little, a couple of my favorite songs by The Lone Bellow and Brandi Carlile.
Going into the third and fourth rounds, my thighs started burning badly, but wonderful encouragement from overtakers gave me timely reminders, like bells, that we were in this together.
Started singing "Namo… Avalo… Kite… Shvara… Ya…", smiling at the trees, watching the front wheel spinning me down the road. Slowed down more often to drink more sips of isotonic, grateful for the replenishment and the fact that I could balance while doing it.
At the fifth and sixth rounds, my breathing got a little too heavy to sing.
Breathing in, I feel my thighs almost cramping. Breathing out, I thank my thighs for working so hard and not cramping yet. Breathing in, I am thankful for having this body. Breathing out, I dedicate this body and race to those who made this possible.
I arrived at transition again. Hung up the bike, took down my helmet. Slowly drank up my remaining bottle. Popped another energy gel, grabbed one in my left hand for the road.
I walked to the running point, didn't feel the need to rush.  I realized the transition periods were such nice moments to pause and recollect, to start afresh.
10km run: approx. 1 hr 7 mins
There's no way I won't finish now. I felt sore, but mentally fresh. It was like starting a regular jogging session again. No worries.
Thankful to a friend's tip, three breaths in, two breaths out, five steps at a time. What nice trees shading me from the sun, who is now shining gloriously. Thank you trees for working tirelessly from the same spot, pumping oxygen into the air we breathe.
What nice smell coming from the weekend BBQ sessions of the migrant workers getting together on their day of rest. I am aware of the blister forming on my left foot, I am making my footsteps as light as I can. I am aware of my wonderful friend passing me on the other side. I am giving him a high-five. I thank the first-aider that asks me if I am ok. I cheer on the people I slowly pass by.
Breathing in (three steps), I come back to the present moment. Breathing out (two steps), I feel the aches in my body. Breathing in, I thank the cold water as I pour a cup over my head. Breathing out, there's no need to think about how far more to go.
The finishing line is in sight. Loud music playing, runners suddenly sprinting to the end for that final photo finish. My friends yelling at me.
I am happy in this moment. I don't need to sprint. I just want to dwell in stride after stride till I cross the line.
A smiling volunteer greets me and asks for my race ankle tag, hands me my finisher's medal. My buddies throw me high-fives, hand me a 100-plus. My body is tired, but I can't stop smiling. It feels weird that I still feel quite fresh, but it feels right.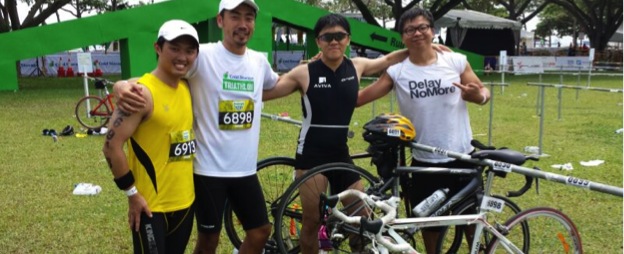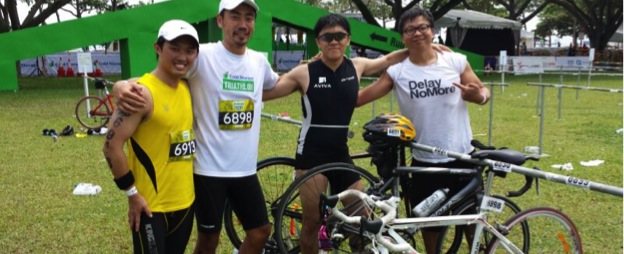 Many compliments have come showering in since the race.
"You should wear the medal in the office for a day!"
"Now you have done it, you must be really living the glory right?"
"Post your medal on WhatsApp!"
In fact, as I re-visit what I wrote above, I find myself reflecting on whether this has been a "me, me, me" thing. Including whether this contribution, my writing style, is to "me, me, me"!
At EIAB, when I first read Joanne Friday's interview and her sharing about "non-self confidence", something struck deeply in me and I was so grateful to her. I think… actually I know and feel, that I have touched that confidence, albeit only glimpses of it, the past few months, including during the race. I felt so alive, so free, and moved further, in the moments when it was not about me.
It is messy. Quite messy, as depicted in the descriptions above.  As a beginner, practicing and making the effort to apply the Dharma in my life and every changing context is challenging.
It's like trying to play a YouTube video with a slow, erratic connection. Ads come in. the video plays and gets stuck, then we go do something else. The video plays and just when you are in the zone, it gets stuck again. When it plays again we have to drag the timeline a few seconds back to "build up" the story momentum again, only to get stuck. Sometimes we click refresh, hoping it will load faster this time.
But the little moments—when the video plays, when we awake—are so re-charging, no matter the means. And mindfulness is to gradually increase our bandwidths, so that eventually the video just plays, real-time. Good moments, bad moments, neutral moments. Just play collectively. And wishing more and more people play this ultimate video together.
It is my sincere hope that by recounting this experience, I will continue to practice better, and that it will in a small way connect with fellow practitioners who can relate to this. I also hope that collectively we all continue to bring more and more mindfulness to our common ways-of-life, our common day-to-day activities, including triathlons, to validate and be with its universality. Across religions, concepts, views, institutions.
Post-race, one of my friends bought everyone the book Born to Run by Chris McDougall, about the Raramuri/Tarahumara people and their joyful ultra-distance running. The main character of the book, an American ultra trail runner and friend of the Raramuri named Caballo Blanco or Micah True, died last year.
Another friend found this quote from Micah True and dedicated it to me on our WhatsApp thread. It is such a mindfulness bell. Would like to dedicate this to Thay and the sangha in our practice, and in gratefulness:
"I love running some long trail that I don't know. It keeps me in the present, and I usually get to the top of the mountain, on the town of destination, fresh and surprised, that I'm already there. Because I'm not wondering where I am, or when the goal will be attained. Each breath, in the present. I need to carry this energy into every moment of life." Micah True, 2/16/93