By Brother Bieu Hien
This is another one of those wayback posts, from just after the end of the Winter.
Three monks from our US center spent the Winter Retreat with us here in Upper Hamlet, and after spending the whole time cooped up here we figured it was time to go out and get some Europe in us. Uncle Sal, also known as Tai Sinh, masterminded the expedition. He's Lebanese but moved to the US when he was young. Hien Tai, Quan Chieu, and myself are probably about half his age, but the dude's got some serious energy. I don't know which of the believe-it-or-not tales to recount about him. Maybe it's enough to say that every year he takes a month off from food and just drinks lemonade. A MONTH.
Back in the day he was a union cameraman in Hollywood, so he can spin a yarn about the film industry, photography, art, sometimes a dash of celebrity gossip. Before we had left Bergerac we learned not only the technical specifications of an IMAX movie, but also how the machinery works and who invented it.
I used to be a film junkie, so Tai Sinh and I launched into some shop talk in the front seats while Quan Chieu and Hien Tai had a normal conversation in the back. Pretending like you know a lot about something never gets old.
First stop was Beynac. It's a steep, winding number with a feudal warlord style castle hanging over a cliff at the top. Sadly I don't have a single picture that depicts it like that. But here are some very beautiful old stairs, and more importantly my monastic bros: Quan Chieu, Tai Sinh, and Hien Tai. That's in left to right in order by face.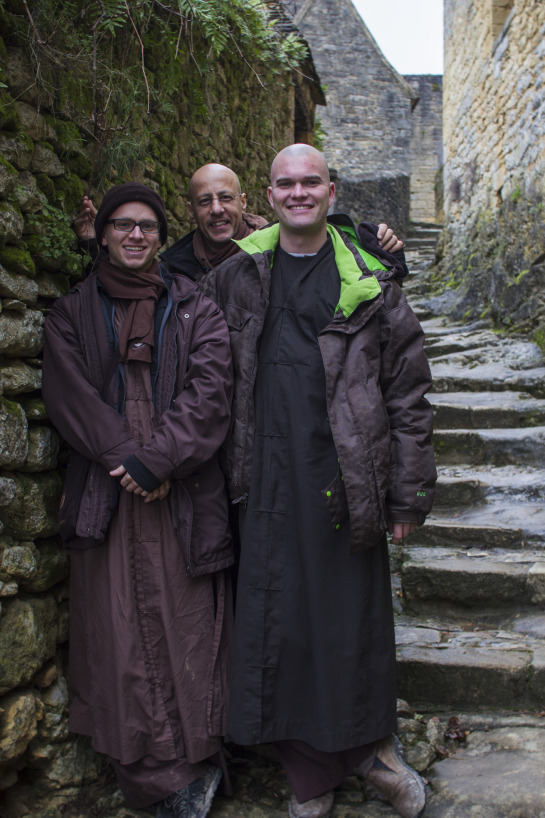 Also we ran into a group of French kids and presumably parents as well. It wasn't tourist season, and I guess that, like us, they were looking at getting some good old fashioned European history without the high prices and crazy crowds of the summer. Well they got even more than that. Here they can be seen demonstrating their newly acquired cultural competence in American. Courtesy of Hien Tai and Tai Sinh.
Thankfully they kept their peace signs horizontal. I guess over here an innocent American "peace out" is the same as flipping someone off. Learned that one the hard way. Anyway, About the time we finished oohing and awing, it started to rain hardcore so we ran back to the car. Things weren't looking good for our picnic. We continued on to Sarlat, and happily by the time we parked it was starting to clear up. Here you can see the interesting variety of reactions possible when the photographer says, "Pose!"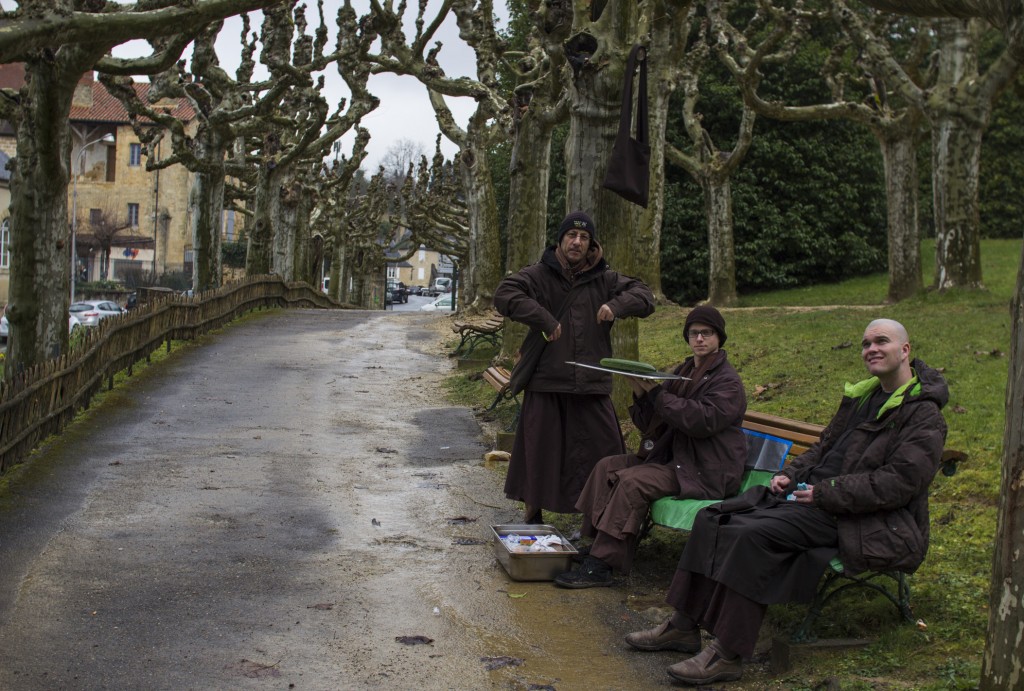 We ate straight out of a hotel-pan, like real homeless monks. Then we went wandering around and I was glad we didn't come later in the year. This place is just insane during the summer. Having some quiet time, we found all kinds of beautiful little nooks and crannies. More in the gallery at the end. Living in Plum Village isn't exactly like living in France. It's "FrAsia" according to Phap Dan. So it was nice to get out with the boys and check out some more of the local culture.
More or less everything was closed, and we really didn't have much of a plan anyway, so the inevitable happened. We had coffee and croissants, and then left for home. But then inspiration struck! We were passing another historical town, and seeing as Hien Tai and Quan Chieu were just about to head back to the States, we decided to sally forth for one last chance to be tourists.
But it wasn't going to be easy. Our first obstacle was a closed road right as soon as we came into town. Disheartened, we turned back, but thankfully we were so disheartened that we decided to pull over and eat a little bit to cover up our suffering. Now, thoroughly re-heartened, we took stock of our situation. The Universe had turned against us, but we were dead set for adventure and we needed an insight. Finally someone noticed an observation point, high up on the rocky cliffs surrounding the valley. The perfect objective.
Back in the car, we were up a winding valley road, and really putting my French to the test by asking for directions from locals. How do you say observation point again? I never found out. After flagging down a passing car and chatting up an elderly couple in their backyard, we determined that the way up was… down? Down a steep path that, as far as I understood, would spit us out somewhere with a view. As our journey continued, though, both myself and my companions became less sure. As tensions rose, the subject of my skills as interpreter became a favorite topic of conversation. They were praising me, I mean…
Finally we wound up almost where we had started, except for we didn't have a car anymore, and we knew we had to walk up a hill. Then we saw a sagely old Dutch lady taking care of her garden far below. It seemed like a fated encounter, and knowing how these things work, we figured we only had three questions.
Tai Sinh went first, yelling, "Do you speak English?"
"Yes." Golden. We've got this.
Then it was me, "Can we ask you a question?"
She looked at me like I was an idiot, and I definitely felt like one. "Well, yes?!?"
Then Tai Sinh again, "How can we get to the observation point?"
She paused and with with somber eyes surveying us, this is what she said: "The observation point? Oh, you've taken a wrong turn. The way is up, around the bend. There, behind that house, the path turns. But I must warn you, the way is difficult. Normally… well, you need a guide. There are many obstacles. You can try, but… Yes, it will be very difficult without a guide."
Awesome. We weren't daunted.
Well I'll try and make a long story short here. We did find a lookout point, and from there we could see the whole valley. We could see all the way over to where the real lookout point sat aloof, about 5km away, laughing at our incompetence. Well, we had fun anyway. The evening was mild and beautiful. We took about a half an hour to sit, enjoy tea, and see who looked coolest standing on the precipice. Here Quan Chieu and Hien Tai are debating the results.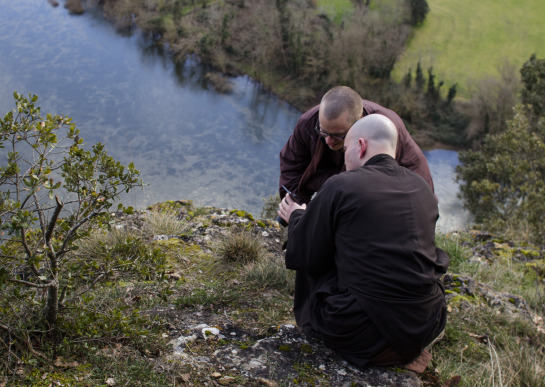 And now for the obvious winner: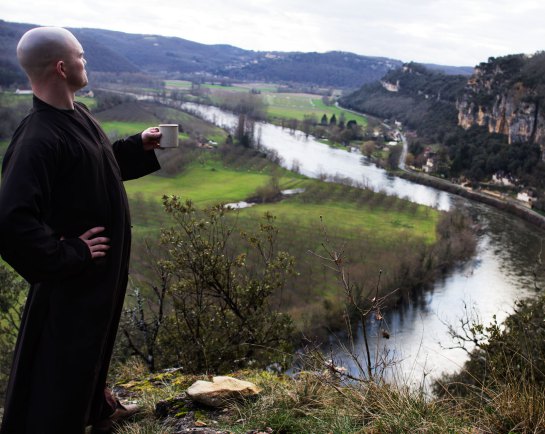 That'll be about all for now. Wishing you well from Upper Hamlet.