Gareth Siu shares about practicing with two different active Sanghas in different continents: Wake Up London and Wake Up Hong Kong.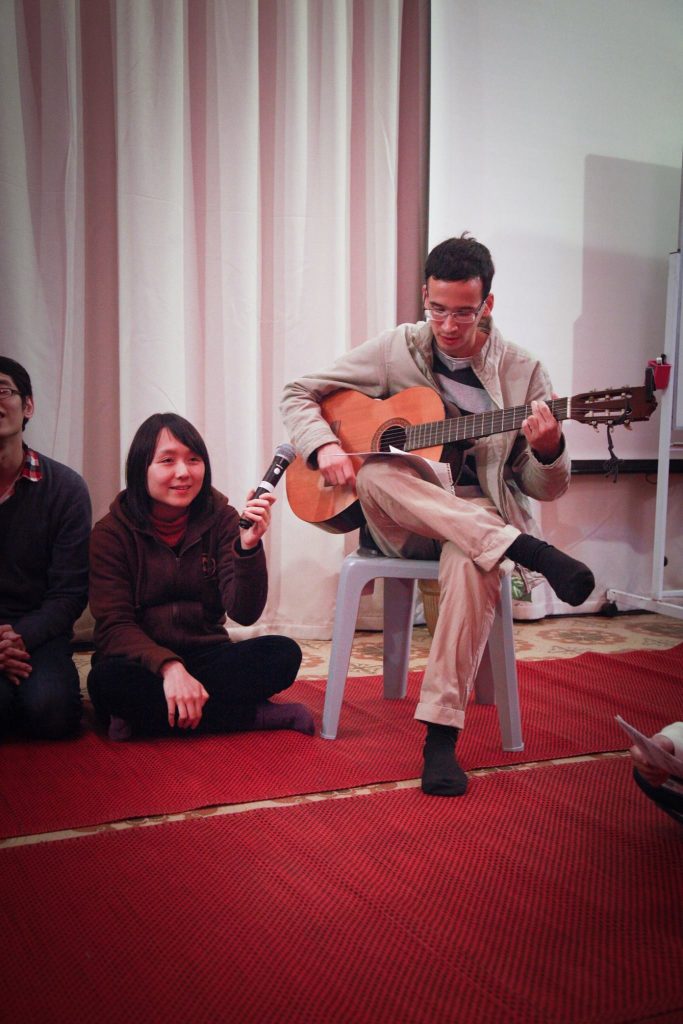 I was originally practicing with an all-ages Sangha in a small town in England called Winchester and I also went to another Sangha in Southampton, which is in the next big city. They had more of an established Sangha led by an Order of Interbeing (OI) member.
The OI member was only 35 or 36 years old at the time, and she told me about the Wake Up group in London. When I heard that it was a youth group, I thought that it was for teenagers so I told her, "Oh, maybe I'm too old for this. I'm in my late 20s." She then told me, "I'm pretty sure that you're under 35."
She also said that she went to the Wake Up retreat in Plum Village, France, and that got me interested. Since I'm originally from London, I'd visit there often to see friends and family and went to Wake Up London to try it out.
I remember my first session. There were fifty or sixty people young people practicing together. When I've been to previous meditation groups, there were usually retired and elderly people, so I was really shocked to see that many young people.
I remember some issues coming up in the Dharma-sharing about relationships with parents, and it was so relevant to our practice in our lives about where we are as young people. There are some unique factors in our lives that we are experiencing, and it was interesting to hear how other people were practicing and applying this to their lives who are in the same situation that I'm in with the same issues.
I went to the Wake Up group and participated in the Wake Up UK retreat in Binley Farm in 2013. It was such a nourishing event with great brotherhood and sisterhood. I never experienced so much fun and love in my life! Then I went to the 3-month winter retreat in Plum Village and moved back to London for six months.
I went to Wake Up London quite regularly and was invited to the core members group, but I chose not to because I was going to leave soon. When I arrived in Hong Kong, I attended every single Wake Up activity. It's the same practice, but with different people.
The way Wake Up Hong Kong (HK) runs is pretty much the same at its core. With Wake Up London, they are quite strict with the times. If you're late, they won't let you for fifteen minutes until after the walking meditation. With Wake Up HK, everything is loose. People can show up whenever they want. During the sitting meditation, you can hear the door opening and people coming in. Even when we invite the bell and do another meditation, other people come in.
I brought up about stricter times to the core members, but they said that Hong Kong people work very late hours. They can work until 7pm or 9pm with a lot of unpaid overtime. If they want to keep their job, they would have to work and stay behind. So if they had a stricter policy, people would have difficulties to attend. Another thing is that they are less strict with the age limit. This is interesting because even though you want to be as inclusive as possible, it's hard to limit that age group.
As far as I remember, Wake Up London is fairly strict with the age limit (18-35). Sometimes, we don't have facilitators in Wake Up HK, so we have to ask OI members to facilitate and help us out. We've never closed the door on anyone until recently.
If they were fifty years old, we've let them in, so it's been interesting. More people have been saying this is not Wake Up anymore. We didn't want to exclude the ones outside the Wake Up age range, so we've had a meeting to discuss this and we agreed to have two sessions a month. The first session is as usual where it is open to everyone, whereas the second one is for Wake Uppers who are allowed to come in. There's a limit as to how many people can join the latter, and the ones who are outside the age range are directed to other places. There are many activities happening in Hong Kong. We tell them that this group is at full capacity and encourage them to go to the first session of every month, as well as recommend the all-ages Sangha.
That's what it's being done at the moment.
Read more about Wake Up London here and Wake Up Hong Kong as this month's Sangha of the Month here.