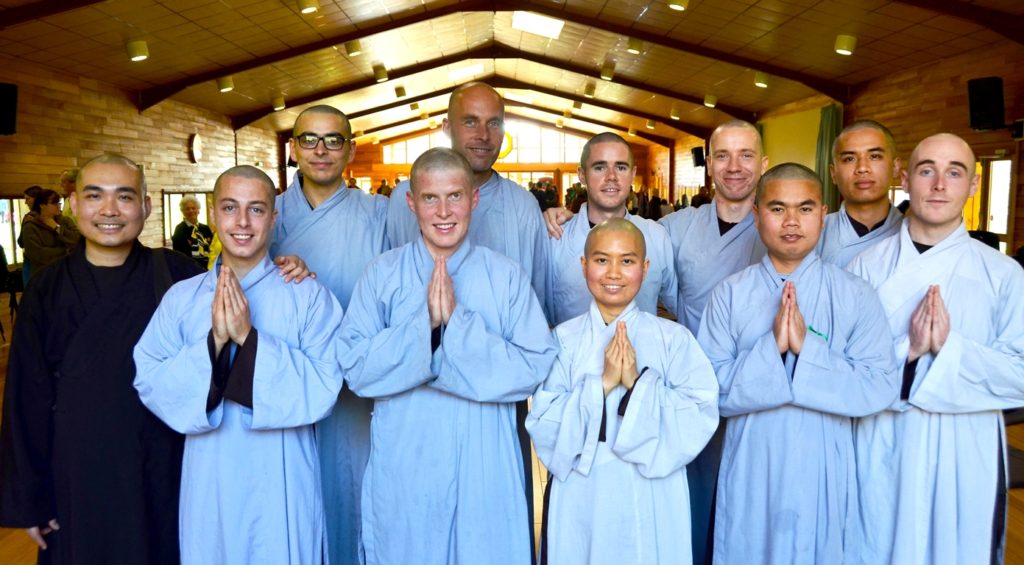 On December 1, 2015, the Ordination Ceremony of the Redwood Family occurred in Plum Village; ten people were ordained in France and nine others were ordained in Thailand. After the ceremony, the editors sat down and chat with eight Redwood members in Plum Village (that day two Redwood members were busy with cooking…). Coming from many different countries – Ireland, Italy, the Netherlands, France, Australia, Germany, Indonesia, and Vietnam – without an appointment, these young people, who have the same ideal, have approached a common spiritual house to go together on the way of understanding and compassion. The editors are pleased to share this conversation.
Editor: How did you feel when Thay was not well and was not present in the Village during your aspirancy period? Did Thay's absence affect your practice or your ordination will?
Brother Troi Dao Luc (Vietnamese): On the day I flew to France, my friends in the Buddhist family asked me the same question. At that moment I joked that Buddha died more than 2600 years, but people still practice Buddha's teaching because the Buddhist tenets are very specific and suitable for everyone. I thought in my mind: Thay's teachings are practical and suitable with society nowadays. When I arrived in Plum Village, it was the pavāraṇā ending of the Winter Retreat 2014-2015. That was the first time when I heard about "Sangha is Thay's continuation." I found this is true after staying here within a year; I learned a lot not only from Thay but also from the Sangha. So I do not feel worried when Thay is not present to teach us directly.
Thay has transmitted a lot of methods for us to practice. So when we are ordained, we rely on those methods and Thay's Dharma embodiment to practice.
Sister Trang Tinh Mac (Indonesian): Actually when I arrived in Plum Village, I did not know much about Thay and I had not read many of Thay's books. I knew about Plum Village from the monks and nuns at Thai Plum Village who came to Indonesia to lead the retreat in 2015. The first time I got in touch with them, I had a lot of affection. Though I did not know who Thay was, looking at the monks and the nuns I really wanted to join the Sangha. When I decided to come to Plum Village, I heard Thay was ill. In Indonesia, it was even speculated that Thay had died. I was so sad, yet I did not take it as a hindrance because I wanted to see the Sangha. In Indonesia, such a large Sangha like Plum Village Sangha is rare. So I came here not because of Thay but because of Thay's continuation. The monks and nuns during the tour in Indonesia were very beautiful, very fresh, and happy. They have given me a lot of inspiration.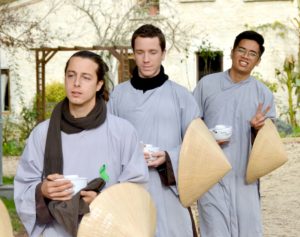 Brother Troi Dao Son (French): When I first arrived in Plum Village in October 2014, Thay was not here. That time I stayed in Son Ha and was completely not aware about Plum Village. When I came into contact with the Sangha for the first time, my heart had been conquered. So I was not affected by Thay's illness news, maybe even his death. It was the Winter Retreat where there were around 60 laymen staying at Upper Hamlet for three months. The community had no other choice but to continue no matter what happened to Thay; every one relied on personal energy to contribute to the public. Every week there were updated news about Thay, but still no one knew what would happen. The Sangha could only plan for each week. The monks, nuns and all the practitioners practiced wholeheartedly to support the Sangha and follow Thay's continuation, so that the Sangha could keep going ahead.
I was so moved to see this. Every time I recall this, I feel plenty of inspiration. We just continued to move forward. Thay is old. Even though later Thay recovers, we still have to continue practicing. Now that I am a young novice, I have become a component of the strength of that going ahead.
Editor: Acceptance is the key to success while living in the Sangha. How did you practice to accept what is not perfect, the differences, and cultural diversity in the Sangha?
When I don't practice well or I cannot overcome the difficulties in me, it is because I looked to the outside, only saw the negative, and awakened the anger in me.
Brother Troi Dao Quy (Vietnamese Australian): Before coming to Plum Village, I had watched Thay's Dharma Talks on YouTube and other video clips introducing the monastery. When I saw Thay and very beautiful images of the Spring season, I thought the filmmakers chose the most beautiful images for presentation. Yet when I arrived in Plum Village and touched the reality, I realized the perception I had about Plum Village was just based on the video clips. I did not really understand the Sangha. The way I overcame difficult things in the Sangha was returning to my room and … punching sandbags (laughs). Just kidding, actually the longer I stay and practice among the Sangha, the happier I feel. I find good things, nice things in the Sangha. I still see flaws, yet those flaws do not make me less happy or lose myself. When I don't practice well or I cannot overcome the difficulties in me, it is because I looked to the outside, only saw the negative, and awakened the anger in me. So I return to myself, follow the timetable and do not separate myself from the Sangha's activities, so that I could nourish myself. Three basic helpful practices are breathing, the footsteps, and mindful eating.
Brother Troi Dao Phuong (Italian): I think when you have a really strong Bodhi mind, it will help us overcome difficulties. Venerable Kai Li said that when we are suffering, we tend to see the negative points of the Sangha and the brotherhood. Then we should be conscious of the beauty that is already available in the community. In Plum Village, we really have brotherhood. If we compare the Sangha with things that are happening in lay life, we will see the truth that the Sangha is so beautiful. This is what I always keep in mind when facing difficulties.
Practicing to accept what is not good is also very happy.
Brother Troi Dao Hanh (Dutch): Practicing to accept what is not good is also very happy. If everything is perfect, then a day like every day would be too boring even if we were in heaven. So the differences between people bring more excitement. I think each one has his or her own beauty, so we need to care more about the beautiful things than the less beautiful things. If I pay too much attention to others' faults, then perhaps it is me who has too many faults.
Brother Troi Dao Son (French): I think my problem is how to identify my demands against others. This is my main practice in this year's retreat. I remember there was a time in our aspiration family where it was hard, and I only found the negative things in others. So I shared with my mentor and tried not to talk about the brothers in a negative way, but just to share my point of view. The mentor said immediately, "You know, you have a wonderful aspirancy family, very harmonious and supportive. We can trust each other." At that moment I did not find myself to be heard and understood. A few days later, when the tension had subsided, I saw my mentor was right. He gave me a very good answer. We were generally a pretty harmonious family, though when there were problems, I hardly saw that. Only when I calmed down, I saw the harmony and beauty. Occasionally there were troubles, and this is quite normal. In fact, there is nothing like I thought. My perception and reality are two completely different ones. Living in the Sangha dormitory, I was very touched by everyone's way of life. The brotherhood here is very strong, very clear, and very real. Although the reality is not perfect, it is the real relationship between humans transmitting from heart to heart. That makes it easy for me to accept others because I am not perfect. I always need to remember this.
Editor: Since you came to the Sangha, are there any good memories that whenever you think about them, you feel nourished and strengthened to go through hard phases of your aspirancy period?
Brother Troi Dao Quy: That was when I called home on Skype to share the joys in my aspirancy life with my parents. I felt my presence in Plum Village had a positive impact on my parents, even when they were just little changes. I have never seen my parents so happy to talk and see me on Skype. I love them so much. Though this love still has entanglement and discrimination, it gave me a great source of energy on the pathway of transformation. I am aware I am practicing for myself and for my parents. My parents and I are not separate entities. Becaused of my parents, I can do anything; this is the greatest happiness I have in Plum Village.
Brother Troi Dao Son: There is a memory that can help me go through the difficulties; it is the image of my parents on the day I was ordained. Till that moment, I still could not explain to my parents, especially my father, why I chose the monastic life in Plum Village. On the day of the Ordination, I think my parents started to feel somewhat the beauty of the Sangha that I felt. I will always remember the image of my dad sitting behind me and crying when he heard my gratitude to my parents in front of the public. I knew from that moment sympathy was established between father and son. That day has opened up a great opportunity for my family to heal and retreat. I truly feel now that I can help my parents simply thanks to the Ordination that day. That image, that feeling, I will remember forever throughout my monastic life.
Editor: Every Lunar New Year, on the 1st day, the Sangha in Plum Village usually offers flowers, tea, and fruits as offerings to Thay as a symbol to express our honor and gratitude. These are the practice fruits that the Redwood Family in Plum Village chose and offered to Thay on the occasion of this Lunar New Year.
Banana: This was Sister Trang Tinh Mac's choice. She shares:
Now that the monkey has finally found the biggest and sweetest banana, the monkey enjoys it.
I find myself like a monkey. I just pass from this branch to another to pick the biggest and sweetest banana. Before I knew about the practice of mindfulness, I always searched from one entertainment to another to try to satisfy my desires, but I was never satisfied. When I participated in a retreat led by Plum Village monks and nuns, I found a way to practice mindfulness, and it really made an impact on me. During that retreat I heard about Thay's book An Appointment With Life. Now that the monkey has finally found the biggest and sweetest banana, the monkey enjoys it. From the bottom of my heart, I am so grateful to Thay for Thay has spent a lot of enthusiasm to create favorable conditions for us to practice and share the practice to others. Thay also taught the monks and nuns very successfully because I think most of the monks and nuns are doing very well as the continuation of Thay.
Mango: Brother Troi Dao Luc chose this fruit to dedicate to Thay:
I keep in mind that I walk for other people who cannot do that, including Thay, my grandfather, and others.
I would like to dedicate the mango to Thay, the fruit of our fatherland. Thay, the mango is delicious! We can also make a mango girdle cake; it's so cool. Every day I practice walking meditation to walk freely. I keep in mind that I walk for other people who cannot do that, including Thay, my grandfather, and others. With such attention, I feel more blessed about my footsteps. I care each of my footsteps as if the next second I could no more walk. Since coming to Plum Village, I like walking meditation the most. It is the same when I walk from Upper Hamlet to Lower Hamlet on the Day of Mindfulness. I think of Thay at every pace, every gaze. I would like to thank Thay for building a wonderful practice environment for us. Here I was taught that Sangha is Thay's continuation. So I find Thay in each monk, each nun. I am very happy to have many teachers beside me, present for me, and nourishing me. I am nourished by their practice of the stability of ease. Thank you so much.
Durian: Let's find out why Brother Troi Dao Quy selected durian, even though he knows Thay does not like this fruit:
The fruit I like the most is durian. I know Thay does not like durian, but it has been our ancestors' favorite fruit from immeasurable lives. So I would like to dedicate this fruit to Thay. Thay said: "Be yourself, be beautiful," so I am practicing to be myself. I think Thay will be happy when I prefer durian.
For the first few days after arrived in Plum Village, I thought I had to meditate 12 hours a day. When I had free time, I had to walk meditation and then I would be happy. But day after day, I felt more and more frustrated and could not be disengaged. I understood that overexertion only brought frustration to my mind and made me more restless and unsatisfied. So I did not hesitate offering Thay the durian even though I know Thay does not like it. I feel comfortable with that freedom just like you do not need to meditate 12 hours a day or overexert yourself. I just need to have joy and relaxation while practicing without coercion. When I try to force my mind, it runs away and it does not want to stay with me. When I relax and do not further attempt in confusion, then the practice progresses; my mind can go back to my body better. I concluded while practicing that I better not push myself, but not get loose as well.
Tomato: Brother Troi Dao Hanh chose to offer Thay:
I also need to learn to accept the situations and the experiences I have gone through.
I want to choose the fruit named "accept." Life in Plum Village is very different from lay life, but this is a positive difference. Life in Plum Village is quite diverse because people come here from all ages, nations, and various backgrounds. All are beautiful in their own way. This year I practiced to accept others better. The most important person I am practicing to accept is myself. My thoughts, my feelings, and many other things that are in need of my acceptance. I also need to learn to accept the situations and the experiences I have gone through. I will do my best to care for the 'acceptance tree' growing and being fruitful. I know that the fruit of the 'acceptance tree' will be very juicy and useful throughout the rest of my monastic life. Therefore, to choose a fruit to offer Thay, I would like to choose a tomato. Yes, tomato is a fruit and it does not need to become any other type of fruit to be selected for Thay. Thay, please receive it with your mercy.
Persimmon: Persimmon was selected by Brother Troi Dao Phuong to offer Thay:
My favorite fruit is persimmon. I like to observe persimmons when they are still in the trees. It brings the Autumn colors. They remind me to practice patience, waiting until they are ready for us to enjoy. Sometimes I want to run to the persimmon trees and pluck a fruit to eat, but then I remember that I have to be patient until it is ripe; the fruit will be fresh and sweet.
During the practice, sometimes the only thing I think is watering the good seeds in me and wait. Like the persimmon in the tree, it needs to absorb more water and sunlight to become a delicious ripe persimmon. I need to do the same. For me, patience also means I do not give up halfway and keep the steady steps on the bright path that Thay has opened up for us. So I want to offer to Thay my patience so that I can become a healthy branch on the tree of Thay and the Sangha.
Peach: Brother Troi Dao Son selected this fruit to offer to Thay:
To choose a fruit of practice to offer to Thay, I'd like to choose a peach of brotherhood. This is the benefit I got since I came to Plum Village. That day, I was very lonely, looking around for a direction to go. I came to Plum Village for the Autumn Retreat when Thay was not there. However, the brotherhood I touched in Son Ha showed me that the Sangha and the practice are exactly what I was looking for.
Brotherhood is my motivation that helps me in practice. It is the most valuable fruit I harvested. Brotherhood is my practice.
Till now I still keep practicing like that, opening my heart to be a brother and enjoying other brothers' presence. This was my main practice throughout my aspirancy period. It is also my source of happiness. It makes me trust my brothers and rely on them. I feel this is my family. After the Ordination, I moved to stay in the Sangha dormitory with the brothers. And what touched me most is again the brotherhood. In our common spiritual family, each one is present for the other and we accept each other without condition.
Our brotherhood is as sweet and delicious as the peach; just looking is joyful enough. Like tasting a peach, when I experience our brotherhood, it is delicious and fresh and all the pains in me are healed. And like the peach, the gentle and sweet brotherhood helps us master our mind so that we have enough silence, calm, and stability. That moment, everyone can support each other, and everyone sincerely opens their heart to each other. Brotherhood is my motivation that helps me in practice. It is the most valuable fruit I harvested. Brotherhood is my practice.
Editors: Thank you to all of you.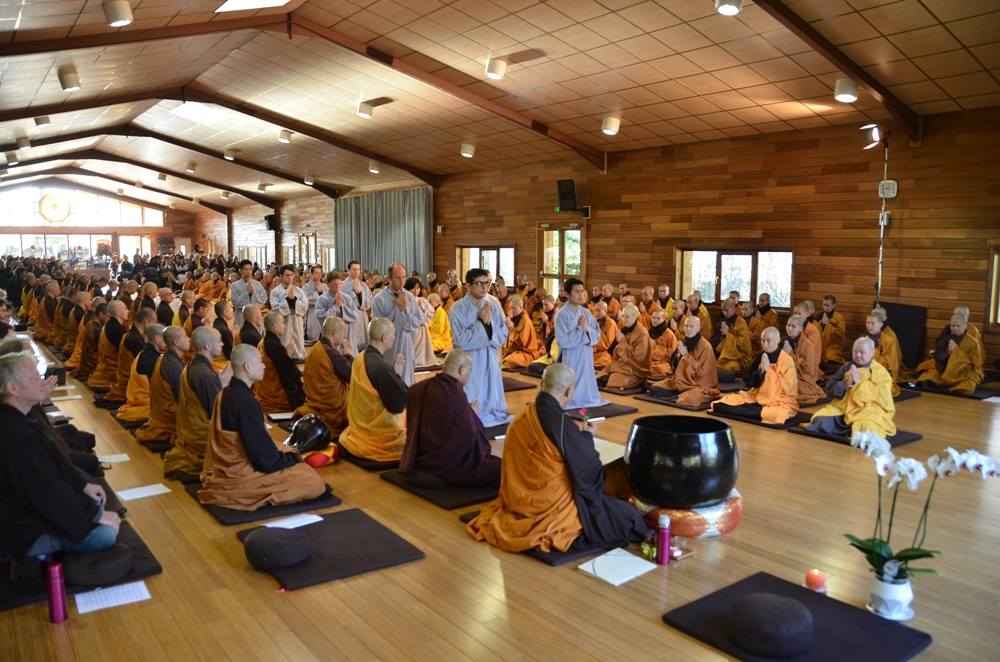 This article was originally published in Vietnamese on langmai.org
Translation credit: Vuong Haiyen