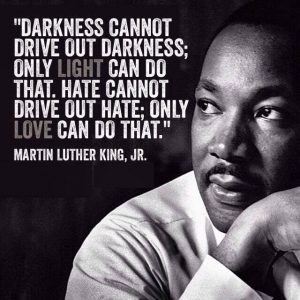 By Gijs Van den Broeck
I'm not afraid of terror attacks. What frightens me most is terror in the hearts of people. Because hatred only creates more hatred, and violence only leads to more violence. Let us overcome [the attacks in Brussels] not by reaffirming the fear and hatred. Let us instead reaffirm our faith in love, tolerance, peace and happiness for all human beings. Let [the attacks] not sow the seeds of hatred and divide in our society, but let it strengthen the values it really stands for: freedom, brotherhood and equality for all. May our difficulties bring us closer together as a people. For if we do this, terrorism can never win. Yes, it may break our bones, but it will never break our spirits, our hearts. It will never break us as a people.
Some sixty-odd years ago, Martin Luther King said: "Darkness cannot drive out darkness, only light can. Hatred cannot drive out hate, only love can." Love will always conquer hate. For me there is no war on terror, radical Islam or extremism. The only war I'm willing to fight is love, today more than ever. After all "the question is not whether we will be extremists, but what kind of extremists we will be. Will we be extremists for hate or for love?" – Martin Luther King
Peace be upon all of you, salam aleikum. Deepest respect to all of the victims and their families and to all of those who supported them.
Gijs is one of the facilitators of Wake Up Leuven and lived in Plum Village for a year.