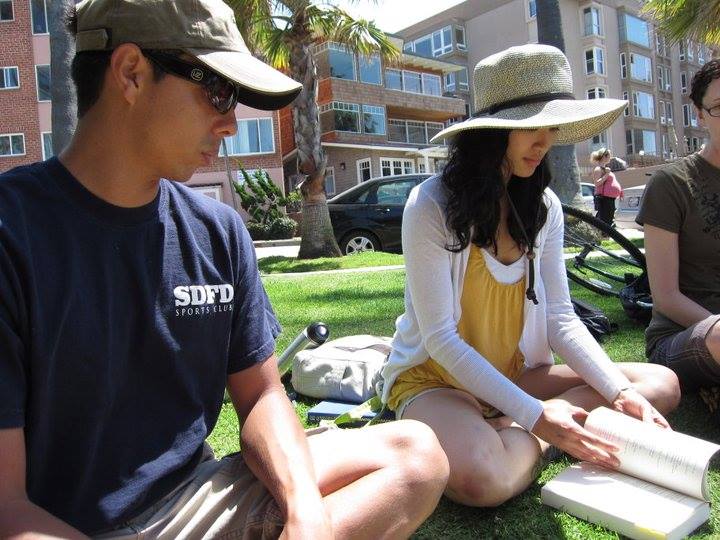 It was similar to how Homer Simpson got his job at the power plant – by showing up the first day it opened. I was there at the first Wake Up San Diego meeting and was asked to give some insight on how this whole thing got started. As a disclaimer I would like to say that my involvement in Wake Up has been inconsistent at best.
With a demanding career and a passion for traveling, I haven't always made time for the Sangha. However, the loving, compassionate young adults I consider to be strong practitioners in Wake Up always keep me coming back. The first meeting was in May of 2011.
Talks of starting the group began two weeks before during the Wake Up retreat at Deer Park Monastery. I give the credit for starting the group to Linh Nguyen. She is a much more driven practitioner than myself. She approached me at the retreat to ask for my opinion and help with starting our own Sangha. I wholeheartedly agreed.
We wanted a way to strengthen our practice while away from Deer Park. We wanted to create an intentional group based on Mindfulness. The meeting was held on the grass at La Jolla cove on a beautiful sunny afternoon. We had many people showing up who were new to mindfulness and meditation in general.
Linh asked those of us who had some experience with mindfulness to enlighten them on what it meant to be mindful. We all took turns giving our interpretations of mindfulness. I can't remember exactly what I said but it probably went something like this:
Mindfulness is being aware of what goes on inside our minds. Being aware of our feelings, perceptions, mental formations, objects of our mind, etc. Meditation helps to slow our thoughts, so we may see our minds clearly. Initially for me, it was slowing down and being completely aware of my strong emotions when they came up like fear, anxiety and anger.
Then I met my strong emotions with gentle compassion, so they could go back down into my store consciousness easily. For so long I was caught up in the busyness of life. So caught up that I went around feeling these strong emotions all the time and I didn't even realize it! It caused unnecessary suffering. Mindfulness has helped me to transform my afflictions.
After that we read from one of Thay's (Thich Nhat Hanh) books. We did a short meditation and closed with Dharma sharing. As many practitioners know, Dharma sharing is a safe place to share whatever is in our hearts. I remember thinking how wonderful it was to have people my own age that I felt comfortable being vulnerable with. We were all experiencing similar challenges and triumphs in life. Because of this we were able to listen deeply, give support and offer insight to each other in a way that was more connected than I had ever experienced. The meeting lasted about an hour and a half. I remember leaving feeling so light and peaceful.
There was a long hiatus after that first meeting. Linh had an opportunity to study in another city and was gone all summer. I was supposed to host the second meeting at my house, but because of a death in the family I had to cancel. The meetings were pretty spotty for several months until David Viafora began hosting them at the "Big Red House."
David's strong practice was exactly what our group needed. Over time, we began meeting every two weeks. A vegan potluck or a walk to a nearby Thai restaurant often followed the meetings. We would organize outings together like camping, rock climbing or stand-up paddle boarding. I found myself craving the positive energy the group created and would make it to as many meetings as I could.
As the Sangha strengthened, they began talking about creating a Wake Up house before long the house came into fruition in its current location. As I said before my involvement with Wake Up has been inconsistent at best. Like the tide it ebbs and flows. But I always come back.
I still feel the same way about this Sangha as I did that first meeting. I feel so blessed to know that the Wake Up House exists. It is a place I can go to strengthen my practice, feel supported and give support. The Wake Up house is filled with some amazing young practitioners and full of loving kindness. I have made many great friends through Wake Up. Although in the end we all must follow our own path, wherever that may take us. I hope many of these friendships will last a lifetime. I love and cherish you all.
Victor Carrasquillo
"Awakening Compassion of the Heart"