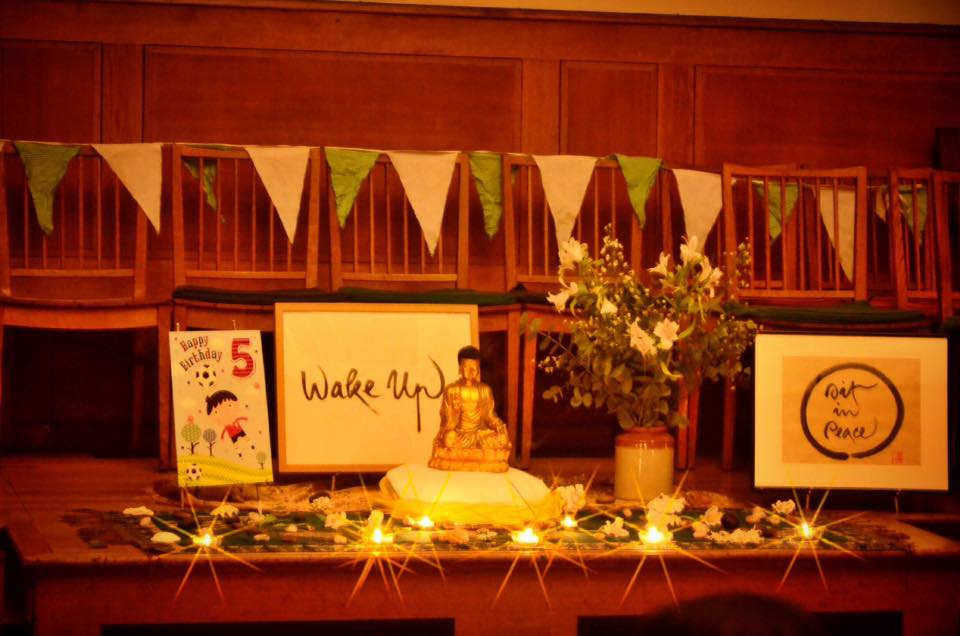 By Joe Holtaway
Wake Up London is now five years old 🙂 In the Quaker meeting house surrounded by friends and heaps of nice food on 17 October 2015, we sang peace songs, shared memories and danced (thanks to Tom's DJing talents!) in celebration of all that has happened ever since a few young adults were inspired to start meeting together in 2010.
Arriving new to the group you find a simple room; there's a centrepiece in the middle – made of nice natural objects – flowers, stones, some candles and sometimes a peace symbol; a sitting meditating figure or a written message. Around the centre are mats and cushions and behind them, some chairs. On one side, a larger bell sat on a cushion and a smaller bell beside it.
From two o'clock, the room begins to fill up. The cushions and chairs are taken, and at 2:30pm the large bell is invited and the afternoon's facilitators introduce themselves, the group and the Plum Village practices.
It's the same now as it was when I first came along just over four years ago – after we share our names, we sit and breathe quietly together; we walk quietly together; we read from one of Thich Nhat Hanh's books and take a tea break. Then there's a sharing circle and a reading of the 5 Mindfulness Trainings before we close and tidy away.
Nothing sounds that revolutionary although 5 years since it began, London now has a new movement attracting thousands of young adults keen to bring these peaceful teachings into their lives and into their city.
Beyond the afternoons, the community has brought walking and sitting meditations into London from Trafalgar Square and Oxford Street to the People's Climate March and at city festivals. Charity outreach, peace rallies and a youth peace conference as well as coverage in the Huffington Post, ABC/BBC radio and locally London papers the Evening Standard and Timeout.
And alongside these many ways the community, in their own lives, carry these teachings. From artists and teachers to architects and engineers the diversity is a beautiful thing!
If all this is the fruit, it's the root of these Saturday afternoons that inspires it holding, as the Plum Village teachings do, an ever-loving space of nurture and understanding; somewhere that values whoever turns up, as one friend James so nicely put it, "You walk through the door and you're loved."
And if this is the root, Wake Up London also had a good ground to start on, growing, with their constant encouragement, next to the main Plum Village group here 'The Heart of London' who will celebrate 20 years in 2016; a sapling next to an oak tree 🙂
Wake Up London meets from 2.30pm to 5pm on Saturdays at The Westminster Quaker House, St Martin's Lane.