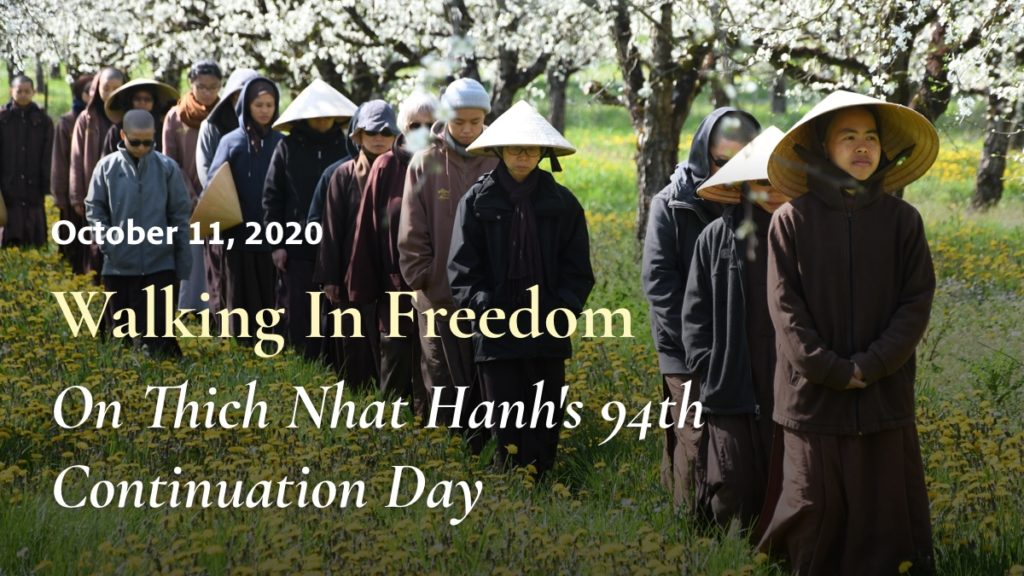 Thich Nhat Hanh turns 94 this Sunday, October 11th!
To celebrate his continuation day, we hope you will join our global community in practicing walking meditation on Sunday.
Throughout times of great challenge and suffering, Thay has taken refuge in walking meditation as spiritual medicine. During the Vietnamese-American War, he and his fellow practitioners practiced walking mindfulness to renew their energy and cultivate compassion as they worked for peace and rebuilt villages.
For Thay's 94th continuation day, we invite you to carry on this legacy, taking the time to practice truly walking in freedom. We encourage you to recognize all the conditions of happiness that we have at our disposal, such as the seasons changing, the trees nourishing us, and the earth supporting our feet.
We invite those of us who cannot walk to practice a movement meditation, such as the ten mindful movements on the Plum Village App. We invite those who do not have a space to walk outside to enjoy walking meditation indoors, finding freedom and spaciousness in your homes.
As a gift for Thich Nhat Hanh, please share:
Picture(s) of your walking or movement meditation
Your city and country
A condition for happiness that you observed during your practice
Your photos will be assembled in a digital photo album as a gift for Thay. Please submit your photos via social media using the hashtags #WalkingInFreedom and #HappyContinuationDayThay, or by emailing WalkingInFreedom@tnhf.org.
For more information, visit tnhf.org/blog/walking-in-freedom.