This summer, The Plum Village Community held space for over 600 hundred young people, aged between 18-35 years old, during the Wake Up Retreat.
It was a time of healing where the seeds of deep friendship were planted, watered and blossomed.
With people coming from over 30 different regions, the "Love in Action" retreat became the ground zero for building and nurturing a community of resistance. It was for all a time to deepen the practice of looking deeply, by stopping, breathing and welcoming strong emotions in our hearts with love and care.
More than 200 hundred people chose to take the Five Mindfulness Trainings, a compass to navigate an era that is at once immensely uncertain and filled with potentials. As Thay had urged – "it is possible to reclaim our sovereignty from the systems of our creation."
(Photos courtesy of Leon Kirschgens and Plum Village monastic photographers.)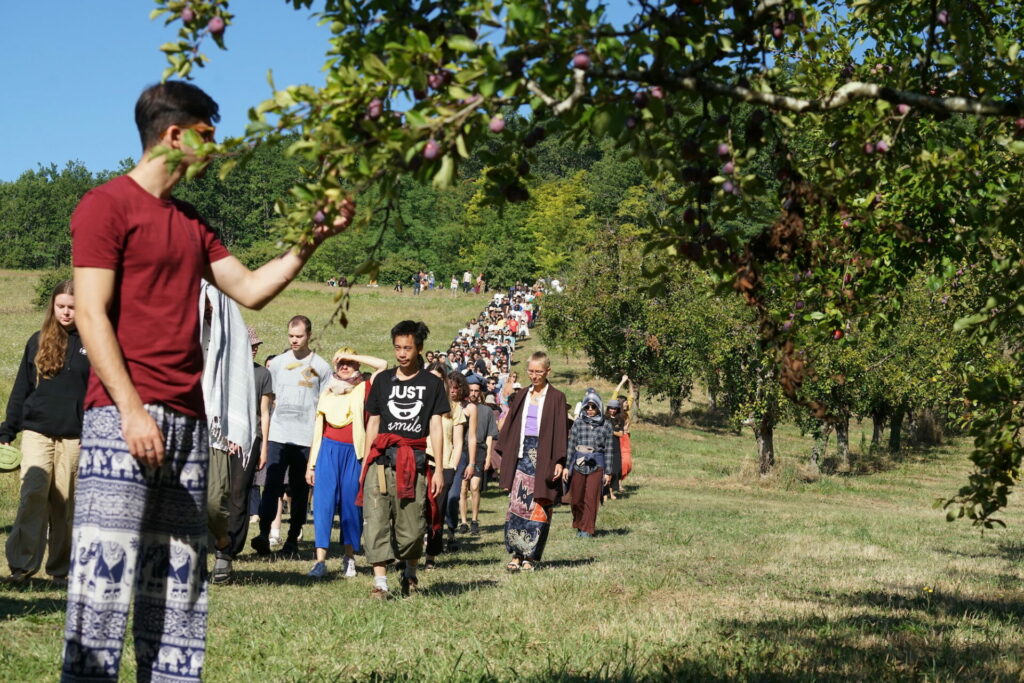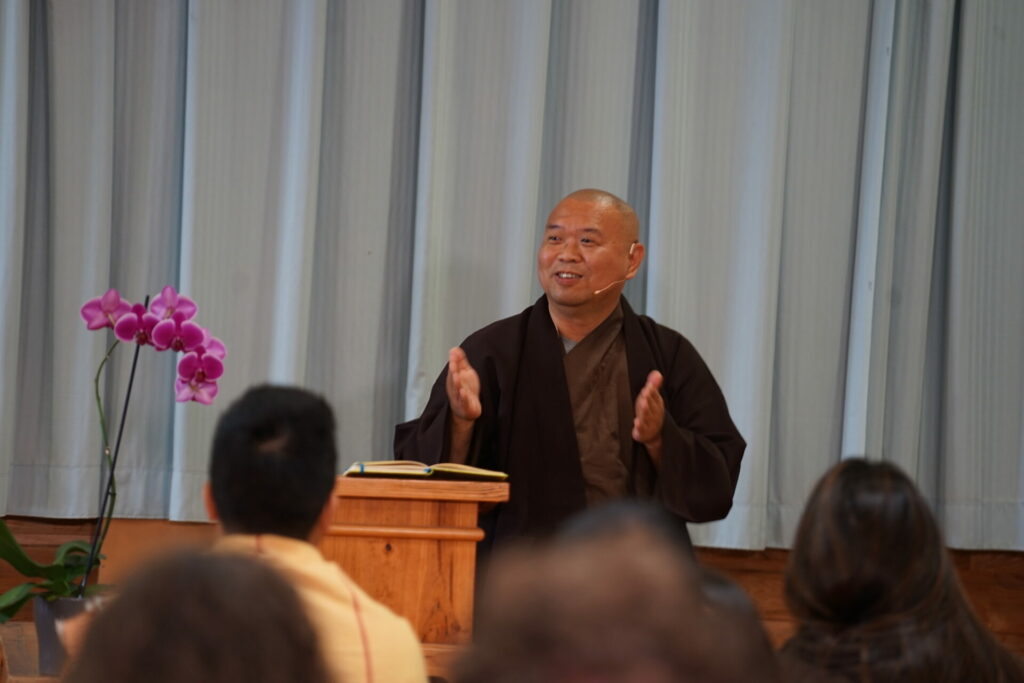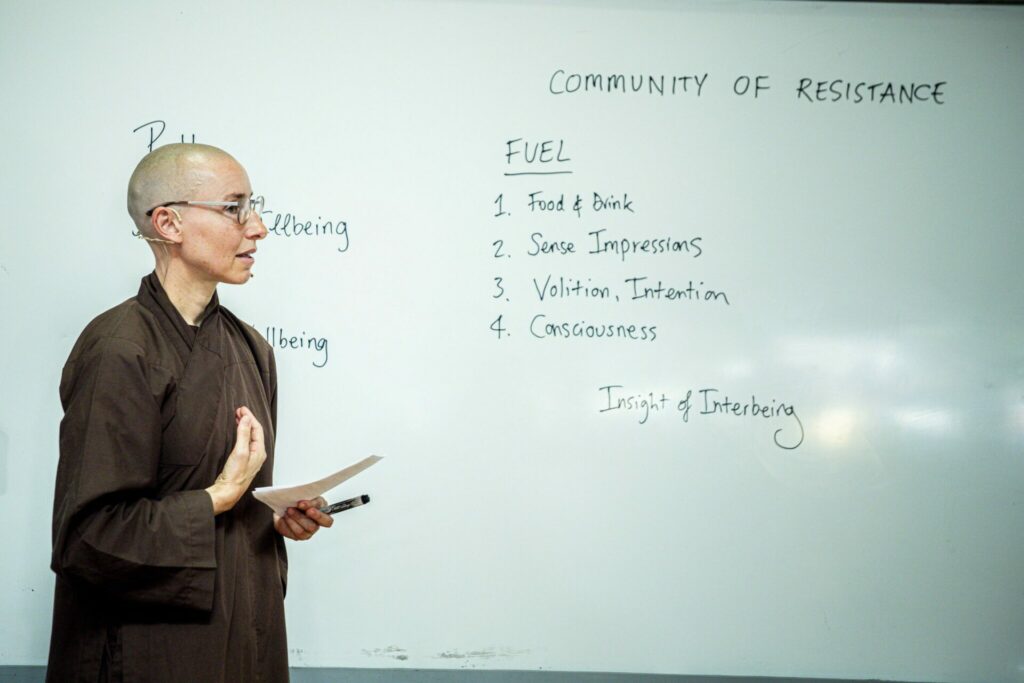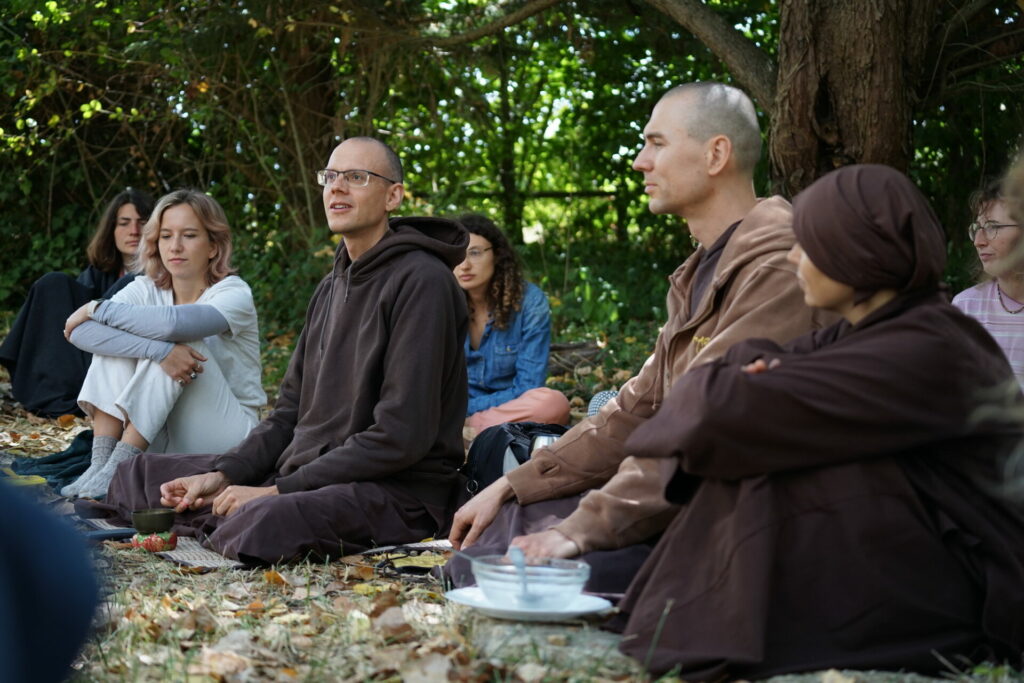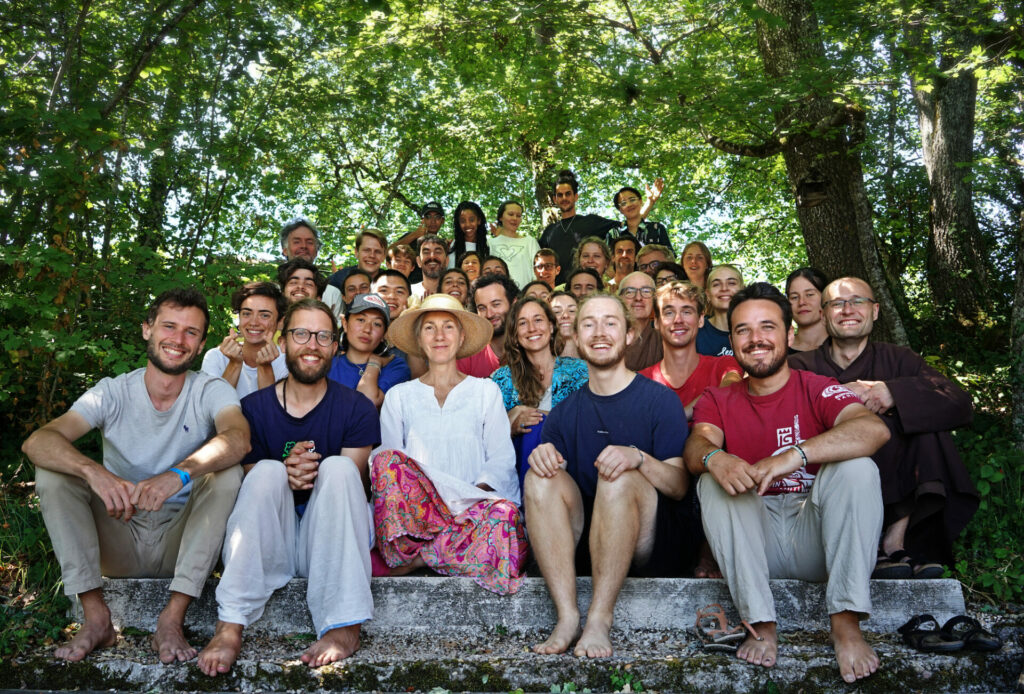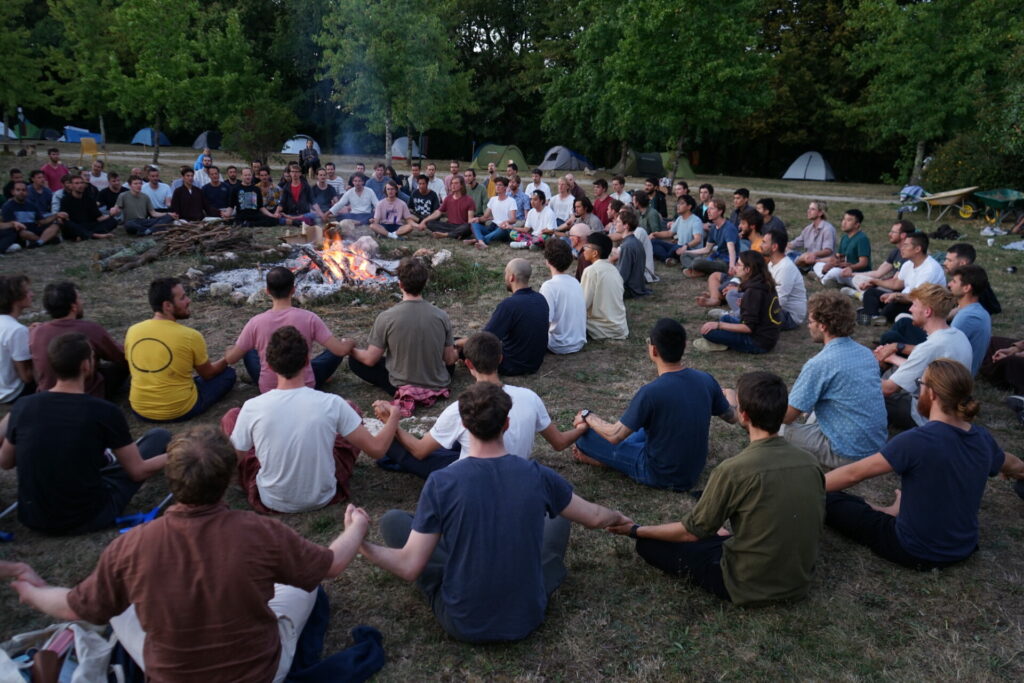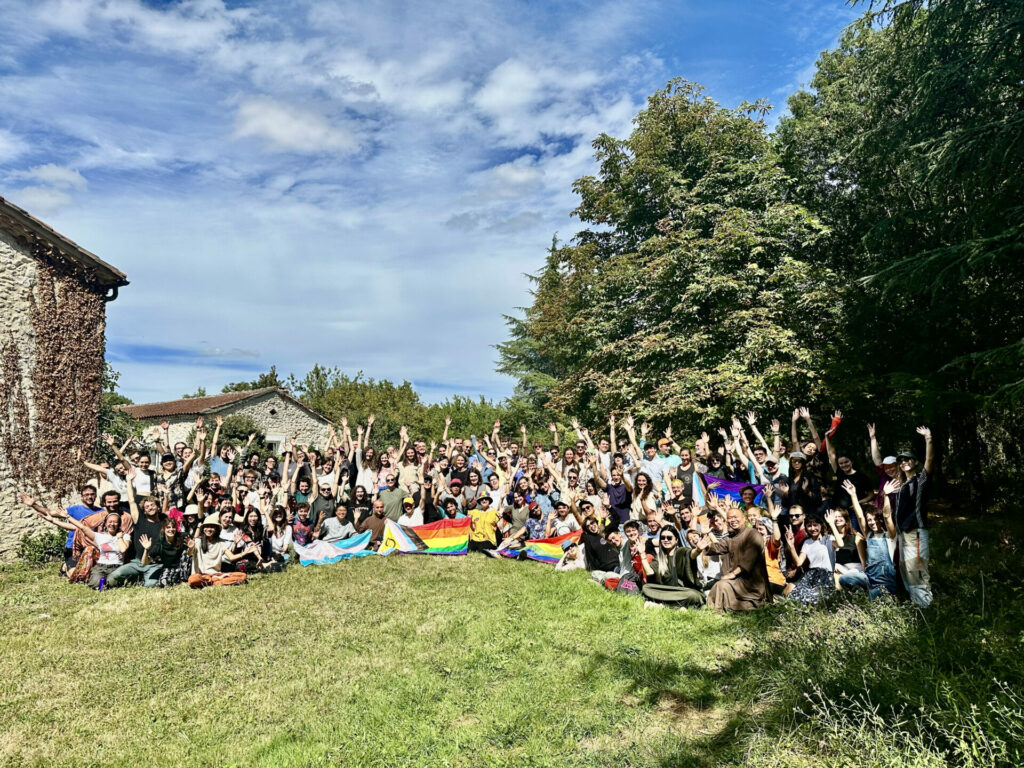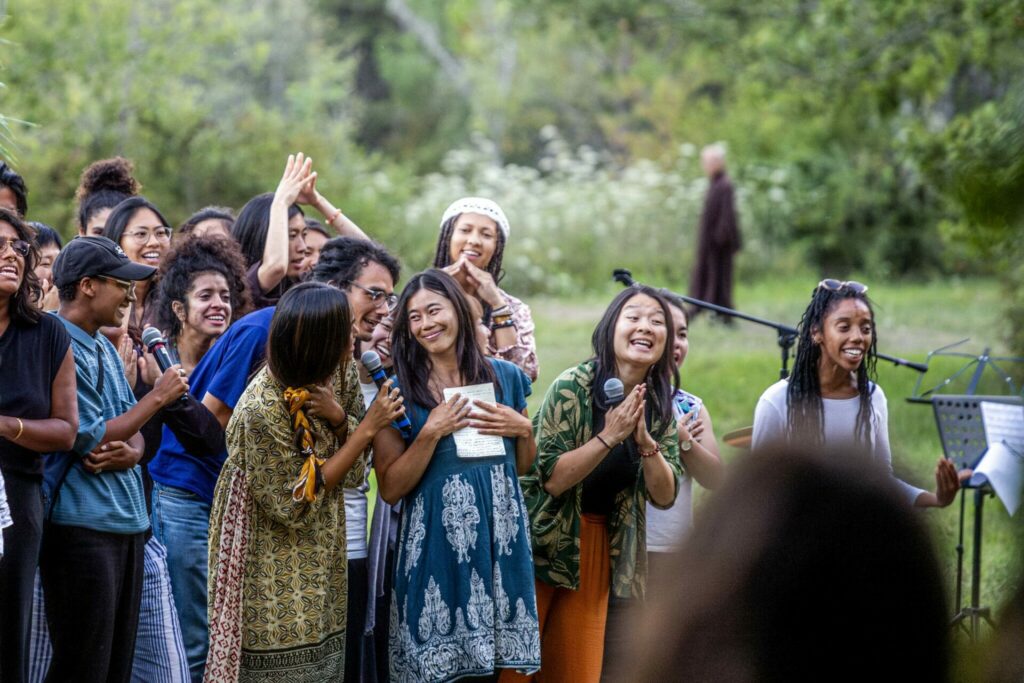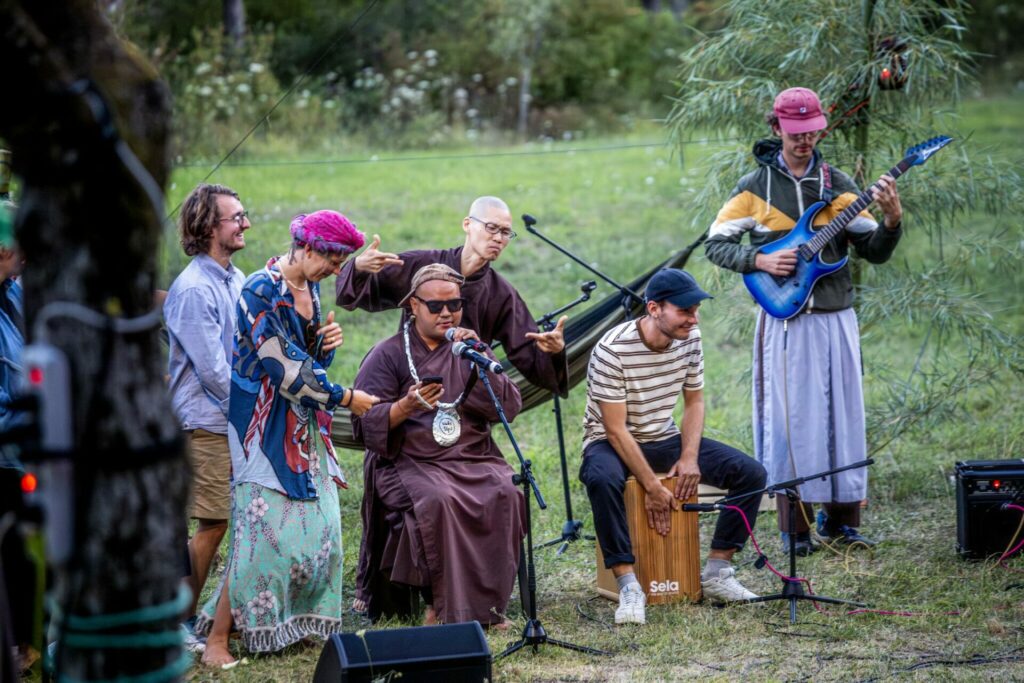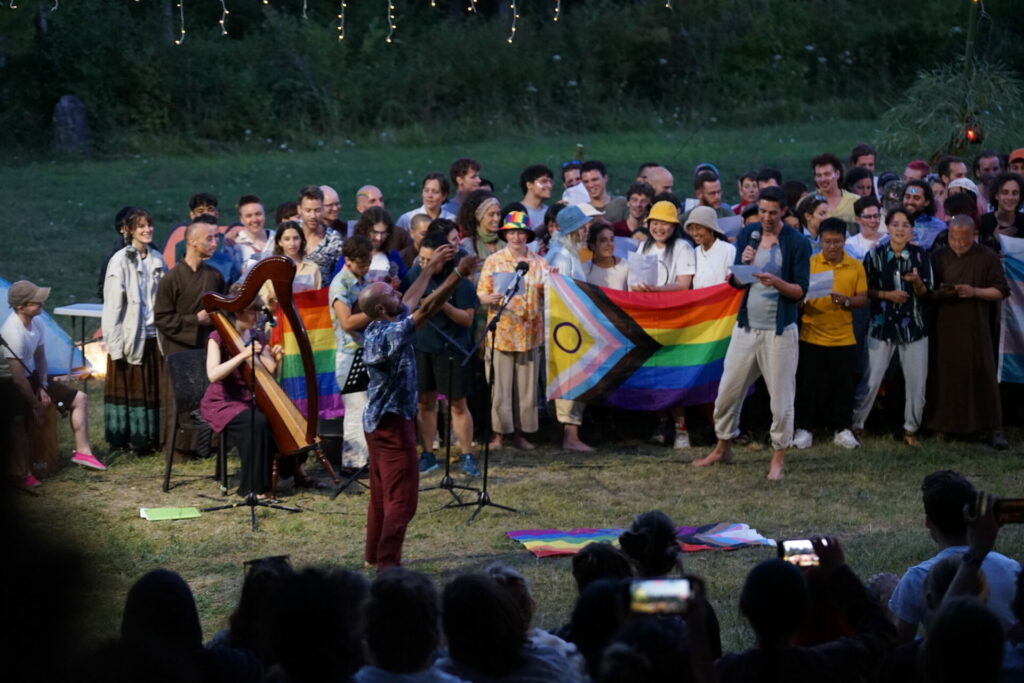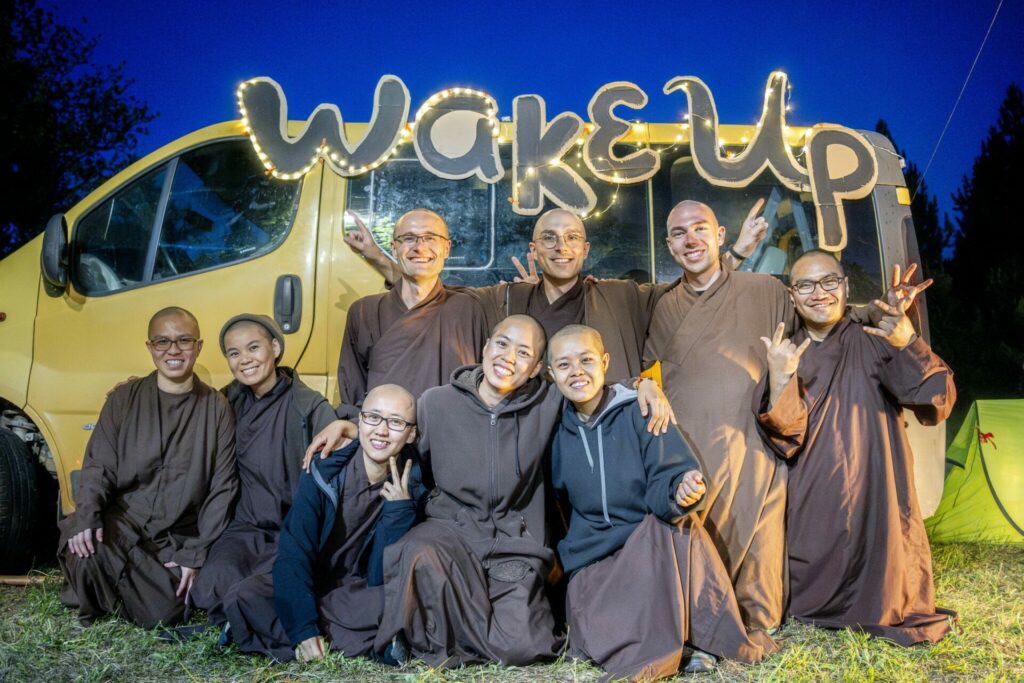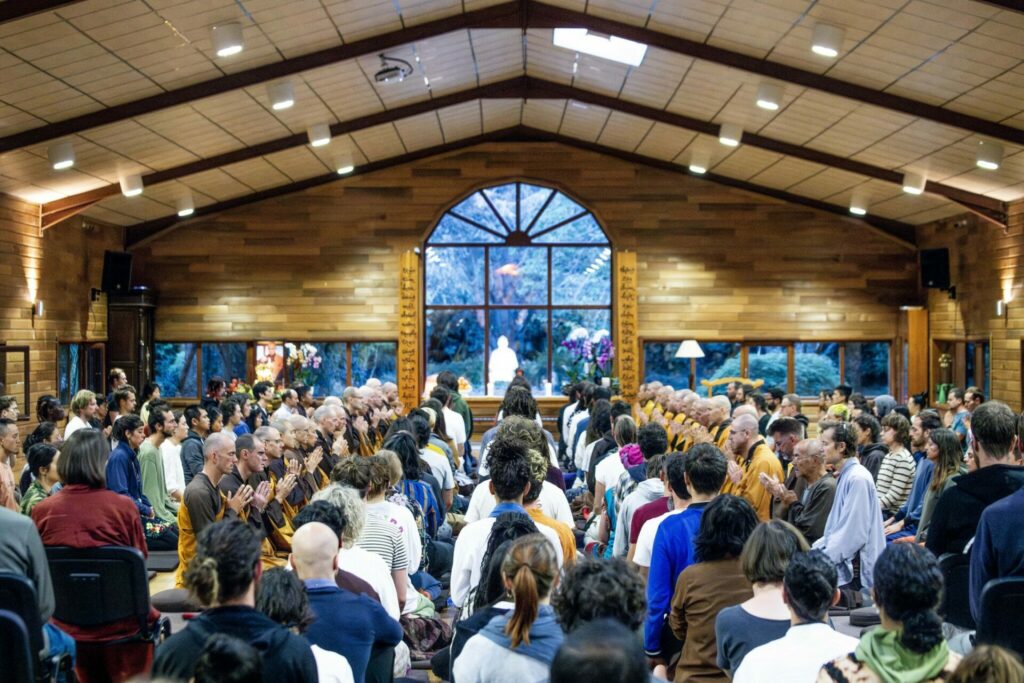 Smoked Plums and going with the flow
Marija (Simple Freedom of The Heart) experienced her first retreat in the Plum Village tradition online in 2020. After having life transforming experiences with the practice, Marija joined 5 other online retreats over the next two years. She visited Plum Village for the first time in 2022 and came back this year for the Wake Up Retreat. Here she recalls a moment during the retreat where she experienced the magic of Plum Village.
It was Friday the 5th of August and the Wake Up retreat was about to begin. We arrived three hours before the first shuttle would pick us up at St Foy Le Grande. We could already identify four other early birds who traveled from Germany & Italy to France for the Wake Up retreat as well. By singing "Come and join the Circle", I asked them to join us for lunch in town. Happy to meet friends already, we went and enjoyed lunch together. Still some time left, we walked down by the river and slowly went back to the station. It was already a wonderful moment even before the retreat had started.
Arriving in Upper Hamlet, as well as during the rest of the retreat, I saw the four early birds walking by and smiling to each other. Just before leaving the nourishing Wake Up retreat, one of them came by to offer me a warm hug and thanked me for welcoming everybody at the station.
I'd like to thank everybody whom I spent time with or who just offered me a smile. My personal intention – which we were asked about at the station by friends– was to focus on myself and I really tried to spent time only by myself. Most times, however, I would end up having one of these precious moments that can only happen in a place like Plum Village. Moments that I will treasure in my heart forever.
Especially, the one when I had the chance to experience with a one in a lifetime Plum Village meditation. Sitting by the bonfire just before evening meditation on Wednesday evening, a young practitioner came by with his camping pot and about 20 plums in it. He wanted to cook the plums with was left of the fire, that was actually still burning slowly, and to make plum jam out of it. He said "Once in Plum, you have to do plum jam."
The activity bell rang to remind us of the evening meditation and I couldn't resist but to stay by the fire. So I grabbed two cushions out of the meditation hall and together we did a Plum meditation. Every now and then, he either had to stop the flame, that grew too big, or start it again, because it was fading away. Fascinated by his volition, I got into it as well. We didn't talk much but just enjoyed the wonder and joy of the present moment. Not long after, the tower bell rang and announced noble silence. The time went by so quickly but feeling tired, I left a few moments after the tower bell stopped.
But soon after I prepared for bed, I realised that I still was too curious about the plum jam. When I went back another friend had joined and together they had decided to leave it as it was – smoked plums.
My joy was very warm like the summer night on that evening. Therefore, I stayed outside and made myself comfortable at the bench in front of the pond leaning against the tree. When another very happy and wonderful moment occurred. Nearby a friend was sitting and we started chatting even tough it was noble silence. But in this moment sitting next to each other we just felt like talking. The sky was filled with stars, a picture not often to be seen when living in town. We had a deeply and lovely sharing under the shining night sky. In the end, I went to bed hours later than planned with my heart full of joy while I was living in the present moment and went with the flow.
On the next day, when again I tried to focus on myself during lunch, my young friend invited me in to taste the smoked plum jam.How could I deny this generous offer. Sitting with him and his friends was yet again a deeply happy moment. That is what Plum Village is all about for me. Not forcing anything but to be. Plum feels already like home to me, even tough it was just my second visit. The monastery offers me a place to be where there is nothing to do and nowhere to go. This is why wonderful moments like this can happen and feel like wonders to me. There are more moments like this but this one is the most precious one for me. Also, I wasn't sure if I was much of a help that evening at the bonfire but my friend just said "Your presence was much appreciated." So is yours Dear Thay, Dear Community, Dear Mahasangha, Dear Friend.
Leaving Plum and missing my big sized bed so badly, I was lucky enough to meet another fellow practitioner in the train. "Your face looks familiar. Haven't you been to Plum Village as well?" – another present moment and the easiest chat happened while driving back home. The flow was always there to bring me joy while I was able to live in the present moment.
Finally, I arrived home and stood in front of my bed realizing that all I needed is my little tent under the stars next to my friends in Plum Village where the day begins with another 24 hours to live fully in the present moment. See you next year dear friends.
Marija O'Connor