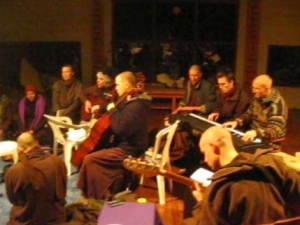 Dear Friends,
Last night at the Dharma Nectar Hall of Lower Hamlet in Plum Village, lay and monastic
practitioners from around the world gathered to concentrate our energy into a new song
which could represent the Wake Up movement.
Thanks to the good conditions of a visit from Joe Reilly, Melina Bondy and many talented monks, nuns and lay friends, the fruit of our practice is posted here:
Guitar & Vocals: Joe Reilly; Female Lead Vocals: Melina Bondy; Cello: Phap Linh; Bass Guitar: Phap Luu; Keyboard: Phap Dan, Andrew; Djembe: Phap Dang; Guitars: Phap Lai, Luc Nghiem; Harmonica: Phap Man; Backup Vocals: Plum Village Sangha. Recorded and rehearsed on Thursday, January 28th, 2010 in Plum Village. This recording is the third take.
For more of Joe Reilly's songs, follow the link to his website at http://joereilly.org
Open your eyes!