By Jade Fersterer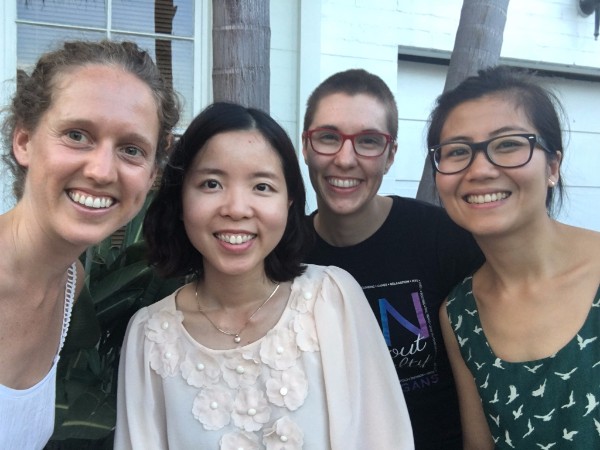 Discovering Wake Up
What a happy moment this is, to reflect on the creation and building of Wake Up Melbourne. I remember the first time I went to Plum Village in 2011. I didn't understand the importance of a Sangha. I enjoyed my own practice and working through my questions and worries independently. I considered that perhaps practising with others wasn't my thing.
In 2013 I moved to Rome and after almost one year I discovered there was a Wake Up group practising in the city. I thought it might be a wonderful opportunity to meet new friends in the practice so I went along. Although it wasn't always easy to practise in a different language, I felt nourished by the feeling of connection and kindness. I can still remember the first time I shared in Italian during Dharma sharing and the encouragement and appreciation I received from my new friends. We continued to practise together in yoga centres, each other's homes, and public gardens. Slowly I began to practise facilitating our meetings, which I enjoyed very much. I also attended a retreat at Centro Avalokita in Castelli where I met young people from all over Italy who invited me to visit them and practise together. My world opened up in a way I could never have imagined. A beautiful practice community was growing around me and the times I spent with these friends were among the most wonderful and joyful experiences of my life.
After two years, I moved to London and the first thing I did when I arrived was find the Wake Up group. Wow! I arrived at the meeting house on a Saturday afternoon and a lovely friend came straight up to introduce himself and offer to show me around. I felt so welcome. I found a cushion and watched in amazement as almost 50 people entered the room and mindfully found a place to sit. It was the first time outside Plum Village that I had sat with such a big community. People smiled warmly and enjoyed their breathing. The feeling in the room was beautiful. As I sat with everyone, the feeling of joy and connection flooded my cells and I knew this was something I wanted in my life.
Before returning to Australia, I attended the Wake Up retreat at Plum Village. Every day, we found joy with each other through playing music, singing, dancing and cooking. I made a commitment to myself that I would start a Sangha in Melbourne to continue nourishing the joy in me and others by practising together and having fun. The Wake Up Melbourne Sangha has been practising together since August 2017. We meet every week and enjoy sitting, walking, listening to the Dharma and sharing similar life experiences and challenges.
Every week I remember the Wake Up seed in me, how it became beautiful and strong through my years of travel and the connections I made. Every week I smile just to sit with new friends, to feel the peace and joy in them and see their loving smiles as they listen to others share from their hearts. The Sangha continues to grow and we are excited about nourishing our brotherhood and sisterhood through fun and joyful activities. Summer is coming and we look forward to practising walking meditation in the sand and sharing a home made picnic. I'm so grateful for this opportunity to reflect on the journey that has brought us here. I know Wake Up Melbourne is there now and I am very happy.
Reprinted from Nhap Luu Monastery's Newsletter