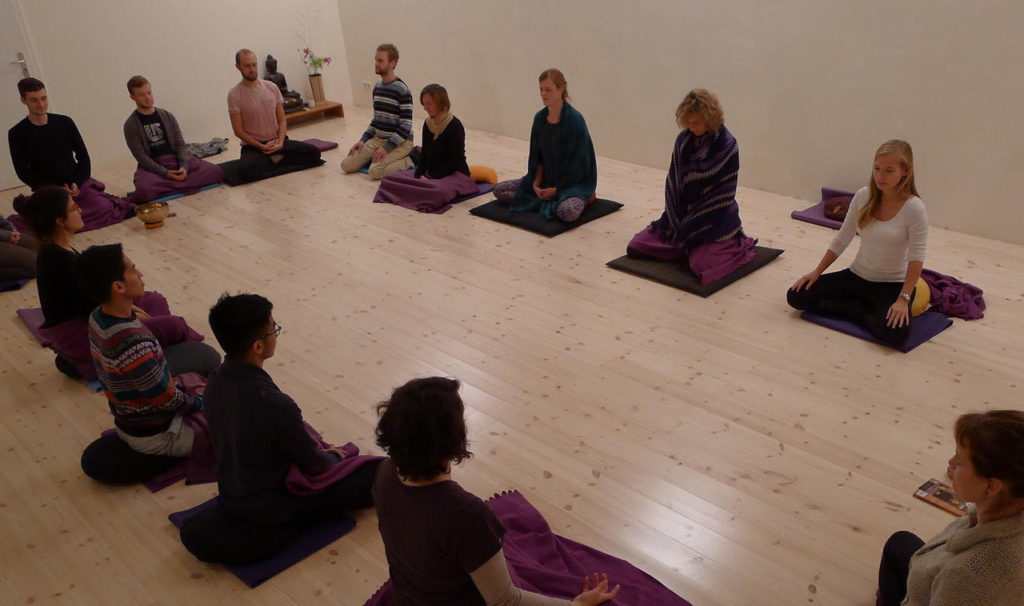 How did you come up with the idea of a Wake Up House in Berlin?
I (Anna) was inspired by the Wake Up House in Konstanz when I went to a Wake Up retreat in the fall of 2015. I felt like each time I returned home from a retreat, I lost the mindful energy after a few weeks. Practicing alone and meeting the Wake Up group only once a week didn't feel enough. Also, we don't meet much outside of Tuesdays probably because the city is so big, and everyone is busy living their own lives. That's why I wanted to live closely with people with whom I could practice on a regular basis.
Tell us more about how many people are living, how you practice together and nourish your brotherhood/sisterhood.
We are four young women (27-35) living together; three of us are "Wakies." For a long time, we were only two girls from Wake Up because we could not find others from the tradition who wanted to move in. As for our shared activities: we meditate together in the mornings; occasionally, we share a mindful meal; we watch Dharma talks or different talks like "The Mindfulness Summit" on Tuesdays; we do "working or cleaning meditation" every two weeks and we want to start with Beginning Anew on Sundays. We have a big white board, just like in Plum Village, where we share information or leave each other notes. We made little magnetic faces of the people living here so we can see very easily, if the note is directed towards us.
Have you got a funny or happy moment while living at the Wake Up House?
We had a wonderful Wake Up Christmas party with a real gingerbread house and a two-hour meditation session. Instead of sharing our suffering, we decided to share what we are grateful for during the Dharma sharing. We also had a Chinese Tea Ceremony. Filling one little cup into the next little cup, smelling and drinking the green tea gives so much more awareness to our taste buds. The guests, mostly new "Wakies" from the Berlin group, were so lovely and stayed talking to each other for seven hours! Another thing we love about our Wake Up house is the fact that we had visitors from Wake Up groups all over the world like Texas, Freiburg, San Francisco, and London. It was so great to have them sleep over and meditate together.
What challenges have you faced within the Wake Up House and how did you deal with them?
It has not been all lotus for us. At first, I (Anna) couldn't find enough people from the Wake Up group who wanted to share an apartment and meditate together. So we were two "Wakies" living together with others who were new to meditation and not as eager as us to keep up with it. This lead to a lot of conflicts at the beginning, because people felt uncomfortable when they were urged to meditate and eat together. Mindfulness is something that needs to be discovered and understood by everyone at their own pace. If you live in peace and with a smile on your face, you can also inspire others. Of course it's difficult if you want to start a mindful apartment…
The situation improved when another girl from the Plum Village tradition moved in. As we don't have a meditation or living room, we have to meditate in the bedroom of someone in the mornings, so it's good to be able to take turns. Then, another point of conflict is the time for the morning meditation, as we have different schedules during the day. While some of us get up as early as 6am and leave for work, others are students and like sleeping longer.
We didn't find a good solution for this so far. Two of the girls meditate together in the mornings; one of us meditates later or sometimes with the girls if they have a later schedule. Oh, and lastly, it can get difficult having boyfriends or girlfriends who don't necessarily want to join "the mindful club": "Don't mind me, I will just be like a stray cat." Again, we should not impose the practice on anyone; that is also what Thay says at http://wkup.org/thich-nhat-hanh-practice-when-partner-not-interested-mindfulness.
Do you have any tips for those who want to start a Wake Up House?
It's good to not be attached to an ideal of how you wish for the Wake Up House to be. But also be clear about what everyone expects of the Wake Up House. Should it be a "replica" of Plum Village or a place where you can meditate together and share a mindful meal every now and then?
Then, it's easiest if all of the roomies share the mutual enthusiasm and know the tradition. It's best to have an extra room for meditation, so no one has to sacrifice their privacy. And do get a white board!