Hey Folks,
Well, I don't really know how to describe retreats on this US tour (I got to go to three so far…)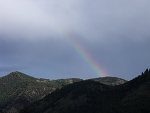 Amazing I guess…:)
I looked at the pictures and videos of the Plum Village Wake Up Retreat and was super stoked too. Looks like we were all playing, walking, making music, learning on two continents…  Makes me wonder what other amazing moments are going on around the globe….
What will our last retreat (at Blue Cliff) bring? Can we improve on that?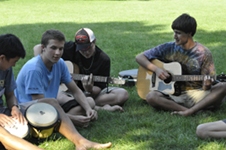 In Stonehill we just started sharing, opening up.  Like a family after a couple days.  How did that work?  Frisbee in the light rain was memorable.  Poems and music.  What was that morning meditation poem? Drumming.  "Stop hey what's that sound, everybody look what's going down."
(What is going down with America anyway?)  I still want to learn people's names (OK, I'm terrible at that, and the "animal game" didn't help!  Who was a sloth?)  Want to tag this Facebook photo? Are there group photos for the other retreats around?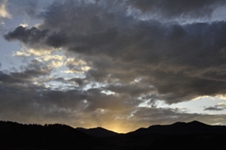 Colorado mountain time: Dharma sharing in the forest was a dream come true for me.  Just a little light rain, speaking to me of compassion.  We  squeezed onto that tiny rock for lunch..  (well it wasn't tiny, but there were a lot of us!)  who has the pics?  The mountains seemed to bring us a lot of solidity, calm, confidence.. Can we live like this everyday? One Buddha is definitely not enough! Thay was everywhere.  (I'm grateful that he is back with us in Deer Park now and seems brighter and stronger than ever!)
So many of us were inspired by the trainings.  I felt myself wanting to say to us: "It's OK. We're not alone.  We don't have to consume anything to be happy.  We don't need to be busy.  We can live like this."
At the end of the Colorado retreat a few of us climbed Long's Peak. Wow.
Climb the mountains and get their good tidings.
Nature's peace will flow into as sunshine into trees.
The winds will blow their freshness into you,
And the storms their energy,
While cares drop off
Like Autumn Leaves –John Muir