By Monastic Sister Trang Moi Len (True Newly Rising Moon)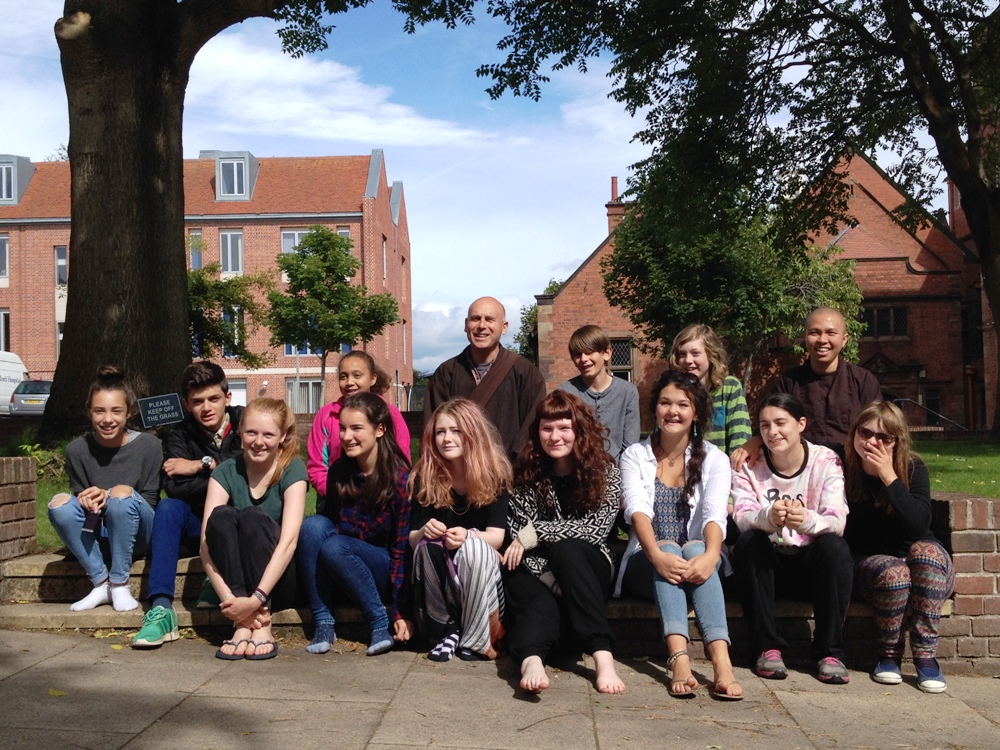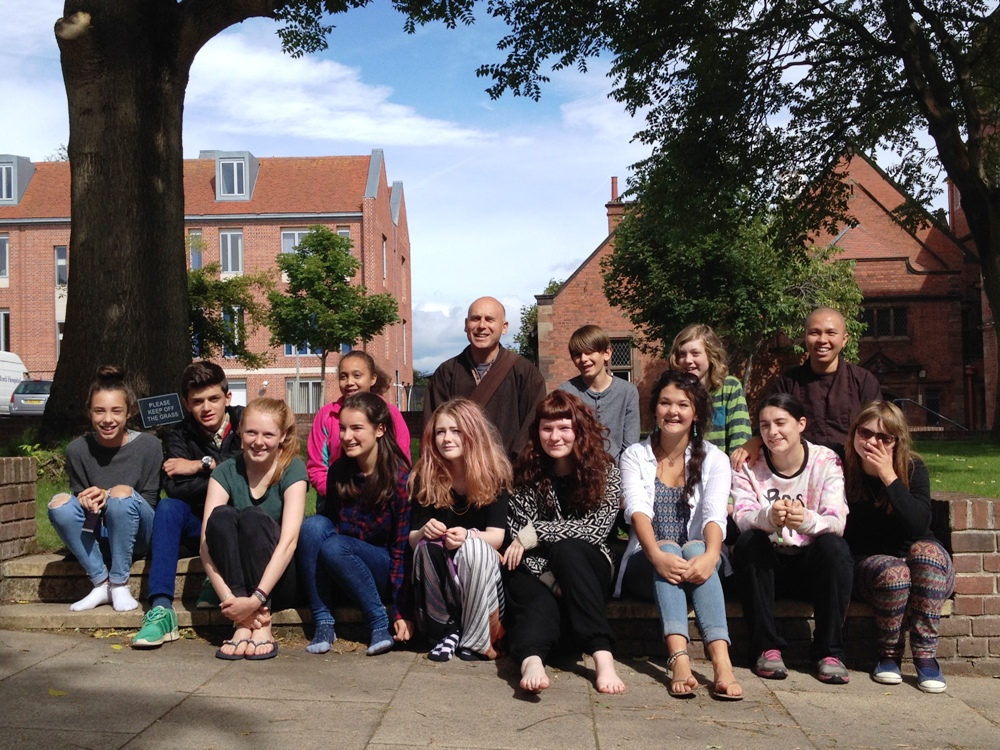 Monastic Sister True Newly Rising Moon, an Indonesian monastic sister, was ordained in 2010 with the Green Lotus family. She currently practices in Lower Hamlet, Plum Village. As an active and passionate nun, she wholeheartedly plays with and takes care of the teens enrolled in the summer program in Plum Village. The following is the sharing of her personal experience during this program.
Dear beloved Thay,
One afternoon during the 2014 summer retreat, I got an opportunity to have lunch with you. You knew that several sisters and I were running the teen program. Upon seeing me, you said right away: "My daughter, do you know that you are very lucky? You have the opportunity to water the good seeds." I just smiled and joined my hands to offer you a lotus.
Since joining Plum Village in 2009, I have developed an interest in the teen program. However, I was reluctant to join because of my inexperience. In the summer of 2012, an opportunity was presented to me. Unfortunately, I could only join the program for two weeks before having to return to Indonesia to take care of my mother. However, I learned a great deal working alongside other sisters. It was not until the summer of 2014 and 2015 that I could truly participate in the program for the entire month.
Before the start of every week, the facilitators discussed about how to share the practices of mindfulness with the teens in a playful, yet useful manner. I am very nourished by the group's harmony. We divided the tasks, supported each other, and worked as one body. Working as one body is wonderful because one person can complement the other and vice versa. We are aware that we need to create an environment where the teens can feel comfortable to practice and share from their hearts.
"My daughter, do you know that you are very lucky? You have the opportunity to water the good seeds." – Thich Nhat Hanh
The teen program is not too different from the one for the adults. We all learn to come back to the present moment, to listen to the bell, to breathe, to sit, to walk, to eat, to listen, to deal with strong emotions and to begin anew. At the beginning of each week, the teens receive general instructions (because there are newcomers every week) and have an opportunity to share why they want to go to Plum Village.
Most of the teens can go to Plum Village only once a year. Therefore, we encourage them to really use this opportunity to come back to themselves and not to waste time going online or using their smartphones. They also learn how to take care of their bodies, to make friends, to accept and embrace each other instead of competing with each other. I think that playing and walking together help the teens communicate with each other very well. Once they are able to make friends and play with each other, the activities in the program become more interesting and they can also share with each other more openly. Some of the teens have come to Plum Village several times so their practices are very solid. Their presences bring great energy to the community.
Transformation and healing have occurred when the teens practice Beginning Anew with their parents or loved ones. Before Beginning Anew, we share with the parents that this is an opportunity to practice watering flowers and to express love to their children. This is not an opportunity to lecture the teens.
There is a mother and daughter who practice beginning anew at Plum Village every year. Difficulties arise when the daughter enters adulthood. The daughter told us that her mother didn't understand her. However, when we meet the mother, we see that the daughter is very similar to her mother. She is the continuation of her mother. This year, the daughter turned sixteen and had planned to move out. She wrote her mother a letter because she finds it difficult to talk directly with her mother. The mother was shocked, but with understanding, she allowed the daughter to move out.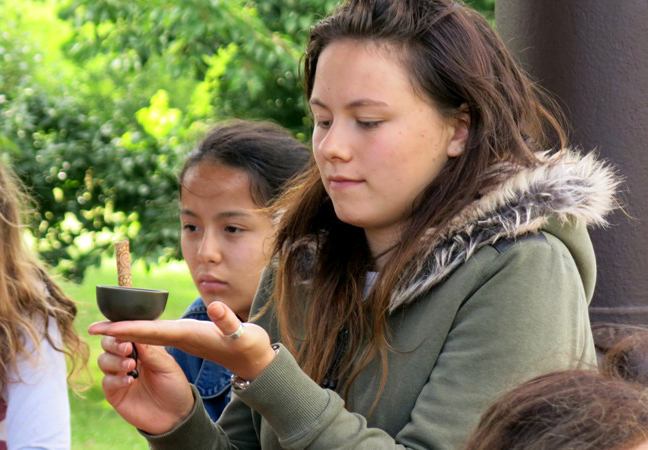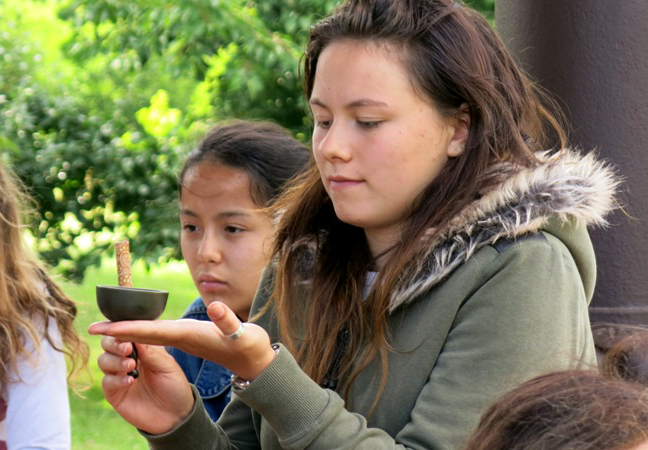 During the Beginning Anew, the mother said that even if the daughter moved out, she would always be her daughter and can return home anytime. Usually, the daughter practiced beginning anew out of formality. This time, however, she shared deeply and authentically. She watered the flowers and expressed her love for her mom. When she discovered the beauty within, she also realized that she inherited that beauty from her mom. The beginning anew was very healing to both the daughter and her mom. I was very moved.
I love interacting with teens because their energy refreshes my soul. I have taken on many different roles in the teen program, but my favorite role is becoming their friend. After knowing their names, I feel comfortable approaching them. I start with a smile, asking them about their school, interests, and what they like the most about going to Plum Village. These small talks create bonds between the teens and me. Gradually, they open themselves. Very often, I see myself in what they share. This helps me understand them as well as myself at a deeper level.
I remember that during the summer of 2015, a young sister shared about her difficulty in school with me. She studied very hard, but whenever she failed to meet her expectation, she beat herself up by saying she hadn't studied hard enough. I listened deeply and shared with her the practice of letting go of the expectations we have for ourselves, accepting who we are and being happy with what we have. She cried and promised with me to put these teachings into practice.
My beloved Thay, you have taught us that studying, playing, working and practicing are one. When I apply this teaching in the summer retreats, I have so much joy and happiness without trying so hard. I have transformed my sadness and taken care of the wounded little girl in me.
Since reading your book Reconciliation – Healing the Inner Child, I frequently invite the little girl in me to practice. During the lazy days, I practice looking deeply to find the roots of my suffering since childhood. As a result, I have been able to untangle my mental formations. From then on, the little girl in me has been much happier.
I listened deeply and shared with her the practice of letting go of the expectations we have for ourselves, accepting who we are and being happy with what we have.
During the UK tour in August 2015, once again, I had the opportunity to play with the teens. Actually in the beginning, I didn't plan on taking this task because I had run the summer teen program four weeks in a row. However, an elder brother told me: "The community has chosen you to run the teen program." Therefore, I submitted to the will of the community and, as a result, I had another nourishing week of guiding the teens together with two lay teachers, Michael and Teri. There were ten girls and four boys, ages 12 to 18. The difference in age was quite large, but the teens were in harmony.
On the second day of the retreat, a boy told me: "Sister, I have ADHD." I just looked at him, smiling. I observed him for several days. Then one day, he told me that his teachers told him about an issue he had because he cannot be still and focus in class.
He asked me how to meditate. He thought that in order to meditate, we had to empty our mind. I asked him to place a finger on his nostril to feel the in and out-breath. After practicing that for several minutes, I asked him to lie down and place his hands on his stomach to feel the rising and falling of the abdomen. He practiced for several more minutes. I told him that he didn't have ADHD. I also had a chance to discuss more with his mother to know more about him. I hope that he can erase the inferior complex created in him by others.
There was also a 14-year-old girl with Down syndrome. We made an arrangement so that she was always accompanied by an 18-year-old volunteer and she could feel comfortable to participate in the program. I hadn't had any experience interacting with people with this disability before. It was clear that the girl was very eager to learn, practice, and make friends. There was no difference in the way other teens act towards her.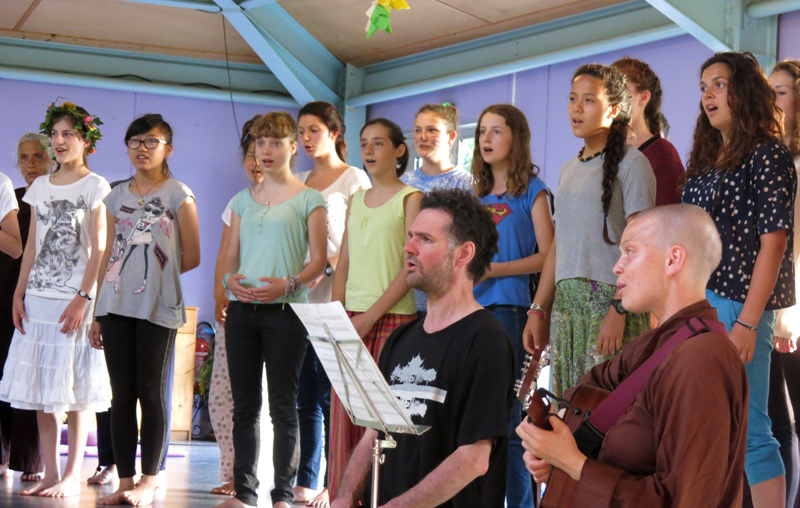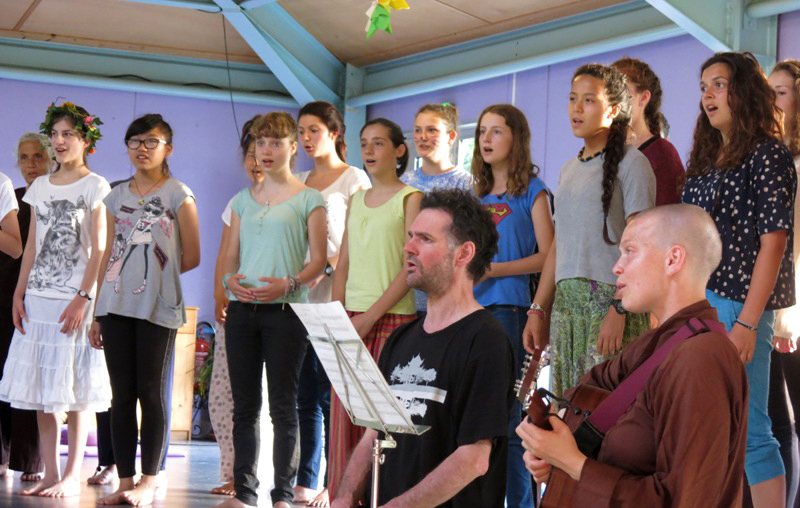 The teens embraced, accepted and considered the girl as a member in every activity. This moved me deeply. At the end of the retreat, nine out of fourteen teens applied to receive the Five Mindfulness Trainings, including the one with Down syndrome. Her mother helped her fill the application. Even though she didn't understand the Five Mindfulness Trainings completely, she was very committed to practicing and living happily.
The morning of the transmission, all of the teens got up early to participate. Witnessing them sitting in the middle of the meditation hall and receiving the Five Mindfulness Trainings, I was so happy because now they have the ability to practice understanding and loving for themselves and others.
Thank you my beloved Thay! You have sowed and watered the good seeds in me. And as you once taught, I feel truly lucky.
Your little daughter.
This article was originally published in Vietnamese on langmai.org
Translation credit: Tung Bui