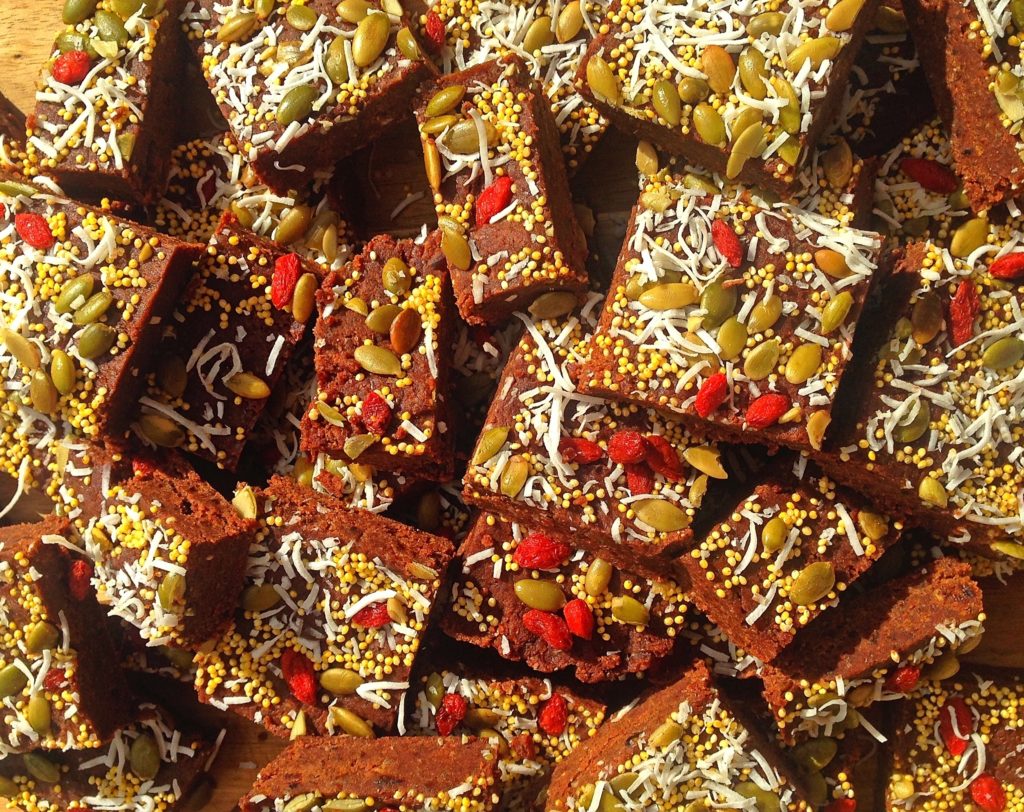 Free from gluten and refined sugar
Ingredients
(serves 3-4 people)
Base
– 1 cup almond meal
– 1/2 cup raw cacao
– 1 cup peanut butter (smooth, unsalted, unsweetened)
– 1 cup medjool or dry dates
– 1/2 tbsp coconut oil
– a pinch of sea salt
– 1/4 cup of water (optional)
Superfood topping (suggestion)
– 1/4 cup millet
– 1/4 cup goji berries
– 1/4 cup shreaded coconut
– any nuts, seeds or dried fruits of your choice
1. Put all base ingredients (except the water) into a food processor and blend the mixture into a dough with smooth texture. If the dough is too dry and crumbly, slowly add a little bit of water to make it stick together. Depending on how oily your peanut butter is and how dry your dates are, you may have to add a little more or less water. The dough should be neither too dry nor too moist in order to achieve a firm bar texture.
2. Spread the dough out onto a small baking/brownie tray lined with baking paper. Make sure the dough is spread evenly, so it is at least 1.5-2 cm thickness.
3. Sprinkle with superfood toppings.
4. Before serving, let it sit for at least one hour in the freezer or two hours or in the fridge.
Enjoy!

This delicious recipe was created by Khanh Doan, True Stream of Steadiness. Khanh has been practising with Sydney Sanghas since 2012. She enjoys bringing mindfulness into her everyday life, especially her work as a vegetarian/vegan caterer and yoga instructor.
Do you have a vegan recipe or an article related to Wake Up and mindfulness practice you would like to submit? We are happy to receive your contributions via info@wkup.org