by Nadine Spigt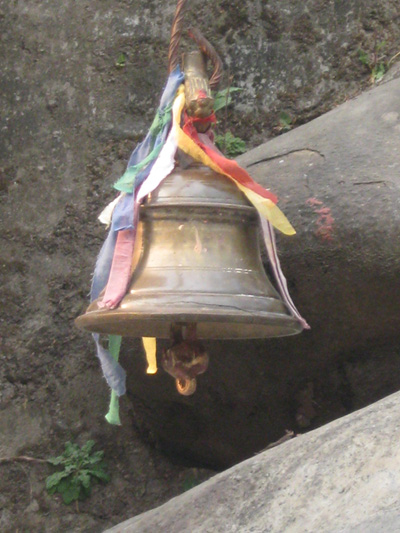 Actually it feels like there hasn't been so much compost for us, just a lot of flowers that needed some time before they got more and more beautiful and vibrant and alive.
The start of our sangha was when Romke and I went to a Plum Village retreat, and we felt the big need of having a sangha back home. It turned out there was no Wake Up sangha in our city. We wanted to start one, but we didn't know how or with whom. But by just being open about our experiences with meditation, buddhism, mindfulness and our retreat, it turned out that two of our friends were also looking for people to share their practice and aspirations with.
We decided to meet on a Tuesday night in one of our houses and tried meditation. We picked whatever came to our mind at that moment. Maybe it was a video on YouTube about meditation of someone who inspired one of us. Maybe it was a guided meditation on a CD that one of us already listened to. We did not have a schedule; we did not have a bell and did not all come from a Thich Nhat Hanh background. We just knew that we wanted to share time with each other on a different kind of basis than talking: we wanted to meditate together and be together in silence.
Tuesday night turned out to be our weekly meeting night, and every week we would sit together and decide what we wanted to do, what we wanted to listen to.
We talked with people about our Tuesday nights. More and more people turned out to be looking for some place where they could share their interest in buddhism, meditation and/or mindfulness with other people their age. The group got bigger. We still met in our small house, and everybody brought something to sit on. Drinking tea together, meditating, sharing and talking.
As the group got bigger and the influences and backgrounds people took with them got more varied, it took more and more time to reach silence and decide what we would do that week. Sometimes we missed enough silence. Sometimes we missed a deeper feeling of connection with the form of meditation that someone shared with us.
Together we figured out ways that felt right for our group: we decided we wanted to choose a subject for six or eight weeks, or whatever felt a right amount of time, to really dive into one kind of meditation that one or two of the group would like to share with the rest. Examples of the subjects people of our sangha chose to guide and prepare are Vipassana, Eckhart Tolle, Compassion, Sound & Movement, the 5 Mindfulness Trainings, inspiring quotes & texts.
We doubted for a long time if we could call ourselves a Wake Up sangha. Since a few of us came from the Thich Nhat Hanh tradition, our evenings didn't really go what people might expect from a Wake Up sangha.
For a long time, we did not sing Plum Village songs. That's something that's starting to be part of our evenings for a few weeks, since I am guiding the evenings right now based on Thich Nhat Hanh's Understanding Our Emotions retreat at the EIAB last summer. Over time, our evenings got more structured: we come in, drink some tea and chat, until everybody has arrived.
We do a weather report; we meditate; we share, and drink tea and talk. Also, right now we sing songs. This seems to fit well with the group, so we might continue to do that after our Understanding Our Emotions period.
At some point we decided to call ourselves a Wake Up group mainly so that other people would be able to find us easily, which they do!
I think what has been the main challenge for our sangha is how to make and keep it a place where people feel safe and connected. Sometimes our group grows quite big in a short time, and people do not really know each other well enough to really be able to connect.
Our group is also fairly open: there are quite some people not coming every week, but whenever they have the time and feel the need. We have always wanted to be a place where people would feel welcome to come whenever they felt the need, so we do not ask people to be present every week.
Some of us are the solid basis of the sangha, who are there every week. Others come and go. This means we have had to create safety by searching for a structure that felt right for our group. For us, this was for instance implementing the 'weather report' after we noticed that for some time we felt like the 'circle didn't close.' We were meditating with each other, but it could feel strange or inconvenient to share with each other. It wasn't safe enough. By starting with a weather report, we could connect with each other and feel with whom we were surrounded by at that moment.
At some point we felt like the sharings might not be safe enough to really share from the heart. By explaining almost weekly for some time how a sharing works (the 'rules' of a sharing), why we do a sharing and what a sharing may mean to the ones sharing or listening, the sharings got more safe and open.
So that's the story of our Wake Up sangha in Groningen. Everything evolves and develops naturally. We could not plan or schedule any of what the sangha is today when we started some years ago. The only thing that mattered back then was the big need to share one night a week with people who had the same aspiration as us: to be silent and meditate together, to share with each other, to inspire each other and to talk with each other.
I'm sure our group will keep on changing and evolving, just as the members of our group, the place where we come together and the things we encounter in life.
We feel very lucky to have such a beautiful sangha, and my wish to everyone who's longing for a sangha, is to just start. You don't need a plan; you just need one other person to start with. Or use Skype if, at that moment, nobody else seems to be around. For instance, we have a Skype morning meditation a few times a week at 8 o'clock in the morning with some people who like to start the day with a 30-minute meditation. Everybody is welcomed there.
Nadine Spigt is 26 years old and lives in the Netherlands. She works as a music therapist, and does music & creative workshops and activities with children and adolescents. She first encountered the practice in 2010 and since then, it has become a very important part of her life.