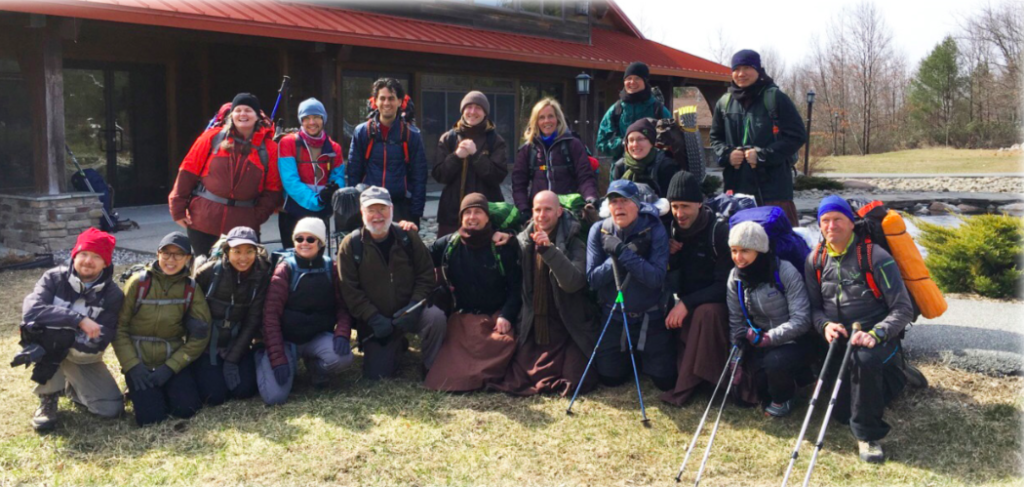 By Brother Dao Hanh
Our journey started many months before we made our first steps on the legendary Appalachian Trail. The preparation consisted of route planning, a successful fundraising campaign, drinking tea together, getting in contact with local Sanghas, looking into gear, taking a wilderness first aid course, training to get in good physical shape and more.
We had weekly Skype calls to get to know each other with Thay Phap Xa from the EIAB in Germany, Thay Phap Man and Thay Phap Ly from Blue Cliff Monastery in the USA, Thay Phap Luu, Thay Phap Khoi and I from Plum Village in France. Then we had five wonderful volunteers from the USA to help and hike with us as well. By the time we met in real life for the first time, it felt as if we already knew each other for a while.
We were to cross six states, hiking roughly 750 kilometres in seven weeks, from Blue Cliff Monastery in Upstate New York to Washington, D.C. Our aspiration was to create a mobile monastery and practice center, while connecting deeply to the healing energy of nature through our mindful steps. At the start of each weekly segment, we would offer a Day of Mindfulness to connect with and support the local communities. We would offer our practice, generating the energies of mindfulness, peace and well-being. At the end, we would finish with a peace walk at our nation's capital, Washington, D.C.
And so we started.
In April 2018, the much anticipated time had finally come for everyone to meet at Blue Cliff Monastery. With a backpack on our back, containing about 15 kilograms of gear, supplies and food, we started hiking. All we had to do was to enjoy our steps and follow the white blazes (this is how the trail was marked.) For weeks to come, we were exposed to the elements and encountered all kinds of weather conditions: snow, rain, hail, sun, thunder and lightning. We were immersed in nature and saw beautiful creatures like butterflies, snakes, toads, squirrels, groundhogs, turtles, deer, bear(-droppings), lizards, many kinds of birds and what not.
We were people from different age groups, walks of life and countries but all experiencing the same weather, same comforts and discomforts and same landscapes. This collective experience made us into a real Sangha every week. When someone wasn't able to carry their backpack up a mountain, we divided some of our supplies amongst the group's members and carried them together. When we hiked too fast and people couldn't keep up, we paced ourselves so everyone could enjoy their steps.
And if everything got too difficult and someone had to stop walking entirely, which happened every week, then Mama Sue (Thay Phap Luu's mother… but actually she was a mom to all of us) was there with the support vehicle, so they could continue enjoying the retreat in a different way. Blisters, wading through water on rainy days, soaked gear, places we had to cross like "razors edge" or "rattlesnake road," sprained ankles… nothing seemed to stop us from moving forward and enjoying our time together.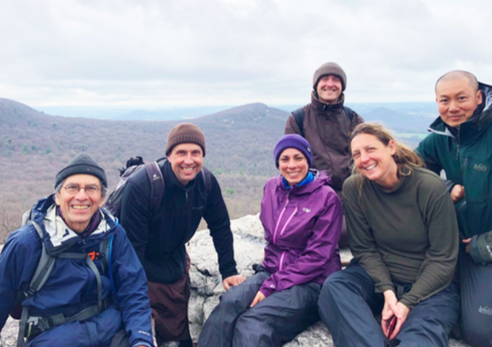 Being immersed in the wilderness for weeks made me feel part of nature. In the beginning, it was me going into nature, but through the weeks, this distinction slowly started to vanish. On one hand, I truly enjoyed the many comforts we normally have in our day-to-day life: fresh vegetables and food, a warm room and a bed in the weekend, a shower, clean and dry clothing and you name it. After a day's walk, everything seemed to have twice its usual value.
On the other hand, I also experienced a kind of distancing from everything we have in our day-to-day life. When walking through the beautiful wilderness for days and getting closer to a town, I smelled the stench of cars a mile away. From an all-natural environment to go into the city again, I wondered how on earth we had gotten so far away from true natural beauty. What are we doing as human beings? A simple and natural life clearly brought me more happiness and freedom.
One of the best aspects of walking in nature was life's simplicity. We woke up, had breakfast, took down our hammocks and started hiking. Around dinner time we stopped, had dinner and put up our hammocks again to rest for the night in the woods. The next day? Same thing. All we needed was the pack on our back and a smile on our face. We had nothing to do and nowhere to go but to enjoy our steps in mindfulness. When (weather) conditions were sufficient, we had morning and evening sitting meditation and the occasional Dharma sharing. I loved being in tune with nature. We woke up with the sunrise and chirping birds as our alarm clock, and went to bed at sunset.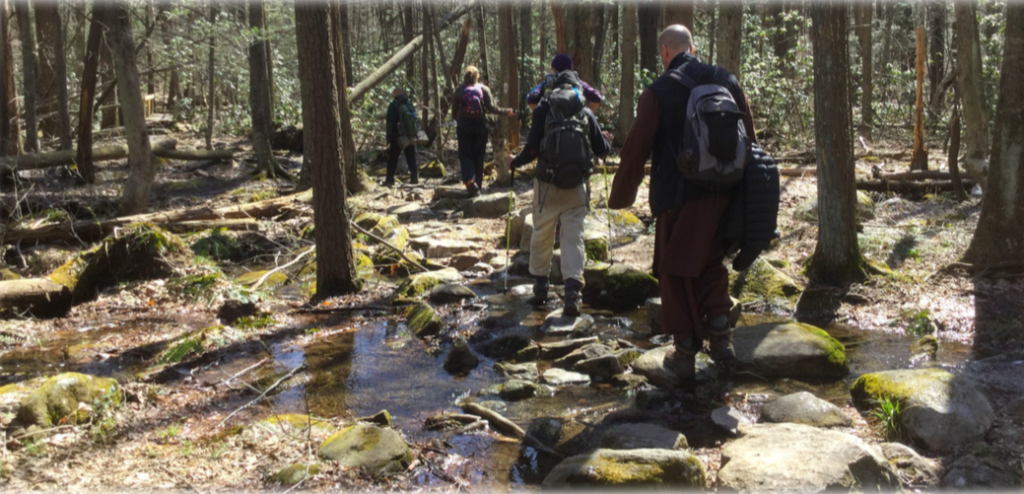 I started to see and feel the impermanence in nature as well. We started at the beginning of April and ended in May. We started in the cold and snow with the trees in the winter, and then we slowly saw the buds appear on the trees as we made our way from the north to to the south. Leaves sprouted, and flowers began to bloom from the ground a little bit more day by day. A big part of the days was spent in a peaceful and pleasant silence.
One of the more impressive moments of the whole trail for me was the falling of a tree. To see a big tree fall in these silent woods was special. I felt tiny and insignificant but vibrant and alive at the same time in this immense wilderness. Had the tree just died? Had it ever been born? When did consciousness manifest in life for the first time? Was this tree conscious? I felt a warm smile and an embrace of nature around me and within me, and these silly questions vanished. Self, human being, living being, life span… *Poof*… Just walk, Đạo Hành.
I was touched by all the connections we made. I got in touch with myself more deeply and with Mother Earth, and also with the wonderful people we walked with. It's special to spend so much time with friends who came for the hiking retreat. We spent 24 hours a day with them for five days. Normally, in the monastery, I get up an hour early and have some tea in my room to wake up before anyone sees me. Now I stepped out of my hammock, and everyone could see my pillow face. Normally we might have the tendency to hide ourselves a bit and go to our room, for example, when suffering comes to the surface. But hiking all the time, there was no physical space to go back to. The only refuge we could take was in our steps and the Sangha around us.
This was my first time in America, and it was a unique experience. Instead of big towns and cities, I got to experience the rural areas and wilderness. Every now and then, the trail went through a little town, and we got to meet the locals. We had some surprised but very welcoming looks from the locals who saw a bunch of Buddhist monks walking on the Appalachian Trail. It was as if we were giving this well-known hiking trail a more spiritual dimension. The local Sanghas in the small towns and cities we met on the Days of Mindfulness during the weekend were filled with joy and enthusiasm to host all of us.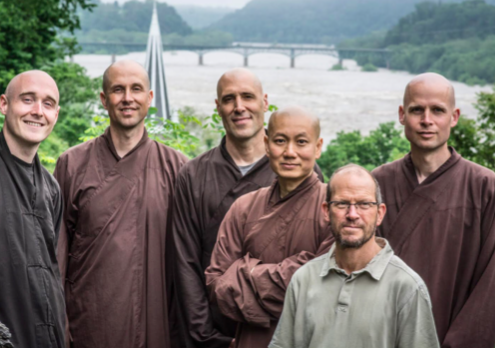 This experience also made me touch a different monastic lifestyle. We have the monk in the monastery, the hermit monk but also the wandering monk. Being on the move all the time made me realise even more that my true home is in the here and now. It's in every step we make along the path. Not knowing what the rest of the journey would look like, or even where we'd end up sleeping at night, made it easier to dwell happily in the present moment. All in all, we had a wonderful time together and our mobile monastery was a great success. I'd be delighted to put my pack on my back again tomorrow and to simply start walking.
Reprinted with permission from the 2019 Plum Village Newsletter
To watch a video of the mobile monastery, click here.