This is a letter I wrote to my family and friends and I'm happy to share it with you, too. 🙂
Plum Village, May 2017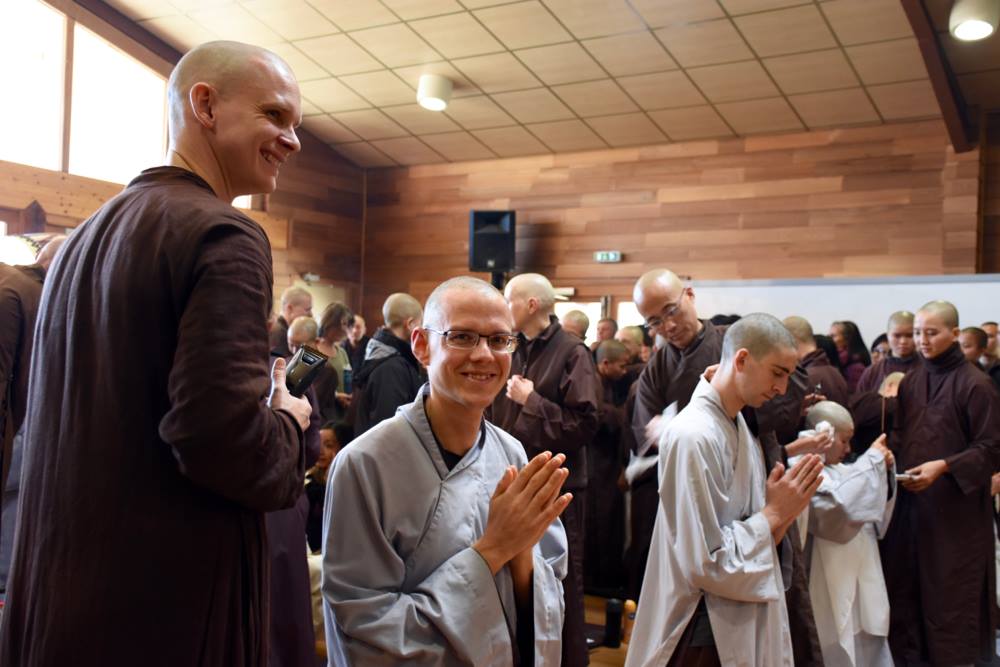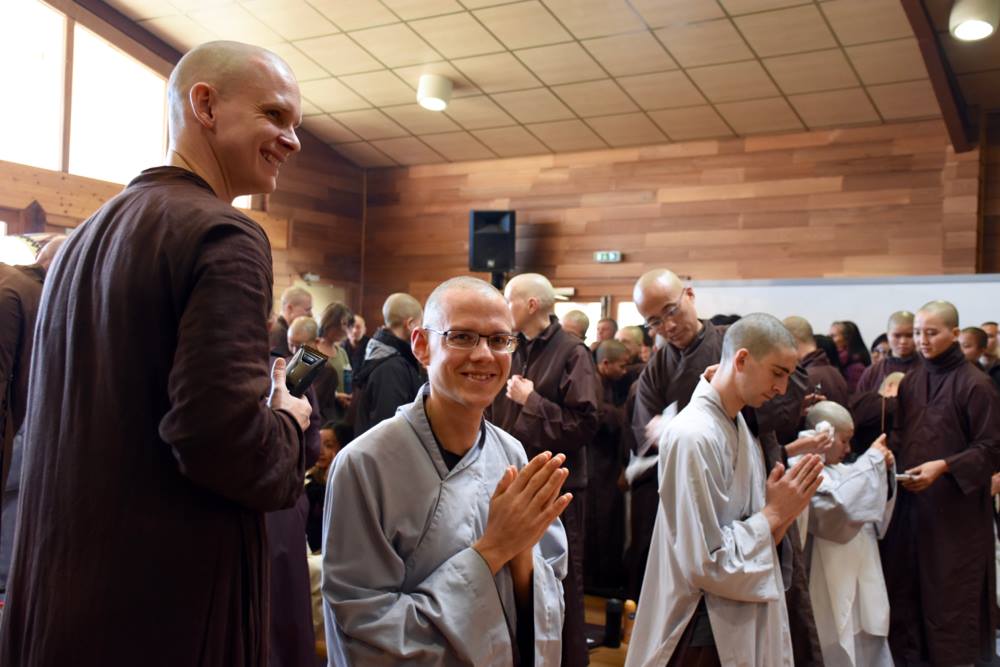 Dear friends,
I am happy to share some good news: on December 14th, 2016, fifty new brothers and sisters have been ordained by Zen Master Thich Nhat Hanh (Thay) and the Sangha, including 17 in France. We want to contribute more brotherhood and sisterhood, reconciliation, and peace in ourselves and in the world.
I now have a new Dharma Name: "Đức Niệm", which means mindfulness of virtue. It also means "German mindfulness" because "Đức" also means Germany 😉
The ordination ceremony was very beautiful and powerful. We have been welcomed into the big  Plum Village family (more than 700 monastics worldwide) with a lot of love and joy. This is a very special step in my life. I feel that it is the right one and that a dream came true—a dream to do something very meaningful and not doing it alone, but in and with a beautiful community as well as receiving their support, strength and love. A dream that we don't need to wait for an uncertain future, but that we can in the here and in the now experience happiness and peace and contribute to a better future. It may sound too good to be true in today's times, but I can feel this here everyday. For that, I am so grateful.
My parents, brother, and godmother came to our ordination. It was very precious to share and celebrate this new special step with them. Some families of my brothers also came from other countries, such as the US, Argentina, etc.
A few days before Thay flew to Thailand Plum Village since the weather there is better for his recovery after his severe stroke in 2014, we had the chance to see him briefly before he took off. That was very nice.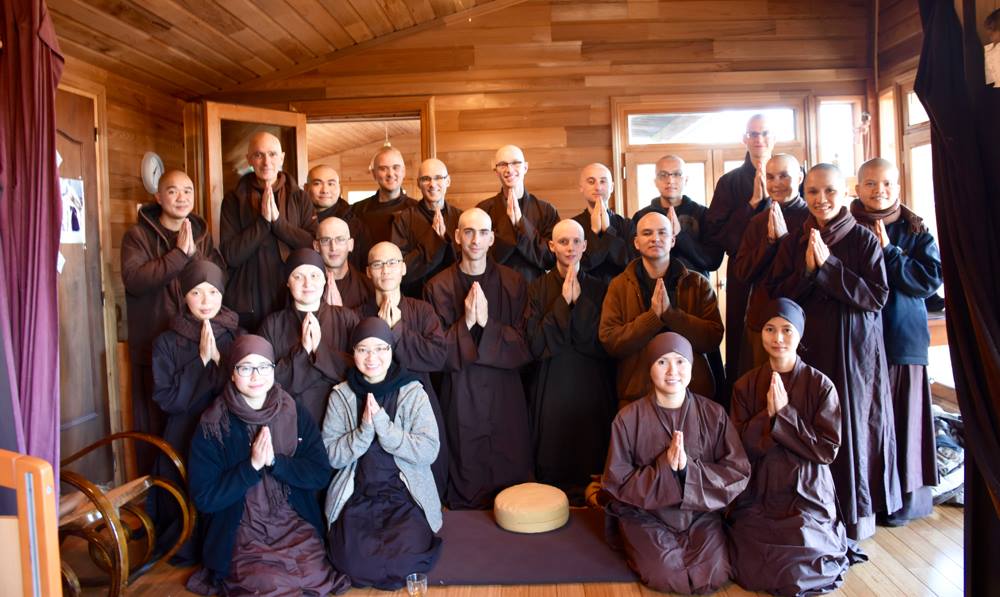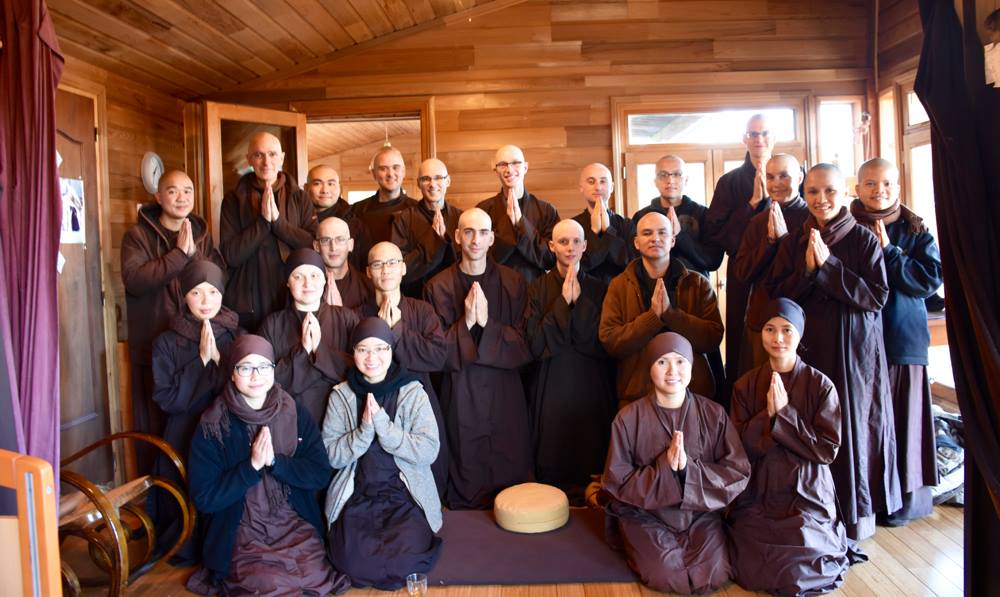 The energy at the ordination ceremony was solemn and powerful. During the one-year aspirancy, a strong bond and connection evolved between us, and I am very grateful for this. I can feel that I am not alone on this path, and my brothers, my (spiritual) ancestors and friends walk with me, too. This gives me a lot of strength and confidence.
At the first sounds of the chant ("In gratitude we offer this incense throughout space and time…"), I shed a few tears because I had been so touched by this wonderful moment, love and strength that lie in this community. "For each beginning bears a wondrous magic, protecting us and helping us to live" as Hermann Hesse wrote so beautifully in his amazing poem "Stufen" ("Steps".) These lines moved me a lot during those days. Then our eldest brother Thay Phap Ung "purified" us with a bit of water and symbolically cut a piece of hair. The energy he radiated in this moment was so big and deep.
I could feel that Thay also sent his energy and blessing from Thailand. I shed some more tears of gratitude and joy. At the end, our names had been read. All the brothers' names start with "Đức", meaning "virtue". Each ordination family is named after a tree or plant, and we are the first "Plum Tree" family of Plum Village 🙂 After the ceremony, our hair was shaved while the community sang a very beautiful chant (You can watch a beautiful picture slideshow of our ordination.)
In the afternoon, we had a Be-In celebration where our parents and friends could share a few words. After the sister of one of my brothers—who has Jewish ancestors—shared some beautiful words, my parents sang a wonderful canon in Hebrew without knowing about her history. The canon touched many hearts. It somehow is a part of the magic of Plum Village that something like that can happen. Later that day, a Jewish couple shared that it had been very healing and moving for them to hear this canon sung by Germans.
We then sang a wonderful song written by our mentor Brother Phap Linh. The beautiful text fits very well to our new path (video here). A few days before the ordination, we shared why we wanted to take this path. One brother edited a great video, where we introduced ourselves and our aspiration.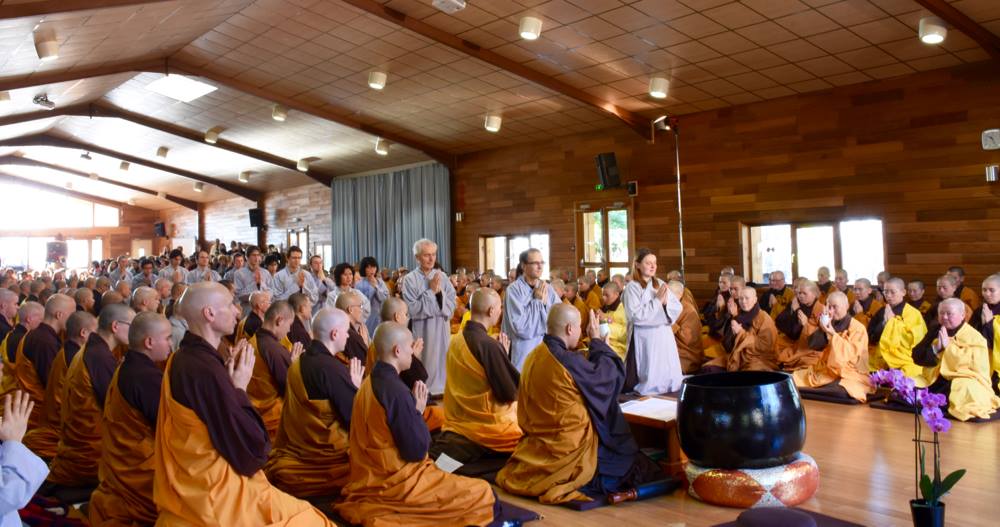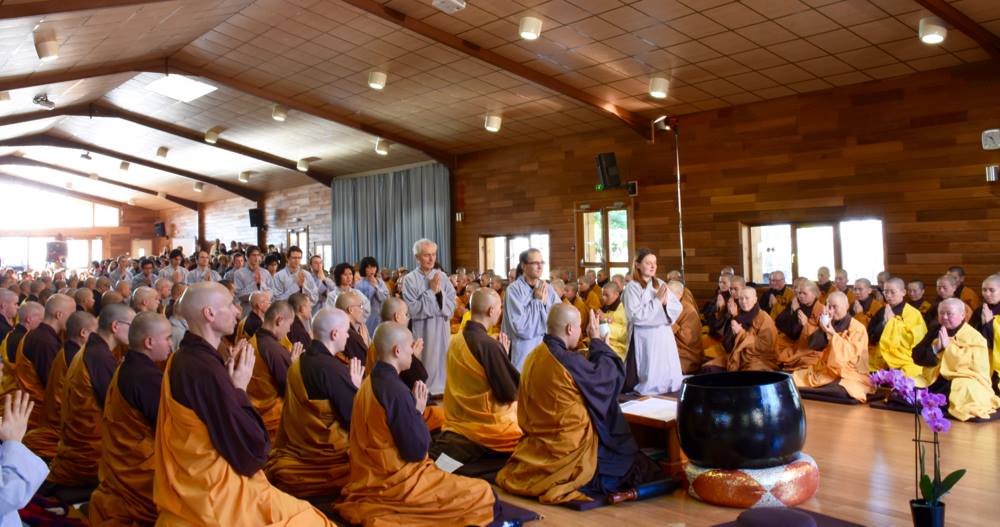 In the evening, we moved into our new rooms in the Monastic Residence. The atmosphere is very open and warm. One can go almost anytime into one of the rooms to have a cup of tea and share a bit. The presence of the elder brothers is very precious and nourishing. I can learn a lot from them, and they radiate a big acceptance and love. When I sit with one of the elder brothers, for example, I sometimes can feel how my heart becomes lighter and happier after a few minutes even though maybe something has been on my heart previously.
It is not that everything here is great and that I am super happy all the time. Every now and then, some uncomfortable, painful feelings or memories come up. They seem to come sometimes in smaller and sometimes bigger waves. This is part of the transformation process, I believe. And yet I notice how liberating it is each time when something is being relieved after such a wave and how my trust in God and the practice increases steadily. The trust and 'feeling at home' are also being strengthened by the beautiful moments that we can experience together:
Christmas was very nice. A few days before Christmas, we went caroling for some of our neighbors with a small choir of brothers and sisters. During New Year's Eve, we had a performance night and we played two cool songs with new texts as the band The Bald Eagles – "Come together mindfully" and "Deer Park California."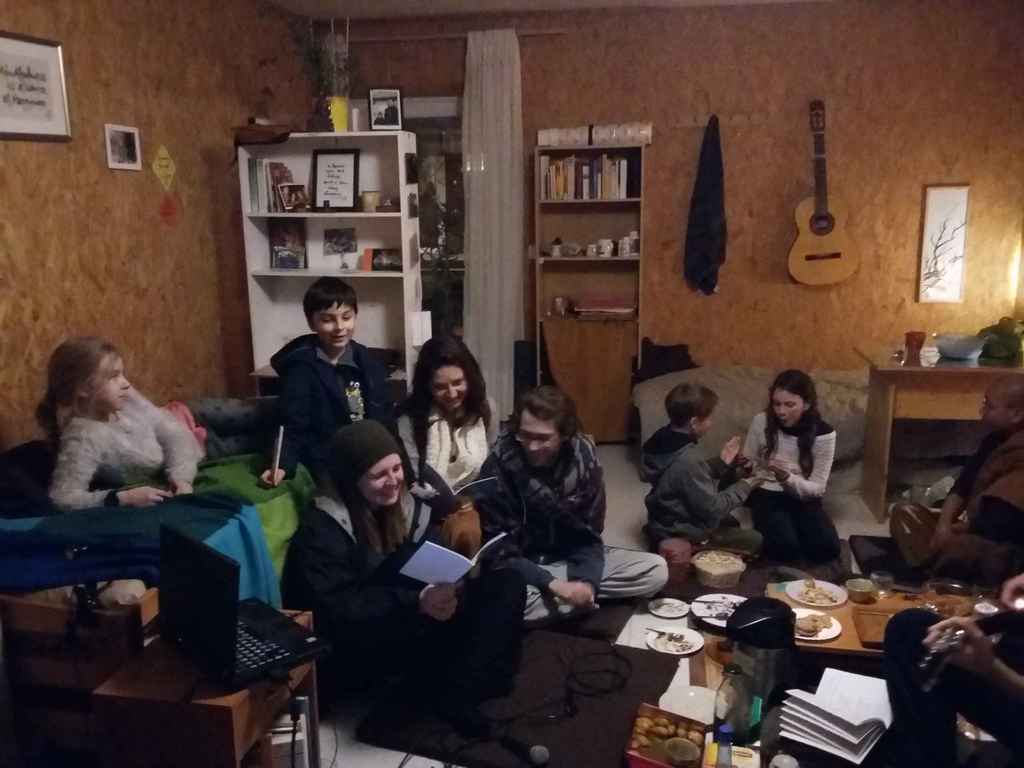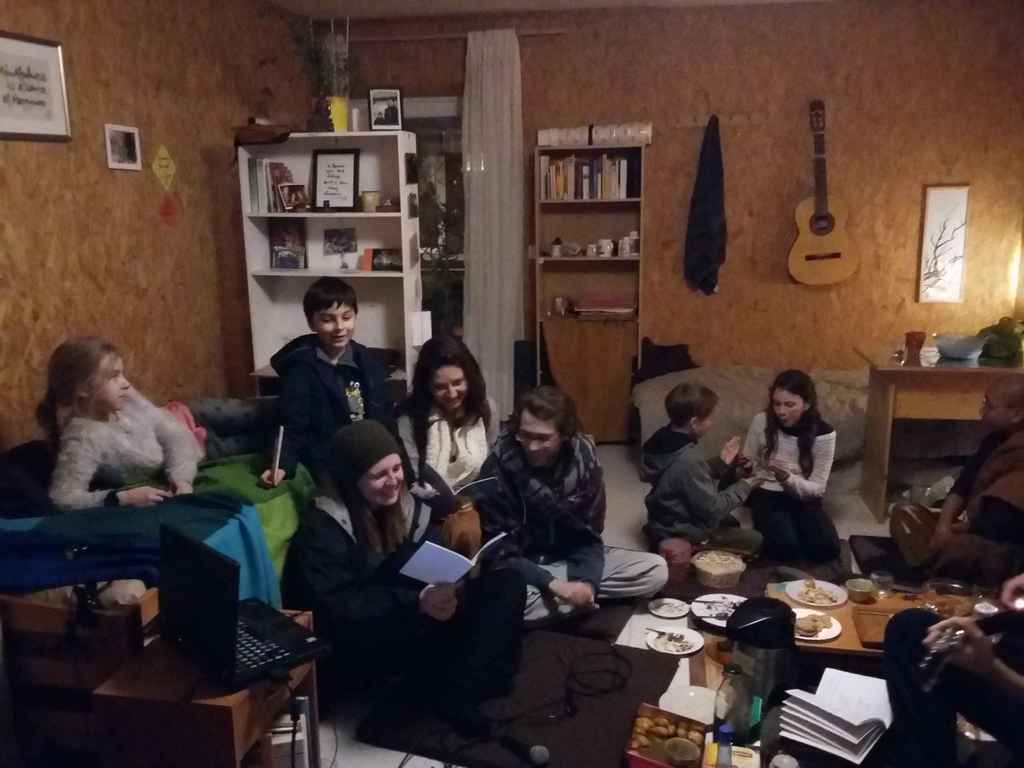 The Vietnamese New Year ("Tet") is always nice and cool. The monastic brothers and sisters open their doors for one day, and we visit each other's rooms. There is tea, snacks, fruits, etc. We share songs, poems, and good wishes for the new year. The atmosphere is joyful and playful.
At the Monastic Retreat in February, the sisters moved to Upper Hamlet for two weeks and the monastics from the EIAB in Germany joined us. Entering the meditation hall in the morning and seeing more than 150 sisters and 80 brothers sitting still and concentrated, and feeling the collective energy was amazing. We had great teachings in the morning and in the afternoon we had, amongst others, Dharma sharings and time to play and to exercise. We practiced noble silence for one day. It was so cool when we played a kind of badminton with our feet and – even though we were in silence – still laughed and had a lot of fun together. We had a hiking day and also the "PV Cup", the annual football tournament. In each team, the brothers and sisters played. On the last evening, we had a performance night, where we performed a cool and joyful Bollywood dance.
At the moment we are having the Spring retreat, where 25-50 guests come each week. I am in the cooking team. We are four in one team, and we cook every few days for around 100 people. We wash up and clean during the other days. We, the young novices, now facilitate sometimes sitting or walking meditations. Thus we can both learn and also offer something to the community. I think this is a wonderful way: we can grow, take deeper roots in the Sangha, and also contribute very practically to the community and friends. In between, we have some time for ourselves to drink tea, to study, to go for a walk or to bike in the marvellous nature here.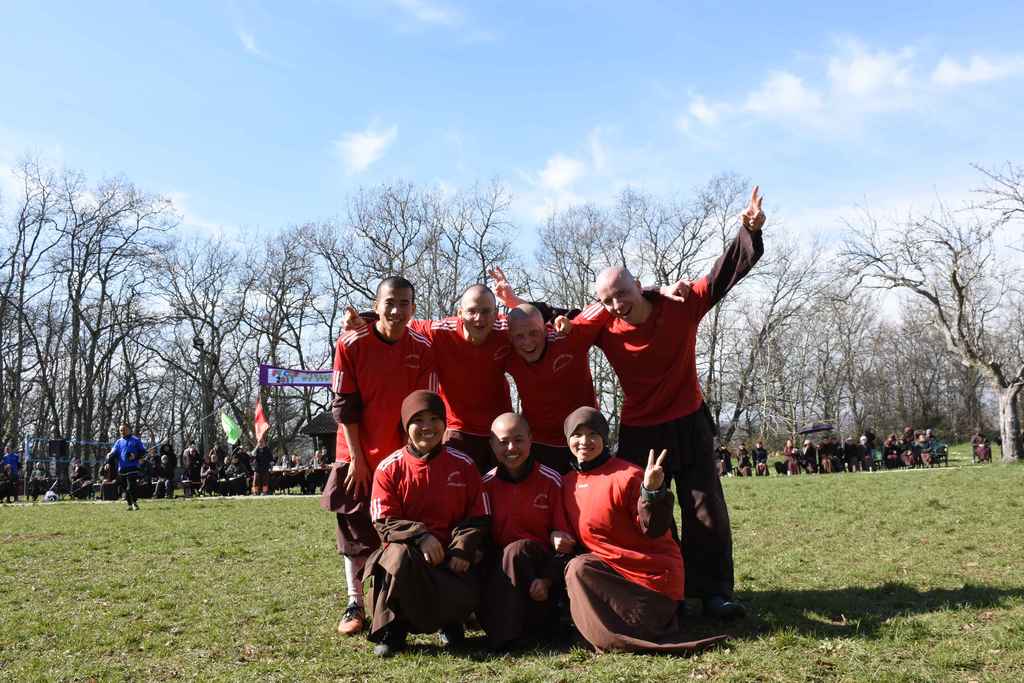 I really enjoy letting the beauty of nature touch me, for example, walking to the meditation hall in the mornings under the starry sky and moonlight. Now more than five months has passed already since our ordination. Time passes by quickly here sometimes, too, even though we try to live with ease and peace… 🙂
I also want to express my deep gratitude to our beloved teacher Thay for sharing this beautiful practice and community with us; to my dear parents and family for always being there for me and supporting me with all their hearts and love; to my (elder) brothers and sisters for their warmth, care and compassion; to all my friends for your joy, support and sympathy, and to my wonderful Plum Tree siblings for everything we share together on this beautiful path.
Warmest greetings,
Your brother Đức Niệm (Jona)
P.S.: If you would like to receive some sharings about my life in Plum Village from time to time, you can sign up here.