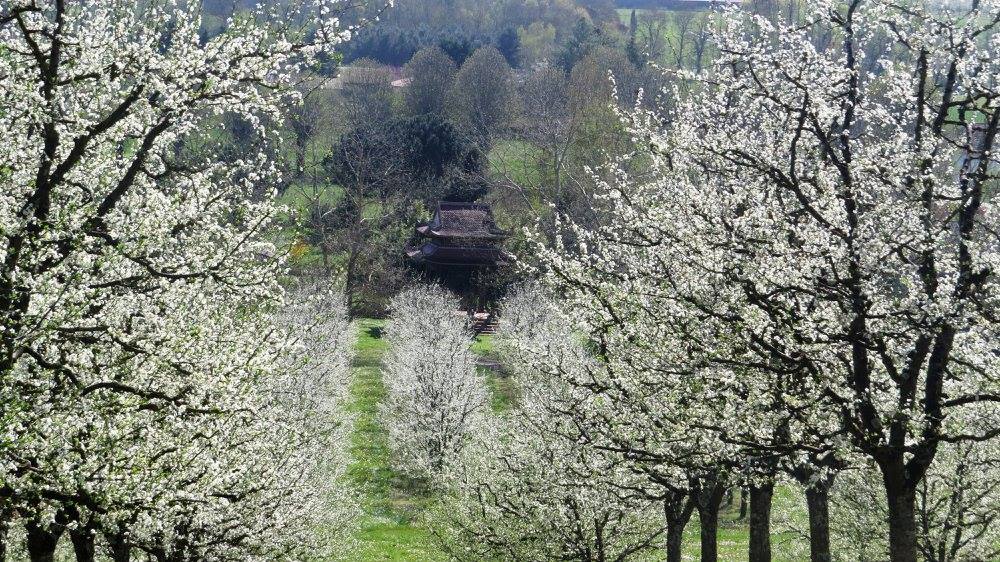 Dear Thây, dear teacher dear Friend,
Since I came back from my first retreat at the Plum Village 2 years ago, I want to write you a letter. I'm happy to have the opportunity to make it through this blog. I like writing on paper, and this is a transcription of a letter on paper. But I found that writing to you through this blog was more in the air of the time and It allows me to share this letter with more persons.
It's nearly 2 months that I'm back from my 4th retreat of one week and the Love that I received has really penetrated my heart. I feel a strong change inside of me. From the outside, my live looks probably like it was before. But it really changes. My way of living it, is different.
Practicing Mindfulness breathing in the daily live was 'something' that I wanted to do since my first contact with your teaching. Today, it's becoming a reality. It's not just a hope. This beautiful practice nourishes me more and more, it is a little bit more present everyday in my live. I also have the chance to share it with friends (of my age). Thanks a lot to the wake up movement that made me understand the importance of practicing with friends of my age and made me see that finally Internet can be a tool to meet together.
I have so much gratitude for all the things and people that allowed me to dicover the Village and this practice. You, Thây and all the wonderful persons I met there nourish my heart everyday.
We stay in contact by e-mail with the international young adults group of the 3rd week of the summer retreat in the Lower Hamlet. The most beautiful gift I can offer to them, for all the Love, the smiles and the confidence they gave me for free, is to keep my practice alive, joyful and to thanks them every time I feel their presence in my live.
Every person i met in the Plum Village is a seed of Love watered in my heart. Every sound of a bell, a remainder that the marvellous live is possible now.
I've got so many people to thank.
Thank you, Sister Djina for your smile and you sweetness during my first contact with the Village. Thank you, Claire (from Paris) for your well-being presence that year.
Thank you infinitely, Brothers from Son-Ha for your hospitality and brotherhood. I felt like being one of yours that winter. I spent with you the best Christmas and New Year of my live. If one day I become a monk, it is thanks to you. Thanks to you, I discovered in me a talent of guitarist, I learn to enjoy the practice and not to force me. I know « another world » is possible; I live more easily my flues and have more trust in my own power of healing (thank you Phap Tap), I touched my Spanish roots…
Thank you Phap Han, the sharing with you made me grows a lot. We shared without taboo and this brought me a lot. For the guitar thing, you watered the good seed. Thank you, Johnny for your Love. Thank you Marc for your youth (thanks to you, I don't care about becoming older), and thanks to the all group.
Thank you, Sister Khoi Nghiem for your smile and hospitality. We were not every time very disciplined and you let us the right freedom. I felt your confidence in the practice and you communicated it well to me. Thank you, Sister True Dedication for sharing about your live as a lay and your path. It is really encouraging and if one day I become a monk, it's also thanks to you.
Thanks to the all group for the Love, the sharing moments, the smiles and the confidence. We practiced and shared a lot together and you watered so many good seeds in me, I'm so thankful. Thank you "little sister" (you'll recognise yourself), for listening to me, for opening your heart, thanks to you, Lot of pains in me have healed and I see Women as Buddhas. Thanks for this non-physical and non-attaching Love. Every day, this love grows in me. Live as much more sense now.
Thây, you have given me so much that the favour I'm going to ask you seems to be 'too much'.
With the group of the 3rd week, we decided to keep connected through our sharings by e-mail but also through the practice. We're going to enjoy a cup of tea (alongside our friends and loved ones) together around the world. Every one in his/her country, at the same moment. The Sisters Khoi Nhien and TrueDedication will also participate and we will publish the day and hour on the blog so that other young lays and monastics could join us.
This tea meeting would be stronger for us if you, Thây, accept to share this special moment with us sending us your energy and receiving ours.
Thank you Thây
Marvellous Jewel(s) of the Heart (Javier – 29 years old – Brussels)