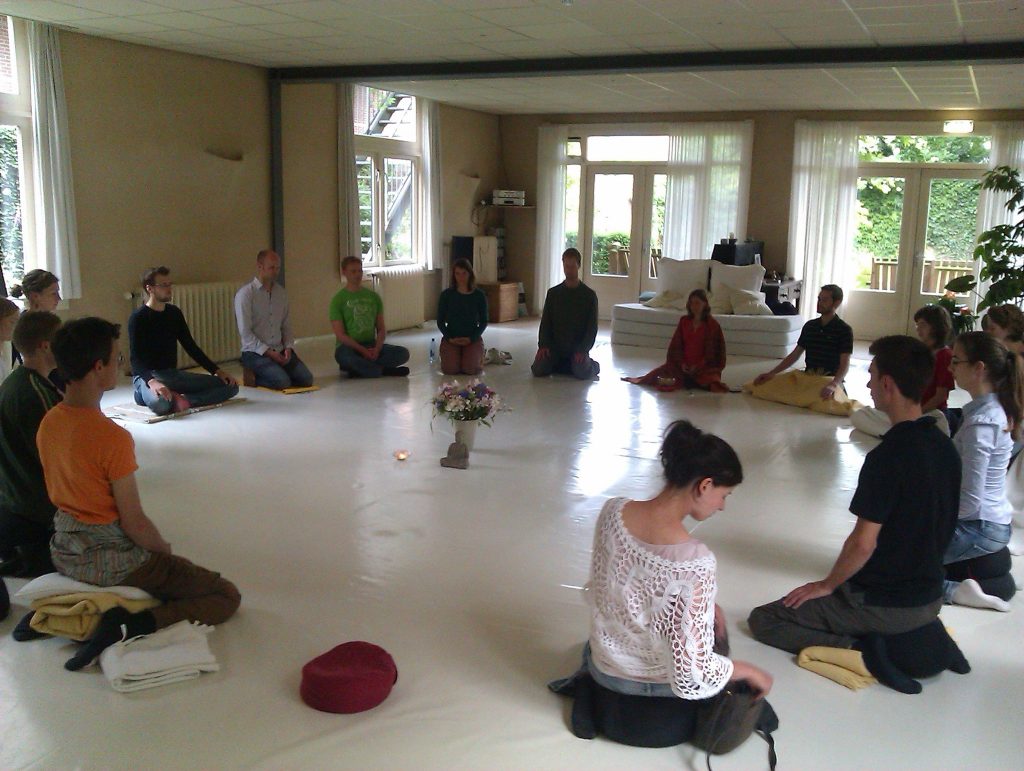 by Manon Wetzels and Reinier de Nooij
The seed for Wake Up Nijmegen germinated during a retreat with Thich Nhat Hanh in Papendal, the Netherlands, in the spring of 2009. In a gathering of young people at the retreat, there was fertile soil, plenty of Dharma rain, and flowing enthusiasm. An already existing desire to share the practice with peers finally found space. In the youth group, led by Brother Phap Linh, there was a lot of liveliness, playfulness, and fun, while our obstacles and the more serious side of the practice were also given attention. We felt mutual recognition and our connectedness was clearly deep.
Manon: Good Conditions for Growth
Immediately I felt inspired as well as at home. After the evening meditation on the first day of the retreat, I crawled into my bed, feeling very relaxed. All the impressions of that day fell, between waking and sleeping, like sand to the bottom of water. Suddenly I knew clearly and powerfully: I was going to start a group of young people to share this beauty with. It was not an idea that kept me long from my sleep, but rather it was an early seed quietly waiting to get its chance to bloom. I held it quietly within me in the retreat.
My appreciation for the feeling of connectedness among young people grew with my dedication to practice.
That early seed found good conditions for growth. My appreciation for the feeling of connectedness among young people grew with my dedication to practice. I decided to practice and take the Five Mindfulness Trainings. These formed a powerful germinating ground for the roots of my practice. At that time, Thay had a strong vision that more attention should go to young people.
Young monastics were already creating a website (which is now wkup.org) in order to reach young people and bring them into contact. At the end of the retreat, I was asked if I wanted to do something for the new "movement" for young people. A fellow member of the youth group, Rianne Croes, was also enthusiastic about the group and wanted to ensure that these young people could come together again. Like me, she was living in Nijmegen.
Rianne and I were both determined that a Sangha in our hometown would bring us the most joy and support in our own practice, and we were hoping that a youth Sangha for peers would be a welcoming place for that, too. A Sangha for and by everyone would be the most beautiful thing. To make this possible, both of us had to put together a good foundation.
So there was nothing to do but to get started. How green and inexperienced we were! The elaboration of a well-structured programme for a Sangha evening seemed to be an important base. Fortunately, we did not have to do it all by ourselves and reinvent everything. We contacted an existing Sangha in Nijmegen and shared our plans with two "big sisters" of this Sangha. This meeting provided us with lots of good advice, confidence, and encouragement. So we felt ready and formed the Wake Up Sangha in September 2009.
Manon and Reinier: The Beginning of Wake Up Nijmegen

We started with a small group of people, consisting of a couple of young people who had also been in Papendal, friends, and contacts. The evening gatherings were held at various locations: in living rooms in members' homes or rooms of acquaintances we could use from time to time. It was still quite messy, but we had enough enthusiasm to be fine with that in this initial phase. We grew in numbers, people came and went, but there was a solid core.
Rianne, co-founder and holder of the Sangha, moved to Utrecht in March 2010. With four core members, we sat together on a summer day in a monastery garden and gathered our intentions for the future of the Sangha. Even though we were a small group, we were very determined, and we decided to rent a place for our practice together. We were confident that we could grow from there. Reinier, a loyal and active member of our group since his arrival in November 2009, volunteered to take over the duties of Rianne.
Through proper alignment with each other and the group, and especially because we shared the joy of the practice together, we never felt that we had to work hard to facilitate the Sangha. The growth we hoped for appeared all by itself; our plans to make posters and flyers were no longer needed. We think the growth was mainly due to the fact that we now had a real practice centre instead of a living room or an attic in someone's home.
Once we were at our first steady location, De Vuurvlieg, we soon found that the room we rented was too small. During the spring of 2011, we found a larger place in the Cordium. Along with the move to our own place, our team and the scope of Wake Up Nijmegen started to expand. In the Netherlands, several Wake Up Sanghas formed, and Wake Up Netherlands organised itself on a national level.
Through proper alignment with each other and the group, and especially because we shared the joy of the practice together, we never felt that we had to work hard to facilitate the Sangha. 
The Sangha Gets Wings
The Cordium really proved to be the right environment for our Sangha, which made further growth possible. And what a kind of growth––within six months, we grew from ten people to around twenty in an evening. That was beautiful, but it also brought all kinds of problems. It became more difficult for us (Manon and Reinier) to remember all the names; the room again became too small, and it was difficult to share the house rules of the Cordium with everyone in our time together.
We solved the problems during the spring of 2012 by expanding the facilitator group (made possible by the Sangha's growth), getting a bigger room at the Cordium, and communicating the house rules more often as well as putting them on paper as a checklist for everyone.
A tool that we have used since the summer of 2011 is an annual survey. The results have been a pleasant surprise for us: we've received a lot of flowery and positive feedback, and that has given us the strong feeling that we are on the right track.
We have used other instruments: a Google group called wuna ("Wake Up Nijmegen activities"), a Facebook group, and Dropbox. With Dropbox we share literature, audiobooks of Dharma lectures and meditations, our facilitation schedule, etc., with about thirty people. We use a Sangha email list only for things that are directly related to the Sangha, in order to prevent people from feeling they are receiving spam messages. We use the Google group so people can choose whether they do or do not like to receive messages about partying, going out, dining, walking, and so on. Such activities take place quite often.
A whole community has grown, with people seeing each other outside the Sangha evenings, and groups of friends have come out of this. A beautiful tradition that has evolved is the summer Sangha: during the holiday season, we practice in a Sangha member's home or garden. Last year, we went for a weekend retreat with the Sangha to the EIAB. In the spring of 2012, we had our first Sangha weekend in Tricht. Since then, we have known that the basis for the Sangha is so broad and deep that it can remain for a very long time. Being together, connected, and on the right path with the Sangha generates a strong feeling of confidence.
A whole community has grown, with people seeing each other outside the Sangha evenings, and groups of friends have come out of this.
Wake Up Nijmegen has grown rapidly in the number of members, and the foundation on which the Sangha rests has become much stronger. Partly due to the huge growth, meetings are now weekly instead of once every two weeks. Besides the evenings in the normal programme, we've also created opportunities to organise evenings to practice deeply and evenings around themes. This sharing of inspiration brings liveliness and creativity without hindering the appreciation of the important regular elements, such as sitting meditation, walking meditation, and Dharma sharing. Deepening the practice and being in contact with each other is greatly nourished by the Dharma sharing. After more than four-and-a-half years of building security and trust together, this all has become very powerful.
Sangha for and by Everyone
The guidance and facilitation have been shaped gradually by more and more people, with now about ten people facilitating evenings regularly and another ten facilitating occasionally. So a Sangha-by-everyone has arisen. When people are more actively involved in the Sangha, this calls for more harmonization and coordination. And that is exactly what enhances the consistency of the Sangha, especially now that there are good working methods in place.
The Sangha consultation meeting, which takes place twice a year, grew from two to four to six people, and since the autumn of 2013 it has included the entire group. In order to do these Sangha-wide consultation meetings, we used Basecamp (the online social network of the Plum Village tradition) to ask the monastics in Plum Village for advice. That was very valuable, and we learned to emphasise the importance of harmony, decisions to be made in unanimity, and a Caretaking Committee (CTC).
The consultation meeting with the whole Sangha wasn't easy the first time. We wanted the conversation to have the quality of flowing water rather than having a heavy, sticky quality that can result if everybody wants to explain their view. So at the start, we asked everyone to be mindful of their reactions and to ask themselves if it was really necessary to react. We succeeded in discussing only one agenda item: dealing with the occasionally too-large groups on a Sangha evening and the growing group of members who were beyond the Wake Up age range. We decided to create a new Sangha. In December 2013 the "Cordium Sangha" formed as an all-ages Sangha. We see it as a part of the already existing Sangha in Nijmegen. It is an extra evening for everyone and a meeting place for the younger and older practitioners.
We learned to emphasise the importance of harmony, decisions to be made in unanimity, and a Caretaking Committee (CTC).
Taking Care of the Sangha 

Since the autumn of 2013, we have had a CTC like the ones in Plum Village and the EIAB. This means that a group of about six people monitors how the larger group the larger group is doing, and if there are concerns, they discuss these with each other. The CTC also makes small decisions in order to keep the Sangha as healthy as possible. For big decisions, the entire Sangha is involved in a central consultation.
Due to the fact that the guidance and "caretaking" can be carried by an increasingly wider group, it is now being transferred to younger Sangha members in a very smooth way so we can grow further as a Sangha. Expansion and new forms stimulate the development of strength and maturity. Thanks to all the experiences we have gone through over the past five years, we are confident that we will meet new challenges with the necessary strength and wisdom to maintain harmony and a healthy Sangha.
Reinier de Nooij was in the Wake Up Sangha from the autumn of 2009 until the end of 2014, and is now in a regular Sangha that was created by himself, Manon, and others. He is also a husband and father, and helps organizations to become more sustainable.
This article was originally posted in Dutch on wkup.nl