By Will Chua
Going as a River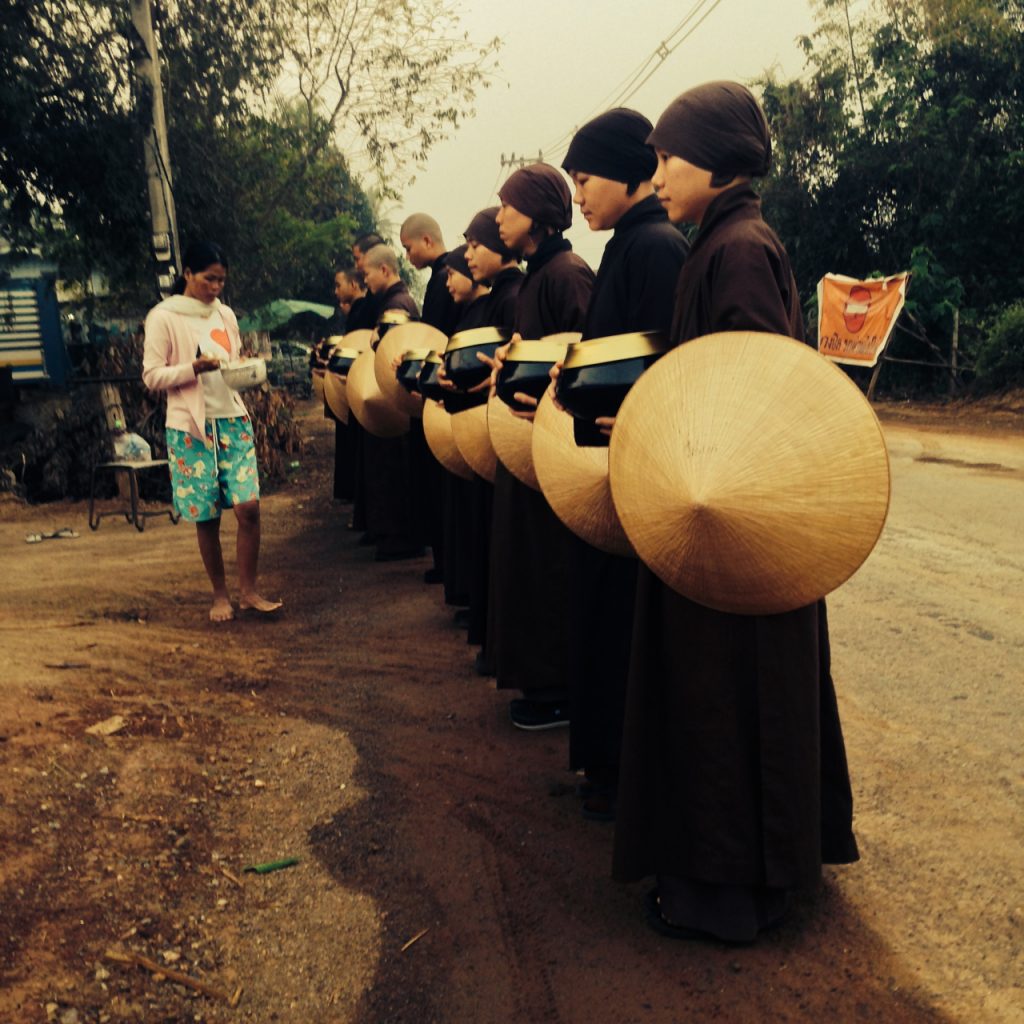 What brings a Vietnamese engineer, a Singaporean social worker and a Malaysian public servant, 20 years apart in age, under one roof in rural Thailand for 10 days at the end of February?
Two rivers.
River #1: A Four-Fold River of Beautiful, Joyous People
Set amidst a raw canvas of undulating earth, trees and rocks in Pak Chong, Thailand, the Thai Plum Village sangha works with nature to paint it slowly, steadily, lovingly, into a picture of peace and joy.
Peaceful elevated hamlets, clusters of mango and tamarind trees, freshly trodden footpaths, a modest but miracle-producing kitchen, warm showers, lush vegetable gardens, an earthy football field, gently planted flowers dotting the land all over, tastefully re-arranged boulders, gentle-swaying swings and hammocks… And smiles. Never ending warm smiles. The presence of practice. The effortless community embrace.
The monastic brothers hosted us in their colorful youth and splendor. Our caretakers Brothers Phap Ka, Long Hoa and Linh Gam and Promise showered us with their warmth and guidance, always there for us, sometimes late into the night. Others never failed to welcome us to join them in whatever they were doing: be it farming, chopping firewood, frying rice or drinking soya bean under the raised floors of their hamlet.
The rest just offered their strong presence: one Brother who we named Bullpet, after his excavator, tirelessly and skilfully digging and shifting boulder after boulder, day after day. The youngest Br, barely 15, playful and jovial. Senior Brothers Mindfulness and Trung Hai, ever-knowledgeable, steady, relaxedly confident, funny, their skilfulness extending even to the football field. The respected abbot, solid as a mountain. The Most Venerable, with his kind loving eyes, gently dropping in on everyone once in a while, intimate, with succinct words of wisdom.
And many more brothers whose names I forget, who hosted tea, sang, played guitar, blew harmonica, chanted, stretched, cooked, walked, planted, played, laughed, ate, sat and breathed for us, with us.
At a distance, the monastic sisters caressed us like the occasional wind with their joyful presence and quietly confident practice. Someone was always there to gracefully host us at their hamlet with noticeably neater gardens and vegetable patches, laughing and singing here, there, everywhere.. Caring for each other, mulching freshly planted trees, leaning on one another under Thay's future hut…
We were also grateful for the company of many amazing lay brothers and sisters, each visiting for their own reasons, who opened their hearts, dosed us with their realities and listened deeply to ours. Together, we peacefully and at times sleepily watched Dharma talks, engaged in spirited Dharma sharings, beautiful long chats, and enjoyed each other's quiet meal presence.
And of course, there were the monastic dogs and cats, welcoming us with their peace and laziness, always dwelling in the present moment. Brother Vincent gave them wonderful names like Happy Tapi (dog, after its tapioca color) and Baggy Black (cat, after its pitch black fur and penchant for sleeping in my luggage bag), bringing smiles to our faces.
As he said, "It's really more than a four fold sangha." I can't agree more.
River #2: A Flowing River of Deep, Nourishing Moments
It has been months past, but many wonderful and precious moments continue to manifest in my mind to fill me with joy, especially as I write this reflection. Effortless moments that did not require planning, just being. Moments of honesty, of love and understanding. Within the daily fixed schedules, infinite moments of freedom:
The glorious "Wow food!" moments prepared lovingly by the monastics day after day.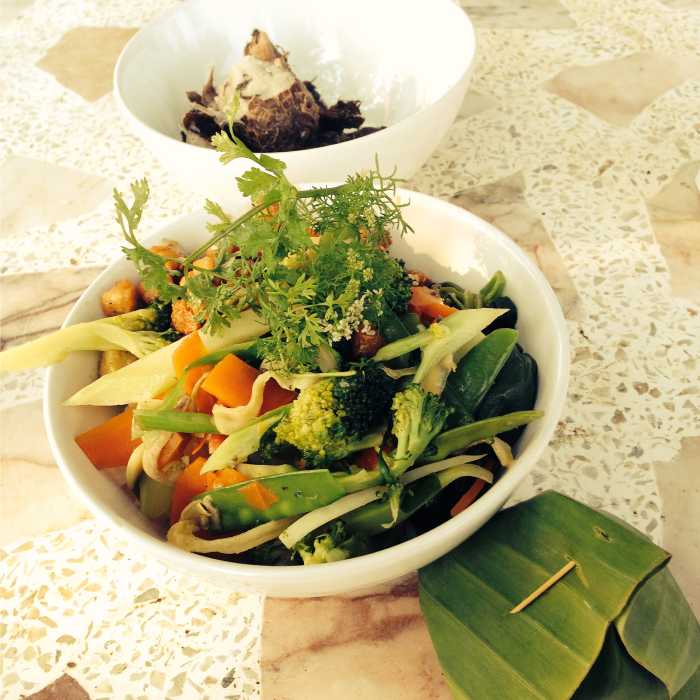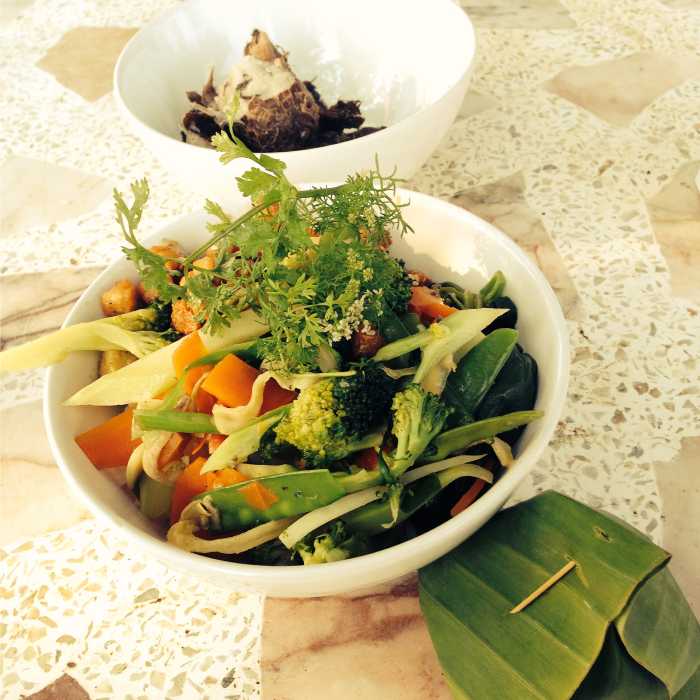 Pomelos, rice, bananas, noodles, traditional dessert, traditional pancake, yummy soups, fresh salads from the gardens, handmade tofu and soy bean… etc. Moments doing our part by cutting corn and frying rice. Reciting the 5 Contemplations slowly in various formal and informal settings.
4:30am sitting meditation moments amidst the sounds of insects, frogs, Brother Trung Hai's new clock, and the diligent voices of monastic brothers practicing to facilitate. Brother Mindfulness' amazing and heartwarming chants. Brother Long Hoa inviting the brother hamlet's bell with all his concentration. Gently packing up the cushions and books after each session. Touching the Earth together.
Moments working joyfully with engineer Brother Linh Thuu on design-checking the new dining hall, watching him peacefully and seamlessly transitioning between Taiji practice, building design and being a monk.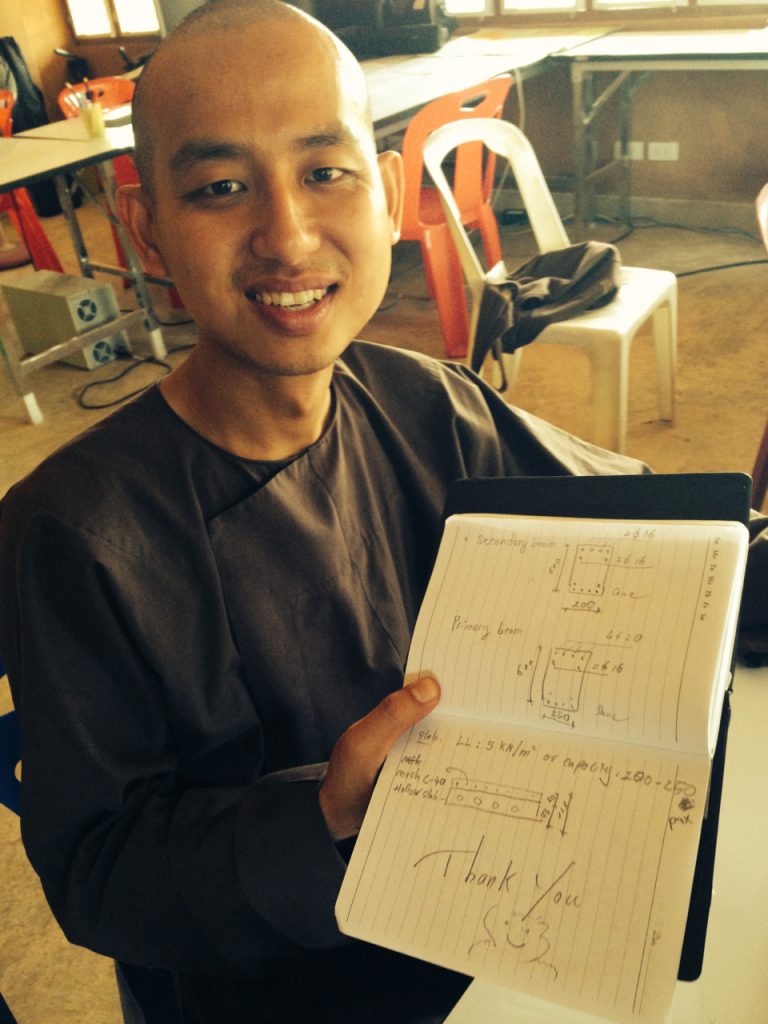 The outdoor practice moments. Wow, simply magical. Indescribable. I can only attempt to do so:
Gathering under the bright moon and stars, sisters and brothers slowly appear at the meeting spot. Naturally forming a circle, facing each other in silent recognition while others gather around (Happy Tapi once playing and growling in the middle of the circle, as if bathing in the energy of the sangha's presence). Then singing starts, voices in such harmony, so warm and sincere. Then another song, led by another sister. Then another by a brother.
Then we started to walk, like a river, towards the hills, towards the Buddha statues. Some slow, some slower, never fast, always like a river. Happy Tapi skipping along with us. Then we sit, over a hundred silent flowers in the forest, blooming at various places and heights, opening our eyes just as dawn breaks. Then we walk back, flowing as a river again, perhaps even slower, even more peaceful, even more joyful. Above us the sounds of swiftlets waking up and circling the skies for food.
I remember tea and bananas with Most Reverend, sharing his new poem and shedding his words of wisdom as Brother Daniel translated the best he could.
"You don't think with your mind only, all thoughts may manifest there, but you think with your whole body," he said.
Then there were the moments accompanying the monastic sisters and brothers on their Thursday alms round. A most humbling experience. Brother Hien Fatt confidently briefing the others about the practice of alms in Thailand. Cosily sitting shoulder to shoulder at the back of an old pickup truck, enjoying the cool morning breeze.
Watching and walking with the sangha in peace and joy from one house to another. Gratefully receiving the community's generous offering, so much we almost ran out of room in our truck! Listening and chanting with all our hearts each time, in gratefulness and vowing to share their merits. Brothers chanting in concentration while holding on to a whole bag of rice in their alms bowls! Brother Long Hoa sharing how deeply touched he was, and how he remembered the story of the Buddha leading the sangha back to his hometown.
And many, many more precious moments in the community of Thai Plum Village, where our practice was renewed and our hearts refueled. In just 10 days, the two rivers of Thai PV nourished us effortlessly with their own unique blend of all four nutriments: feeding us with delicious and joyfully-prepared meals; feeding our senses with their beautiful environment and strong practice; feeding us deeply with their honest and compassionate volitions and youthful energy; and watering our seeds with a collective consciousness of simplicity, peace and understanding.
I am grateful to the PV Thailand Sangha and hope to grow, and flow, with it in years to come. Am especially grateful to Joyful Garden Sangha Brothers Daniel and Vincent for their brotherhood, their practice, and sharing this river ride, side by side.
With a breath and a smile,
In gratitude,
Will