Young People Promote Slow Living in Bustling Central District in Hong Kong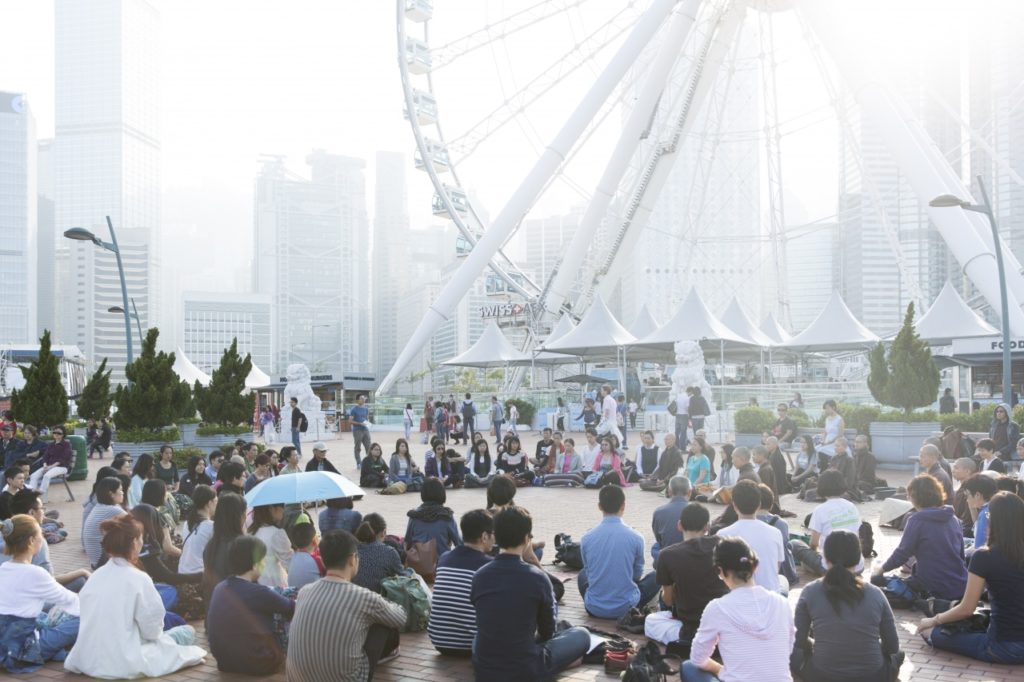 In the Central Pier where people come and go, around a hundred people sat in circle in silence. Some passers-by watched in curiosity; some people chose to join. Soon after, the Buddha bell was invited. The song came out. They took one hour to walk from Central to Admiralty. The city was noisy, but they chose silence.
Who are they? What are they doing?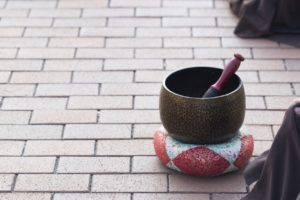 Young People Form a Meditation Group, Practice Every Sunday
This is called a "Flash Mob Meditation." It happened in a bustling central Hong Kong on a Saturday afternoon this month [November 2016]. It was held by a group of young people who are inspired by Zen Master Thich Nhat Hanh and Plum Village Sangha to practice mindfulness regularly.
The term "mindfulness" sounds mysterious, but in fact, it is just gently bringing the heart to the present moment, being aware of one's own in and out breath, body sensation, emotions, thoughts, and so on. They practice meditation every Sunday in the Asian Institute of Applied Buddhism – Plum Village Hong Kong in Lotus Pond Temple in Ngong Ping, Lantau Island. They first practice walking meditation in the mountain, listen to talks by the monastic Sangha, have a vegetarian lunch in silence, and then do total relaxation. After practicing for a period of time, they all think their lives begin to change.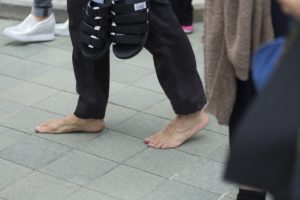 These young people form a group called Wake Up Hong Kong. One member Sze Chai, 18, was a first-year student in the Chinese University of Hong Kong, studying Anthropology. Even though she is young, she has been practicing for 14 years and even wrote a book on her days practicing in Plum Village all over the world. Ever since Plum Village Hong Kong monastic Sangha stationed in Ngong Ping in 2011, she goes there every single week, even during public exam periods. When the average teenage girl spends her time playing with friends or in tuition classes and interest groups to "win at the starting line," she spends her Saturday nights in the mountain and practices until Sunday evenings. "I don't think I have given up anything. The Sangha is very friendly," Sze Chai said. "I feel very relaxed here."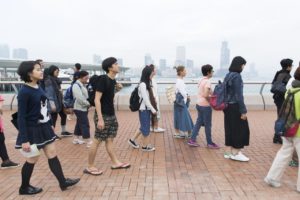 Meditation is not Necessarily Transcendent; "Flash Mob" to Promote Down-to-Earth Buddhism
Ordinary people usually see Buddhists as "saints," relinquishing all emotions and desires or what is called "transcendence." On this subject, Arnold laughed. "'Transcendence' in Buddhist concept means facing and transforming the troubles of daily life, not to avoid or disengage from the crowd." He believes that the practice of mindfulness can lead people to renew their understand of themselves and others. "Hong Kong people nowadays often fixate on their mobile phones, not knowing what changes are taking place in their bodies and not knowing what is going on around them."
Arnold works in a financial institution in central Hong Kong; his pace of life is rapid and stressful. "It always seemed to be competing with others." In the past he often suffered from insomnia until 2010 when he started to practice meditation regularly. "Meditation can help cure emotional illness and relieve stress." But he admitted that he has no intention of becoming a monk. "I personally think that meditation is a way of life first and then a religion."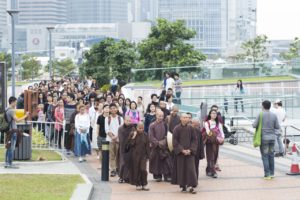 To promote this more down-to-earth Buddhism, "Wake Up Hong Kong" has been organizing this Flash Mob Meditation nearly every year since 2012. Every time a public space is chosen: 2012 under the Clock Tower in Tsim Sha Tsui, 2013 in Tsim Sha Tsui Waterfront, and 2014 in Shatin Park. "Flash Mob Meditation, as its name is implied, is a group of people that spontaneously sit together and meditate in a bustling city and then disperse," said Arnold. "We'll make an appointment with the monastics and our fellow meditators, and of course, we welcome passers-by to join during the event. This activity has been going on for many years in France and the United States, and the main purpose is to promote meditation so that more people will experience the tranquility and peacefulness downtown."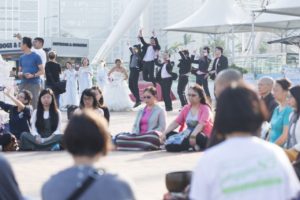 In public spaces, other people surely have a right to be noisy. During Flash Mob Meditation, when they encounter noisy disturbances, they say they will "be aware" of it, without their thoughts being taken away. They sometimes even walk with the rhythm of the drums "because the real peace is from one's heart." According to many Flash Mob Meditation experiences, as long as the surrounding environment calms down, some people will become curious to join.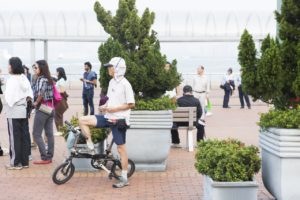 A Blur "Secular" Boundary
During the day of Flash Mob Meditation, the songs they sang had a very modern melody and lyrics. After the event, the monastic Sangha and the participants sat together to have vegetarian pizza and chatted together. When they were happy, they laughed aloud.
To organize this event, "Wake Up Hong Kong" did all "secular" procedures such as applying for Letter of No Objection from the Police, printing leaflets, preparing loudspeakers, and taking out insurance. In this generation, religion and secularity are gradually "converging."
Translated by Holf Yuen