There is more Wake Up news from last year than can be contained in one simple newsletter, so we'd like to share a sampling of what else happened across the globe in 2012 here:
NORTH AMERICA
New York brothers and sisters open the path wider on the US East Coast
In Spring of this year, monastics from Blue Cliff monastery in New York hosted a Wake Up retreat in Boston – possibly the first Wake Up retreat outside of a Plum Village center in the US. "The retreat weekend was awesome!", said the ever-smiling Brother Shiny. "The Boston wake up group is growing everyday and they are very committed to bringing this practice into their lives."
There was a young adult Wake Up retreat at Blue Cliff in March. According to Br Shiny, "The cool thing was that, compared to last year, the number of retreatants more than doubled." And, he added "The even cooler thing about this retreat was that it was organized by six brothers and sisters, four of whom were from Bat Nha (in Vietnam). They were running the show! All the brothers and sisters put their love, care and creativeness in making this retreat the best ever!" The feedback forms testified to this. "The guidance was good, but to me was definitely no more valuable than the mere presence of the monastics, and their example," said one. "The lectures were very appropriate and practical for me. Thank you for the love, honesty and sincerity of each speaker," wrote another. "The monastics here beam light." declared someone else.
A fourfold, "awesome" Wake Up Tour on the US West Coast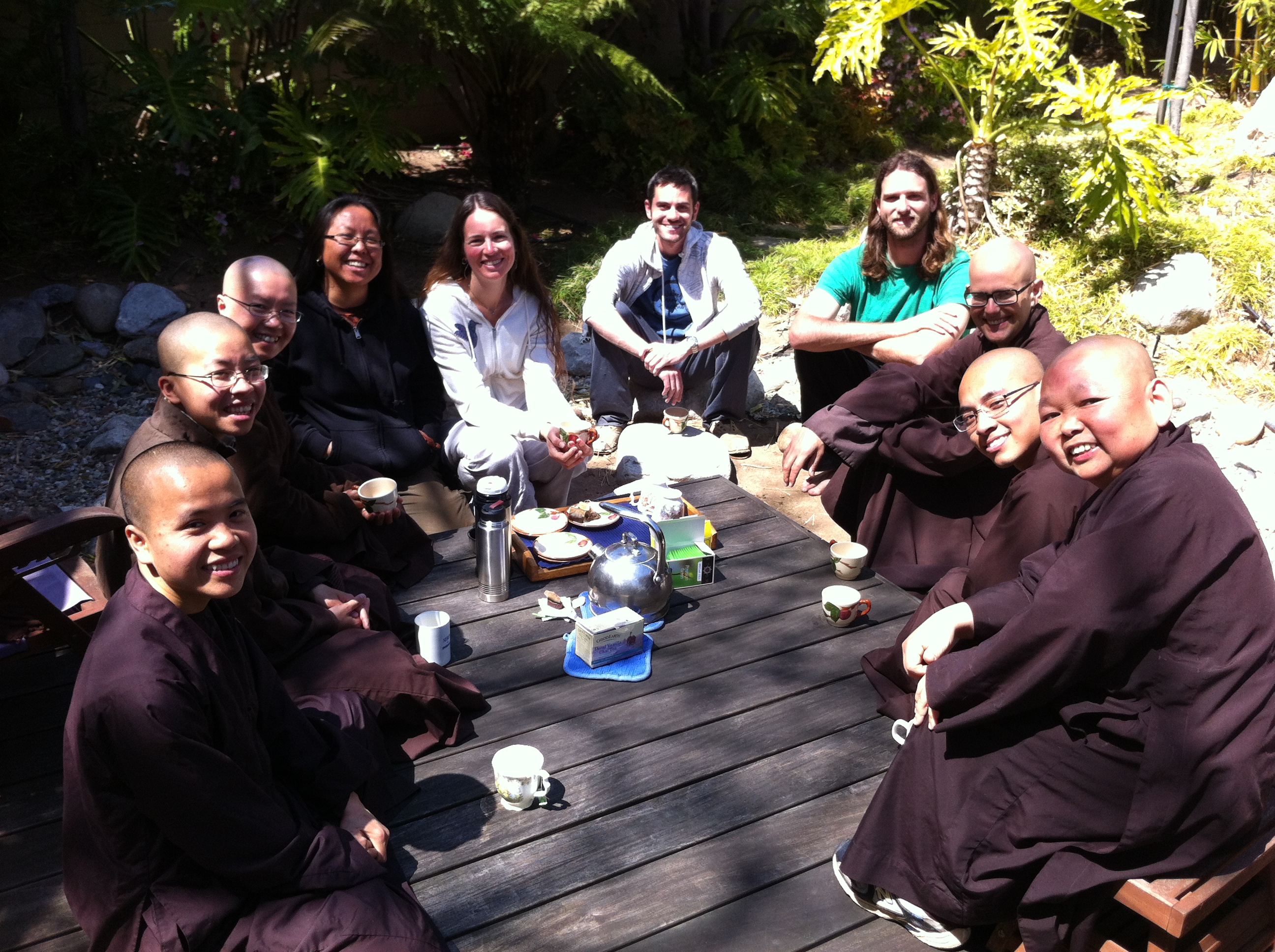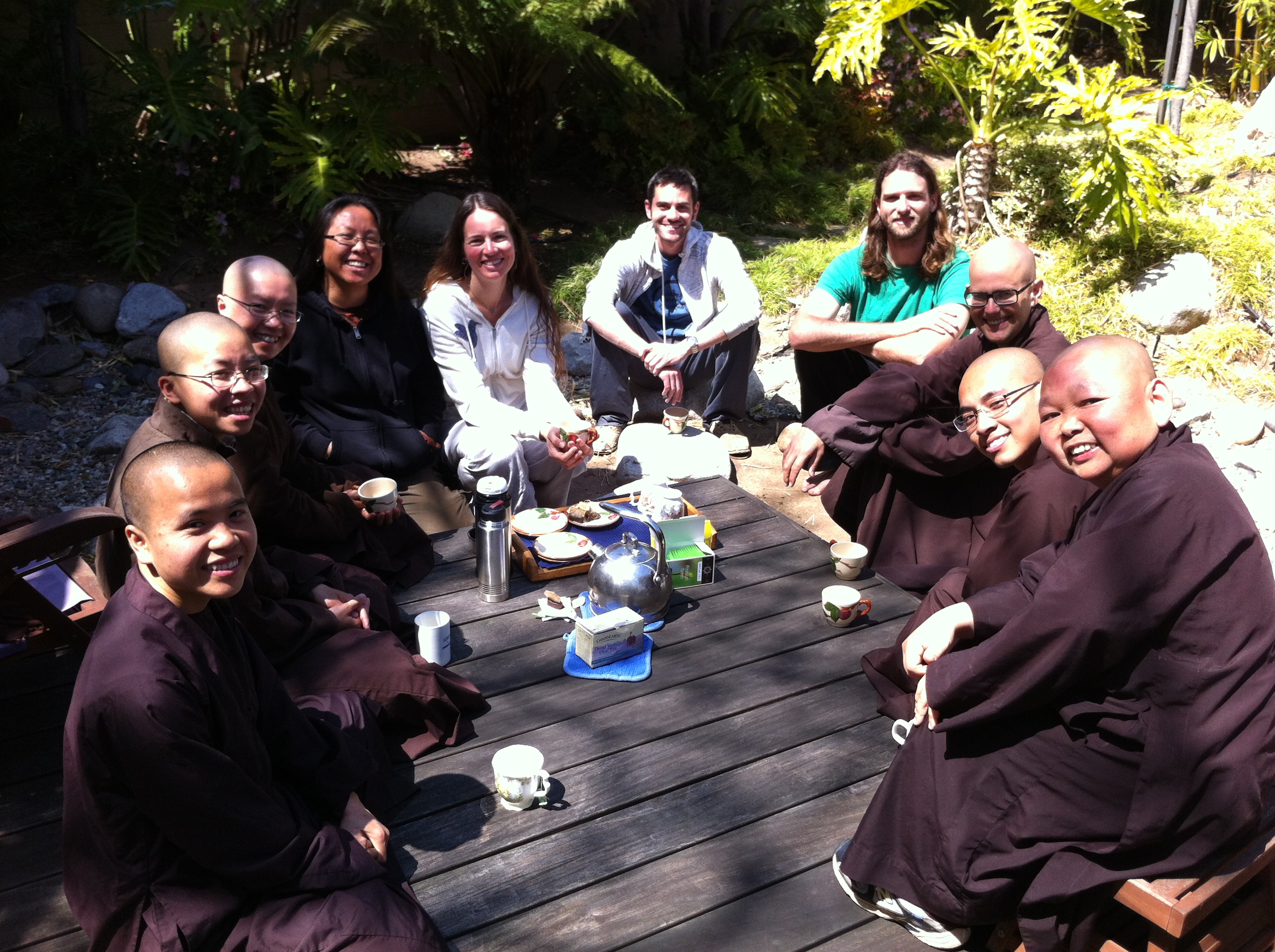 Following the Autumn 2011 Wake Up Tour along the East Coast of the US, in April of 2012 a fourfold sangha crew of 10 went on a trailblazing West Coast Wake Up Tour. They hosted 8 events at Universities, 4 events at Dharma Centers, 6 public meditation events, one event with a high-school and one event at a detention center, and reached a total of 850 people during the 16 days. They made some special connections co-hosting an event with Against the Stream (Noah Levine's crew). They had some lovely feedback – such as:The Dharma sharing was pretty amazing. I have not felt gut-level honesty like that in a long time." and "During the walking meditation, we walked through areas of campus that I usually am racing through, feeling anxious and late. It was incredibly healing to walk slowly and mindfully through these spaces, and is an experience that I carry with me through my daily life on campus."
ASIA
Non-discrimination and healing of young hearts in Thailand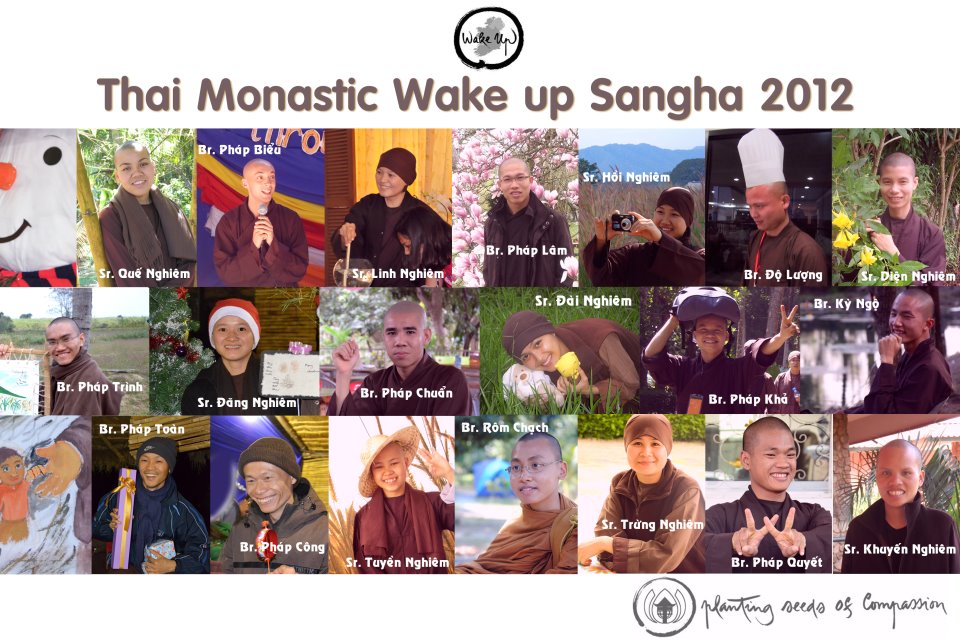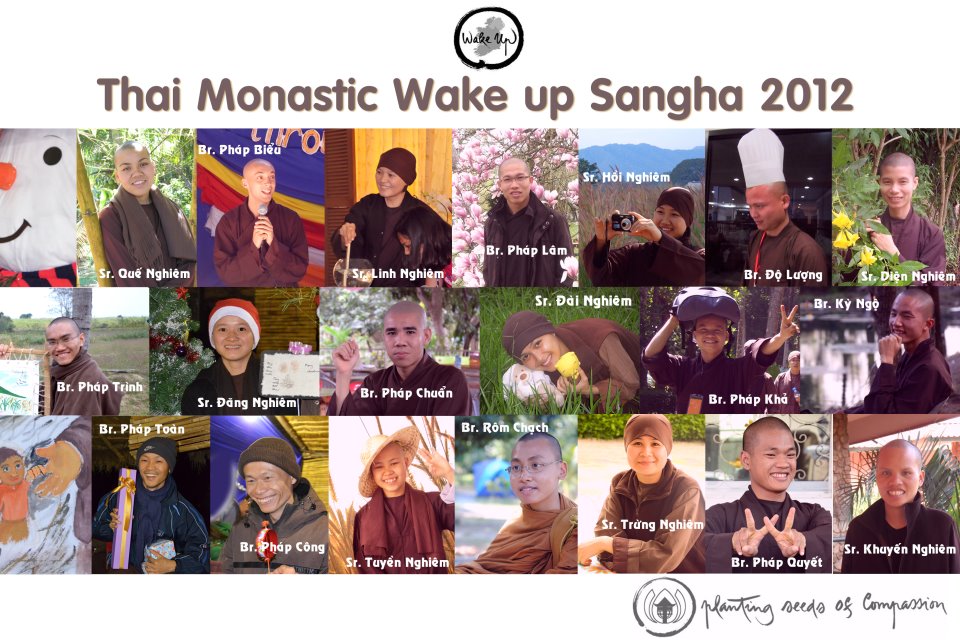 In Thailand, they just completed a very joyful Wake Up Retreat in partnership with MCU, titled "I am In Love with Mother Earth". It looks like it was an amazing retreat, with monastics joining from Hong Kong and Plum Village. We found this beautiful photo of all the Wake Up Monastics in Thailand:
Twenty-seven young girls from a correctional house in Bangkok also participated in the retreat, with six of their teachers. A group of monastic brothers and sisters from Pak Chong in Thailand had been to their House and those who came were the ones most interested in the practice. "It was a very moving experience for them and for a lot of us," said Sr Mai Nghiem from Hong Kong. "They shared at the Be-in ending the retreat how touched they were by the love and acceptance they felt from everyone. They didn't feel any discrimination and felt safe enough to open and cry in their dharma discussion families. Most of them took the 5 Mindfulness Trainings at the end of the retreat and I was personally moved to tears to witness their vow to begin a new life."

New Season Lotuses in Hong Kong's pond
The Wake Up sangha at Lotus Pond Temple, HK, is growing stronger and stronger. Lately there were some beautiful smiles on the front page of a Hong Kong magazine. They've just had their first monthly mindfulness day for young people, with the theme of Global Ethics and the 5MT – a course that will continue over the next five months. Successful completion of all five Sundays will earn the young people an AIAB certificate! According to Sr Mai Nghiem, "Some 30 young people came (although we adivtised it only a week before!) and many said they were waiting for such a thing for a long time."

Sowing Dharma seeds far east and wide
In May a group of monastics visited Japan, and put on a Wake Up Day of Mindfulness as part of the adventure
EUROPE
Spain's first taste of Wake Up: as sweet, juicy and popular as tangerines 🙂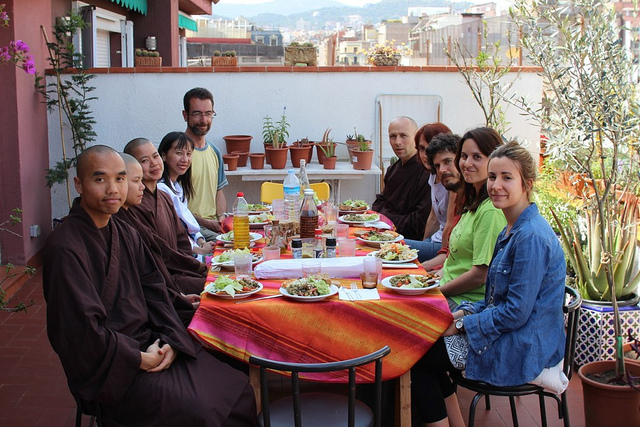 In May a group of brothers and sisters went on a Wake Up Tour of Spain that has taken them from Madrid to Valencia and on to Barcelona. Highlights have included a workshop for 50 young people at City Yoga in Madrid, an event which jumpstarted a weekly Wake Up Madrid group (20-30 young people attending); a workshop in Valencia University's Department of Psychology; and event at a Casa Okupa, which specializes in agro-ecological education called Can Masdeu, with about 70 hiking up the mountain behind Barcelona to practice with the monks and nuns. At the University of Barcelona's Department of Psychology, 150 young people participated in two days of talks and workshops. The monastics' tangerine meditation, which has been quite popular in Spain, made it into the main national paper El Pais! See pictures of the tour here.
Young Italians deepen their spiritual and cultural roots – with L'Artiste!
In April, there was a Wake Up retreat for young people in Bologna, Italy at a Catholic monastery, where the youngest monk is 65. Word is that it was an excellent retreat, that the young people loved drawings on the white-board to illustrate Q&A responses, and that an 86-year-old monk (who used to live in the Amazon jungle) delighted in everyone's presence, joined some of the activities, and exchanged with the young people about his own life.
Flashmobbing London
During Thay's tour of the UK this past Spring, the Wake Up London Sangha organised a mass sitting meditation in Trafalgar Square, the iconic political square in the heart of London. They even made a great Peace Sounds Music CD to help fundraise. The event built on the young people's monthly flashmob meditations in squares, parks and museums across the capital (which even got into Time Out Magazine's list of TOP 5 things to do in London). We think there were 4,000 people – possibly 5,000 in Trafalgar Square that day with Thay, to hear a guided meditation and short dharma talk by Thay on the Four mantras and loving Mother Earth. A Wake Up Oxford Sangha was born from the Nottingham retreat, and Wake Up London is increasingly active, large and strong sangha – over 20 young people meeting every week in the city centre.
Wide connections and open hearts for Wake Up in Ireland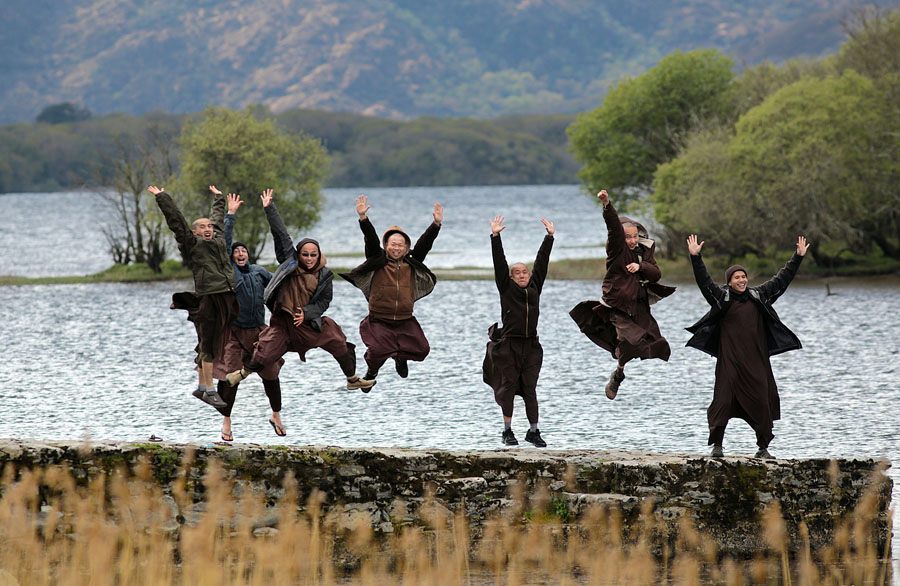 Thay's whole tour of Ireland had a very youthful feel. For the first time, organisers reserved over 100 retreat places for young people, with a reduced fee. Following the retreat, there were extra events for young people: at Cork University, and with Headstrong and Mindful Warriors. Some of you may have seen the photo of jumping monks (above) which made it onto the front page of the Irish Times. Walking around Dublin the monastics kept being recognised as "the jumping monks from the paper", and people would shake their hands or congratulate them just for doing what they are doing! Dublin's fair city now has its very own Wake Up Sangha.
Urban, multicultural and engaged in Paris
In Paris, at La Maison de L'Inspir' they are having monthly mindfulness days for young people, and this month they will host an international Wake Up Retreat. Inspired by Wake Up London, they've started doing flashmobs on the place overlooking the Eiffel Tower, and the Wake Up Sangha there are being energetic and enthusiastic in helping organise Thay's visit to Paris this September.
The Netherlands and Germany: Wake Up digs deep
The Netherlands now has seven regular Wake Up sanghas, and a very inspiring monthly email newsletter. Committed Wake Up Ambassadors from both countries continue to organise Wake Up Retreats at the EIAB.
Last year a group of Ambassadors organized retreat on Deep Ecology. During this week they had lessons of permaculture, which meant learning how to make compost. They shared their ideas and feelings about how to consume mindfully and met up early in the morning to enjoy the practice of meditation together. As one organizer shared that the brotherhood and sisterhood was so strong that the last night was like "old friends sharing a cup of tea."
Another EIAB Wake Up Ambassador shared that for her "Meditation is so much more than sitting on a cushion. It is caring for each other, caring for the world, celebrating the joy and wonder of being alive! A celebration that everyone is invited to. It's not a loud and noisy party. It is walking silently though the forest, playing games, laughing, learning about sustainable permaculture gardening, mindfully cleaning the toilets, listening to each other, trusting, living and working as a community, connecting to others, all around the world, opening up, learning from the wisdom of our elders, cooperating, enjoying, singing, dancing… breathing"
A small group of Wake Uppers from Europe have set up the "Seedling Project" which has helped fundraise 80,000 Euros to build eco-kindergartens in Vietnam. You can see some really beautiful photos of the ecological buildings here.