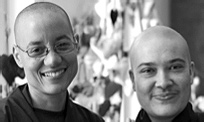 Dear Wake Up family,
Here is a gift for you. It is a total relaxation that I led recently at a retreat we held at the European Institute of Applied Buddhism, called Embracing the Child Within.
I hope you can set aside 45 minutes sometime to lie down and listen to it and allow your whole body to completely relax. Just let go of everything!
Smiling, Sr. Chau Nghiem

Download the file