Wake Up Scotland Retreat
September 1, 2017 @ September 1, 2017

-

September 4, 2017 @ September 4, 2017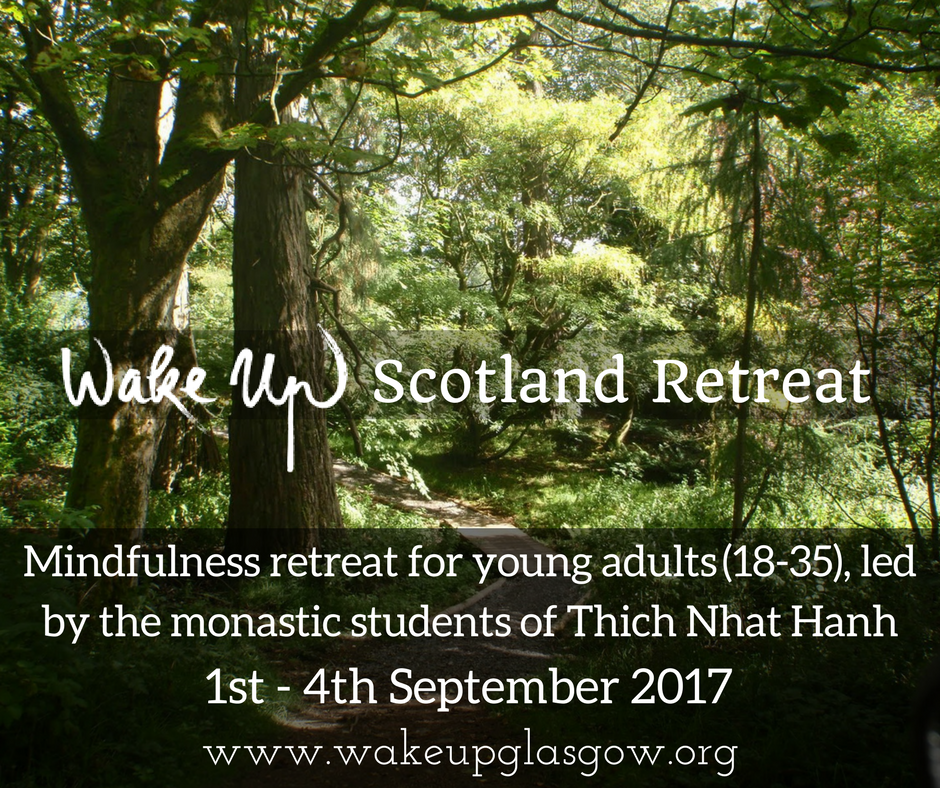 Wake Up Scotland is holding a transformative mindfulness retreat for young adults aged 18-35. We invite you to gather with us at the beautiful Wiston Lodge for a weekend of meditation, reflection, joy, and togetherness. The retreat is open to people with lots of meditation experience and also those who are brand new to mindfulness.
The retreat will be led by a team of monastics from Plum Village, France. During the retreat, we'll have the chance to explore in community such questions as:
How can we find meaning and purpose in our lives?
How can we be peaceful, free and happy in ourselves while also acting to bring healing to the world, reduce injustice, and protect the planet?
How can we live in such a way that brings more joy, compassion and love to ourselves and others?
The retreat is organized by volunteers from Wake Up Scotland – a grassroots community of young mindfulness practitioners committed to living with awareness and compassion.
The dates and venue details are as follows:
Friday 1st September (evening) – Monday 4th September (before lunch) 2017.
Wiston Lodge, Millrigg Road, Wiston, Biggar, South Lanarkshire, ML12 6HT, Scotland.
Prices include accommodation and food for the whole retreat and are priced to cover the costs of running the retreat. This is a non-profit event:
Dormitory standard price: £165
Dormitory bursary price: £145
Camping standard price: £115
Camping bursary price: £95
Pay a £50 deposit by 31st July and save £10!
Facebook link: https://www.facebook.com/events/713433975508554