Viet Wake Up North American Tour 2017
March 9, 2017 @ March 9, 2017

-

April 2, 2017 @ April 2, 2017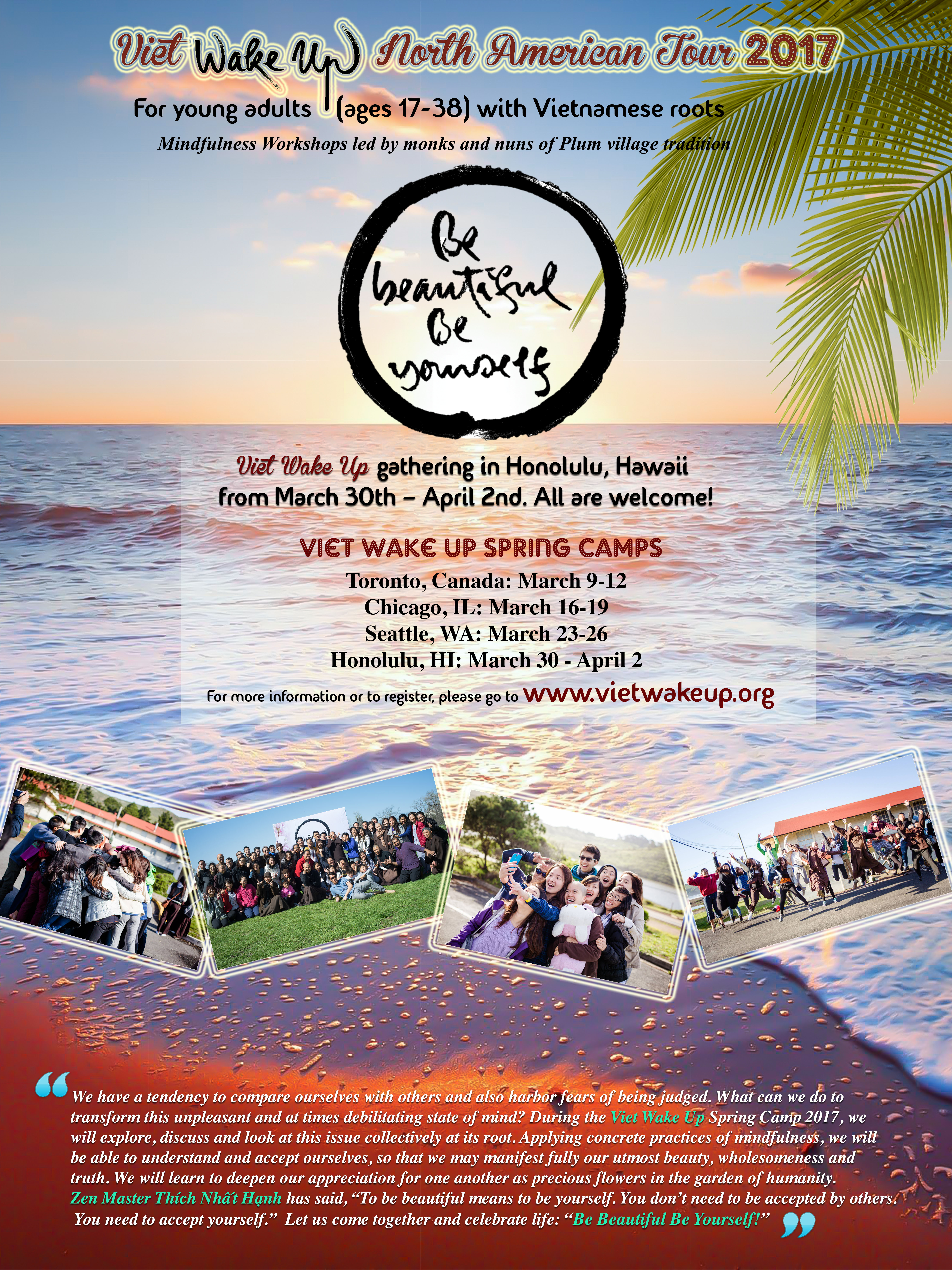 This coming Spring Break 2017, there will be a Viet Wake Up Teaching Tour conducted by a team of 7 monks and nuns from Plum Village Practice Centers in the United States. As students of Zen Master Thích Nhất Hạnh, these monastics had grown up, been educated and worked as professionals, and then decided to dedicate their lives in the spiritual path. They will travel to Toronto, Chicago, Seattle and Honolulu to share with the Vietnamese young adults about their spiritual life and about how the mindfulness practice has helped them to live more deeply and meaningfully and to face challenges and difficulties with calmness, peace, and equanimity.
Retreats and activities are designed for young people ages 17-38 with Vietnamese roots who have grown up in the West. All activities will be conducted in English and all events are aimed to benefit you in the following ways:
1. Learn a new face of Buddhist practice that is more enjoyable, effective and applicable in daily life
2. Reflect and dialogue together with young Vietnamese friends on common issues such as career aspirations, cultural identity, meaningful relationships, family duty, management of strong feelings and emotions, etc.
3. Acquire methods of practice that can help us:
a. Stop running and enjoy life even in the midst of it all
b. Listen to, relax and care for our bodies
c. Calm our minds and handle difficult emotions such as anger, sadness, and jealousy, etc.
d. Listen more deeply and speak more lovingly
e. Reconcile and re-establish communication with our loved ones and co-workers
f. Be more comfortable with ourselves and accept who we are
Please note that the last segment has a special highlight for the Viet Wake Up Tour 2017. This year, we will hold a Viet Wake Up gathering in Honolulu, HI. Both local and non-local young adults are invited. The gathering is open to all faiths and cultural backgrounds. Be young, be fun, be compassionate, be beautiful and be yourself! Please join us this coming Spring for a fun, healthy, sane, and meaningful experience. Spaces are limited, especially the gathering in Honolulu. To reserve your space, please register soon. For more information and to register, please visit www.vietwakeup.org