Wake Up Montréal Retreat: Joyfully Together
August 15, 2016 @ August 15, 2016

-

August 21, 2016 @ August 21, 2016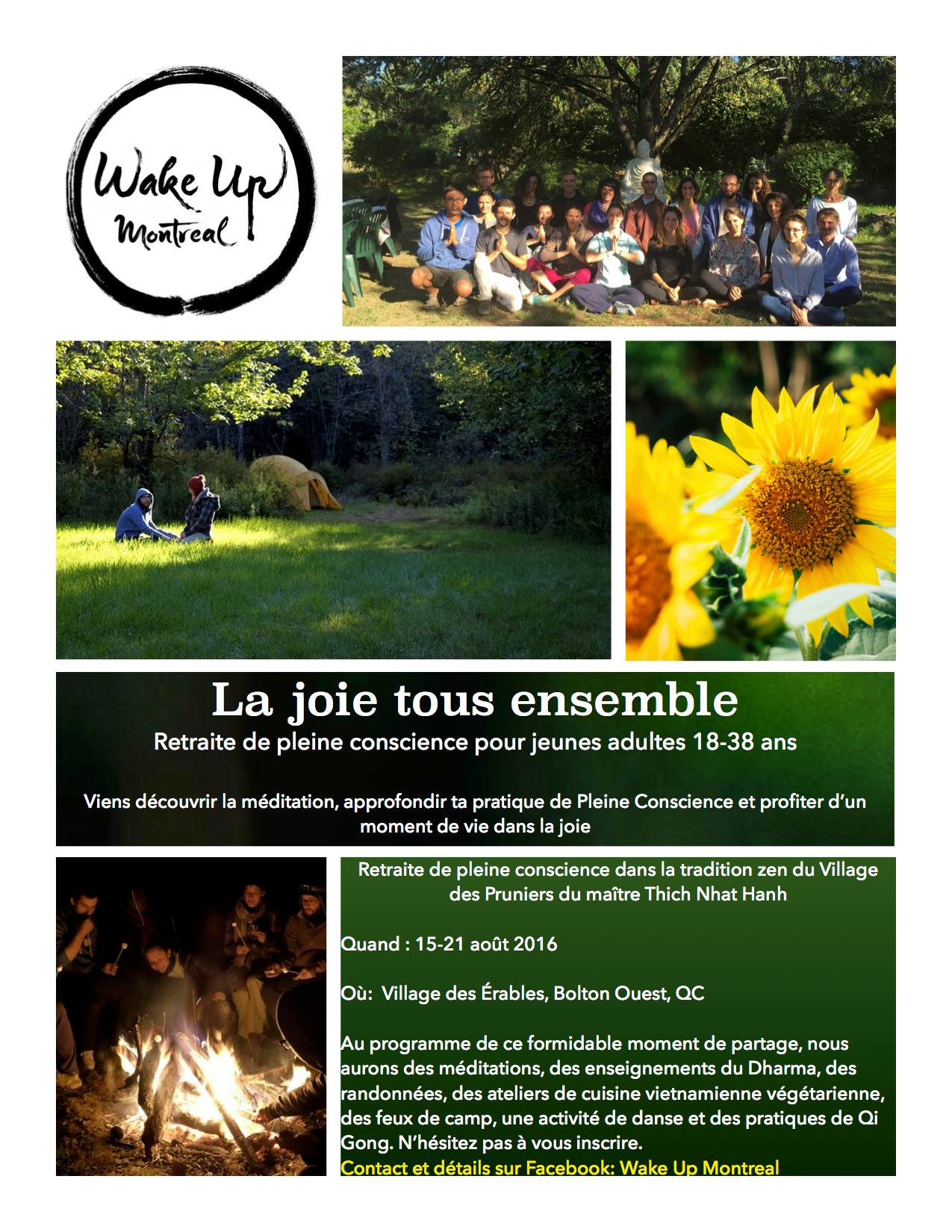 An invitation to come and join us in exploring and deepening the practice of mindfulness meditation in the Plum Village tradition of Zen Master Thich Nhat Hanh.
The retreat takes place over one week from 15 – 21 August, 2016.The first 3 days [15th to the 17th] are free for personal practice.  This time is open for you to meet other participants and allows for time to meditate and profit from the forest and the walking and hiking paths in the area.The following 4 days [18th to the 21st] will be organized around guided meditations, Dharma talks, discussion and sharing groups and times for practicing mindfulness in our daily lives.Other activities include a workshop on Vietnamese vegetarian cooking, bonfires, dancing and Qi Gong practice plus much more.
Your registration is for a minimum two-day stay. Lodging is in the dormitory of the retreat centre  [bring your sheets or sleeping bag and pillow] or in the surrounding space available for camping [bring your tent].
The teaching will be in French with English translation available.
If you have questions, please contact: montreal@wkup.org
In French
Wake Up Montréal Retreat: La joie tous ensemble
Inscription Eventbrite obligatoire 🙂
Venez découvrir et approfondir la méditation de Pleine Conscience dans la tradition zen du Village des Pruniers du maître Thich Nhat Hanh.
La retraite durera une semaine. Les trois premières journées (du 15 au 17) seront laissées libres pour votre pratique personnelle. Vous pourrez rencontrer les autres participants, méditer, profiter de la forêt et des sentiers de randonnées. Les quatre derniers jours (du 18 au 21) seront organisées autour de méditations guidées, d'enseignements du Dharma, de périodes de partage et de pratique de Pleine Conscience au quotidien. De plus, nous vous proposerons un atelier de cuisine vietnamienne végétarienne, des feux de camp, une activité de danse, des pratiques de Qi Gong et d'autres surprises.
Les inscriptions se font pour une durée minimum de deux jours. Vous pourrez loger dans le dortoir du centre de retraite (apportez vos draps ou sac de couchage et oreiller) ou camper (apportez votre tente). Des repas végétariens seront offerts tous les jours. *Attention: le 15 août au soir, aucun souper n'est prévu, apportez votre repas.
Les enseignements se feront en français et une traduction en anglais sera offerte. N'hésitez pas à nous contacter pour toute question!
Vous pouvez dès maintenant vous inscrire ici !
Liens Facebook: https://www.facebook.com/events/1681148718807921