Wake Up Earth International Retreat
August 5, 2016 @ August 5, 2016

-

August 12, 2016 @ August 12, 2016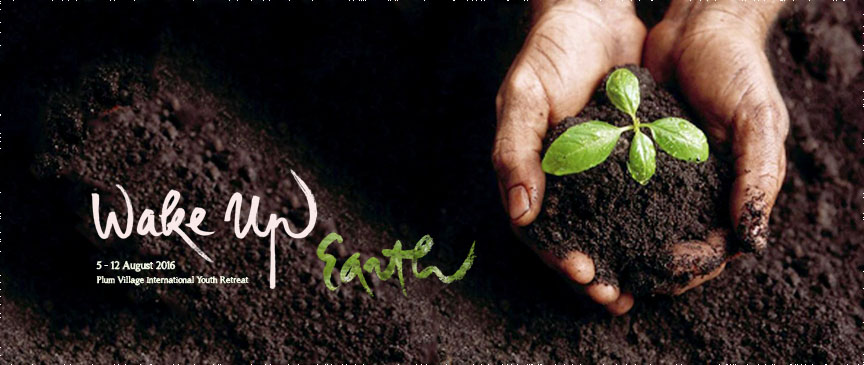 From 5th to 12th August, Plum Village will be hosting another wonderful Wake Up International Retreat.
These retreats are a time for us, young people from all over the world (16-35 year olds), to be together to deepen our mindfulness practice, and enjoy the present moment together.
As well as the usual program of sitting meditation, Dharma talks and mindful eating and so on, we'll have plenty of time to relax and restore ourselves by being close to nature – on walking meditations, going on hikes, working on the Happy Farm, and spending time together around bonfires. There will be music and laughter, as well as time to listen deeply and share from our hearts.
We will be asking ourselves:
How can we balance our deep wish to engage in actions to help the world with our own personal spiritual journey in the contexts of the current climate crisis and wars? How can we find meaning and purpose in our life? How can we find an alternative, healthier, sane, and compassionate lifestyle?
Rooming
During the Wake Up retreat, men and women will sleep in different locations. Each day, the women will walk 15min from Middle Hamlet and the Crystal House for the activities in Upper Hamlet.
The following rooms are available for women:
* Bed in Women's Dormitory
* Bed in Women's Three/Four Bed Room
* Camping for Women (bring your own equipment)
The men will stay in Upper Hamlet and can select the rooms there.
During this retreat couples may not stay together; each person must register individually to stay at the men's or women's lodgings respectively.
Carpooling
To help Mother Earth reduce CO2, you might like to participate in car pooling. We have a site for carpooling to Plum Village: Plum Carsharing
Questions
If you have any questions that's related to the Wake Up International Earth retreat, please contact Plum Village directly. Thank you for your understanding!
Dear friends, the Wake Up Earth retreat is fully booked and we have closed the registration. Hope to see you during another retreat.
Facebook event: https://www.facebook.com/events/1581786112135688