Sangha of the Month for April 2017: Wake Up Viet Wake Up Toronto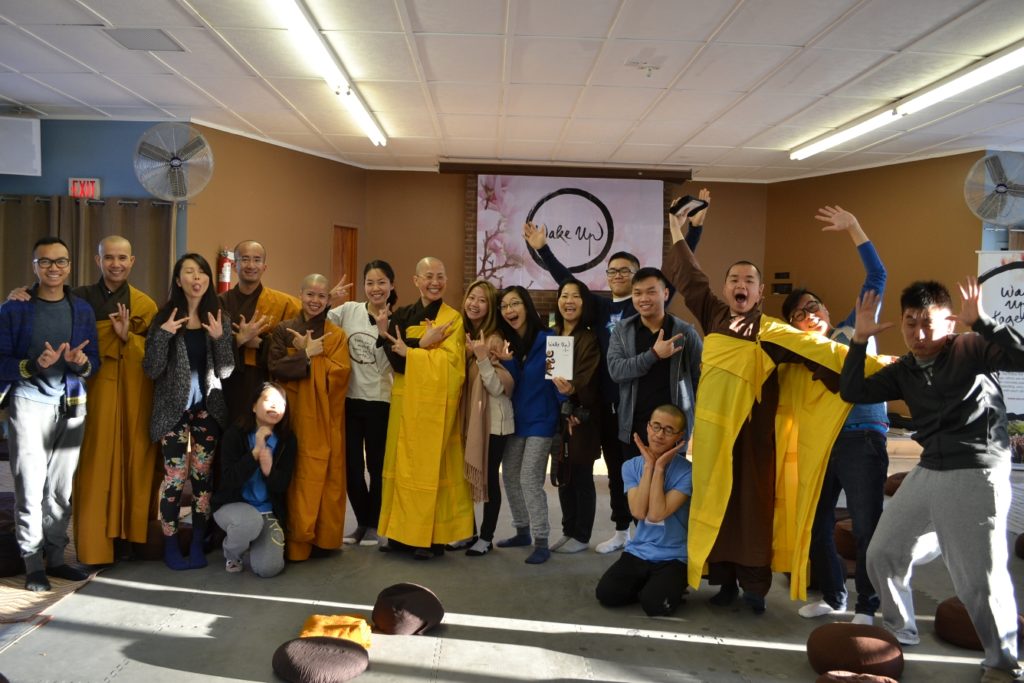 How would you describe Viet Wake Up Viet Toronto (VWUT)?
Viet Wake Up Toronto is really a community of friends. We are close enough to even consider each other family. Our Sangha has grown and flourished over the years, and each new member contributes their own beauty to our garden.  
Many of our members have unique gifts and talents, and we are so fortunate when they share them with our family. As a group, we love to sing! We even composed our own song as a sangha called "Just Be." You may have heard us perform it.
As a Sangha, we support each other in practicing the 5 Mindfulness Trainings, and we also deepen our practice by aspiring to learn about the 14 Mindfulness Trainings. With the help of one of our sisters who has received the 14 Mindfulness Trainings, we are creating a nourishing format for aspirants to meet monthly to practice.
We are present for each other through our struggles and work together as a whole body. When one of us needs to step back to practice self-care, other members step forward to leave space for our brother or sister.
We may each have our own ideals, but when we gather as a family, we cherish our shared aspirations, such as organizing retreats to our extended community. It has been four years now that VWUT has had the pleasure to offer the Viet Wake Up Retreat to our friends. We love working together, playing together, simply being together, and sharing the practice.
What does Wake Up mean to you?
The Wake Up movement means something different for each of us, but needless to say it has a special place in all of our hearts! For example, for some of us, we have suffered and felt like something was wrong with us because we didn't fit into the molds that were often imposed by society. So, to Wake Up means to examine and question these structures that have been put in place; to see through all the conditioning and false perceptions in order to wake up to the reality that we are precious miracles of life, existing together as one organism, and then to work together as brothers and sisters to envision and realize ways of living that support us in keeping this awareness alive moment-to-moment.
What is the format of your Sangha sessions?
Our weekly practice sessions are 2 hours long. We practice guided sitting meditation, followed by walking meditation. Sometimes we do deep relaxation, or enjoy the sitting in silence or add it as an additional activity. We then enjoy a short 5-10 minute tea break and return for a reading on one of Thay's books and have approximately 30-45 minutes of Dharma sharing to end the session.
At the beginning of each month, we also recite the 5 Mindfulness Trainings together. After recitation, during Dharma sharing, we share our difficulties, joys and new experiences in practicing the trainings.
Which activities outside the Sangha you enjoyed the most together and how do they nourish you?
As our group is growing, it can be challenging to align everyone's schedule. Therefore, we agreed as a group to dedicate the last Sunday of each month to a full day of Sangha building. We call this our OC monthly get together. This is where members who are able to make it can be together to practice and play. We establish a half-day itinerary to practice. The other half of the day we cook together, or we each bring a dish to share and eat while we catch up with one another.
In the summer, we try to organize outdoor activities such as picnics, paint night events, rock climbing, hiking, etc. This is where we extend the invite to our community to join in the event.
We also try to get together for birthdays and certain holidays like Christmas or Lunar New Year where we  go out to eat  or we host dinner parties or BBQ's at each other's houses. We enjoy watching movies. We LOVE to sing karaoke together and play Heads Up.
In essence, our Sangha LOVES TO EAT! After we are full, one of our members likes to entertain us with his magic tricks.
Doing things together outside of the Sangha has been nourishing because we establish true brotherhood and sisterhood by just having fun! It helps strengthen the friendship and relationship we have with each other because we have laughed, cried and even bickered like real brothers and sisters, but we get over it and laugh some more. It also helps each of us understand each member's different personality or style. Therefore, resolving any challenges or difficulties within the group is much easier.  
How do you strengthen your brotherhood and sisterhood with the all-ages Sangha (if you practice with your all-ages Sangha)?
We are in constant contact with our all-ages Sanghas in Toronto, which include the Bodhi Sangha, True Peace Sangha, and Mindfulness Practice Community. For our Viet Wake Up Retreats, many of our volunteers come from our all-ages Sanghas, and we are so grateful for their support! In return, we also volunteer for their fundraising events. A few of our VWUT members also participate in and facilitate the all-ages Sanghas. We share our events with each other, so that we may all reach out to the wider mindfulness community. When the weather is warm and sunny, we also take part in outdoor activities, such as hikes with our friends.
Is everyone in Wake Up Viet Toronto Buddhist?
Not everyone who practices with Viet Wake Up Toronto is Buddhist. Although some of us do have a Buddhist heritage, there are others who grew up practising a different religion or no religion. While our regular meditation sessions are based on Buddhist practices, we view the practice not as a religion, but instead as a way of life. At our retreats, we offer the transmission of the 5 Mindfulness Trainings, and aspirants do not have to be Buddhist to receive them. We welcome everyone, regardless of faith.
Have you had any difficult moments during the Sangha? What were they?
As much as we do our best to practice deep listening, understanding, and loving speech, difficult moments have arisen within and between members of our sangha. One of our brothers has been open enough to share his own personal experience below with permission from our beloved sister.
"One of my difficult moments was with one of our beloved dear lay sisters, whom I have known for quite sometime since our early teenage years. Late last year, we had quite a hostile exchange of communication that left us not talking to each other for about four months. Although this was between the two of us, our suffering was felt amongst our close Sangha friends. We're very grateful that our Sangha friends gave us the necessary space to allow us to just be, even if it meant that we didn't want to be in the same room together, which created some challenges with our Sangha needing to maneuver around our difficulties.
This explosive episode was a culmination of us constantly bumping heads with each other over the years. That day felt like the final straw. I felt as though I was able to live without her for the rest of my life. But if I did, then I would have missed a very deep learning about myself, as well as with my sister.
A big part of our reconciliation came from the practice of beginning anew and her courage to break through my stubbornness. We had gone through this practice before, as a demonstration at one of the retreats, but this one was different. This time it was not so mechanical. It was deeply sincere and really penetrated to my core. Our sister was able to open my heart, so that I was able to hear her own suffering. She also humbled me to think about my own habit energies and how much I contributed to our interactions. It shone a light on something that I didn't really see before. It's something I'm still exploring. It's the habit of wanting to 'correct', as opposed to 'connect'.
Through the practice, we have come to really understand each other better, our own triggers, and have communicated in a way that allows us to better support each other when things do come up. We both feel much lighter now, and I am sure it is the same feeling for our Sangha, too. I'm so grateful for her, our Sangha family, and our journey together on this path."
What are your favorite calligraphies from Thay?
Two of Thay's calligraphies that we cherish deeply include: "No Mud, No Lotus" and "The tears I shed yesterday have now become rain." They are often a wonderful and gentle reminder for us to become aware of the nature of transformation and impermanence. Without mud, a beautiful flower cannot blossom. And to know that our tears can also be transformed into endless possibilities like rain, wisdom, or freedom allows us to let go, embrace change, and to become aware of other conditions of happiness we have in the present moment. When we are suffering, we also recite Thay's calligraphies, and it helps us to cultivate acceptance and compassion for ourselves and for others.