Dear friends,
On behalf of our current North American Wake Up Care-Taking Council (NAWUCTC), we would like to take this opportunity to introduce ourselves and share about our explorations and evolving vision for the council.
ROOTS & INTENTIONS OF THE NA WAKE UP CTC
The idea to create a North American Wake Up CTC in order to support Wake Up communities in North America arose during the Wake Up Ambassador retreat at Deer Park Monastery in November 2015. At that time, the Wake Up Ambassadors present agreed by consensus to form a CTC, and volunteers were invited to join the new CTC. Since then, we have been in the experimental stages of exploring the role of the CTC.
As a CTC, our intention is to serve as a supporting body for Wake Up Sanghas in Canada, Mexico, and the United States. Our commitment is openness and accessibility for all Wake Up Sangha members, with a focus to support the local autonomy of each Wake Up Sangha. We feel there is great potential in having a Care-Taking Council to support the needs and issues pertinent to North American Wake Up Sanghas. We know we are part of a larger community, and ask for your support and blessings in our aspirations to serve Wake Up in North America.  We are reaching out to Wake Up Sanghas around North America to find out about your needs and the issues that are most important to you. As we continue to grow, we hope to be able to offer various types of support to help Wake Up flourish on our continent.
INSPIRATION & INSIGHTS FROM THE NA DHARMA TEACHERS CTC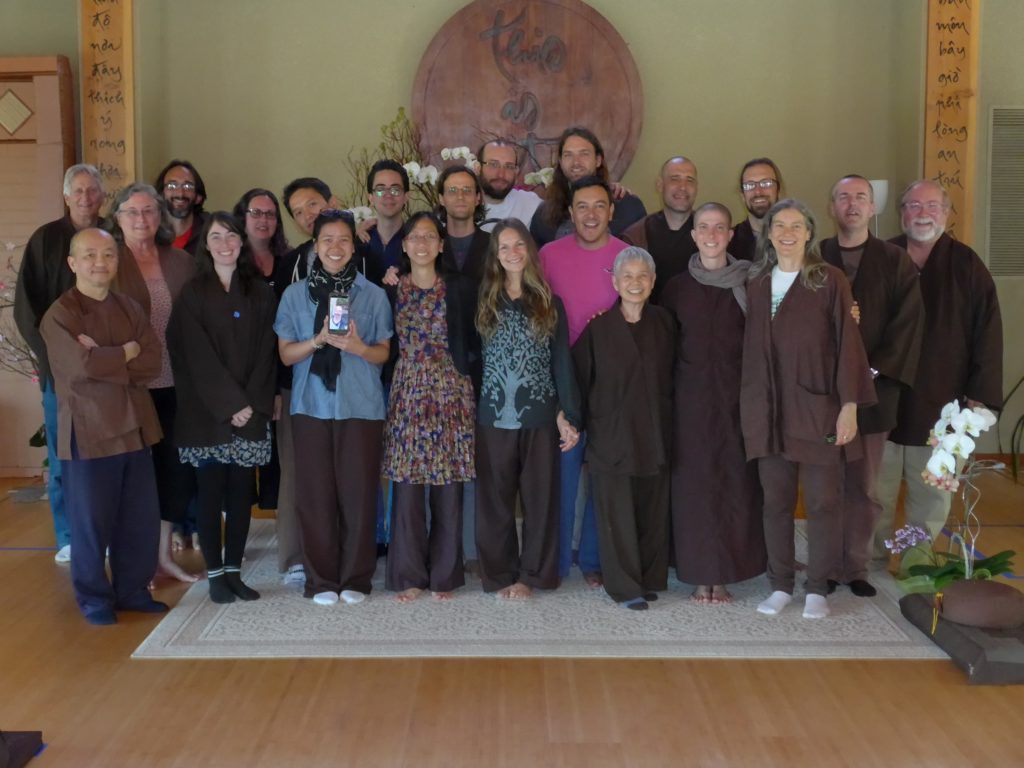 This past March, our CTC was able to join the North America Dharma Teacher's CTC at Deer Park Monastery for a joint gathering. We had an incredibly joyful time together learning, practicing, and offering the playfulness of Wake Up to the Dharma Teachers through games, songs, and even some dancing!  
We were also deeply inspired to hear their story and learn about their growth process. Jack Lawlor, a Dharma Teacher from Chicago, described that their initial stages were like a kid trying to build a car, whereas now they are driving it. In much the same way, we feel a bit like children riding our first bicycles, embracing the unsteadiness while knowing that we do have a common direction.  
PROPOSAL FOR THE CONTINUATION OF THE NAWUCTC
At the CTC gathering, we had a chance to look at our own continuation and how to skillfully move forward to grow as a CTC along with ways to nourish our North American Wake Up community.
We agreed collectively that we would like to invite those currently on the CTC to stay on for at least another year, as we explore the process of selection for new members rotating in and for others rotating off. Our intention is to work towards guidelines for how CTC membership will unfold in the future, informed by the model of the Dharma Teacher's CTC, and find a way to support diversity and broad geographical representation for those serving on the Council.
We envisioned 8-10 lay and 2 monastic Wake Up Ambassadors serving on the Council, with an attempt to have diversity in geographical region (representing Canada, Mexico and areas across the U.S.) as well as diverse gender identity, and racial / ethnic identity represented.
Informed by the model of the Dharma Teacher's CTC, we envisioned creating additional committees affiliated with the North American Wake Up CTC to address different needs and issues that arise from North American Wake Up Sanghas. This way, those not currently serving on the CTC would have a chance to actively participate through lending a voice and sharing their experience and insights with the larger community.
2018 NORTH AMERICAN WAKE UP AMBASSADOR GATHERING
As part of our next year of service, we will be organizing a 2018 North American Wake Up Ambassador gathering. It will be a wonderful chance to share our practice, learn from each other, and offer support to fellow Wake Up Sanghas and facilitators. This gathering will also be a chance to collectively look at the continuation of the North American Wake Up CTC.
We invite everyone to take part in the process of self-identifying as a Wake Up Ambassador, and we wholeheartedly invite all those who do to be part of next year's North American Wake Up Ambassador gathering. More information about what it means to be a Wake Up Ambassador can be found here 🙂
Many thanks, dear friends, for taking the time to read this letter and for hearing our aspirations to serve the Wake Up community. We look forward to coming together to practice, work, and play to be this beautiful continuation of Thay's vision for Wake Up.
Breathing and Smiling in Gratitude,
The (continuously evolving) North American Wake Up Care-Taking Council
Lay Representatives:
David Viafora (Portland / Salem, OR)
Elli Weisbaum (Toronto, Canada)
Marc Jantzi (San Diego, CA)
Nhu-Mai Nguyen (Houston, TX)
Rogelio Moreno (Mexico City, Mexico)
Vanessa Loucky (Portland / Salem, OR)
Alexis-Michel Schmitt-Cadet (Montréal, Canada)
Luis Miguel Gil (New York, NY)
Monastic Representative:
Br. Phap Man (Blue Cliff Monastery, NY)
The North American Wake Up CTC does not discriminate on the basis of race, sex, ethnic background, marital or veteran status, disability, or sexual orientation. People of color, women, and LGBTQ individuals are encouraged to participate in the Wake Up community. For questions, contact here.