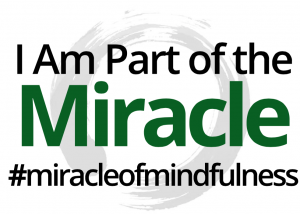 Thich Nhat Hanh teaches us that the way to peace and happiness is through personal transformation, and that mindfulness is the key.
From September 1 through October 31, to celebrate the monastics' USA tour and the 40th anniversary of Thay's bestselling book "The Miracle of Mindfulness," we invite you to post on your social media pages how you are part of the miracle with our #miracleofmindfulness campaign.
What To Do:
1. Use the signs below or download them from the Miracle of Mindfulness Tour website and print it out on 8.5 x 11″ paper.
2. Take a photo with the sign during a mindful moment to show how you are part of the miracle of mindfulness. Show how you practice living with peace and joy, fully awake to the present moment. We'd love to see photos of you with your friends, family and/or sangha and get a glimpse into your mindful moments. Show us how you manifest mindfulness in your daily life.
3. Please post on Facebook, Twitter, Instagram, Tumblr, Pinterest and tag your photos with hashtag #miracleofmindfulness. Feel free to post as often as you like!
4. We'd also love to see you post this as your Facebook Profile image. See the Miracle of Mindfulness Tour website for the image as well as other graphics.
In addition, we will soon offer details on how you can help continue the miracle in a weeklong celebration leading up to Thich Nhat Hanh's Continuation Day on October 11.
We're looking forward to being inspired by your #miracleofmindfulness postings!
Download PDF files:
Continue the Miracle I Am Part of the Miracle