An Interview with Stuart Watson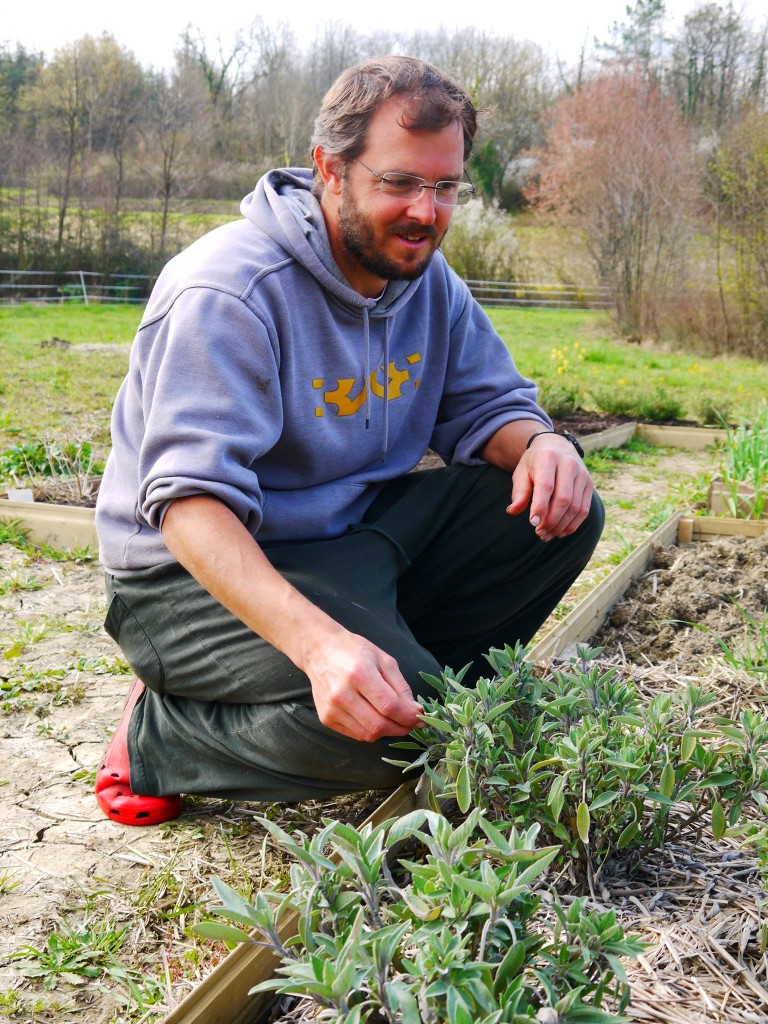 How did you get involved in the Happy Farm?
I had been growing organic vegetables in Upper Hamlet for a few years when the conditions came together to start the farm; we raised enough money, had the support of the community and had a professional organic farmer stay with us for one year. So the dream became a reality and we started the farm.
What have you learned from the first year that you are implementing in this second year?
We learned a lot about how to go about the work. We learned it was better to have more people rather than less in order to bring more mindfulness into our work. Last year there were only three of us and we were quite stretched a lot of the times. It was quite stressful.
We also learned something about taking care of the team and the harmony in the group. Last year when difficulties came up, it was quite tense at times. This year we spent more time to make sure we nourish ourselves and that everybody has a chance to share their ideas and experience.
And we learned a lot about farming and growing. The soil we have is very difficult to grow in (it's heavy clay), so we're learning all the time how to manage the soil, work with it, and recover it's health as well as the timing of when to prepare the beds and plant things.
Overall, we learned a lot about the team, mindfulness, and the practicalities of farming in this area.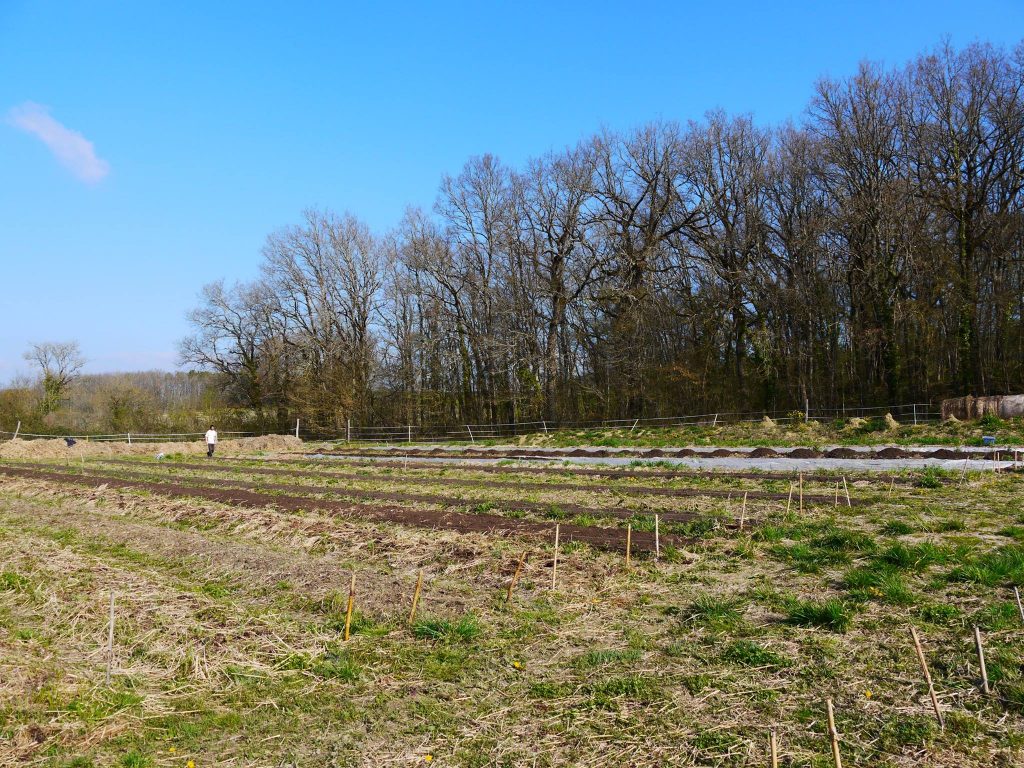 I know you started doing the work in February. So far have you had any challenges or any successes so far?
Yeah, this year everything's going really well. The main jobs so far have been seeding and then transplanting the small plants. We sowed several thousand seeds this year, which all germinated and grew into small plants that we recently planted out. The weather has been very sunny this Spring, so everything is growing realy well.
We've also created a couple of flower beds which look really nice and have done some work on the herb garden. We installed a couple of bee hives, too, last week and hope to install a solar water pump to irrigate the field.
I think the main difficulty for me is worry and stress. Even when things are going well, I often have an anxiety that something could go wrong in the future (laughs). And especially with farming, it seems that the chance of disaster is never far away. If we are not careful with the heat during the day, it can kill the crops. At night the cold can do it.
And there are so many things that want to eat the crops. If we take our eye off this for a moment, we can lose whole beds of stuff to slugs or caterpillars. This is something for me to work on. How to let go of that worry and anxiety, and just let things happen as they will. But besides that, no difficulties to report. Everything is going really well.
What is your biggest dream for the Happy Farm?
My vision for the Happy Farm is to create a really beautiful area where people feel drawn to visit and spend time, to be nourished by the environment.
We want to put a lot of work into how the farm looks and its aesthethics, and to grow nice flowers and plants that look attractive, smell attractive and sound nice when the wind blows through them. We want to create something that's very beautiful.
We want to learn how to grow as much food as we can in a sustainable way, take pressure off the industrial food system and reduce our carbon footprint. It's much more kind towards the environment to grow food close to where you live.
The other part is to have a space where six or seven volunteers come and work on the farm each year. The vision is for us to become a training center, where young people can learn the basics of mindfulness practice and how to set up and manage an organic farm. We hope that when the volunteers return to their countries they can create farms and communities where they are.
And maybe the last aspect for me is to be an inspiration and support for people to grow their own organic food at home. Many thousands of people visit Plum Village each year and many of them visit the farm. We want to provide examples of easy ways for people to grow their own organic food at home.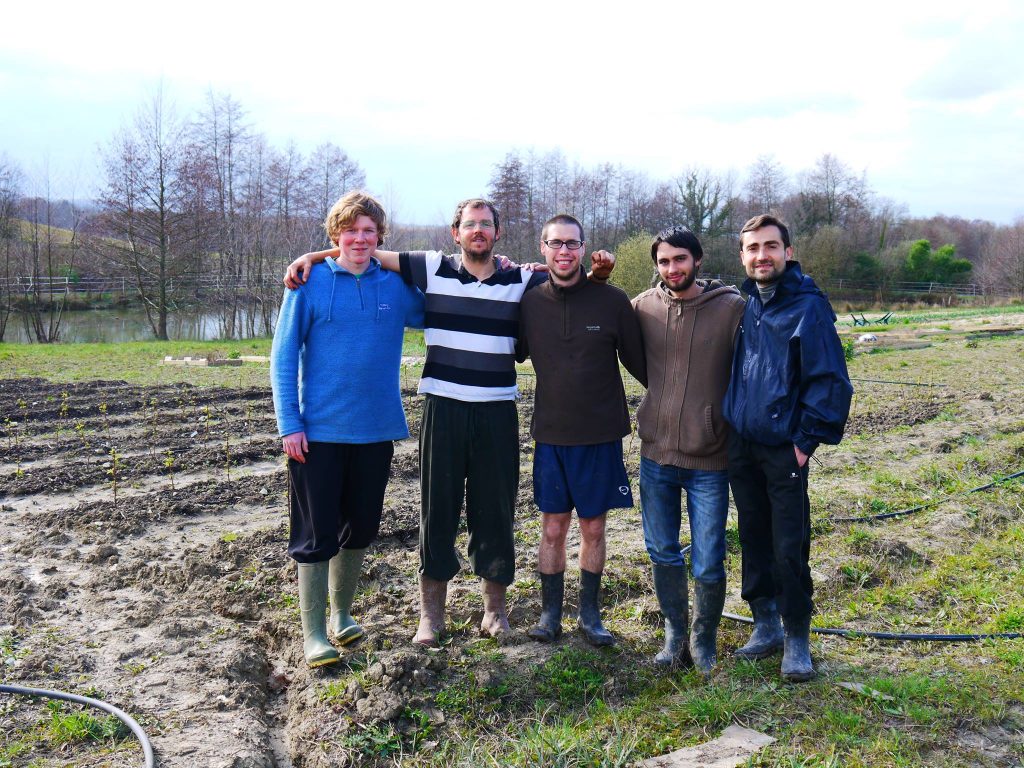 Can you share a typical day in the Happy Farm? How do you guys work together?
Yes, we get up and attend the morning sitting with the Sangha at six o'clock. Then we start work at nine o'clock normally and finish at around midday. We stop to practice walking meditation at 10:30am.
Then from between midday to 3pm we have a long gap to have lunch and a siesta (laughing). We start working again at three and work through until six. After this we have dinner with the community and then attend the evening sitting at eight o'clock.
We also attend one day of mindfulness a week. We do a rotation, so there is always someone present on the farm and also some of us attending each day of mindfulness.
And once a week we have a sharing with the whole farm team together. We have a happiness meeting, a beginning anew or a Dharma sharing. This allows us to keep communication open within the group and get a chance to share our suffering and happiness with each other.
How has your engagement with Happy Farm impacted your practice?
Yeah, it has changed it a lot. Before the Happy Farm I was a long-term practitioner in Upper Hamlet. So I didn't have any responsibility. I had a lot of time and space to take care of myself and just enjoy life free from responsibility. So I used to spend a lot of time in nature or just doing nothing, following my breathing and being with the community.
And now with the Happy Farm my workload has gone up a lot. I probably work now between forty and fifty hours a week, which for me is a lot.
So my practice has become how to do the work while maintaining my peace and wellbeing. It is not always easy, but the challenge is how to work while making sure I am not getting too stressed or caught up in the work.
Running the farm there is a lot of thinking to be done. I have to plan, solve problems, and make sure that everybody has work to do. For me there is quite a lot of opportunity for worry and stress. I think my practice now is learning how to deal with the stress and maintaining my peace and happiness at work.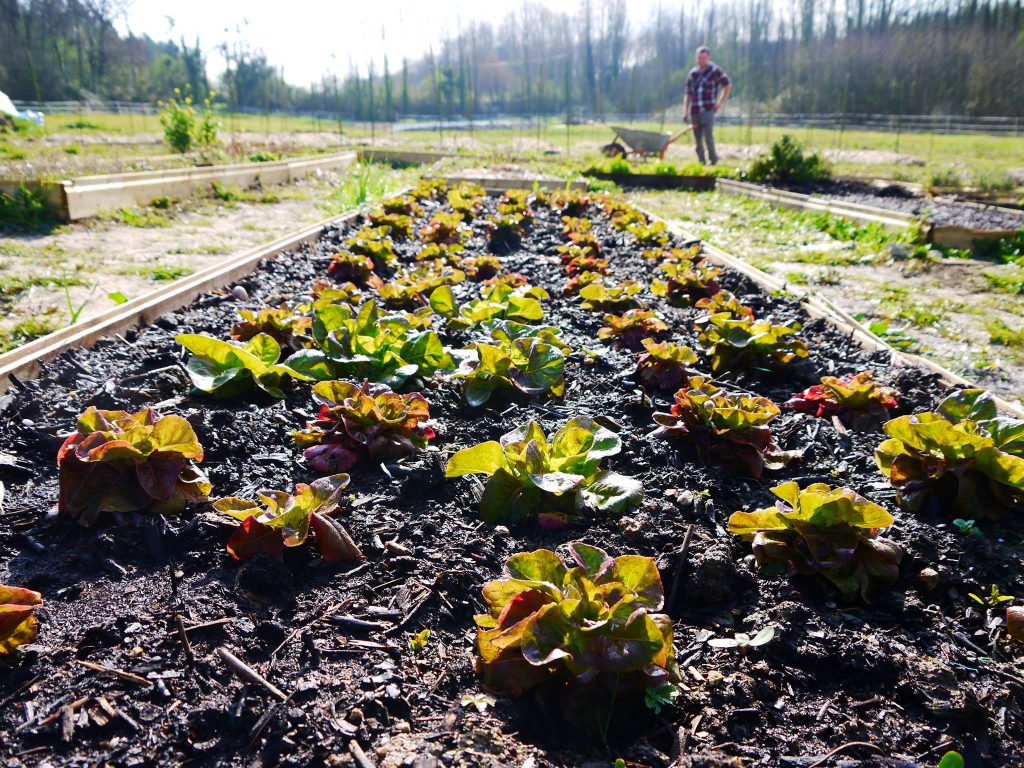 Do you feel that those years as a long-term practitioner before the Happy Farm has helped you in dealing with what you have to go through now?
I think I wouldn't be able to do this four or five years ago. I think that living here for so long allowed me to develop a strong mindfulness practice. It means I can work on the farm and even though I may not be practicing formally with the sangha as much, I still have a residual strength of mindfulness that allows me to maintain mindfulness energy even at work.
Having been here so long I understand how the community works quite well. That makes it easier, relating to monastics and bringing the spirit of Plum Village to the Happy Farm. I want the Happy Farm to feel like an extension of Upper Hamlet and not something separate.
In developing and dealing with the Happy Farm, do you feel the support of the monastic brothers has helped you a lot in order to keep it going?
Definitely yeah. It has been very much a reciprocal relationship between the monastics and the lay friends of the Happy Farm. It is the laypeople who work on the farm and do the day-to-day work. But it wouldn't be possible without the support from the monastics. They help us in many crucial ways.
So yeah it wouldn't be possible without the support of the monastics.
And all the food we grow is for the community. It's kind of an Upper Hamlet project. All the food we grow is offered to the Upper Hamlet. The brothers help us to create the farm to make it possible, and everything we grow is offered back to Upper Hamlet.
How would you describe Happy Farm to someone who has never heard of it?
The Happy Farm is an interesting title. The spirit of the Happy Farm is that we aren't only growing vegetables and organic food, but also living and working in a way that cultivates happiness for the people who work there and the people who visit.
While it is important for the farm to produce lots of delicious organic produce, we're also committed to do it in a way that cultivates happiness. So we are a happy farm, we are trying to grow happiness.
It doesn't mean we are all happy all the time. We all suffer quite a bit sometimes. But we know that suffering that is well taken care of is a necessary ingredient for happiness. So we put the teachings of mindfulness into practice at the farm and experience the benefits of working mindfully. Everyone who has worked on the farm so far has benefited a lot from this approach.
I would describe the Happy Farm as an experiment in learning how to live and work together in a way that leads to increasing well being and happiness. I hope it works!
Great, thanks a lot.
If you are interested in joining the team for next year, keep an eye on our Facebook page. We'll be accepting applications in July and August 2014.