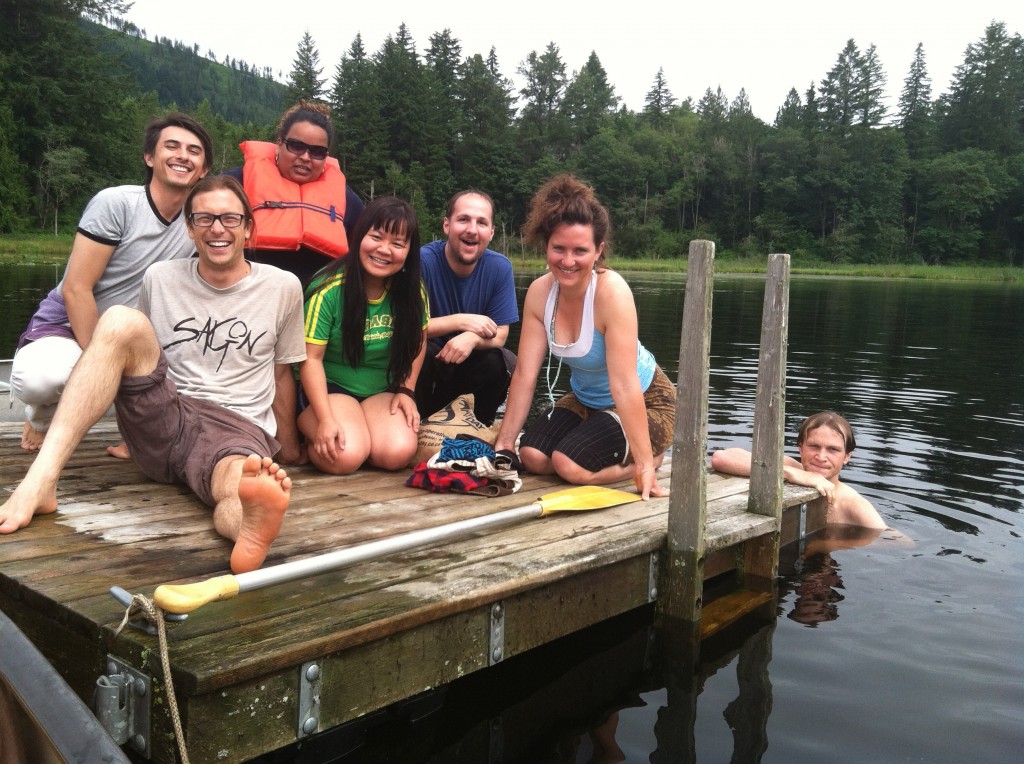 By Brian Kimmel
In October of 2012 a delegation of four non-monastic and five monastic friends of Deer Park toured the Pacific Northwest offering workshops, retreats and Meditation Flashmobs on college campuses and on city streets. We were, you could say, on a modern-day mission observing mindfulness trainings together, practicing loving speech and deep listening, openness of thought and views, and yes, having fun.
I was privileged to be on the tour having organized and facilitated many of our scheduled events. Mountain Lamp Community in Deming, WA was our last stop. Little did we know that a group of three Wake Up Peer Facilitators would meet three months later with Long-time Plum Village Dharma Teacher and Mountain Lamp resident, Eileen Kiera. We met to discuss and organize a 5-Day Mountain Lamp Wake Up Retreat and Intergenerational Day of Mindfulness to be held at the end of June.
After six months of weekly phone conferences, e-mails, Skype calls, proposal writing, and in-person meetings, we greeted our first retreatants on June 26, 2013. We had very little expectations other than to be there. Our objective: to offer an opportunity for retreatants, residents, David, Maria and me as peer facilitators; and Eileen and Jack, her husband who is a teacher in another tradition, a view into Wake Up. We would essentially Wake Up together. How does a group of young adults, 18 – 35 respond to an established practice environment, a family if you will, who have been practicing mindfulness, cultivating the land and their hearts' intentions through daily meditation and loving work for well over a decade?
 We stepped into a true learning groove, in which all of us, without exception, everyone involved in the retreat even the wild animals (and pets), plants and minerals got a taste of Wake Up Spirit. What is Wake Up Spirit? To some of us it is an intention and an action toward possibilities yet explored. It is a way of entering deeply into meditation and moving out into the world from there. Wake Up Spirit is a coming together of like-aged and other-aged to support a new generation of Dharma practice, mindfulness trainings as applied to one's intimate, daily lives with emphasis on personal transformation and collective action in the world.
The retreat participants included residents and peer facilitators who practiced eight days together at Mountain Lamp; five-day retreatants; weekenders; and folks from a wide age range who came for our Sunday Day of Mindfulness, the last day of the retreat. Our intention was to investigate the daunting persona that "kids these days" only know how to have fun, and re-envisioning it. Mountain Lamp Wake Up proved that we do know how to have fun AND that through daily sitting and walking meditation; Dharma Art; daily Dharma Sharing; light-hearted interactions like canoeing, scooping goose poop, swimming in the lake, gardening, singing and dancing around a campfire; and open space discussion forums (with "elders" in the room), we collectively, and individually, I believe, gave access to a profound sense of what it is like to live our lives awake, engaged, and resiliently.
From our opening circle, tears and laughter poured forth. It was clear from the moment we all met each other that our journeys had taken us not only from our respective locales but from what we needed in order to heal. What many of us needed was the physical and spiritual support to connect with what was really vital and profoundly urgent to our own lives and incidentally the planet and society.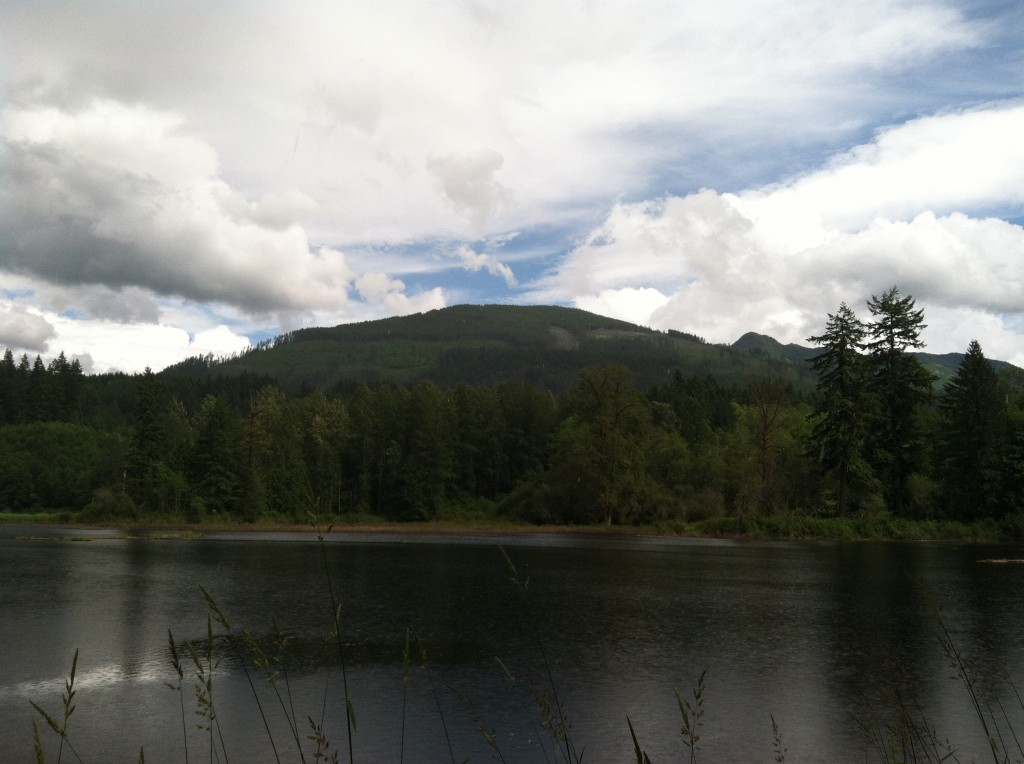 We came from Southern and Northern California; Central Oregon; British Columbia; the Southeast and Northeast United States; and across Western Washington State. Many of the retreatants, especially people who stayed the entire five days remarked that they came upon awarenesses in themselves they had not intended to. Original intentions for the retreat had diverted to much more pressing concerns hidden in the shadows of body and mind. The silence of the retreat, spending each evening through breakfast in Noble Silence or the silence that heals, we were able to suspend talking and dwell more fully with ourselves. At least twice during the retreat we held formal meal ceremonies where the community gathered together, recited meal verses, offered food, and began and finished eating in silence guided by sounds of the bell. Each person was assigned a work duty during joyful working meditation beginning with singing, dancing, and games. During work period the Bell Master, the person in charge of inviting activity bells during that day, would remind us to breathe with one sound of the bell during work periods.
Each retreatant was offered the responsibility of inviting meal bells and reciting the Five Contemplations, verses read before we begin to eat. This helped guide them toward a peer-facilitated model. Retreatants shared that having Wake Up aged, non-monastic practitioners guiding the retreat and being invited to facilitate parts of the retreat as well, like inviting bells and guiding the five contemplations, made mindfulness practice real. This was our vision as peer-facilitators and organizers of the retreat. We wanted to build upon the foundation offered to us from monastic-led retreats and mentoring. This was really our gift back to our teachers and community. To learn the practice for ourselves with the support of others doing the same.
If I were to describe the outcome of this retreat in a few words I would say: "Each of us were as we were." My own experience was that I could simply rest in being, and trust that what I offered from that place, flowed naturally with where everyone else was. Interplaying with others in silence and out-loud gave me new perspectives into who I am and what my place in the world might be. I then could apply this to every relationship and experience in my daily life whether that be in love, work, money, sex, family, emotions, and a spiritual path.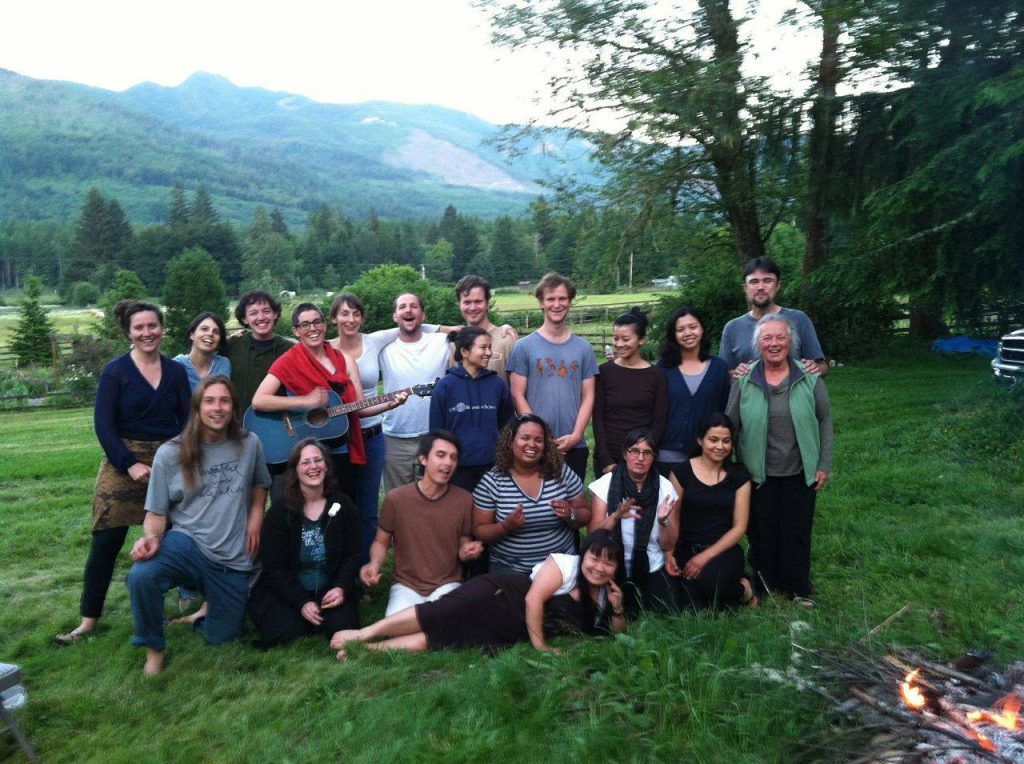 The final morning of our retreat, seven of our 23+ retreatants received the five mindfulness trainings and an "of the Heart" Dharma Name. A majority had already received the trainings and had attended past retreats with Thay Thich Nhat Hanh and others. For some of these retreatants, finding out about Mountain Lamp Wake Up over the internet, they were able to come home to the tradition they were born in. Our retreatants of Vietnamese heritage were profoundly moved by the power and connection to our root lineages. One person who received the trainings even received their name in Vietnamese. The power of our chanting, touching the earth, incense offering, and concentrated sitting practice offered a clear transmission of mindfulness to recipients of the trainings that day and for all of us.
I would not have known arriving in the Northwest last October with our first delegation that the roots of our practice would grow, transforming lives literally across North America. For Mountain Lamp, perhaps it is only the beginning of a continued Wake Up experience.
Brian Otto Kimmel (True Lotus Concentration), age 33, ordained as a core member of the Order of Interbeing at Plum Village France in 2006. He took part at the East Coast, West Coast, and Pacific Northwest Wake Up USA Teaching Tours. Recently completing a year residency at Deer Park Monastery, he lives and facilitates Wake Up in Boulder, Colorado.