Wake Up Retreat for Young Adults (16–30 years old) with Sister Jewel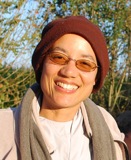 Dates: 25 – 27 July 2014
Times: Friday 19 – 21.30, Saturday 9 – 20:00, Sunday 9 – 17:00
Location: 
Quelle des Mitgefühls
Heidenheimer Str. 27
13467 Berlin – Hermsdorf
www.quelle-des-mitgefuehls.de
Day retreat without accommodation. Please bring a dish to share for our vegetarian buffet.
Language: English with German translation
Contribution fee: Normal fee 60 €, Reduced fee 40 €
plus Dana for Sister Jewel
Please transfer the normal fee to the following bank account number:
Quelle des Mitgefühls, Account Number Nr. 11 29 07 44 00
BLZ: 430 609 67, GLS Bank
To register: quelledesmitgefuehls@web.de or Tel. 030/405 86 540,
Note: The information below is in German. 
Ähnlich wie unser Geist, der ständig in Beschäftigung ist, sind wir auch in weiten Teilen unseres Lebens "busy". Immer erreichbar sein, flexibel und belastbar sein, auf dem neuesten Stand sein, auf eigenen Beinen stehen, "Strahlende Kompetenz bei völliger Ahnungslosigkeit" beim Einstieg in ein berufliches Leben gehören zur Normalität.
Nicht selten vergessen wir auf uns acht zu geben, uns um uns selber zu sorgen, positive und heilsame Samen zu wässern.
Wir fragen uns kaum was wir wirklich im Leben wollen, leiden unter Erschöpfung, Angst oder dem Gefühl nicht zu genügen.
Können wir einen positiven Umgang mit negativen, hemmenden Gefühlen wie Wut oder Angst finden, der uns zu freien, mutigen Menschen werden lässt?
Mit der Praxis der Achtsamkeit können wir innehalten und zu uns selbst zurückkehren. Gemeinsam mit anderen jungen Menschen können wir uns selbst Heilung, Glück und Frei-sein-von-Angst geben und positive Samen für unsere Zukunft sähen.
Schwester Jewel (Chau Nghiem) ist in Chicago geboren und studierte Anthropologie (M.A.) in den USA. 1999 wurde sie von Thay als Nonne ordiniert. Sie engagiert sich besonderes in der Arbeit mit Kindern und Jugendlichen.
Tagesseminar ohne Übernachtung und Verpflegung; Bitte etwas für unser vegetarisches Buffet mitbringen. Übernachtung für TeilnehmerInnen außerhalb Berlins möglich (15 Euro pro Nacht)
Zeiten: Freitag 19 – 21.30 Uhr, Samstag 9 – 20 Uhr, Sonntag 9 – 17 Uhr
Veranstaltungsort: Quelle des Mitgefühls
Heidenheimer Str. 27
13467 Berlin – Hermsdorf
www.quelle-des-mitgefuehls.de
Kosten: Grundgebühr 60 €, ermäßigt 40 €
plus Dana (Spende Sister Jewel)
Bitte überweisen Sie die Grundgebühr auf das Konto:
Quelle des Mitgefühls, Konto Nr. 11 29 07 44 00
BLZ: 430 609 67, GLS Bank
Anmeldung: quelledesmitgefuehls@web.de oder
Tel. 030/405 86 540, die Anmeldung wird wirksam mit der Überweisung der Grundgebühr