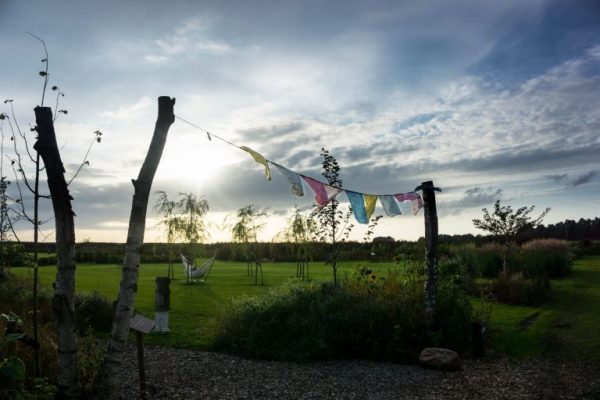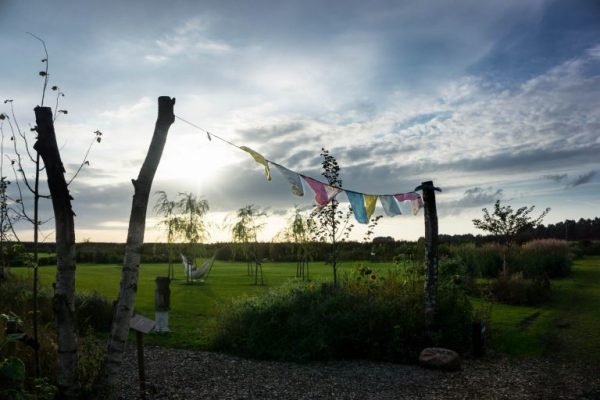 At the end of this summer, the yearly Wake Up Netherlands Summer Retreat took place at de Maanhoeve, hosted by Wim and Ida. Although it may seem as if I were a retreat veteran, this was my very first Wake Up retreat. Therefore, I can offer a fresh look into a week that would be remembered as an extraordinary retreat for many reasons.
The setting was obviously upfront: from August 31 until September 4, De Maanhoeve in Exloërveen (The Netherlands), Wim and Ida, fine and dedicated staff, and three monastic sisters from the European Institute of Applied Buddhism (EIAB) including Sister Annabel. In this setting, a group of young adults, who feel connected to the practice in various ways in the Wake Up tradition, gathered because they have been practicing regularly with a local Sangha; because they have previously been to Plum Village or the EIAB, or simply because they needed a week of rest, connection and practice. The realization that this group would not be a small one really kicked in once we arrived on Wednesday at de Maanhoeve when it appeared that as many as 65 people had come together – a fairly large group with a considerable potential of energy and mindfulness.
On the arrival day there was ample opportunity to see each other (again), make new encounters and feel the emerging energy of the group. We ate in silence and soon enough, we practiced more silence in the form of Noble Silence. At first, I experienced some resistance because I somehow knew that this silence would reveal my deeper layers of feelings and emotions, and (of course) that is exactly what happened. Little did I know by then about the collective energy of safety and compassion that would warmly allow those emotions to be experienced and carried.
The next morning, like every morning at half past seven, Wim and Ida woke us with their beautiful chanting, followed by morning meditation and breakfast. Only after breakfast we would end the Noble Silence and see how the day would unfold. The days were varied in a nice way, with alternating Dharma Talks, working meditation, lunch, workshops, dancing, dinner, singing circles, gatherings around the campfire and of course Dharma sharings, where there was plenty of space to share with the Sangha. In addition to the wonderful Zendo, there was the brand new and beautiful court of Karuna, a huge garden decorated in Buddhist themes and a great place to develop these wonderful activities together.
It was specifically wonderful to find both a recurring schedule in the program as well as a warm bath of unique activities: the recurring times of morning meditation, in which the bell would always invite us to come back to the present moment; the regular moments of Dharma sharing in our families where we could share in trust and safety, supported by a Sister and/or a facilitator; the times of breakfast, lunch and supper, where we ate in silence, and with respect for the nutrition and for each other.
That recurring schedule was then complemented by a number of unique events, such as herding a large flock of sheep and planting the traditional Wake Up tree where everyone would offer a paper-written aspiration as nourishment for the tree and for themselves. Also, a formal transmission ceremony was held on Sunday, where a number of Sangha members took the Five Mindfulness Trainings in the tradition of Thích Nhất Hạnh. Additionally, it struck me how some Sangha members themselves would, spontaneously, organize workshops for the Sangha. For example, a talk was held about bee-keeping; there was a very inspiring Nonviolent Communication workshop, and there was room for total relaxation.
There were so many beautiful things, so much inspiring wisdom and so much space for relaxation, silence and meditation. But what touched me the most out of everything? Although there are so many highlights that could be mentioned, there is one thing that I noticed the most: the collective energy we managed to create as a Sangha. An energy that could be described in words like spaciousness, openness, security and connectedness. It was only a few days, but the collective practice of living together, eating, practicing, laughing, dancing and being completely silent slowly built up this energy. An energy in which everyone could simply be exactly who he or she is, where every feeling was allowed to be there and where no one was excluded. This felt very spacious and safe; and familiar too, which may not at all be surprising because it brings us closer to who we essentially are – to our true Buddha nature.
In this valuable energy, I could allow myself to remain, to breathe, to feel, to connect and to relax. This was exactly the thing that I resisted at first, but at the same time the thing that I eventually needed the most. Thank you, most respected Thay. Thank you, dear Sisters. Thank you, Wim and Ida. Thank you, Staff. Thank you, Sangha. Thanks to you, this was possible for me and for many others.
Now that I am back at home, I feel that the energy is still very near. Sometimes it is shifted into the background by the rhythm of the day, but it can also be found again when I meditate in solitude, in the Sangha, or in the presence of dear friends.
With gratitude and respect,
Jurriaan van Reijsen
Wonderful Inclusiveness of the Heart
This article was originally published in Dutch on wkup.nl