Wake Up Your Artist Online Retreat
April 30, 2020

-

May 6, 2020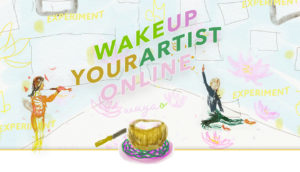 Dear beloved people,
let's come together for a week of fun, contemplation and exploring our true nature. This is an online experiment in which we get to cultivate creativity and mindfulness within our own homes.
Looking forward to meeting online and creating the atmosphere of togetherness and mutual support in this adventure – just like the offline wake up your artist retreat, which took place the past years in the EIAB. So, this online WUYA (WUYAO) will be different: We will discover a new shared space for writing and dancing, painting and sharing, deep relaxing and meditating, together. Live and alive.
Also, an online gallery page will help us create our very own WUYAO space within space. Aware of the wonder and also the need for balance with our technology use and screen time, our sessions will be part-time with 'background screen' while you create in your home studios.
And …
as nature is our real teacher we will invite you to explore Spring time each day with free afternoons.
Join us for this experimental retreat at the beginning of May 2020.
***********
Timings
30th April – 6th MayStarting Thursday with a welcome evening session.
Closing Wednesday with a goodbye morning session.
Sunday will be a lazy morning with an evening session.
************
Schedule Fri, Sat, Mon, and Tues:
6.30 – 7.30 gmt / 7.30 – 8.30 cet
morning sitting & movement
9.30 gmt – 12.30 / 10.30 – 13.30 cet
morning session & relaxation
18.30 gmt – 20.30 gmt / 19.30 – 21.30 cet
evening session & sharing
20.30 – 21.00 gmt / 21.30 – 22.00 cet
evening sitting
****************
All you need is a screen, a daily internet connection, and your whole self.
We ask for a donation to support the tech and our time (suggestion 10 Euro a day – more or less).
With love,
Larissa and Joe