Wake Up Thailand Retreat: Happiness in Your Pocket
November 3, 2016 @ November 3, 2016

-

November 6, 2016 @ November 6, 2016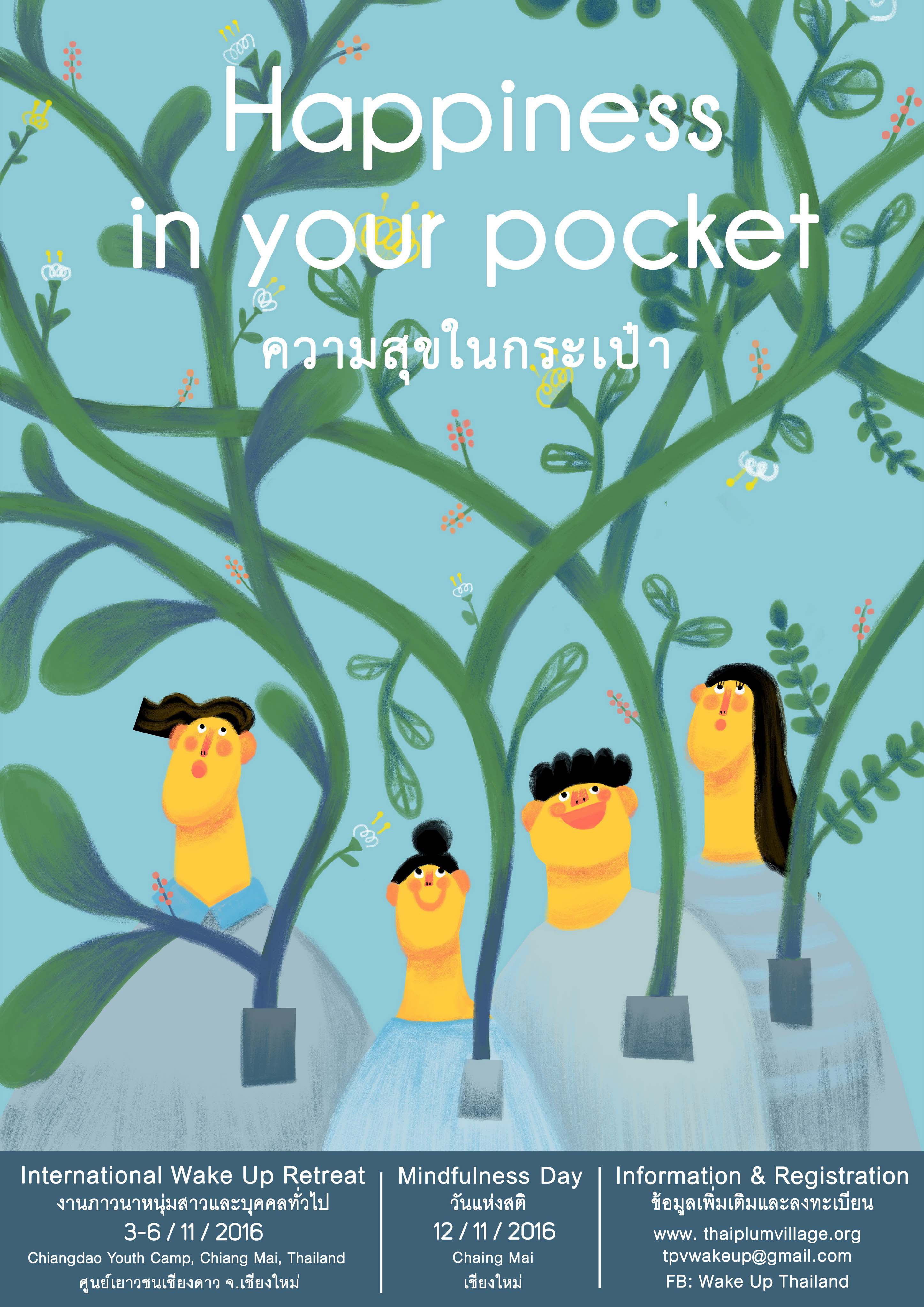 You are invited to practice together with us, to touch the solidity of the mountain inside of you with the support of Mother Earth that is always there for us and its nature, trees, stream and stars at the 4-day Wake Up retreat in the Plum Village tradition at Chiang Dao Youth Camp, Chiang Mai, Thailand. We will come back to our breath and bring the mind back to the body to truly live life.
General Activities
05:00     Wake up
05:30     Sitting and walking meditation
07:00     Breakfast in silence
08:00     Working meditation
09:00     Singing meditation
Dharma Talk
11:00     Lunch
13:00     Total relaxation
15:00     Dharma family sharing
16:30     Sports time
18:00     Dinner in dharma sharing families
19:30     Sitting meditation/ presentation on 5 MTs/ Be-In
21:30     Noble silence
*** Change in activities can be expected
Participants:
•   Participants should be able to stay all 4 days. The program will start at 10:00 on the first day (Nov 3) and finish at 14:00 on the last day (Nov 6).
•   3 vegetarian meals/day.
•   Please wear simple and casual clothes. Shirts covering the upper body and shoulders, and pants that are roughly knee length to support each other when we practice together.
•   Accommodation is separate dormitories for female and male, or bring your own tent.
•   In November, Chiang Mai can have very cold weather: please bring your own sleeping bag and sweaters.
•   Bring umbrella, hat, flashlight, water bottle, mosquito repellant, and your own medicine.
Transportation:
Participants need to arrange their own transportation to Chiang Mai.
From downtown Chiang Mai: transportation fee will be shared – approximately 200 Baht.
Point 1: Chiang Mai international Airport (CNX). Meeting at Gate 2 inside the building at 09:00
Point 2: Chiang Mai Bus Terminal (Arcade). Meeting in front Arcade Building 3 at 08:00.
***The organizing Team will confirm your arrival via email during the week of October 20-25, 2016.
Please arrive at 10:00 for registration.
If you arrive at Chiang Mai before November 3rd, you can contact us for accommodation and transportation suggestions. Please let us know in the registration form.
Retreat fee (not including transportation fee)
3,500 Baht for Adult (Older than 35 years old).
2,500 Baht for 18-30 years old.
Payment
Bank account name "PVF FOR THAIHEALTH"
Bank of Ayudhya Public Company Limited (BAY) / Siam paragon Branch. Account no.     531-1-37539-3,
SWIFT CODE: AYUDTHBK
1222 Rama 3 Road, Bang Phongphang Yannawa, Bangkok 10120
Tel: 0-2296-2001, 0-2683-1000 Fax: 0-2683-1304 (www.krungsri.com)
Please send the payment receipt via email tpvwakeup@gmail.com to confirm the registration within 7 days.
Registration is open until 15 October 2016.
For more information:
E-mail:  tpvwakeup@gmail.com
Facebook: Thai Plum Village
Or Facebook:  Wake Up Thailand
Facebook event: https://www.facebook.com/events/1081712261895447