Wake Up Montréal Retreat: Together We Are One
August 9, 2018

-

August 13, 2018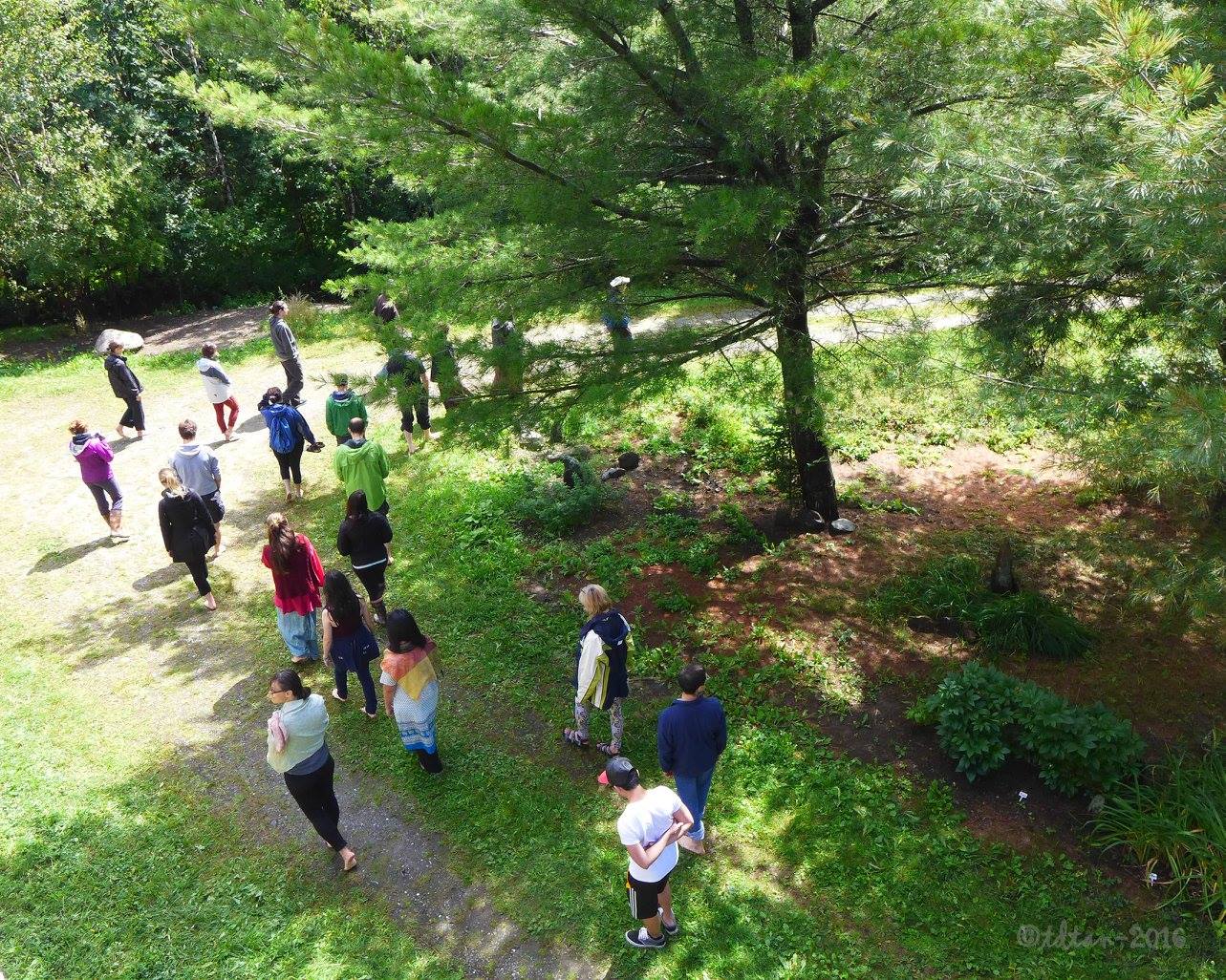 Wake Up Mindfulness Meditation Retreat (18 to 38 years old)
Come discover or deepen your meditation practice in Plum Village tradition founded by Zen master Thich Nhat Hanh.
The retreat will last 4 days, on the theme : "Ensemble nous sommes un tout / Together we are one". It will feature guided meditations, Dharma talks, sharings, and more ways to practice mindfulness on a daily basis. It will be hosted at Maple Village, a Buddhist retreat center in the countryside of the Eastern townships, 1hr 30min away from Montreal.
We request that you register for a minimum of three days. You can either sleep in the center's dormitory (bunk beds; please bring your own pillow and sheets or sleeping bag) or camp on site (please bring your tent). Vegetarian meals will be offered.
Mindfulness practice is adapted to everyone, whether you are a beginner or have some previous experience in a meditation practice. We practice connecting with ourselves in the present moment throughout the day. During the retreat, we alternate socializing with periods of silence in the evening and during meals. A typical day starts at 6 AM with a sitting meditation, some light movements to wake up our bodies, breakfast, a talk, walking meditation, lunch, a period of « working meditation », a period of sharing in small groups, dinner and finally an evening period of sitting meditation. There is always plenty of free time to rest during the day. Depending on the day and the weather, more activities could be proposed, for example a bonfire, swimming in our lake or some guided creative activities.
For more information on the practice of mindfulness in our tradition, please refer to Plum Village's website https://plumvillage.org/
You can contact us directly at montreal@wkup.org
Registration link: https://www.eventbrite.ca/e/retraite-de-meditation-pour-jeunes-adultesyoung-adults-mindfulness-retreat-tickets-46486879508
Retraite de méditation de pleine conscience Wake Up (18-38 ans).
Trois moines du monastère de Deer Park (CA) seront présents.
Venez découvrir et approfondir la méditation de Pleine Conscience dans la tradition du Village des Pruniers du maître Thich Nhat Hanh, l'un des initiateurs du bouddhisme zen en Occident.
La retraite durera quatre jours, sur le thème: "Ensemble nous sommes un tout/Together we are one". L'ensemble de la retraite sera organisée autour de méditations guidées, d'enseignements du Dharma, de périodes de partage et de pratique de Pleine Conscience au quotidien. Elle se déroulera au Village des Erables, un centre de retraite bouddhiste dans la forêt à 1h30 de Montréal.
Les inscriptions se font pour une durée minimum de trois jours. Vous pourrez loger dans le dortoir du centre de retraite (apportez vos draps ou sac de couchage et oreiller) ou camper (apportez votre tente). Des repas végétariens seront offerts tous les jours.
La pratique de la pleine conscience (mindfulness) est adaptée à tous et toutes, quelle que soit notre expérience. Nous nous entraînons à être connecté(e)s à nous-mêmes et à l'instant présent à tout moment de la journée, dans nos actions du quotidien. Pendant la retraite, nous alternons des moments de socialisation et des moments de silence (le soir et pendant les repas). Une journée typique comprend : lever à 6h, méditation assise, exercices physiques, déjeuner, enseignement, marche méditative, dîner, nettoyage du centre, temps libre, partage, méditation assise. D'autres activités peuvent s'ajouter, comme un feu de camp, des baignades dans le lac ou des activités créatives.
Pour plus d'informations sur la pratique de la Pleine Conscience, voir le site web du Village des Pruniers (France) https://villagedespruniers.net
Contact : montreal@wkup.org
Liens d'inscription : https://www.eventbrite.ca/e/retraite-de-meditation-pour-jeunes-adultesyoung-adults-mindfulness-retreat-tickets-46486879508