Wake Up Body and Mind Retreat
July 23, 2018

-

July 28, 2018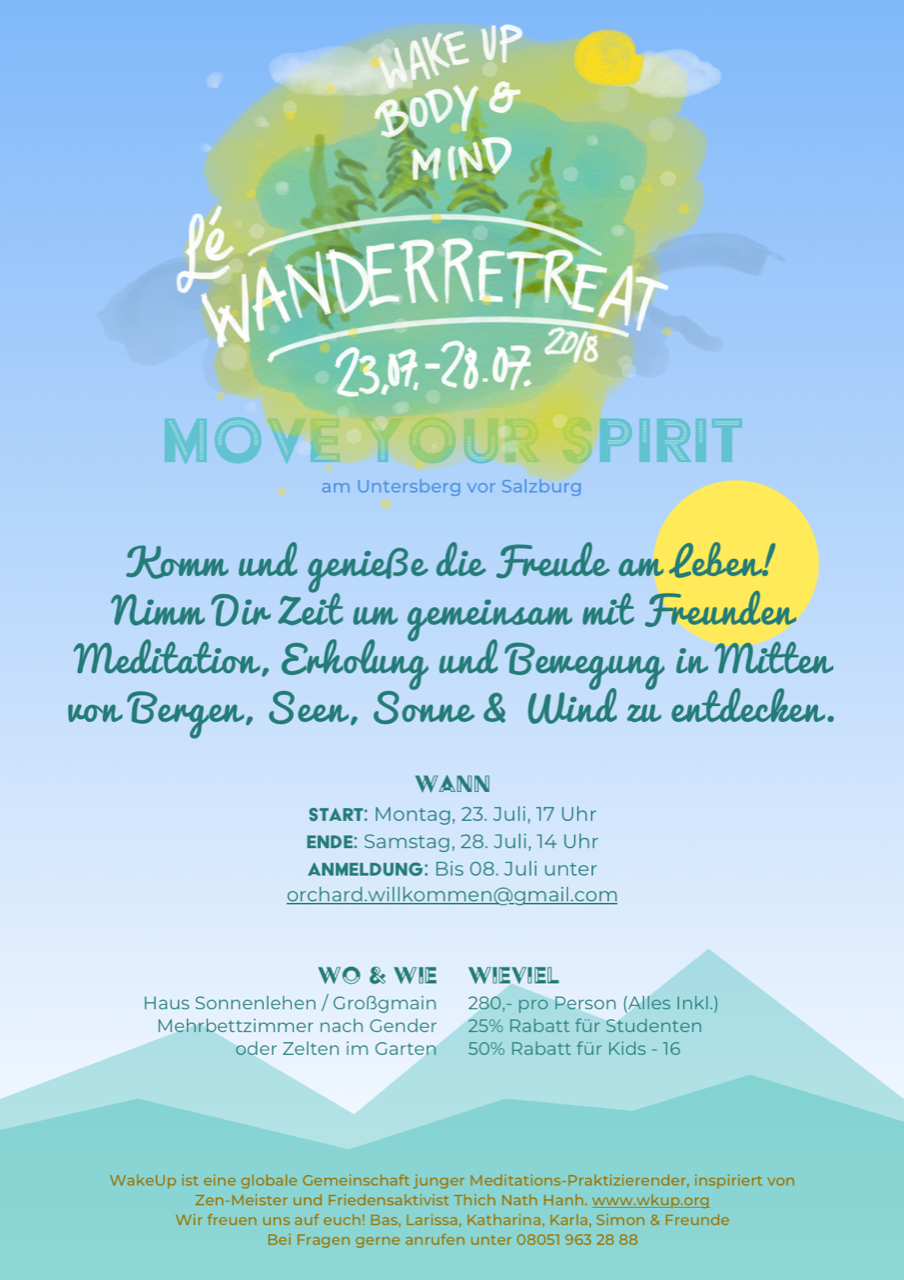 Together with experienced deep ecology trainers and Plum Village practitioners, we'd like invite young and young at heart friends for the following retreat:
We will practice meditation and mindfulness, go for hikes, explore the forests and discover nature, enjoy vegan/vegetarian food, enjoy togetherness, inventing campfire stories, making music, etc.
Haus Sonnenlehen is our starting point and a magical place with ancient linden trees in the garden – winding, sheltered, spacious and located directly at the foot of the Untersberg. From there, we can immediately explore the area!
We hope this message fills you with inspiration and thoughts of forest air and summer fragrant.
With much love regards to our Sangha bodies around the world,
Bas, Larissa, Katharina, Karla, Simon & friends
---
Das Retreat beginnt am Abend des 23. Juli und endet am Nachmittag des 28. Juli.
Wir freuen uns schon sehr!
Gemeinsam mit Praktizierenden der Plum Village Tradition und der Tiefenökologie
werden wir mit großartigen jungen und junggebliebenen Menschen folgendes veranstalten:
Auf dem Programm stehen Meditation und Achtsamkeit, Spaß an der Bewegung,
Wandern und Wälder erforschen, Natur entdecken, vegetarisch/veganes Essen geniessen,
Zusammensein erleben, Lagerfeuergeschichten erfinden, Musik machen, usw…
Haus Sonnenlehen ist unser Ausgangspunkt und ein zauberhafter Ort mit uralten Linden im Garten – verwinkelt, geborgen, geräumig und direkt am Fuß des Untersbergs gelegen, können wir von dort aus in aller Ruhe die Gegend erkunden!
Wir hoffen, diese Nachricht hat euch mit Inspiration und Gedanken an Waldluft und Sommerduft angefüllt.
Mit Grüßen von Herzen an unsere Sangha Bodies auf der ganzen Welt,
Bas, Larissa, Katharina, Karla, Simon & Freunde
Anmeldung / Registration
Bis zum 08. Juli*
 eine kurze Rückantwort mit folgenden Punkten:
"Ja, ich bin dabei! Mein Name ist …, bei mir müsst ihr auf folgende Dinge achten … "
und wir melden uns mit Buchungsdetails bei den Teilnehmern
Wie schlafen wir?
In Mehrbettzimmern oder im Zelt – außer ihr habt euch als Familie angemeldet
oder teilt euch ein Zimmer als Jugendliche.
Schreibt uns, wenn ihr einen anderen Wunsch habt 🙂
Bettwäsche ist vorhanden – Bettbezüge ebenfalls.
Handtücher bitte selbst mitbringen.
Was ziehen wir an?
Bitte bringt Wanderkleidung und Sommerkleidung mit.
Die Wanderungen werden nicht allzu extrem ausfallen,
trotzdem ist stabiles Schuhwerk bestimmt gut.
Für Tanzen, Yoga und Co. lockere Sportklamotten nicht vergessen!
Und Badeklamotten – der nahegelegene Thumsee ist ein türkisfarbenes Paradies 😀
Und zuletzt
Das Retreat steht in der Tradition von Plum Village,
wo gemeinsam gekocht, gespült und geholfen wird.
Freuen uns aufs diesjährige Pizzabacken 😉