Wake Up Liège Retreat @ Belgium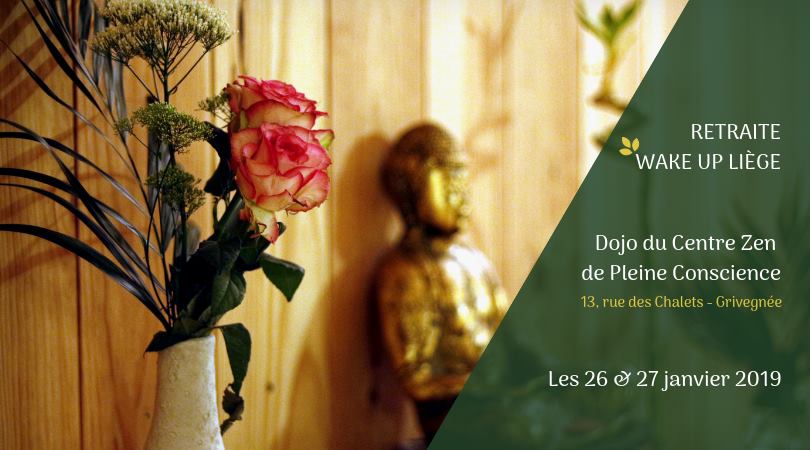 We are very happy to invite you to the first Wake Up Liège mindfulness retreat that will take place during the weekend of January 26-27th, 2019. We will gather in the Centre Zen de la Pleine Conscience (rue des Chalets, 13 – 4030 Liège).
Saturday: 9AM-6PM
Sunday: 9AM-4:30PM
This is a Wake Up retreat dedicated to young people aged 18 to 35. The main theme will be engaged buddhism. Besides the usual practices (sitting meditation, relaxation, dharma sharing…), we'll explore this topic throughout several teachings and workshops to gain better understanding of the Five Mindfulness Trainings and some ways to put them into practice in day-to-day life. We will be very fortunate to welcome two Plum Village nuns for the occasion : Sr Mai Nghiem et Sr Tinh Do.
Warning: for organizational reasons, registrations will be effective upon receipt of the completed form and payment on January the 15th, 2019 at the latest.
To register: http://bit.ly/wkuplgretreat
You will find all the practical information you need (e.g., location, schedule, payment method). We'll make sure to help you find a ride if needed by putting you in contact with one another, as well as a place to stay.
[Please note that this "youth" retreat will take place after the all-ages Liège Sangha retreat, scheduled on the previous weekend (January 19-20th). More information on https://centrezendeliege.blogspot.be/]
We are very pleased to organize this first retreat in Liège!
~*~*~
C'est avec beaucoup de plaisir que nous vous invitons à la première retraite de pleine conscience Wake Up Liège, organisée le week-end du 26-27 janvier 2019 au Centre Zen de la Pleine Conscience (rue des Chalets, 13 – 4030 Liège).
Samedi : de 9h à 18h
Dimanche : de 9h à 16h30
La retraite Wake Up est dédiée aux jeunes entre 18 et 35 ans, dont le bouddhisme engagé sera la thématique centrale. En plus des pratiques habituelles (méditation assise, marche, relaxation, partage du dharma, etc.), nous aurons ainsi l'occasion, à travers différents enseignements et ateliers, d'explorer les entraînements à la pleine conscience et les moyens concrets permettant de les vivre au quotidien. Nous aurons également la grande chance d'accueillir pour l'occasion deux moniales du Village des Pruniers : Sr Mai Nghiem et Sr Tinh Do.
Attention : pour des raisons d'organisation, les inscriptions seront validées dès réception du formulaire complété ainsi que du paiement, et ce, pour le 15 janvier 2019 au plus tard.
Le formulaire, c'est par ici: http://bit.ly/wkuplgretreat
Vous y trouverez toutes les informations pratiques (lieu, horaire, modalités de paiement, etc.). Nous veillerons à faciliter le covoiturage en vous mettant en contact les uns avec les autres et à vous soutenir dans la recherche éventuelle d'un hébergement.
[À noter : cette retraite « jeunes » fera suite à la retraite de la sangha tous âges, se déroulant le week-end précédent (19-20 janvier). Plus d'infos via le Centre Zen de la Pleine Conscience de Liège: https://centrezendeliege.blogspot.be/ ]
Nous nous réjouissons d'organiser cette première retraite liégeoise !
~*~*~
Wij zijn blij verheugd om jullie voor de eerste mindfulnessretraite van Wake Up Luik uit te nodigen, tijdens het weekend van 26-27 januari 2019 in Centre Zen de la Pleine Conscience (rue des Chalets, 13 – 4030 Liège).
Zaterdag : 9u-18u.
Zondag : 9u-16:30u.
Wake Up retraite, dat wil zeggen, retraite voor jongeren tussen 18 en 35 jaar. Geëngageerd boeddhisme zal het centrale thema zijn. Bovenop de gewoonlijke oefeningen (zitmeditatie, wandelmeditatie, relaxatie , dharmadelen, enz.) zullen we, doorheen verschillende onderrichtingen en workshops, de aandachtsoefeningen kunnen ontdekken en concrete manieren om ze in het dagdagelijkse te beleven. Wij zullen de unieke gelegenheid hebben twee zusters uit Plum Village te mogen verwelkomen, Zr. Mai Nghiem en Zr. Tinh Do.
Opgelet: om de organisatie te vereenvoudigen, zijn registraties pas geldig na ontvangst van het ingevulde formulier en de overschrijving, en dit ten uiterste tegen 15/01/2019.
Het inschrijvingsformulier  http://bit.ly/wkuplgretreat
Je vindt er alle praktische informatie (locatie, schema, betalingswijze…) We zullen je helpen carpoolgelegenheid te vinden door je met anderen in contact te brengen en met het vinden van een slaapplek.
[Tussen haakjes: deze jongerenretraite zal volgen op de alle leeftijden retraite het voorafgaande weekend (19-20 januari). Meer info via het Centre Zen de la Pleine Conscience de Liège: https://centrezendeliege.blogspot.be/]
We kijken ernaar uit deze eerste Luikse retraite te organiseren!