Wake Up Hong Kong Retreat: Cultivating True Love
January 10, 2019

-

January 13, 2019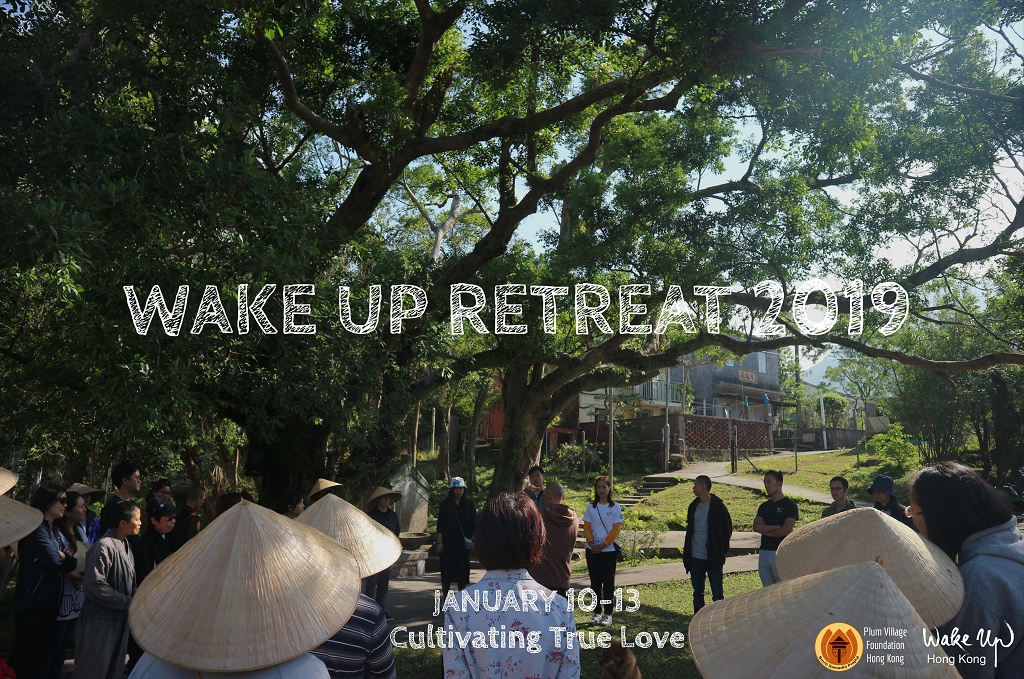 You are warmly invited to join our annual Wake Up retreat from the 10th to the 13th of January 2019 with the monks and nuns of Plum Village at the Asian Institute of Applied Buddhism, at Lotus Pond Temple, Ngong Ping Village, Lantau Island.
For the past few years, Wake Up Hong Kong has organized annual retreat for young people, as well as Day of Mindfulness, Monday night activities in town, Flash Mob meditation, etc. that bring a lot of joy and happiness for building a healthy society.
We, human beings, say that above all else we want love. We want to give love; we want to be loved. We know that love is the medicine that cures all ills. But how do we find love in our heart? How do we practice true love?
In the Buddhist teaching, it's clear that to love oneself is the foundation of the love of other people. Love is a practice. To go home to the present moment, to take care of oneself, to get in touch with the wonders of life that are really available—that is love. Love is also tenderness, patience, courage, and sacrifice. Love is a basic human need, which is why we cannot afford not to love.
In this retreat you will learn the ways how to be yourselves, so you can find out answers to those questions by practicing mindfulness with the community. You can be able to generate the energy of loving kindness, compassion, learn how to restore communication with your beloved ones and also have an opportunity to receive the Five Mindfulness Trainings: a template for self-happiness and the meaning of life. The retreat is the foundation of our togetherness as a Sangha.
The retreat will be conducted in English with Cantonese and Mandarin translation.
Registration is available online HERE on a first-come-first-served basis.
Tentative schedule
Jan. 10 (Thurs.)
 Jan. 11 – 12 (Fri – Sat)
Jan. 13 (Sun)
16:00
 Registration
 5:15
 Wake Up
 5:15
 Wake Up
18:00
 Dinner
 6:00
 Morning Sitting Meditation, Indoor Walking & Chanting
 6:00
 5 Mindfulness Trainings Transmission Ceremony
20:00
 Opening Talk
 7:00
 10 Mindful Movements & Outdoor Walking Meditation
 7:00
 10 Mindful Movements & Outdoor Walking Meditation
22:00
 Light Out – Noble Silence
 8:00
 Breakfast
 8:00
 Breakfast
 9:00
 Working Meditation
 9:00
 Working Meditation
10:30
 Dharma Talk
10:30
 Dharma Talk
12:30
 Lunch
12:30
 Lunch
14:00
 Total Relaxation
 Closing Circle
15:00
 Dharma Sharing
16:45
 Exercise/Hiking
Fare well & Happy continuation of the practice at home
18:00
 Dinner
19:30
 Presentation / Be-In
21:30
 Light out – Noble Silence
Accommodation and cost: Accommodation for this retreat is limited to dormitory-room.  Participants will be housed in dormitories (bunk beds) at Lotus Pond Temple. Pillows, bed-linens, and blankets will be provided.
The cost per person is listed below (in HK Dollars).
| | |
| --- | --- |
|  Room Type | Dormitory (HKD)  |
|  Wake Uppers (18 – 35 years old) |  1,200.00 |
*Please write to us at retreats@pvfhk.org if you are in real need of a scholarship.
Plum Village practice is designed to help us to weave the energy of mindfulness into all of our daily activities. By this way we can practice meditation throughout the whole day while eating, walking, working, sitting, or even enjoying a cup of tea together. All participants are invited to help in communal activities such as arranging the meditation halls, preparing meals, cleaning bathrooms, emptying garbage, watering plants, washing pots, cleaning the kitchen and other tasks, as part of the daily practice of mindfulness. Since the teachings emphasize the benefit of practicing with the Sangha in order to enjoy its collective energy. It is important for all participants to fully participate in all scheduled activities. Participants will be divided into Dharma sharing groups which will work together to give helping hands to the retreat.
How to register
Registration is available online HERE on a first-come, first-serve basis. Registrations are not final until we receive your payment. Please make payment within one week after you register. If payment is not received within one week, our registration will be placed on a waiting list. For means of payment, details will be sent along with the confirmation email to those who completed online registration.
Closing date for registration: Jan 7, 2019.
Payment is not refundable for cancellation after Jan 7, 2019. For enquiries, please contact us by e-mail: retreats@pvfhk.org or by phone from 14:30 – 17:00 (Tuesday, Wednesday, Friday, and Saturday): 2985-5033 (English), 2985-5281 (Chinese).
We are looking forward to seeing you at the retreat!
Facebook link: https://www.facebook.com/events/923969591135465