Sangha of the Month for March 2015: Wake Up Toronto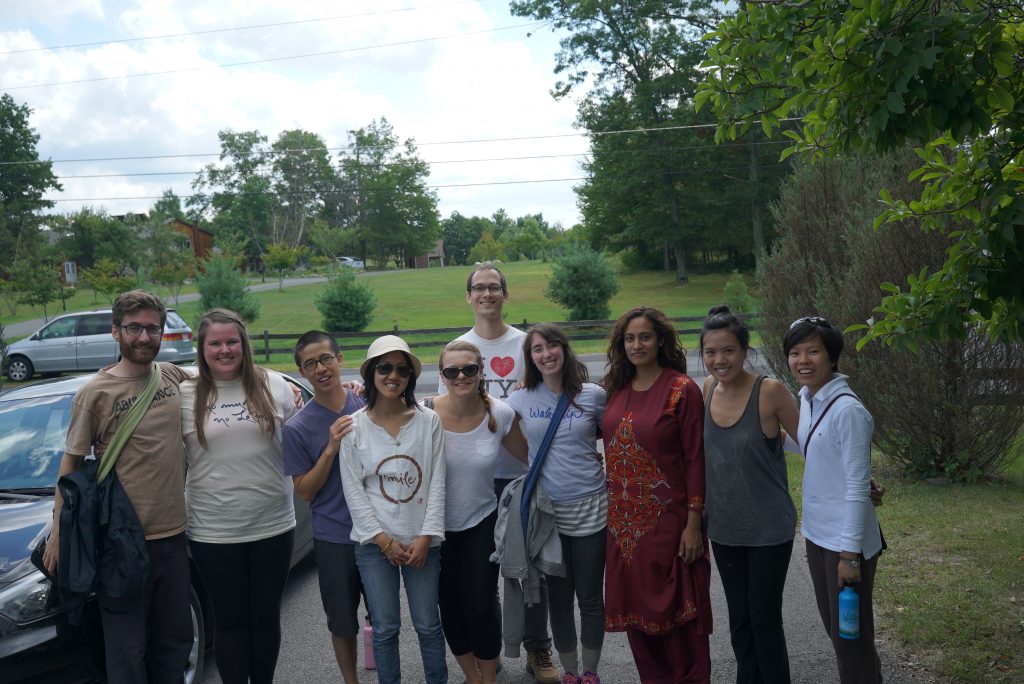 Haga clic aquí para leer en español  
How did Wake Up get started in Toronto?
Wake Up Toronto started in a very organic way with support from a long established all-ages Sangha in Toronto named True Peace Sangha. True Peace Sangha connected two practitioners from Toronto (Rob and Elli) who had recently joined monastics on a Wake Up tour with two young facilitators who practiced with True Peace Toronto (Yishin and Jeanette). True Peace Sangha had some initial worries about what might happen if disharmony or difficulty came up for the younger practitioners. However, after sitting down and sharing with Rob and Elli, True Peace decided to offer their generous support, which included their practice space, cushions, library of Thich Nhat Hanh books and beautiful bell.
In November of 2012, four of us got together in Rob and Elli's living room to enjoy some tea and discuss what we might do during the first practice session of Wake Up Toronto. All four of us had a history of practice in the Plum Village tradition, attending retreats and spending time at monasteries. The four of us included Yishin Khoo (who had just moved to Toronto to complete a PHD at the University of Toronto, and had previously been practicing with Wake Up New York and facilitating at True Peace Toronto), Jeanette Kroshko (who had practiced and facilitated for several years with True Peace Toronto), Rob Walsh (who had recently gone on several Wake Up tours with monastics from Plum Village) and Elli Weisbaum (who had also been on the Wake Up tours with monastics and started going to retreats with Thich Nhat Hanh and the Plum Village community with her family when she was young).
We decided to flow as co-facilitators, giving space for each person's capacity, emailing one another when we were inspired to share a specific practice and generally leaving room to see how things naturally evolved. We based our first few practices sessions on schedules that we had from the days of mindfulness offered on the 2011 East Coast Wake Up tour.
And so began Wake Up Toronto!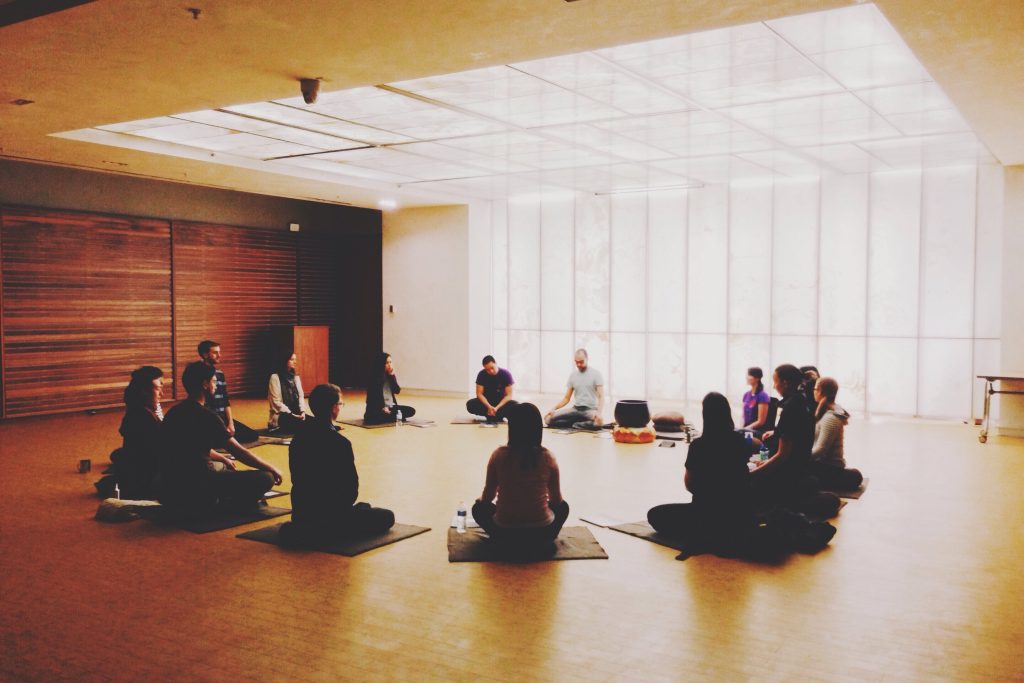 What kind of people come to your Sangha?
Reflective of the eclectic city we live in, our Sangha is made up of all different kinds of people, who come from different cultural and socio-economic backgrounds. The age range of our Sangha tends to be around 23-33.
Where and when do you meet?
We meet in a beautiful space at the University of Toronto every other Monday evening from 8:00pm-9:30pm. We use the space for free through an arrangement that True Peace Sangha (an all-ages Sangha) set up.
Because we meet every other week, and sometimes the schedule changes due to holidays, we post a monthly schedule on our Facebook page.
On average, how many people show up?
On average, we usually have between 10 and 20 people each practice session. We have a core group that has been practicing together for almost two years now, with new people showing up almost every week to check things out.
We also find that attendance fluctuates a bit with the seasons, with the most people coming in the spring and fall (when things aren't too warm or too cold).
How are your gatherings?
We have a core practice schedule that we use most often (shared below), but we also love to play around with the schedule and try out new things. For example, a few weeks ago we decided to have an arts and crafts practice where everyone had a chance to make Gathas to put up in their homes or workspaces as practice reminders. This was inspired by a sharing we had the session before on how to create reminders of support for our practice outside of Sangha.
We also love to have eating meditation on special occasions, like someone's birthday or a holiday. This past Halloween, we had a candy eating meditation where we looked deeply into our own habits of consumption and invited our inner child to join us to enjoy our candy together mindfully.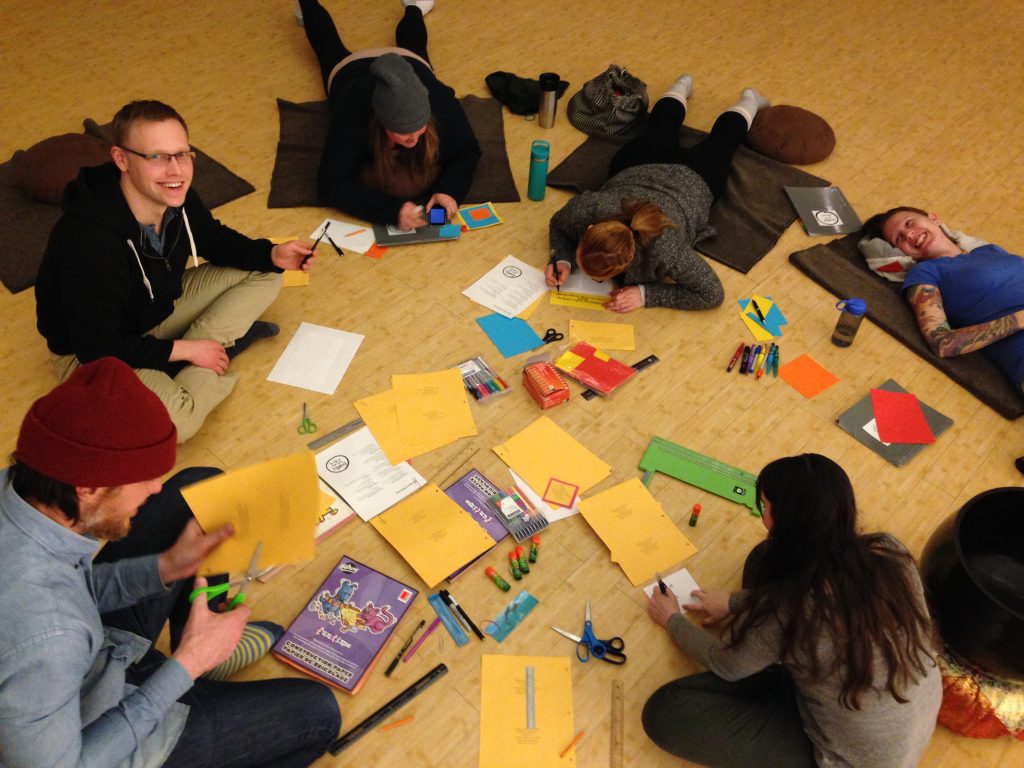 Sometimes when it is very cold outside (and this winter has been particularly cold in Canada) we like to bring hot water boilers, thermoses and tea to enjoy impromptu tea meditation.
Deep relaxation is also a favorite at Wake Up Toronto. Elli loves to offer it to start the practice session and will often use the schedule below, but just replace the first two activities with deep relaxation and mindful movements.
Even as we play around with activities and the schedule, we almost always begin our sessions with a guided meditation and end with three sounds of the bell, then a small bell to stand up together and to bow to one another.
Sample Schedule
8:00pm-8:20pm Introduction & Guided Meditation
8:20pm-8:40pm Reading / Dharma Talk
8:40pm-9:20pm Dharma Sharing
9:20pm-9:30pm Closing/Meditation/Songs
9:30pm Announcements
What makes Wake Up Toronto special?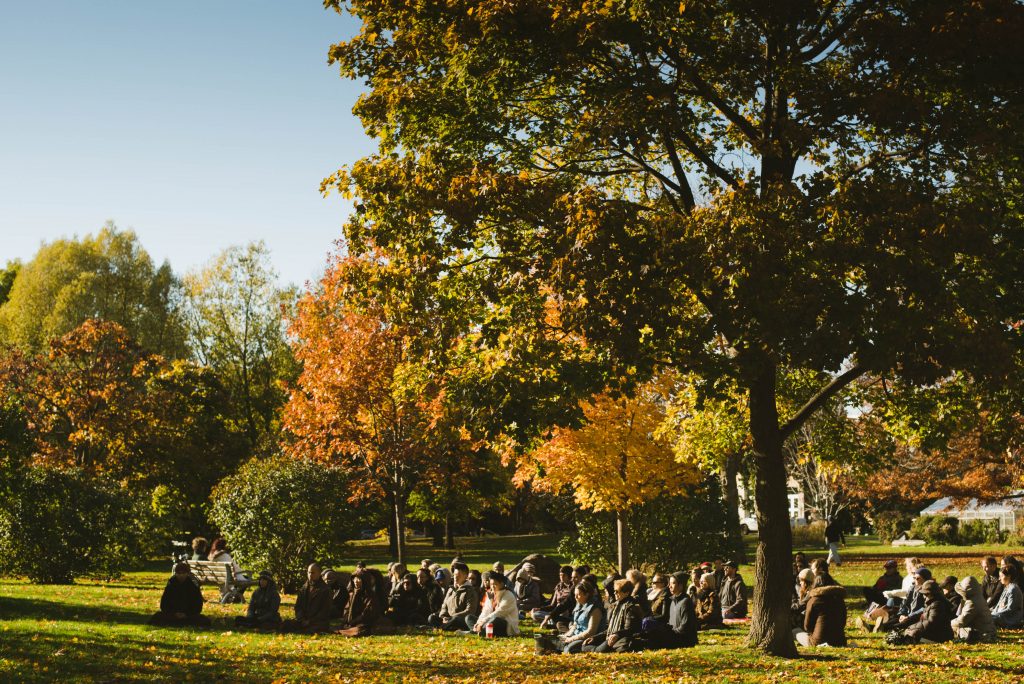 Wake Up Toronto has offered an amazing opportunity to build a community that supports our everyday practice, work and play.
Each time we practice we experience a strong sense of community and support. Many members of Wake Up Toronto have also started supporting one another in bringing mindfulness into their places of work and sharing it with their families.
We have also made an effort to connect with the other Sanghas in Toronto, which is incredibly nourishing. We have now organized several events with Viet Wake Up Toronto, which is for Vietnamese young adults, and this experience has been very joyful!
This past Fall (in 2014) we co-organized a Flashmob meditation in downtown Toronto with Viet Wake Up Toronto, the Bodhi Sangha (which is a primarily Vietnamese all-ages Sangha) and monastics who were visiting from Plum Village. This was a wonderful opportunity for members of all the different Sanghas in the Plum Village Tradition to come together.
We also love to play around with different practices; for example, we have had several wonderful birthday cake eating meditations (for other examples of ways we play, check out our answer to the question above).
If you ever find yourself in Toronto please stop by and say hello!!
If you'd like to get in touch with Wake Up Toronto, click here.